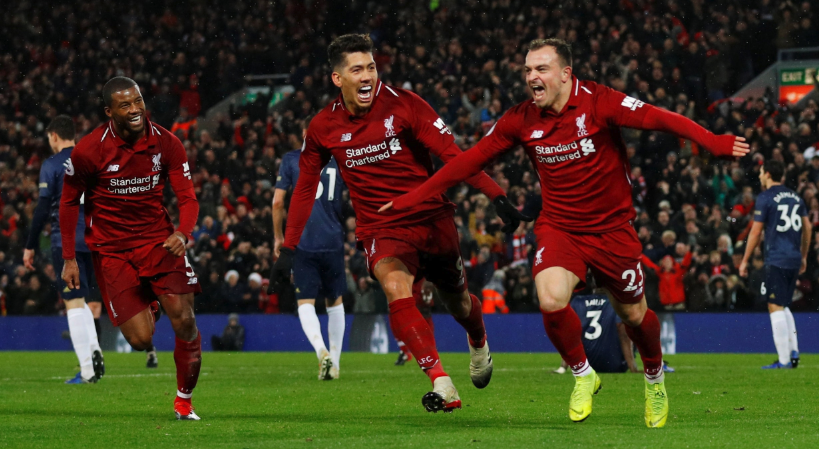 Posts selected by Chris Rowland and Daniel Rhodes.
This week's round-up brings you some of the best comments on the site, together with some samples of the articles we've published.
If you'd like to join our troll-free community and enjoy some intelligent debate about Liverpool FC and the wider world of football, and indeed the wider world generally, see the 'Subscribe' tab at the bottom of the page for details of how to sign up.
1 – Paul Tomkins in one of several counters to an article by Ian Ladyman about Liverpool making a mistake by not re-signing Coutinho, Aug.19th:
Ladyman is very Manc-centric. He was talking a fair amount of shite on the Sunday Supplement this weekend, along with John Cross and the irritating hack Neil Ashton, with Sam Wallace the only one worth listening to – but not able to say much when in with the low-brow tabloid crew this week.
To say we miss creativity after we racked up 97 points while winning the CL seems perverse. We just had arguably our best season ever and it was without Coutinho, and indeed, without anyone who might be labelled a "luxury" player. (Ozil at Arsenal also fits that mould.) No club in English football history has ever racked up more than 90 points in the league whilst winning the CL, so this is a history-busting side. Creativity was supposedly an issue all last season yet we weren't shy of goals to win an insane number of games.
We just now create things in a different way. We don't have to carry anyone who doesn't press that well. How did we create our winning goal vs Soton? Pressing.
Those who don't agree must have forgotten — conveniently and perhaps deliberately — just how good he really is."
If he's so amazingly good, why did we a) get better without him so rapidly after he left (it can't have just been VvD coming in ), and b) Barcelona not want to keep him? Barca didn't think he was as creative as he should have been, and they too couldn't find a place for him in the front line and didn't trust him in midfield. Barca aren't as good as us these days, yet we should make room for him and they can't?
It also ignores the group dynamic of bringing back someone who didn't want to be there anymore, and who might only have come back because he was out of options and had his tail between his legs – not because he had a burning ambition to be a success at the Reds. I'm not sure many of those returning to Dortmund have been successful, and a player going back is, like a manager, often a bad idea. Then there's the cost – a loan is one thing but a loan to buy at over £100m is nuts, given his age. We could have paid £9m to have him on loan and just binned the permanent deal next summer, but he'd be the best-paid player at Anfield, as we'd have to pay all his wages. That'd send a bad message to those who stuck around and led us to glory, and who are more important to us.
Coutinho is still an excellent player, and maybe he could still be an important player in our system if ever given the chance, but we share the creativity around the front three, and with two full-backs who get the most assists for anyone in our team – and then the midfield has to be hard-working to cover that, and to chip in with a few goals and assists themselves. I think Keita will be far more important to what we are trying to do now than Coutinho ever could, but we need Naby to stay fit.
2 – Jeff debating football overkill, Aug. 20th:
Football decisions are not longer made by football whether we are talking about the clubs or the leagues or the FAs but are being made by broadcasters. Broadcasters want programming and football is programming and the more football they can broadcast the happier they are.
The problem with broadcasters and the complicity of football whether we are talking about clubs or leagues or FAs is that they lack vision. Everyone sees the vast sums of money that broadcasting football brings in and no one sees the future. If they looked around, they should be scared to death.
For better or worse the model for bringing in vast sums of money in sports is the NFL which for roughly 50 plus years saw broadcasters as an increasing cash cow for the game. Well, those days are going and and not coming back.
NFL ratings to decline on Forbes
Once a sport starts to decline it is hard if not impossible to bring it back.  It may not be today that broadcasting football has reached the saturation point and started its decline but at some point it will happen and this is a reality that no one in the sport wants to realise.
If you do not want to see a problem or look to the future, you will never deal with a problem nor will you deal with the future. Football has become addicted to the money broadcasters bring in and one way or another this will in time led to the decline of football. Until football authorities and clubs break their addiction to the money broadcasters are giving them any talk about reducing the number of matches or any other needed reform is simply not going to happen.
3 – Daniel Rhodes responding to Ian Holloway's comment that he hopes we hurry up and get on with Brexit because that's what we all voted for to stop them telling us what to do about handball, Aug 21st:
And the hilariously ironic factoid Holloway seems to have missed is that the laws of the game are decided by IFAB (the International Football Association Board). A group comprising of the English FA, the Scottish FA, the Welsh FA, the Northern Ireland FA and FIFA. No EU (UEFA) meddling whatsoever.
You couldn't make it up. And if you did, you'd put it on the side of a bus. 😉
4 – ElIndio on Paul's penalty research, and VAR:
Lost for words really. This is a gold mine of work. It's also a real eye opener as to why it's harder for Liverpool to win the league. We've been consistently robbed of points (emanating from erroneous decisions) over the last few years. Crucially last season against Leicester we should have had the penalty, and won the match.
Liverpool don't have to be only good in football. They've to beat biased referees who are also clearly unfit to sprint when Liverpool break for an attack (I had read somewhere that while the number of counter attacks had come down from 2017-18 season compared to 2018-19 season – the average speed of players remained the same. I'm recollecting this fact by memory, and I'll need to recheck my source.)
Then when you add a über rich Manchester City who have Sterling prancing around the D, and getting penalties it seems we are up for an Herculean task. (Leicester won more than 10 penalties during the season they won the Premier League. I'm surprised why a hugely unlikeable player like Vardy wasn't mentioned. A serial diver Vardy's frame helps conjure the narrative that he is being bullied. Counter argument is that everyone under performed but they were winning penalties at an unprecedented rate that season. The same case could mentioned of Bournemouth who have chiefly players from the British Isle. No doubt they play attacking football but against Klopp's coaching, do you really think Howe's men are better when attacking? In their promotion season they won more penalties than us. This made me question what we had to do to win a goddamn penalty?)
The marginal difference between Liverpool lifting the Premier League or not, is going to be refereeing. There's literally nothing else to separate us, and Manchester City. Before the start of the season I thought VAR would be badly implemented when Mike Riley came out with his comments (That also makes me think that even criminal networks have better rate of identifying smuggling targets than Premier League referees spotting a penalty decision from few yards away). You've got to be a total egotistical dickhead to undermine technology, and claiming that your brother hood of referees are the perfect beings on Earth. (Bloody hell even Howard Webb's partner looks more fit than some of the men officiating a Premier League match)
VAR will not fix all the ills of the Premier League officiating until PGMOL has a clear out in terms of leadership. However VAR will decide the title race as sides will drop points like Manchester City did last week.
5 – Mark on Neville's final piece of the puzzle mindset:
Another issue is that Neville still seems to be stuck in a 1990's 'puzzle piece' mindset, you know; final piece of the jigsaw stuff… (we heard this a lot in respect of our sorry failings in the latter 90's and beyond).
Essentially, to Neville, United need only keep on changing the puzzle pieces until they all 'fit' and then everything will be dandy and they will win again.
There are many issues with this mindset, not least of all the fact that this ignores new realities on the ground like City's cheating and Liverpool's incredible resurgence an arrival as a super club.
United can change whatever they want, indeed, even if there was a ready made Pep or Klopp available for them, that still wouldn't make them certain winners, as they'd need to end above these other superbly well run clubs.
Its no longer good enough to be good, or even great, you have to be stupendous nowadays… so much about United is just mediocre.
Articles published since last Friday, with excerpts:
Monday August 19th:
My Day at the Match – Chelsea, Besiktas Stadium, European Super Cup Final, August 14th 2019, by Nishal Sodha.
The match was there for all to see so not much to comment on, save for the fact that, contrary to popular belief, Bobby Firmino is not part of Klopp's system. 

He is the bloody system! 

What a buy from Hoffenheim this beautiful Brazilian has turned out to be. (Oh and Kante is a beast!)

All in all, it ended well and I couldn't help but feel that karma is a bitch: Abraham dived for their equalising penalty and then missed the telling one to restore Liverpool onto the perch (in terms of total trophy count).
Ranking the Reds' Premier League Seasons, Worst to Best: #3 – 2008/09, by various.
Worst moment
Paul Tomkins: For me, it didn't involve the Reds directly: the decision at Old Trafford to award Man United a penalty when Spurs were leading 2-0, with what was a great bit of goalkeeping. It basically turned the title race completely in United's favour, when it was running Liverpool's way.

As The Guardian's Manchester correspondent noted in his match report: "Manchester United failed to keep a clean sheet for the seventh time in eight Premier League matches, showed specific vulnerability in the full-back areas and needed the aid of Howard Webb's mistaken award of a penalty to spark the comeback … Tottenham Hotspur led 2-0 at the interval against a torpid United."
Tuesday August 20th:
Around the Season in 100,000km – What Can We Learn From the FIFPRO Report?, by Daniel Rhodes.
"Professional footballers can only reach their full potential when they are in good health, both physically and mentally. Overloading the international calendar had a substantial negative impact on players' well-being and ultimately on their sporting performance."
A period of recovery of five days or more leads to better performances, with a reduced chance of injury.
A short period of recovery (less than 72 hours) is associated with more matches lost for their teams.
Players playing with less than 96 hours of recovery have a higher risk of injury in comparison with a longer period of up to five days.
Playing two matches a week, with a 72 hour recovery leads to a higher risk of injury in comparison to playing a single match a week.
Wednesday August 21st:
Why Are Liverpool Conceding So Many Clear-Cut Chances?, by Andrew Beasley.
Defence splitting passes by opponents were not a major issue for Liverpool in 2018/19. The Reds allowed just one per game on average in the Premier League last term. By my reckoning, just four of them directly created a clear-cut chance: three against Chelsea (the side who created at least 23 more chances than any other side via through balls last season), and one to Wolves on the final day.
Yet there have been three big chances from through balls already this season in all competitions. You can watch them in the video below, and I've also included one which was not classified as a through ball but is similar in execution: Kante to Giroud in the Super Cup, which was actually offside so shouldn't be included on Liverpool's charge sheet at all!
Thursday August 22nd:
Big Data Study: Referees Are Biased Against Foreign Players by Paul Tomkins.
In the seven Premier League seasons prior to 2019/20, there were over 600 penalties awarded, and at The Tomkins Times we thought it was worth looking into each and every one, in detail, to see if there was some kind of pattern of bias from referees.
This is a study of all teams, all players and all penalties. While I will also focus on Liverpool in the opening part of the article, not least due to the origins of this research (and this is after all an LFC-centric site), this is not a Liverpool-specific piece, and hopefully not Liverpool-biased in that it's purely data driven.
However, from what we can see, the results of a potential bias against foreign players are pretty mind-blowing and according to a university professor I ran the figures by (because I'm not smart enough on my own), "highly statistically significant".
The issue first arose when I realised (as covered on this site in the last year or so) that, since 2002, Liverpool as a team win a greater number of penalties the greater the number of British players in the side, no matter how good the team is (when compared to actual league position), and that British players win a greater percentage of those penalties.
This seemed very odd to me, along with the fact that Liverpool increasingly win most of their penalties away from Anfield, despite having better attacking "metrics" at home; and that the Kop end is weirdly a no-go zone for the Reds' penalties domestically, perhaps in response to the old myth (perpetuated in England) that Liverpool get too many penalties in front of the Kop. Look at the reaction from the media, Twitter and opposition managers the next time Liverpool win a penalty at the Kop end and it will almost certainly centre around Liverpool "always" getting penalties at that end, despite them being counterintuitively rare. (Confirmation bias only sees what it wants to see; data tells you the true story.) Liverpool get far more penalties in Europe at Anfield than in the Premier League – during one several-year period the Reds were awarded one four times as frequently in European competition than domestically, and it's not that Liverpool were getting a penalty every game in those Europa League and Champions League matches.
Also, another clear anomaly is that all the other big clubs get a normal percentage of their league penalties at home, which for all clubs across the entire Premier League era remains around 66%, or two-thirds. By contrast, Liverpool get a normal number (in overall quantity) of away penalties for their quality as a top six side, but an abnormally low number of home penalties, and rank 11th in the last five years for league penalties overall. The top penalty-winning sides of the past five years are, in order: Leicester City, Crystal Palace, Manchester City, Brighton & Hove Albion, Bournemouth and Everton. That, clearly, is bonkers. (Also, Man United have now won 14 penalties in their last 40 league games; for Liverpool, who won far more points in that time, it's just eight. But this may be a shorter term blip.)
It remains true that Spurs have won more Premier League Kop-end penalties at Anfield than Liverpool since 2017, and also, the Kop-end penalty in May 2017 that James Milner missed against Southampton was the last handball penalty awarded to the Reds in the league, almost two-and-a-half years ago. Handball itself is such a weird, subjective ruling that refs could give or ignore them and justify it either way; although the Reds did get a fortunate – but clear – handball in Madrid in June. That, of course, was not at Anfield, nor in the league. (Edit: of course, the handball rule has been changed this season, so it'll be interesting to monitor the effects it has.)
Another weird thing that the research threw up (briefly covered above) was how mid-table teams tend to win the most penalties, followed by top six teams, followed, in accurate stepped decreasing order, by the teams that finish below mid-table all the way down to the team that finishes bottom, which on average wins the fewest.
So there are lots of weird anomalies that seem to be the result of "pre-think", the prejudicial attitudes of referees. Expect to see something, and you will be more likely to see it. Think that you won't see something, or you are simply not expecting to see something, and you're less likely to see it. (See the famed "inattentional blindness" gorilla experiment.)