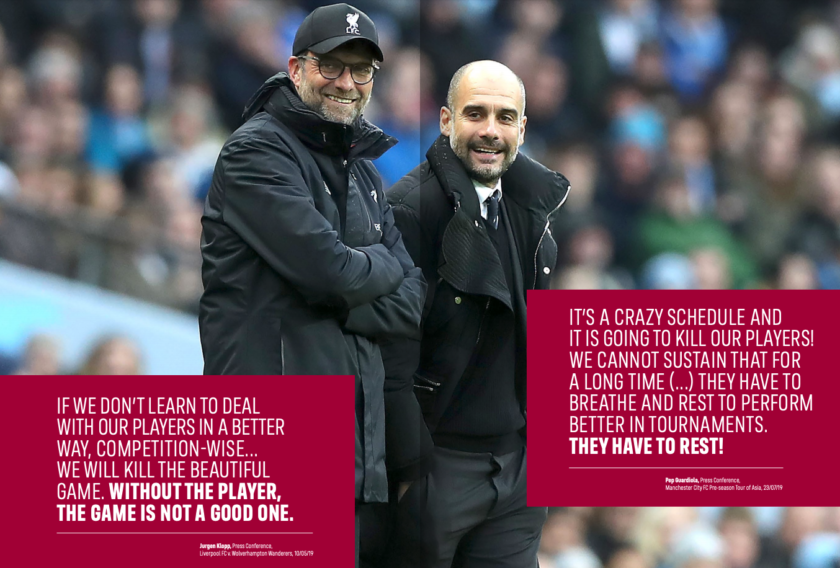 The headline figures are brutal. The football schedule is brutal. The demands placed on modern footballers are brutal, especially those who represent their national teams alongside their clubs.
Sadio Mané (Liverpool & Senegal) played in 70 matches and travelled 100,000 kilometres to represent his national team, without the benefit of a midseason break.
Jürgen Klopp and Pep Guardiola wholeheartedly agree, and both managers appear on the front page of the report with quotes they've made in press conferences.
Klopp: If we don't learn to deal with our players in a better way, competition-wise we will kill the beautiful game. Without the player, the game is not a good one.

Guardiola: It's a crazy schedule and it is going to kill our players! We cannot sustain that for a long time. They have to breathe and rest to perform better in tournaments. They have to rest!
Liverpool have already this season had to travel to Turkey for the Super Cup final, play including extra time and penalties in humid conditions around midnight, before flying back to UK on the Thursday morning. This was followed by a trip to Southampton to play Saturday afternoon. The Reds basically spent all week on planes, trains and in automobiles rather than honing their skills on the training ground. This must have an impact on performance.
Well, as luck would have it, FifPro published a report at the start of the season that outlined the potential consequences of heavy schedules.
The rest of this article is for subscribers only.
[ttt-subscribe-article]