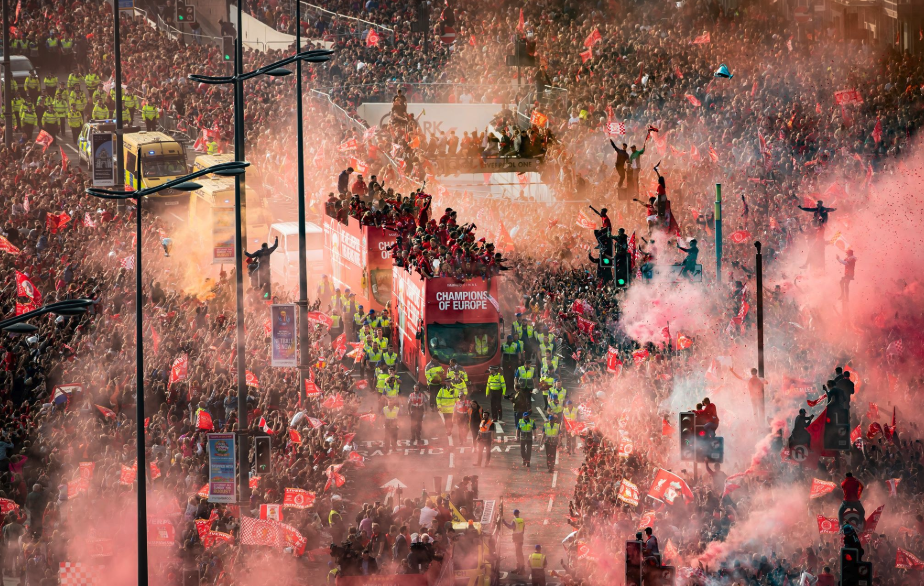 Posts selected by Chris Rowland and Daniel Rhodes.
This week's round-up brings you some of the best comments on the site, together with some samples of the articles we've published.
If you'd like to join our troll-free community and enjoy some intelligent debate about Liverpool FC and the wider world of football, and indeed the wider world generally, see the 'Subscribe' tab at the bottom of the page for details of how to sign up.
1 – El Indio on the thread for Paul's new book, July 15th:
To be the manager of Liverpool football club is not just about getting Liverpool's deep rooted connect to socialism. It's about managing expectations of close to 560 million supporters around the globe.
560 million is just a bit more than half a billion.
It would also mean that if Liverpool were carved out as a country, the supporters number would sit behind the two most populous countries in the world (Thereby reducing the #'s across the table, and just not the two most populous countries)
China at 1.42 billion
India at 1.35 billion
The State of Liverpool FC at 0.56 billion
United States at 0.33 billion
(At the time when Billy Hogan came out to announce the estimated number of Liverpool supporters globally, I thought FSG/NESV had just closed the deal/steal of the century.)
Liverpool FC support cuts across the borders of countries, the fabric of religion, the color of money, and the Babel of languages across this planet.
(A thought that occurred when I started talking to an Egyptian in Europe about Salah. Everyone loves him. Bloody hell, people even voted for him in a Presidential election despite not even contesting, and ensuring that he was a runner up to the incumbent candidate)
The support also comes with various life years, from as early as the World Wars to the dawn of the 21st century. If someone started encapsulating, and recording the stories, myths, and legends surrounding the club, and it's servants I feel it would in some time beat the Iliad, and might rival the Ramayana.
We are, as an individual, just a tiny individual in this story of Liverpool FC. But to witness the journey of one of the most glorious team assembled over the course of three, and half seasons is like rivaling Odysseus' 10 year journey to reach the promised land.
(The reference is highly incompatible though. Odysseus fought a war of 10 years before the unexpected decade old wandering across the globe)
How many times have we had a shit result? I can't seem to remember but I'm pretty sure we could count them on our fingers.
How many times have we delivered amazing results? Wow. So many. Off the top of my head even before this season:
a) The shellacking of City at Anfield in Jan-2018
b) The shellacking of City at Anfield in Apr-2018
c) The shellacking of Roma at Anfield.
d) That night in Anfield against Dortmund
e) The Norwich winner by Lallana
f) The shellacking of Arsenal on opening day of 2016-17 season
g) The shellacking of Porto (The first one 🙂 )
h) Bobby's belter versus Stoke. At Stoke
i) Salah's solo goal against Arsenal at Anfield
j) Hitting Hull for 6 at Anfield
k) Beating United 2-0 at Anfield when it should have been 4-0 or 5-0 in Europa League
If you count in this season, this list could potentially double. This season is the turning point.
There are so many great days, and weeks. It's the longest time I've been quite nervous, excited, and happy all at the same time.
Gone are the times when people could take the mickey out of us. Even Barcelona/Madrid/PSG/a financially doped-City can't stop us.
The collection of players are just not your average football mercenaries, they are highly ambitious individuals who will do anything to win within the legal means of the game.
The legality means that we are the light in a world of a collection of dubious clubs prone to cheating.
This is the world of Liverpool FC. Equality, fairness, and tolerance. Adherence to rules doesn't mean weakness. Non-adherence to sound bites doesn't mean lack of ambition. Display of anger doesn't mean hate. Display of emotionally charged tears doesn't mean surrender.
The man at the helm could envy leaders of the world, and could even teach a thing or two about leading a population of 0.56 billion people. Because many of the days over the past three, and a half seasons we have had happy days/weeks. And nothing beats that feeling. Life seems fairer, and even of days of defeat you can turn to a Klopp sized inspiration. (Nothing beats the shit stormed misery of Kyiv. But oh my word, we made it happen in Madrid with a party.)
This book is up there to record our journey, and it will be as significant as the Iliad or the Ramayana of this world.
Here's to many happy weeks, and the recording of those memories in print. What a time to be alive. More importantly, what a time to be a Red.
2 – Paul Tomkins on talk of Philippe Coutinho returning to Anfield, July 16th:
None of those were 27 and arriving at the club having already let the club down, and none arrived as the highest paid player – which Coutinho would presumably want to do.
Nothing wrong with buying undervalued talent, but is Coutinho still overvalued, having been extremely overvalued before?
Next, is he mentally damaged from the experience? It may improve him, but equally, it may crush him. He was so anonymous at Anfield for Barca. We bought Salah when he was on a massive upswing at Roma.
How many players (or managers) go back and make a real success of it? There's a different kind of pressure returning than when first arriving with lower expectations. All those players who returned to Dortmund have pretty much failed.
Next, the team went from strength to strength without him. That said, two Brazilians have arrived since he left so he may feel even more at home.
If he comes back, I'm cool with that. But only because I know it will be because it suits Liverpool, not because it suits Coutinho. But even at £88m, Coutinho could seem overpriced aged 27.
3 – Hesbighesred on the Coutinho transfer links, July 17:
I disagree with a number of the assessments here. On paper, age aside, I think he's almost a perfect player for us:
1) He plays in the position we could most benefit from covering (inside left)
2) He's versatile, can certainly do a job on the opposite side, as a ten or as a very attacking 8.
3) He offers something others in the squad (bar Shaqiri) don't – unique dribbling, needle-threading through passes and amazing long shooting/set-pieces, allied to the significant pace that prevents Shaqiri from being elite.
4) He's a big talent who may be undervalued by a big club. Peak Coutinho for around 90 million in today's market? Value for money in my book.
5) We already know that he was trusted – unlike Origi and Shaq – to genuinely rotate with our front three. Not just offer them a 10 minute break here and there and a cup day off, but actually a scenario where Klopp was happy to play 'any three from 4'.
Now, personally, I think that last part is absolutely crucial. I don't think the way we've been using our front three is either sustainable or desirable, I think we've sacrificed sole of our pressing and sharpness in order that manage their fitness, and still been lucky that none have been out for more than a few weeks at a time.
Do I think we'll sign Coutinho? No. Klopp himself has said he doesn't like going back to the past, and I think that would apply even more so to someone who left as disrespectfully as Coutinho did.
But we *do* need that 4th option. It isn't going to be Shaq – I love the guy but he isn't suddenly going to discover elite pace.
That leaves Origi and Brewster. The former has added some versatility to his game but really needs to channel that inner Drogba – and I think there are one or two signs he might just do that.
More likely, I think, is that Brewster will be used as far more than just a cup option. It's clear that Klopp Things he's something special, and he isn't afraid to depend on younger players.
Another factor is that our front three simply won't quite be all ready and sharp given the football they've played.
That leaves me wondering:
What if we're going to change the timing of our training this season?
Is it possible we're preparing the likes of Brewster and Origi to hit peak fitness at the start of the season? Let them get us through the start, then rotate them more in the mid-season, by which time the terrifying trident will take-over?
One thing's for sure, I'm fascinated to see what we'll do, and whole it makes for a dull pre-season, I'm almost more excited by the thought of no signings simply because of what that suggests about Klopp's belief in Origi and Brewster. Signings are great, but there's nothing more satisfying than developing youngsters or rehabilitating players back from the brink of obscurity. Development beats buying ready made every time when it comes to lasting satisfaction!
4 – Espandole on conventional wisdom during the transfer windows:
I'm reading a lot of opinions/comments/moans from all over the place that Liverpool need to strengthen while they are at the top, that conventional wisdom suggests we must buy big now and to do otherwise would be folly, unwise and lead to our demise.
Seems to me that conventional wisdom wins ya the sum total of fuck all and it is innovative thinking that's the key to success.
Klopp's on record as saying his favourite part of management is the development of players, and I reckon his biggest disappointment was the poaching of his players by the powerhouse supervacuum of Bayern Munich while he was boss of Dortmund.
He spent all that time nurturing his talent….his kids if you like, only to see them snatched from under his nose, just when they were gelling into a formidable unit. It must have been heartbreaking for him, as it's obvious to anyone with an ounce of empathy just how much he cares.
The Champions League final against Spurs was a meeting of one team containing a nucleus of players that have been together for a number of years……7 or 8 Tottenham players lined up against Liverpool in Klopp's first game in charge, with more of the same group on the bench. This Spurs squad had developed together for 3 and a half years, which from my perspective is a huge advantage against a team with some key players that were still in their first season with Liverpool.
My point is that I believe from our manager's perspective he feels he's done the donkey work and the players at his disposal are age wise at the peak of their powers. Furthermore we're in a position where it would be a surprise if we lost any key players within the unit our manager has created, and now he is in the (for him) gravy stage, with the opportunity to bring through the next generation of superstars without the worry of his squad getting poached.
He must be fucking made up.
And that for me is why we won't see much action in the market from Liverpool's perspective.
You can stick your conventional wisdom where the sun don't shine.
5 – Tash with some live commentaries from the Champions League final:
Next time you have a long drive (or when you simply have a few hours spare), may I suggest you pass a couple of hours with Radio 5s full match commentary:
https://www.youtube.com/watch?v=Cn-mrwYTr4A
Radio commentary always captures more atmosphere for me.  This particular commentary, like the match, is special.
If you havent got 2 hours to spare, go for the 20min version.  Its equally 'Wow':
https://www.youtube.com/watch?v=1eH2QnzYdV0
When even someone as dull as Alan Shearer loses it, you know its great.
6 – Hebighesred on the atmosphere Klopp likes to create:
Klopp's main priority is people. Above all, he wants a happy squad. He wants people he can work with, who want to improve. What he's really got about Liverpool's boot room tradition is the idea that our training is harder than most matches – just like Sturridge was saying about his Champion's League medal – and it's why Brewster's never been on loan, and nor was TAA.
He's seen them in first team situations already and they've not just coped but thrived. Exactly why he's rather let the likes of Lallana and Origi either run down the contract or sign a (relatively) cheap extension – they add value to training even if they're not playing, which also means that when they do play they're already respected and trusted. Whatever a player's limitations might be, other good players can work with them bring the best out of those players – but only if the team is in complete harmony.
And that harmony also depends on playing with quality you know, week in, week out.
Articles published since last Friday, with excerpts:
Monday July 15th:
Ranking the Reds' Premier League Seasons, Worst to Best: #16 – 1999/00, by various.
Alexander Tate: Thankfully Houllier was happy to dispense with over a dozen of the playing chaff. McManaman left on a free leaving the magnificent seven who arrived to build on the previous season's farce. Man Utd were champions to the tune of 18 points from Arsenal ahead of us by six, with Leeds in between. Chelsea made up the chasing competitive foursome, where points were shared around. Thus leaving our abject defeats to Watford, Boro, Bradford and at home to the Bitters to seem costly, as well as embarrassing.
With no Europe we decided to concede late winning goals in both domestic competitions in early rounds. Brilliant!
Yet in the league, our defence was solid, conceding a divisional best 30 goals. The arrivals of Westerveld, Henchoz and the legendary Hyypia, all paid dividends immediately. But Owen was subdued, Fowler floundered as Heskey huffed and puffed. Only two points behind Leeds, our better goal difference would have gotten us into the CL. Almost. Nearly. Frustrated. Again.
Bar our late season collapse, from the turn of the year we could see Hamann, Gerrard, Murphy and Berger get a grip on midfield, and with our, frankly, over performing defence, maybe it wasn't too bad.
Outstanding Brewster is a Generational Talent Who Can Become Reds' Best Ever, by Paul Tomkins.
Stylistically, Brewster perhaps most closely resembles Fernando Torres: similar size and speed, an ability to ghost past defenders, and a clear eye for goal.
The pitfalls awaiting Brewster are injuries and over-confidence. But such is the squad mentality you think that, unlike in the 1990s, there will be no dickheads at the club leading him astray, and the management are world-class. As such, he'll get a better education from Virgil van Dijk than he would from Neil Ruddock. The squad is self-policing, ultra-professional, and all part of the reason James Milner (a clear leader in terms of attitude) is still at the club.
Overhyping Brewster may not help, but it's rare to see a young player with no obvious weakness to his game: he has the skill, physique, pace, temperament and work-rate to be absolutely elite.
Wednesday July 17th:
Ranking the Reds' Premier League Seasons, Worst to Best: #15 -2002-03, by various.
Worst Moment:
Chris Rowland: Our miserable CL campaign. Failing to qualify after the 3-3 in Basel was awful, but the two games against a Valencia side manage by a certain Rafa Benitez revealed how far short we were of the level we aspired to. Our European misery was completed when Celtic won at Anfield to knock us out of the UEFA Cup we'd dropped down into.
Thursday July 18th:
Free Chapter From "Mentality Monsters": Barcelona Humbled by Paul Tomkins
Bonus chapter from Mentality Monsters: How Jürgen Klopp Took Liverpool FC From Also-Rans To Champions of Europe
Nothing was won; at least, nothing silver and tangible. But a team can only be in with a shout when the trophies are handed out, and at 8pm on May 7th, 2019, Liverpool had next to no chance of progressing to the Champions League final in Madrid, just days before they still had a chance of winning the Premier League crown, albeit with Man City simply needing to match whatever the Reds achieved to retain their crown.
Across the media, journalists admitted that they were turning up to write the story of Lionel Messi, arguably the world's greatest ever player – and certainly the best since Diego Maradona (whose career, unlike Messi's, faded badly upon substance abuse) – and how Messi was heading to yet another Champions League final.
According to the data-crunching websites FiveThirtyEight and Gracenote the probability of Jürgen Klopp's side progressing was between 4-6%; but no one had ever turned around a 3-0 first-leg deficit in the semi-finals of the Champions League/European Cup, with the only time such margins were overturned involving an away goal. To have to do so against a Barcelona side that had just wrapped up the La Liga title a week earlier and rested its entire XI in the league game six days between the two legs when Liverpool had a tough away game – and when that game at Newcastle, along with others, left the Reds without so many key players – kept the odds lengthening. As such, it was a 50-1 shot at best at kick-off. Jürgen Klopp was still yet to lose a two-legged European tie as he took his team into the final two-legged game of his third European season, but this time it looked beyond even his powers of motivation.
And yet …
Barça strolled into town, 3-0 up from the first leg, looking confident in their luminous yellow kit; again fielding two ex-Liverpool players who fought to leave the club for the glory of Spanish football and a more suitable "cultural" fit. Going into the game, neither of them were being missed by the Reds, but there they were in the opposition lineup, ready to do damage. By contrast, the Reds were almost decimated by injuries. Watching from the stands, or at home undergoing treatment, were Mo Salah, Roberto Firmino, Naby Keïta, Alex Oxlade-Chamberlain, Adam Lallana, and by the second half, the injured Robertson, who had been cynically kicked by Luis Suárez. The five missing from the start had scored 40% of the Reds' goals in 2018/19 (while Oxlade-Chamberlain, capable of goals, had barely played 20 minutes), and, after inflation, their transfer fees represented around one-third of the squad's overall cost.
(Buy the book, on Kindle and in Paperback, on Amazon)