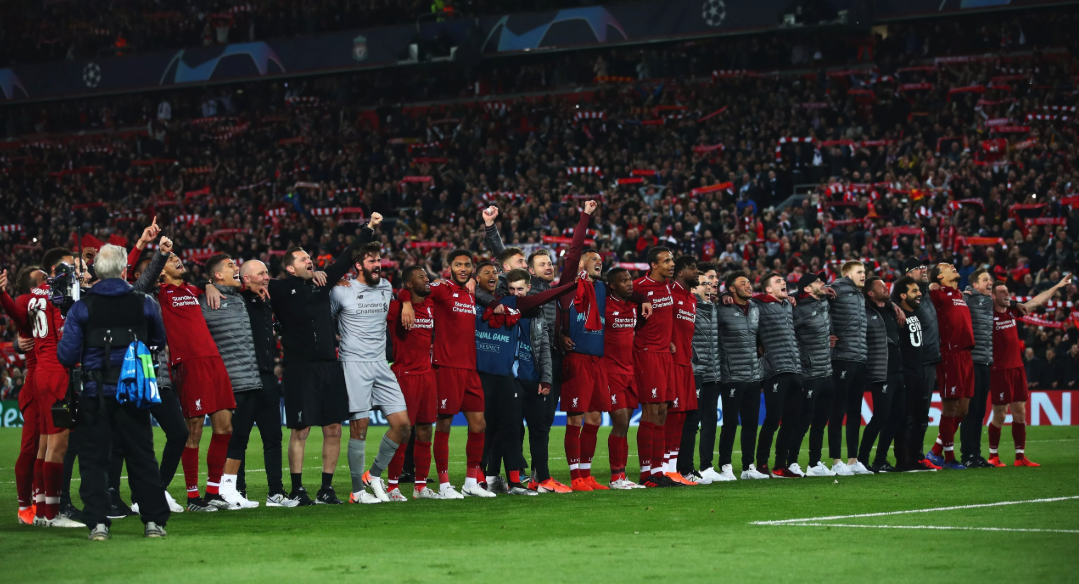 Bonus chapter from Mentality Monsters: How Jürgen Klopp Took Liverpool FC From Also-Rans To Champions of Europe
Nothing was won; at least, nothing silver and tangible. But a team can only be in with a shout when the trophies are handed out, and at 8pm on May 7th, 2019, Liverpool had next to no chance of progressing to the Champions League final in Madrid, just days before they still had a chance of winning the Premier League crown, albeit with Man City simply needing to match whatever the Reds achieved to retain their crown.
Across the media, journalists admitted that they were turning up to write the story of Lionel Messi, arguably the world's greatest ever player – and certainly the best since Diego Maradona (whose career, unlike Messi's, faded badly upon substance abuse) – and how Messi was heading to yet another Champions League final.
According to the data-crunching websites FiveThirtyEight and Gracenote the probability of Jürgen Klopp's side progressing was between 4-6%; but no one had ever turned around a 3-0 first-leg deficit in the semi-finals of the Champions League/European Cup, with the only time such margins were overturned involving an away goal. To have to do so against a Barcelona side that had just wrapped up the La Liga title a week earlier and rested its entire XI in the league game six days between the two legs when Liverpool had a tough away game – and when that game at Newcastle, along with others, left the Reds without so many key players – kept the odds lengthening. As such, it was a 50-1 shot at best at kick-off. Jürgen Klopp was still yet to lose a two-legged European tie as he took his team into the final two-legged game of his third European season, but this time it looked beyond even his powers of motivation.
And yet …
Barça strolled into town, 3-0 up from the first leg, looking confident in their luminous yellow kit; again fielding two ex-Liverpool players who fought to leave the club for the glory of Spanish football and a more suitable "cultural" fit. Going into the game, neither of them were being missed by the Reds, but there they were in the opposition lineup, ready to do damage. By contrast, the Reds were almost decimated by injuries. Watching from the stands, or at home undergoing treatment, were Mo Salah, Roberto Firmino, Naby Keïta, Alex Oxlade-Chamberlain, Adam Lallana, and by the second half, the injured Robertson, who had been cynically kicked by Luis Suárez. The five missing from the start had scored 40% of the Reds' goals in 2018/19 (while Oxlade-Chamberlain, capable of goals, had barely played 20 minutes), and, after inflation, their transfer fees represented around one-third of the squad's overall cost.
And yet Liverpool still didn't need Philippe Coutinho or Luis Suárez. Barcelona, meanwhile, when they desperately needed them, couldn't find them.
This was only half a Liverpool team, against a whole, fully rested and buoyantly confident Barcelona.
And yet …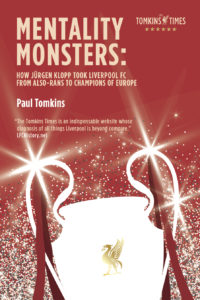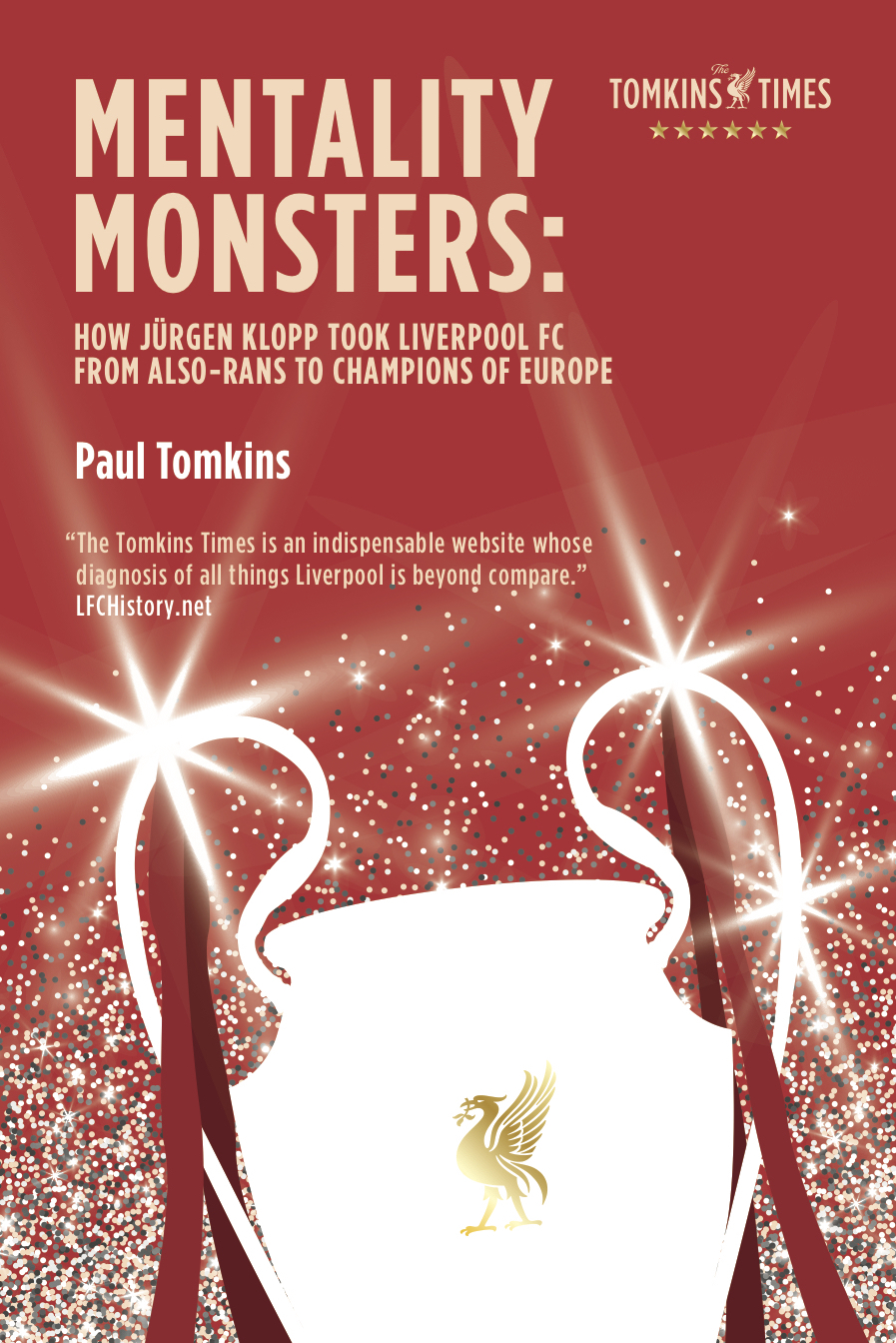 After the impossible was made possible, Liverpool's players and manager were almost speechless, and in tears, in explaining how this happened. The emotion of football can be overplayed, and sometimes we see players as mercenaries, only in it for the money. But BT Sports, on their live broadcast, had to interview several Liverpool players before anything even remotely coherent was uttered. The TV station knew better than to live broadcast an interview with Jürgen Klopp; but, noting it was past 10pm, the German duly obliged. "You mean – and you'll have to bleep this, my fucking mentality monsters". Gary Lineker, back in the studio, said he had been asked to apologise – but refused, on the grounds that it was late at night, and who wouldn't want to swear right now? Liverpool had been desperately unlucky to lose the first leg, let alone lose it 3-0; but it just laid the foundations for an even better story.
It all made for the greatest Champions League/European Cup semi-final comeback ever, to place right alongside the greatest final comeback, back in 2005, in some place that just happens to be hosting next year's final. Each time a three-goal deficit had to be overturned against a more expensive and experienced team.
Just seven minutes into the game the odds were back down to around 12-1, as Sadio Mané seized on a loose Jordi Alba header to dart towards the box; the final-third regain again as effective as any playmaker. The ball broke to Jordan Henderson, who – in an advanced role – smartly evaded a tackle and just about had enough time to get away a prodded shot, with no back-lift possible; Marc-André ter Stegen got down sharply but could only parry the ball into the path of the onrushing Divock Origi, the hero just a dozen minutes earlier (in playing time) on Tyneside, who followed up his logic-defying winning header with a tap-in against Barcelona.
So often in these games the chasing team – pumped up, with nothing left to lose – gets the early goal; the crowd goes wild, hopes rise, and then the opposition gets one back – and with the away goals rule – the tie is dead. A great atmosphere suddenly dissipates to pin-drop silence, and you're just glad your team gave it go; where they maybe grab a late second, to take the consolation of winning the game 2-1, but losing the tie.
Or, if the deficit is somehow cancelled out – and it goes to 3-3 – the fearlessness evaporates, and the team that had everything to lose, staring down humiliation, suddenly is the one with nothing left to lose. It happened in Istanbul; AC Milan were utterly shellshocked by the Reds' comeback until it went 3-3, then suddenly they came back to life, as Liverpool grew nervy. It happened again here, only to a much smaller degree; Barcelona came out fighting at 3-3, but without ever creating anything gilt-edged. They still only needed one goal to make Liverpool need two more to progress, but it was a night when they drew a blank at Anfield, the remarkable Alisson Becker dealing with anything Barça could throw his way.
Unlike Jerzy Dudek 14 years earlier, Alisson didn't really have to pull off any wonder-saves, but as Klopp explained after the game, the Brazilian is not a maker of eye-catching saves – but he's always just there. Just as Virgil van Dijk rarely makes a tackle – he's too good at reading the play to need to – then Alisson's game is all about judgement and positioning and anticipation, rather than being forced into the theatrical arched-back saves that the cameras love so fondly. Often he just thumps the ball away with two hands, either with his fists or as an open-handed barrier. In this game Barcelona had two clear-cut chances; Alisson dealt with both. At the other end, Liverpool had five, and came away with four goals. The Catalans must be sick of the sight of him; the goalkeeper playing when Roma overturned a three-goal quarter-final deficit a year earlier, which set up Alisson's own first experience of Anfield on a frenzied European night (and when it was Liverpool's turn, in the away leg, to stare down the possibility of throwing away a big advantage). At least this time he was on the right end of the drubbing; but he had helped sow the seeds of doubt in this superstar opposition.
There were Liverpool heroes everywhere. In particular, Fabinho – booked early, but still able to win tackle after tackle, and even lead a crazy-legs counterattacking charge late in the game, like a rugby player just trying to gain distance until someone takes him out, no other goal in sight. Joël Matip looked every inch as good as Virgil van Dijk, just as he is every inch as tall as him. Sadio Mané, sans Salah and Firmino, channelled his inner Diego Maradona (the good side, not the coke-snorting lunatic side) to dribble past players and retain his balance, and not even let anyone get a sniff of the ball.
Man City, ahead of the final weekend's Premier League fixtures, will have watched their old friend James Milner, moved from midfield to once more become a makeshift left-back, making a headed tackle whilst on the floor. That's what this Liverpool team would give. It's almost beyond description, without resorting to expletives. It has pace, power, goals, aerial dominance and agility – but it also has a player who will tackle someone with his face.
The villain on the night was clear: not so much Philippe Coutinho, who had left more recently under a cloud of acrimony (simply from him twice going on strike to get the move), but the man who played the first leg like he was trying to get every Liverpool player sent off, and celebrated his goal as if it was against just any other club (a less serious crime, perhaps). Luis Suárez returned to Anfield suggesting the fans would give him a good reception, but as he stood on the centre-circle to take the kick-off – which was delayed for what felt like a minute until the television broadcasters were ready – he was mercilessly booed and whistled and jeered. Before long there would be chants of "Fuck off, Suárez!" The fact that his children were there as Liverpool supporters must have made it an unbearable evening, given the enmity pouring towards their father; but once he crosses the line Suárez frequently crosses the line. He has never helped himself. In time he will be remembered fondly again, when the wounds from the Nou Camp heal, but for now he was the enemy.
In the first half he missed a good chance, scuffing his shot across goal for an easy Alisson save. Half of the passes Suárez completed in the second half were kick-offs, and his most effective kick in the first half was into Andy Robertson's shin, forcing the Scot off at half-time. Similarly, Jordan Henderson was in agony just before the break after an opponent's studs slid into his knee. "Just give me everything. A jab, tablets. Both. Everything," he was reported to have said at half-time. He managed to solider on – indeed, he was heroic in is endeavours – but Suárez had put paid to Robertson's night. Almost all of Liverpool's key wide creative forces were now absent.
And yet even getting rid of Robertson rebounded on the returning Uruguayan. On came Gini Wijnaldum and, with goals scored in the 54th and 56th minutes – exactly echoing the times of the first two scored in Istanbul – he turned the tie Liverpool's way; even more reminiscent of 2005 was Wijnaldum's header, to make it 3-3 on aggregate, which bore a lot of similarities to Steven Gerrard's towering leap at the Atatürk. The Dutchman's second goal came just 31 seconds of playing time after his first, albeit with a 90-second interim for the wild celebrations and a VAR investigation into a "possible red card event", which was presumably when Wijnaldum pushed ter Stegen in an attempt to get the ball back – in the usual antics that ensue when a further goal is required and the opposition team decides to try and hide the ball. The Liverpool no.5's eagerness to grab that ball was rewarded when, just half a minute later, he rose like the proverbial salmon – if that salmon was the bastard child of Duncan Ferguson – to thump a header into the top corner, as the whole place shook on its foundations. Any louder, and Anfield would have needed rebuilding. There's nothing quite like a quick-fire second goal to take an atmosphere into frenzied, with the crowd yet to calm down from the previous strike, but what followed 23 minutes later – while all the more remarkable – was also perhaps slightly unbelievable.
Running down the wing, but unable to work room for a cross, Trent Alexander-Arnold realised that he was getting closer to the byline. A quick movement later – dummying to cross – he was able to play the ball onto Alba's leg to win the corner, which was the best he could hope for in the situation. The ball bounced back off the advertising hoarding and onto the pitch, while the ballboy helped get another ball onto the corner spot. As Origi kicked the first ball back off the pitch, Liverpool's no.66 turned away, as if to let Xherdan Shaqiri take it, for an inswinging left-footer, having just assisted the previous goal. But then Alexander-Arnold turned back and, in almost one movement, whipped in the cross to the unmarked Origi, loitering on the edge of the six-yard box. Origi was only half paying attention, with quick glances; but that was more than any other player on the pitch. Quite how the young Liverpool right-back spotted the opportunity is hard to know; the vision was of a world-class playmaker (something that his crosses were already starting to resemble on a regular basis). In an almost surreal moment, Origi swept the ball, with a powerful shot from his instep, into the top corner. Because no Barcelona players were even remotely ready it seemed as if the referee had to disallow the goal – as if it was taken too quickly; but unlike a free-kick, you cannot take a corner too quickly – once the whistle has gone and the ball has been placed, it's fair game; unless, of course, the referee has already blown his whistle a second time, to halt proceedings due to some scuffling in the box. Even Klopp and his staff missed the goal. It needed young substitute Ben Woodburn to tell the manager what had happened.
Was this another feather in the cap of Liverpool's analysts? In the first leg Barcelona, as they so often do, had spent so much time surrounding the referee after every single decision – to good effect, from their point of view, in terms of intimidation (Messi seemed to spend both games trying to be the referee) – but as such they would often not be paying attention to the opponents. In the era of marginal gains, here was one: be alive when the opposition has switched off. It's the kind of detail that is easy to overlook.
You also cannot overestimate how difficult the chance was for Origi. Week after week I write about someone somewhere in football missing a "sitter" from a ball coming in from wide; any time there's even just a little pace on the ball it becomes difficult to judge which foot to use (and sometimes, the additional confusion is whether or not to go with the head or the chest, or even the knee or thigh). If there isn't time to let the ball come across the body, the striker is often swinging with a certain lack of control. Add that this was a bouncing ball, that skipped off the turf on the half-volley, and the Belgian could easily have just got it a fraction wrong, from which point it's in the Kop rather than the back of the net. Indeed, it wasn't a million miles away from the breakthrough corner Wijnaldum lashed in at Cardiff, after the Dutchman had pointed out to Alexander-Arnold at half-time that there was a space in front of the six yard box the Welsh team were leaving unguarded.
It perhaps also felt unreal as Origi isn't the most demonstrably ecstatic of scorers; just days earlier he'd looked confused and maybe embarrassed at scoring the winner at St James' Park. Was this really a goal? The aforementioned Wijnaldum goal in Cardiff and the Jordan Henderson strike at Southampton led to scenes of delirium from the scorers; here, Origi merely looked fairly chuffed. And of course, there was the added spectre of VAR, ready to rule out a goal after it has been celebrated; as happened so famously, and painfully, for Manchester City in the dying seconds of their victory over Spurs in the quarter-final second-leg, with unbridled joy turned to tears by the subsequent offside decision, picked up by the video referee.
It was such a surreal night that even Jose Mourinho appeared humble on beIN Sports, using the Spanish word for comeback:
"For me, this remontada has one name: Jürgen. I think this is not about tactics, nor philosophy, this is about heart and soul, and fantastic empathy that he created for this group of players. Jürgen deserves this result. This is about him, a reflection of him and his personality, to never give up, fighting spirit, every player giving everything, and not crying about the quantity of matches that they have to play, and not crying about not having a certain player. Today is about Jürgen's mentality. They had the risk of finishing a fantastic season without anything to celebrate, and now they are one step from being European champions. I think Jürgen deserves, you know, the work they are doing in Liverpool is fantastic."
Perhaps it helped that Barcelona, like Liverpool, are perhaps Mourinho's biggest enemies in football, aside from all the Real Madrid, Chelsea and Man United players he has fallen out with; and praising Liverpool could be seen as a dig at those at United who refused to back him. But just like Pep Guardiola, he found it hard to disguise his admiration for what's going on under Klopp's guidance, even if there was surely some self-serving motive wrapped within.
Writing in The Guardian, Jonathan Wilson:
"…in the cauldron of Anfield, when crosses – at last – found their man and deflections fell Liverpool's way, it was not enough. Barcelona's front three between them didn't make a single tackle – an extraordinary statistic for a team under such pressure with a lead to defend. They made only two interceptions, both by Philippe Coutinho. Suárez had only 31 touches (of the ball, that is: there were probably at least that many on the legs of Andy Robertson). Messi's brilliance transformed the first leg and his level of genius can probably be afforded a certain latitude, perhaps even requires it, but defending a man down – two men down given Suárez's no-show – against a side as good as Liverpool leaves a team horribly susceptible."
Guillem Balague, Spanish football journalist and ex-Merseyside resident, gave his views on BBC Radio 5 Live after the final whistle:
"Jürgen Klopp understood what happened in the first leg better than Ernesto Valverde. In that game Liverpool had a lot of chances and played a high tempo that Barcelona struggled with. Klopp said they didn't do much wrong in the first leg and they did not have to change much so they did the same again tonight. Over the two games, for three quarters of them Barcelona were inferior, scared and unable to find answers. For me, Messi was saying 'how do I influence the game?' For the last hour where was he? Not many teams have ever done that to him. After the first leg, Messi warned the Barcelona players that the game was played at the pace Liverpool wanted, and he said they [Barcelona] were all exhausted and couldn't play at that pace again, but that's what has happened again … Barcelona have not played a team like this in a long, long time."
The Guardian's resident Spanish expert, Sid Lowe, wrote:
"At the end Leo Messi collapsed to the floor and for a time he just lay face down on the grass, until a teammate eventually came and lifted him to his feet. Exhausted, he was barely able to breathe. Barely able to believe it, either. When at last he walked, the noise deafening as he headed towards the touchline, he was still wondering how it could have slipped through their fingers like that … This is not Anfield, this is the Camp Nou six days earlier. When Ousmane Dembélé scuffed the last kick of the first leg, producing a shot unforgivably bad, Barcelona led 3-0 but it felt like it mattered, which was telling in itself – and because it felt like it mattered, it did matter. Barcelona still did not feel safe; they had seen Liverpool up close and knew how good they were, Messi admitting to feeling 'asphyxiated'. Deep down, they also knew of their own vulnerability."
After that first game, Cesc Fàbregas told the BBC: "Hats off to Liverpool, what an amazing performance. You can only lose a game like that if against you there is a good team but especially a player that is well above the rest."
If Messi was asphyxiated in the first leg, then the second leg must have felt worse. He'd been here before, 12 years earlier, but he was not a phenomenon back then – merely an amazing kid; and they were not necessarily expected to qualify for the next round, after losing the first leg 2-1 to Rafa Benítez's men on home soil. But there can be no doubt that his good friends, Suárez and Coutinho, knew the power of Anfield; how it makes strange things happen. If you've been on the beneficial end of such noise and passion then you will be nervous stepping into the arena as an opponent; especially if you didn't necessarily leave on the warmest of terms (both players essentially went on strike to leave, but then again, players have done that to join Liverpool.)
And in the end, all this night did was further fire the folklore; yet another legendary night, to add to the oeuvre. The more frequently nights like this happen, the more they can get into the heads of the opposition, before the whistle has even been blown; a virtuous circle. A year earlier the Reds went 5-0 up against Roma in the semi-final, having gone 3-0 up against Man City in the quarters; and in May 2019, Liverpool found themselves 4-0 up against a Barcelona side absolutely blown away.
Klopp reflected after the match: "I said to the boys before the game, 'I don't think it's possible but because it's you we have a chance'".
Fucking mentality monsters, every last one of them.
(Buy the book, on Kindle and in Paperback, on Amazon)