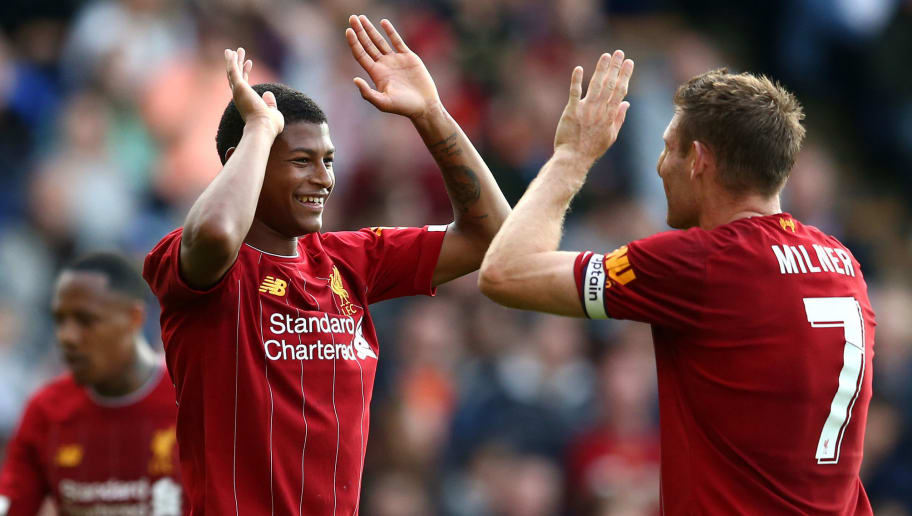 With a positive and infectious attitude, sensational finishing skills, electric pace and now the body of a fully grown man, Rhian Brewster can solve Liverpool's attacking "options" shortcomings.
Jürgen Klopp has worked with some pretty decent attacking talent in his time: Mo Salah, Robert Lewandowski, Roberto Firmino, Sadio Mané, Mario Götze, Philippe Coutinho, Marco Reus, Daniel Sturridge, et al, and so he will know, simply through training sessions, what a special player looks like. (Not least because through those training sessions he helped to mould and "create" many of them.) Unlike us, he doesn't have to watch showreels of prospective targets to know if a player already at the club could fit the role.
If he thinks Brewster can cut it, he should be believed. Liverpool may yet make a move in the transfer market, but to me it doesn't feel vital.
Brewster got injured as a boy with the world at his feet, and returned two years later as a man. He's clearly got strength, albeit with room to fill out a bit more, and he already looks to be around 6'0″ after a growth spurt.
His three goals in a combined 90 minutes against lower league teams in friendlies so far this summer are instructive, even if the opposition wasn't the strongest; because if they weren't the best opponents they were certainly big bloody bruisers. This was men's football, not boys' football. Except Brewster, as a kid, made it look like boys against men.
And while Tranmere and Bradford are nothing to be feared, it wasn't like Brewster was being supplied by Salah, Firmino, Mané, Trent Alexander-Arnold and Andy Robertson, to mop up their great approach play. The impressive 18-year-old converted full-back Yasser Larouci (who is developing nicely), Harry Wilson and Ryan Kent are themselves not at the proven level of Premier League quality, so it's not like Brewster was part of strong Liverpool XIs swatting the also-rans in a way that will be unrepresentative of the Premier League. Likewise, Nathaniel Clyne, who started the games, is not going to create many chances for a striker.
But Brewster netted three poacher's goals, all of which showed top-level quality. The header he steered in was nothing short of sensational given the power on the cross and the way he had to adjust his body (some goals, no matter the level, transcend the level), while the rebound he followed in on saw him have the composure to purposefully hit the ball into the ground so it bounced up over the keeper; while his follow-in against Bradford saw him score from an impossible angle simply by having the wisdom to thrash it back across goal, having yet again been first to the rebound. He barely had any service, in a very understrength Liverpool side, yet got three goals in two halves of football.
And yet had he scored no goals I'd still have been raving, because I don't think he gave the ball away once. His link-play and hold-up play was impeccable. He seemed to know when to hold or give (and do it at the right time), and when he drifted wide he had the pace and skill to kill a full-back. He really was flawless; not just "preseason good", but "this kid can play" good.
None of which means he's the finished article, but if Liverpool were to put out their "best" XI – minus one striker and including Brewster – he would benefit from the team around him being stronger than the opposition in almost every game of the league season; a bit like a raw Ian Rush, also aged 19, coming into the best team in the world in 1980/81. (And even then, it took Rush a few games to settle into his stride.)
I think Brewster has the potential to eclipse Robbie Fowler and Michael Owen as the club's best-ever homegrown striker, not least because he already has advantages over them.
Fowler was in the side at 18, and Owen 17; whereas Brewster has had to wait until he's 19, due only to injuries. Unlike those two, he would be coming into an elite side – which in some ways makes it a lot easier – although that can also make it harder to break into the team on a permanent basis. (Firmino isn't going to go away, although he could revert to an attacking midfielder.)
Brewster is already significantly taller than the fully-grown Owen and Fowler, and Brewster has Owen's pace and, based on what I've seen in youth, U23 and friendlies, the technique to finish like Fowler.
Owen's pace was phenomenal, but he didn't have the close control and technique that Brewster possesses. He often had to knock the ball ten yards and chase it; and when his pace went away he was totally finished (although he's growing on me a lot as a pundit). Owen was a superb finisher, but with 24 goals in 27 England U16 and U17 games, Brewster could be even better. What he should be is a better all-round player, and then it's about matching Owen's unnatural composure to match his output. (Of course, Fowler and Owen, like most young players, had little fear. Fowler, in particular, seemed to lose his love of the game as it became more serious, although like Owen, injuries didn't help.)
Stylistically, Brewster perhaps most closely resembles Fernando Torres: similar size and speed, an ability to ghost past defenders, and a clear eye for goal.
The pitfalls awaiting Brewster are injuries and over-confidence. But such is the squad mentality you think that, unlike in the 1990s, there will be no dickheads at the club leading him astray, and the management are world-class. As such, he'll get a better education from Virgil van Dijk than he would from Neil Ruddock. The squad is self-policing, ultra-professional, and all part of the reason James Milner (a clear leader in terms of attitude) is still at the club.
Overhyping Brewster may not help, but it's rare to see a young player with no obvious weakness to his game: he has the skill, physique, pace, temperament and work-rate to be absolutely elite. But like Joe Gomez, who I still think is the best young centre-back in the world, he'll need a bit more luck with injuries; it's nothing to do with being injury-prone, just avoiding bad luck. Equally, like Alexander-Arnold, Brewster may take advantage of injuries to others in order to get a regular spot.
Divock Origi (Divock Origi!) has also grown in stature these past six months, and is once again a great option to have. But Brewster seems to have that extra something that, to me at least, has stopped Origi becoming a phenomenon (albeit he has become part of the club's folklore). Brewster seems more aggressive, more confident, and a better finisher – although Origi's shots-to-goals ratio in the Champions League (while unsustainable) remains extraordinary. Origi still seems a bit too laid back, but maybe that helped in Madrid, as he was the only striker on the pitch who didn't snatch at his chance.
While any player can get injured at any stage, Liverpool have no one who is already set to miss the upcoming season; whereas a year ago, Alex Oxlade-Chamberlain was definitely ruled out for pretty much the whole campaign. So like Brewster, his return to elite fitness this summer will be like the proverbial new signing. Players like Fabinho and Naby Keita will be much more settled, and kids like Ki-Jana Hoever will be increasing the competition. (Liverpool are making more money, but presumably keeping the squad together will use up a lot of that in wage-bill hikes.)
As I've written since the middle of last season, Liverpool are past the point where transfers are essential to solve the problems. Now it's about time, mutual understanding, experience (the Reds had one of the youngest teams in the league last season) and pushing each other to be even better through the social multiplier effect. And while Brewster isn't a new signing, like "Ox" he adds immediate competition that simply wasn't there 12 months ago.
Liverpool may have a tougher season ahead due to the schedule, but the squad already looks bigger and stronger, and a year down the line, has the belief of winners and the experience of a year of the highest-pressure games.