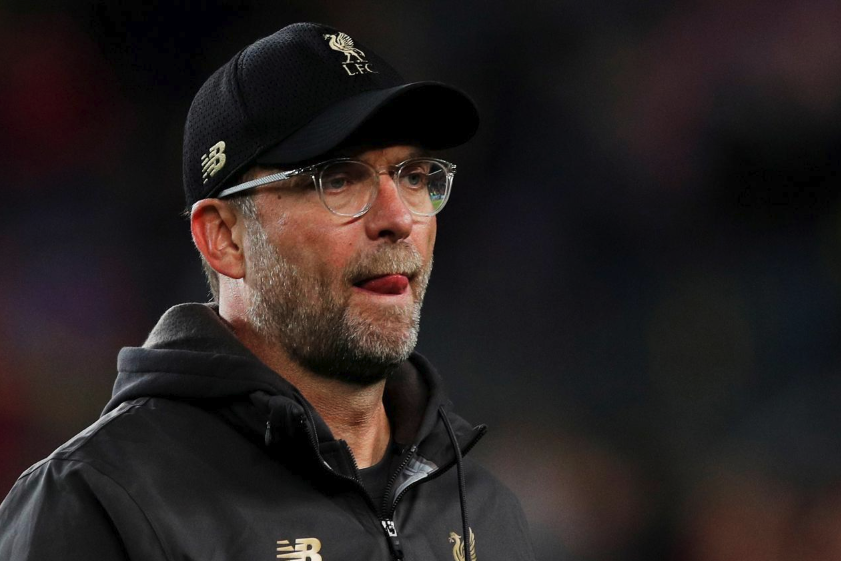 Posts selected by Chris Rowland and Daniel Rhodes.
The idea of this weekly round-up is to give you all some idea of the range of debate on the site and the articles we publish. If you'd like to be part of our troll-free community, there's a 'Subscribe' tab at the very bottom of the page.
1 – Jeff assessing why he sees Liverpool standing a good chance against Barcelona:
One of the more interesting realities in modern team sports is how to employ statistics or analytics as opposed to what the eye sees in games or matches. One must always recognise that either or both could deceive anyone attempting to evaluate a team or a player or the results of a match or matches.
I suffer from the fact that I am numerically challenged and once I run out of fingers and toes I am in deep and serious trouble. Therefore, I am as a rule old school and rely more on my eyes than I do on statistical analysis. I wrote this sentence to show where I tend to come down in the conclusions that I draw.
To me if you have watched Barcelona play this season, one notices a team that has prospered in Spain because of the brilliance of Leo Messi who in my opinion has had his best season in a career that puts him among the best in the history of modern football. I also want to note that while his pace has declined and I mean noticeably declined Luis Suarez has been outstanding for Barcelona. In my opinion, these two players are the reason why Barcelona has been successful in Spain and at the same time covered up the weaknesses in Barcelona.
If you watch Barcelona play, you will notice that its midfield and back line lack the pace and quickness that is needed to cope with the pace and quickness of Liverpool's midfield and forward lines. If you watch Barcelona play, you will find that when they play teams that have disciplined back lines and at least one quality if not two quality defensive minded midfielders Messi and Suarez tend to be contained and if you contain these two lads Barcelona is in real trouble. I am certain that VVD will play for Liverpool in this match, he will be a player who simply Barcelona cannot play when Liverpool take free kicks and corners and oh yes he provides the organisation at the back which will mean that as I just wrote Liverpool will not allow itself to lose its defensive shape which is how Messi and Suarez prosper. Advancing age is a reality and as you get older you lose pace and endurance and if you look at who more likely than not will be in the midfield for Barcelona and by this I mean Busquets and Rakitic are both on the wrong side of 30 and if you have seen Barcelona play, you will know that the tend to fade in matches. I have as I wrote above using what my eyes tell me and I see plenty of weaknesses in the Barcelona side and as someone who has seen Liverpool play this season I see plenty of strengths in this Liverpool side.
I have watched Jürgen Klopp teams play for more than a decade and his teams are always well prepared and always compete. To me if this Liverpool team simply is what Klopp's team always are I think Liverpool should be viewed as a favourite in this match. I am not saying that Messi and Suarez in a moment or moments of brilliance could not win the match but what I am saying is that if I was Barcelona I would fear Liverpool and as a Liverpool supporter I think Liverpool have a real chance to make the final.
2 – Benjamin assessing the Barcelona first leg:
Appears the key is a good result at the Nou Camp. Include a one-goal defeat with an away goal in that. At Anfield, the atmosphere will be through the roof. One of the great occasions awaits, if we can do a job in the first leg. All to play for.
I honestly don't think Barcelona will have played a team as good as this Liverpool side in over a year. We are also on our best run all season: unbeaten in 19 games having won our last 10. When have we ever had a side as consistent as this? Hopefully Klopp is playing a card trick and Firmino is fit. It would be a crying shame to go into the biggest game of the season without our first 11 on show. And then hopefully they can all stay fit until the end of the season now. One last push.
What can you say about these lads that hasn't already been said before at points this season. They really do have it all. What a team. A strong team full of leaders, balanced throughout. Skillful, fast, mindful, tactically agile, powerful, brains and brawn, cool under pressure. Imagine if this team goes again next season. Dare we even dream that it will do it with a touch more quality? Imagine that. What Klopp has built through painstaking detail is this colossus of a side, and I hope, and am confident, that it can bring back the biggest of pots. This will be like playing City at the Etihad. We have to get used to not having the ball. We have to close down the lanes, pressurise Busquets and Rakitic and make sure Messi receives the ball less than he would in any other game. Salah has to look to get in behind Alba, and we must try and find him. Be cute – play the ref for the fouls. Do what Busquets will do. Use subs at the right time – use Milner when needed. Composure is required but it's easier said than done. If we play our game, then we won't get blown away. We'd all like an away goal but Barcelona don't give you many chances. Passing from midfield will be key to getting us in on goal. United almost did it, and that's with a team with far less quality. Midfield options look good. Nothing like last year when we were down to the bare bones, Klopp has a selection headache. This all bodes well. A containing job is fine. Playing on the counter is fine. But we must do it with great focus and intensity. I'm sure the lads won't lose that focus, they've worked hard all season to get to a point this like. These are career-defining games. These are the games that many of these players joined this club to participate in. Think about this: Barcelona in a European Cup Semi Final. The stage couldn't be grander. If they scale this mountain, they'll be remembered forever. I already suspect we'll be talking about this team in decades to come. Come on boys.
3 – Krishaldo reporting on a pithy retort by Ajax's manager to Spurs' manager's complaint about extra preparation time for the Dutch team:
Mauricio Pochettino: "Ajax had the whole week to prepare for this game, not us, it's unfair."
Erik ten Hag: "We play in the Eredivisie where we get €10m from TV rights. They play in the Premier League where they get £200m. So you tell me what's fair?"
4 – Terry reflecting on the Barcelona game:
I've spent some time reflecting on last night's game… I really hate seeing Liverpool lose a game, any game, especially a big game. It spoils my day, it spoils my week. Today I've felt strangely conflicted and I've been trying to work out why. Of course I'm really pissed off that we lost, no change there! But there are so many positives to take from that game. In particular I'm now convinced that this Liverpool team has not peaked.
First of all, it was a great game with two teams really going for it; that's the way football should be played. Ok, Barcelona used the dark arts. For fucks sake Suarez would give Voldemort a good game in the dark arts; and I hadn't seen that side of Messi before, he can roll and roll and roll (with a cheeky smile) with the best of them. But Messi is brilliant the way he glides (and explodes) around the pitch, making passes that few can see; what a talent, what a free-kick!
This Liverpool team went head-to-head with arguably the best team in the world, with the best player in the world, in a truly intimidating stadium, and bettered them for most of the game. Barcelona were terrified by our pace up front. We are now operating at an elite level. I know we lost! We didn't take our chances, we were unlucky and they had Messi. I cannot criticise Salah and Mané for not taking their chances because they've been great all season and because they were in the right place to create the chance.
One of the characteristics that I'm in awe of with Klopp (and his support team) is how he learns from adversity. In his post-match press conference, there was a glint in his eye, as he said (with my edits):
This was our best away game in the Champions League so far… Not only this year but last year included… I'm so happy how they developed. I had so much fun in that game but in the end we lost it, which is not really funny 😉 .

I can really work with this game. This will be in my [key learning experiences], I will use that to show the boys what's possible. You saw the game, it was very brave, passionate, lively, creative, direct… I liked the game a lot.

There will be a point when I convince the boys how important this game was for our development.
Klopp believes he can use this to improve Liverpool and I believe him! Whatever happens in the return leg at Anfield (and I don't think it's over) Liverpool will be stronger from this experience. Look how we have progressed since Kiev. I really believe that Klopp will use this to improve the team and that fills me with optimism.
Articles published since last time, with extracts:
Sunday April 28th:
Klopp's Record-Breaking Reds Will Be Remembered Forever, by Paul Tomkins.
Who is going to remember with any great detail or fondness the 15,000 consecutive league titles racked up by PSG, Juventus, Celtic and Bayern Munich, because they had three or four times the budget of everyone else? Winning without soul – but with financial doping or financial excess – is neither great nor memorable, even if it can be achieved in a way that might capture the imagination as well. Winning without struggle can also be a flat experience.
Napoli getting 91 points to finish 2nd in Serie A last season will be something I remember far longer than the blurring of one title into another for Juventus. Napoli captured my imagination. Juventus, these days, do not (but have at times in the past). None of this is to say that success is boring; just that success without capturing the imagination can be forgettable. It needs something to imprint into our memory banks and never fade. If Liverpool had lost the penalty shootout in Istanbul then I would still have incredible memories of being there and witnessing that game. (And if, as Liverpool fans, we go on about such things, it's because – well, wouldn't you?)
Monday April 29th:
My Day at the Match – Porto (A), by Stephen Burns.
Compared to Munich the metro trip was comfortable and had just one change. All fans were mixing together and having a good laugh. Outside the ground the Bafana sandwich stalls were doing a brisk trade, but instead of braving the elements I popped into the huge mall I'd spotted across from the stadium. A massive food court was full of Porto fans. Got chatting to one of them in line and he asked me to join him when we both picked up our food. We had a good chat about how Porto perceived their chances and European football in general.
When we headed outside it was pouring down. I was told to leave my small umbrella in the cloakroom by security and afterwards got duly drenched on the way to my gate. Inside the stadium the Porto fans, behind one of the goals, with all their flags and banners made quite the spectacle. The Liverpool fans made sure they were heard, with a lot of the tunes getting a good airing before kick-off.
Analysing the Stats of Barcelona, by Andrew Beasley.
This propensity to allow their opponents high quality opportunities – and not just while comfortably ahead, as the above examples attest – has led Valverde's team to have conceded a similar total of expected goals as Wolves and Leicester this season. A respectable figure, but hardly elite.
Part of the reason they allow so many good chances should have Liverpool's front-line licking their lips, as Barcelona are quite susceptible to counter attacks. Opta's definition of such things is pretty strict, but Barca have conceded six league goals from fast breaks in 2018/19. For context, in the Premier League only Bournemouth, Southampton (both six) and Crystal Palace (seven) can match that figure, and coincidentally that's how many Liverpool have scored themselves.
Perhaps the match the Reds should aim to emulate is Valencia's 2-2 draw at Camp Nou from February. The brief highlights don't do it justice, but the visitors had five shots from counter attacks (roughly a quarter of their total for the season), which included three clear-cut chances and a goal.
Tuesday April 30th:
Subscriber Noris Pintilie from Bucharest, Romania, made his first visit to Anfield against Huddersfield last Friday, and wrote about it for us:
Finally! The day I've been waiting for so long was upon me. I was going to leave with some of my friends from the local branch for the Liverpool game against Huddersfield. It was Wednesday 24th April, and after a flight of approximately three hours, we landed in Liverpool. Important to say that it was my first time in Liverpool, so we did some visiting until it was match day. The town is lovely, and even if the weather is the exact opposite of that, we had a wonderful time. You guys really take seriously the saying that "The breakfast is the most important meal of the day", given the fact that the traditional English breakfast is yuuuge.
In contrast to other people's stories, my road to the game was uneventful. Having rented a house in the Anfield neighbourhood, pretty close to the stadium, cometh the match day we arrived at the stadium by foot at about 5pm and enjoyed some fish and chips from the food vans which can be found outside the stadium. We then headed for the players' entry where we waited in the rain for more than 40 minutes for the arrival of our coach. Although we couldn't see any of the players, it was worth it.
We then went inside the stadium, having our seats in the Kop. A quick pint to warm our voices and then into the stands. Our seats were literally in the last row of the Kop, just in its corner. This had its advantages and disadvantages, but I'll come to that later. Given the fact that there was still an hour to the game, we took some photos in the lower part of the Kop and watched the players as they warmed up. There is a video circulating on the internet of Alisson saving a shot having just shortly turned his body to the pitch, and we were happy to see that we were in that video, just above the goal.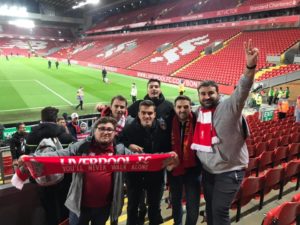 With the start of the game approaching, we started to climb the steps of the Kop until we finally reached our seats. As I said, they were in the last row, but the view was pretty good. You can see the entire pitch, but that's about it. You can't stand down since the space between the rows is made for Snow White's dwarves, I presume. Fortunately, there was no standing down, as the whole Kop was standing. We were also sheltered from the wind and rain. The temperature back there was pretty high given the weather conditions and some of my friends spent the game with only their shirt on.
The atmosphere was not that loud, but there were chants almost all the time and I was quite happy to hear Hendo receive some appreciation having his name sung. The game passed so quickly, I barely had time to properly enjoy it. As Paul T. said after the game, I was a little worried that Klopp would not do his fist pumping after the game but he was just teasing us. Was a little disappointed with the amount of people who left early, starting in the 80th minute. I guess this is what you get if people become so used to going to Anfield that they don't appreciate it anymore. I would be ecstatic to be able to go all the time and watch this amazing team we are witnessing.
I think we were among the last people to leave the stands, wanting to enjoy every second spent there. The stewards were all kind, taking pictures for us and generally being very polite. Afterwards we went to the bar inside the stadium for a few beers and the replays of the goals. A short walk to the house and a few more beers and debate to round up what was an amazing day. Saturday we were fortunate enough to attend the official party held by the club for all the official branches around the world. We met people from all over the world and got to see our CEO Peter Moore as well as several legends of the club. It's great to see how far our club reaches and how well it is currently run.
We left Liverpool on Sunday a little bit sad, having not succeeded in holding onto first place in the table (because Burnley lost), but with our minds already on the next trip we'll make to Liverpool to see our amazing Reds again.
18/19 Champions League | Semi-Final 1st Leg Preview | Barcelona (A), by Gary Fulcher.
Liverpool last met Barcelona in 2007 when they were drawn against each other in the last 16. Liverpool recorded a 2-1 win at the Nou Camp in the 1st leg with the goals coming some what ironically from Craig Bellamy and John Arne Riise who were involved in an infamous incident in the Algarve in the build up to that match.
Barca won the 2nd leg at Anfield 1-0 but were eliminated on the away goals rule as Liverpool went on to reach the final only to lose to AC Milan 1-2.
Liverpool are unbeaten in four visits to Camp Nou, winning three and drawing one, while Barcelona have won two, drawn one and lost one in their four visits to Anfield.