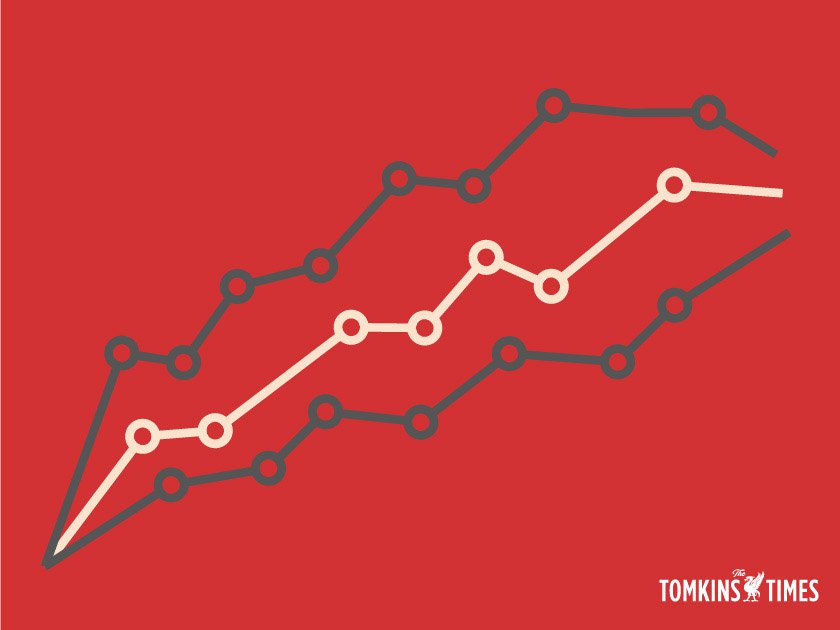 Statistics correct up to and including matches played on 27th April.
Analysing future opponents with statistics is not easy, it's something of a fool's errand. Take a look at Liverpool's recent Champions League ties if you want evidence of that. The numbers suggested Bayern Munich were not as bad as many fans assumed they were based on their league form, yet the Reds won the tie relatively easily (and by 3.7 expected goals to 0.7, so it was thoroughly deserved).
Porto's statistics suggested they were worse than last season, yet – to my eyes at least – they put up a much better fight than they did in 2017/18, certainly until Liverpool's away goal went in anyway. Only five teams have had two clear-cut chances at Anfield this season, and the Portuguese champions are one of them.
So what of Barcelona? The newly crowned Spanish champions, who've also won the title in seven of the previous 10 seasons, are in their first Champions League semi-final since they last won the trophy in 2015. What do the numbers say about them?
Needless to say, they are on the whole very impressive, but there are also interesting nuggets which can provide Jürgen Klopp and co. with plenty of inspiration ahead of the tie.
The rest of this article is for Subscribers only. See details below on how to sign up.
[wcm_nonmember][ttt-subscribe-article][/wcm_nonmember][wcm_restrict]
Let's start with La Liga. Barcelona's expected goal difference (according to FiveThirtyEight) is a sight to behold; they are on +44 when the next best side – which, unsurprisingly, is Real Madrid – are on +23.
However, a closer inspection reveals a degree of stat padding against the lesser lights. A team has recorded an xG total of at least 4.0 six times in the Premier League in 2018/19; Barcelona have done that five times this season.
While Ernesto Valverde's side are top of the Spanish expected goal table, it's by nowhere near as large a margin as the underlying goal differences would suggest.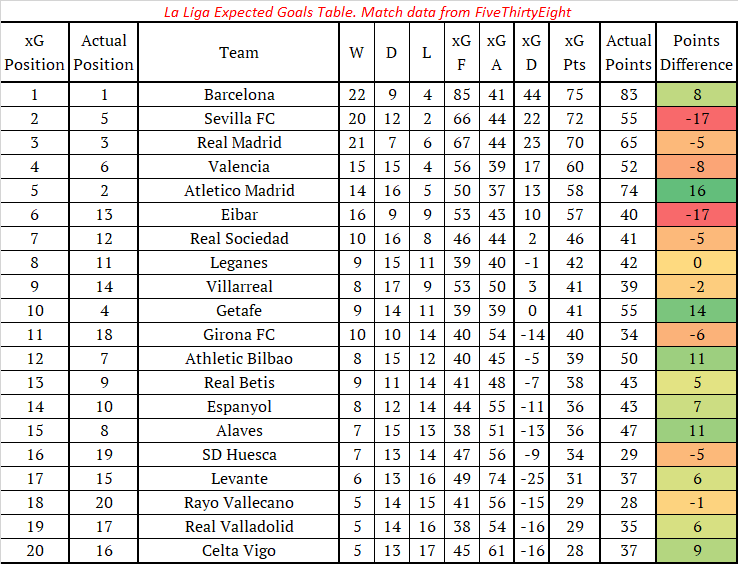 A look at more traditional underlying statistics paints a similar picture in that they're a little modest by Liverpool's standards. Barca's shot ratio is 59% to the Reds' 66%, their shots on target ratio is 67% to Liverpool's 71%. The Catalan side may be a fair way ahead on attacking clear cut-chances (117 vs 98) but they're also 'ahead' on CCCs at the back too (58 to 35), meaning Liverpool are four in front on clear-cut chance difference.
And this is what gives me the most heart ahead of this titanic clash: Barcelona give up a lot of good chances.
Girona are 18th in the table, having lost their last six league games in a row and having only won eight all season. Yet they had three clear-cut chances both home and away against Barca. They got a point at Camp Nou, after Marc-André ter Stegen saved two of their big chances, and while they lost at home, they missed three golden opportunities while only one goal down.
Looking slightly higher up the La Liga table, Real Sociedad – who are currently 12th – had seven CCCs across their two matches with the champions. They were 1-0 up at home and missed three before going on to lose, before losing the return fixture after wasting two big chances while the score was 0-0.
This propensity to allow their opponents high quality opportunities – and not just while comfortably ahead, as the above examples attest – has led Valverde's team to have conceded a similar total of expected goals as Wolves and Leicester this season. A respectable figure, but hardly elite.
Part of the reason they allow so many good chances should have Liverpool's front-line licking their lips, as Barcelona are quite susceptible to counter attacks. Opta's definition of such things is pretty strict, but Barca have conceded six league goals from fast breaks in 2018/19. For context, in the Premier League only Bournemouth, Southampton (both six) and Crystal Palace (seven) can match that figure, and coincidentally that's how many Liverpool have scored themselves.
Perhaps the match the Reds should aim to emulate is Valencia's 2-2 draw at Camp Nou from February. The brief highlights don't do it justice, but the visitors had five shots from counter attacks (roughly a quarter of their total for the season), which included three clear-cut chances and a goal.
But of course, things are never this straightforward. Barcelona haven't allowed many clear-cut chances in big games this season: six in four matches against the Madrid teams, and 12 in 10 Champions League games. They'll be as aware of Liverpool's strengths as the Reds will be clued up about their weaknesses, and will probably set up accordingly.
When looking at how much of the expected goal haul is converted at both ends of the pitch, the findings suggest this should be a close encounter (of the last four kind). In league football, both sides are no more than 3% ahead of their underlying stats goal-wise, but in defence they're both overachieving by sizeable margins.
In the Champions League it's even more extreme, particularly for Barcelona. The Spanish giants have conceded just six goals from chances collectively worth over 11, meaning they've over- performed by 88%. Interestingly, Liverpool have underachieved to the tune of a quarter in attack, by scoring 18 goals from shots worth about 24.
A place in the final determined by how much regression to the mean occurs for both sides? That's far too simplistic, not least when one side possesses one of the greatest footballers in the history of the sport. And Lionel Messi will give him a good game too.
Barcelona clearly have a collection of fabulous players who can hurt Liverpool and comfortably knock them out. I don't think for a moment that this will be an easy assignment for Klopp's Reds. But if the likes of Huesca, Girona, Real Betis and Levante can have a couple of clear-cut opportunities at Camp Nou, then there has to be a reasonable chance that Liverpool can.
Having missed the most big chances of any team in this season's Champions League, whether they can now stick them away or not may well determine whether or not the Reds return to sunny Spain in June.
[/wcm_restrict]