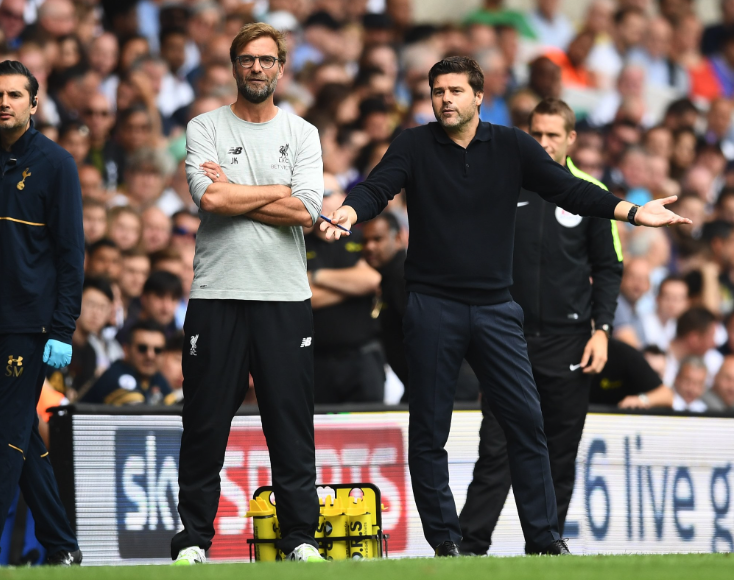 Posts selected by Chris Rowland and Daniel Rhodes.
The idea of this weekly round-up is to give you all some idea of the range of debate on the site and the articles we publish. If you'd like to be part of our troll-free community, there's a 'Subscribe' tab at the very bottom of the page.
1 – Mädchenkliop analyses the Spurs game:
Just rewatched the game and must say I thought it was a bit of a classic on the tactics front. (Oh, and btw, thanks to Daniel for posting that tactics article link.)
You can argue that we were affected by nerves with Tottenham benefiting from a nothing to lose situation, but Pochettino's gambits after half time and Klopp's counter moves were superb examples of how in game changes can seize the initiative even if only for a few minutes;  it can be enough to break through.
What struck me as so clever from Poch was his plan was multi layered.  He wanted to make the pitch wider but in a lopsided way with Rose in particular causing problems for the first part of the second half out on the left wing ahead of Vertonghen. But then, just before the goal, you see him on the phone and he substitutes a defender (Sanchez) for an attacker (Son) which produces an immediate prickle of hyper vigilance from our players.  Spurs concentrate their attack, as they had been doing prior to the change, on the left hand side playing a dangerous through ball from which Kane wins the free kick.  All three of our mids are pulled over to the left and have been lured into a bit of trap.
What I found interesting is you can see at least 4 Tottenham players glancing over to Trippier in oceans of space out on the right even before Kane has won the free kick.  The fact that HK can play the long pass out to him almost without looking or thinking is because this is a well thought out plan. I wouldn't be surprised if Dele Ali is whispering, 'Yes, do it now!' They've cultivated all that space out on the right over the last 20 minutes or so.  I think the introduction of Son playing more centrally was also a ploy to distract and overload our CBs so they're not looking for danger on their left.  Son's presence suddenly earns Eriksen and Moura more space.  It was a really bold and cunning move by Poch.
Previous to this, Tottenham had been exerting some decent pressure and were keeping us on our toes, pushing us back, but it was that carefully orchestrated switch of wings that rocked us off balance.
Klopp and Ljinders reacted pretty quickly, bringing on Origi, not just to show attacking intent but to counter Tottenham's extra width which definitely reduced that threat, but then again, Rose had moved deeper to left back by then and as we saw with the Sissoko heart stopper, from that point on their plan was to hit us on the break using Son's pace.
As for all the talk about luck, I have absolutely zero qualms about us earning that goal through tactical pressure.  Any of those corners at the end of the match might have resulted in a lucky ricochet leading to a goal, (not to mention all those nearly moments in first half.)  We shouldn't underestimate the quality of the longer balls being whipped into the danger area which, along with Origi's wing play, is what was creating all that pressure.  I think we might have begun to take TAA's delivery a bit for granted.  The not the slow Lloris!  His jitters were doubtless partly created by his knowledge of how many Liverpool goals have come from Robbo and TAA assists.  The ping pong sequence from Robbo to TAA to Salah was the classic combo of switching the angles.  Lloris wasn't assertive with his parry because he didn't know who was around him and where the danger was coming from.
Just one last thing on the Hendorson v Fabinho as DM debate.  I thought there was pronounced difference with the amount of aggressive snappy ball regains when Fab came on which did a lot to reduce Tottenham's control and possession, but even given the match context you could see that if they broke past him, our back line was more exposed than it would be with the more circumspect Henderson hanging back.  Pros and cons, but even though Hendo made a few errors I thought I could see why JK preferred him.  There is an issue there though, in that I'm not sure Hendo produces a full 95 minutes of peak concentration and energy these days.  And I'm not so much thinking of his part in the Tottenham goal as his general response to the pressure in that second half.  I think Fabinho would have been a better leader to counter the changes made by Poch.  With the beauty of hindsight I would have given them a half each.  Still, I appreciate that kind of armchair management is just nonsense in the real world!
2 – Garythespud talking about the lack of credit Liverpool are getting for being where they are:
What pisses me off when people talk about Liverpool and the title run-in is the notion of luck. In previous years, when United played their way to titles year on year it was down to sure dogged, powerhoused mindfulness. Like they forced teams to capitulate, even if they weren't playing well. I can't remember how many games I watched in the 90s and 00's where they were pegged back for 90% of games and then got a winner with seconds to spare. It was a masterplan, they cried. Fergie's fervent pushing of man and team to ensure 100% of the game was used. Genius, they cried.
Well, we saw today an example of that. And LFC won.Pegged back by a decent side, but taking the hammer blows like a pro boxer who knows he has a decent left-hook, we awaited the moment and drew back the wrist. What fucks me off is no one on MOTD2 ce soir mentioned this amongst their observations. I heard the commentator wax lyrical about Kane, who actually did fuck all most of the game and who should have been pegged back for their equaliser, and no one iterated anything about classic sides of the past who win leagues by just being fucking dogmatic in their pursuit of the title. Like charging for the league is easy. It's fucking hard and the pressure is immense. Just ask Spurs about capitulating to Leicester when they won the league with about 60 points!
My point is, ultimately, is that pundits needs to reference the bigger picture. But I think the bigger picture, in their eyes, is painted on a canvas that suits the past and not the possible glories. No reference of the genius of 79 points today with 6 games to go. It's like we're a nomark side that has got lucky. Luck is the end product of hard work. If you're not forcing the issue, you ain't getting the luck. It's time the pundits and the wider world gave us the fucking respect. We deserve it. Not sure they do.
3 – Jeff on the same theme of current and historical media hostility towards Liverpool:
Paul thank you for a great read.
Before the season to the best of my knowledge no pundit or at least no pundit that I am aware of gave Liverpool a chance of actually competing for the Premier League crown and the ones that I am aware of believed that Liverpool would struggle to finish in the top 4.
Well, they got that one wrong. Therefore, pundits are trying to find some sort of explanation for why they were so darn wrong and refused to accept the fact that this Liverpool team is basically on the same level with the all conquering Man City and may in fact be a better side and actually win the Premier League title.
Therefore, we get a world where the commentators and pundits refuse to see what actually happens on the pitch and refuse to see the fact that this is an outstanding Liverpool team and search and search for answers that allow them to explain away what is obvious to anyone who has actually watched Liverpool play this season.
If Liverpool are not as good as City and you cannot find anything to support the notion that Liverpool is basically on a par with Man City, you resort to an old cliche and say Liverpool have been so successful due to its luck. In so doing, the commentators and pundits are denying reality and refusing to give the due that is deserved this outstanding Liverpool team.
Now, some of the younger set here may think this is a recent development. On this point, any person who actually looks at evidence will tell you that Bob Paisley was the greatest English manager of the post World War 2 era and in his lifetime he received no official recognition for what he did in Liverpool which at least to me is a disgrace. What I am saying is that the hostility to Liverpool goes back to at least 1965 – I first came to England in 1965 – and at least to someone born in the great state of New Jersey has never died.
The charge that this Liverpool team is lucky is just the latest example of this hostility.
4 – Lubo on late goals:
So far this season, Liverpool have scored 19 of their 72 goals (26%) after the 75th minute. That's a lot – some of it is luck but some (most) of it is because the team is creating the chances and putting pressure on the opponents. As they say, luck is the residue of design.
But let's look at Man City *last* year: they scored 25 of their 106 goals (24%) after the 75th minute! People have all forgotten a number of lucky wins early in the season, when they put their long winning streak; 6 games in that streak were decided by one goal. Several of the winning goals – not only in those 6 games by the way – came very late, and many of them were lucky.
Remember all the lucky late Sterling goals, bouncing off defenders' asses or ricocheting off random body parts? You need luck to win so many games – but you also have to be good to benefit from when luck swings your way, as well as to overcome situations when luck swings against you. And Liverpool have been, for the most part, very very good.
5 – Anti-Liverpool bias, and bogus pundit predictions:
Jeff is spot on when he says most pundits said we would struggle to finish in the top four, I remember hearing this at the time and asking aloud if they meant the same Liverpool that made it to the CL final and have the most lethal & consistent front 3 I remember seeing in English football!
There has been a bias against LFC for as long as I can remember and it's not just the football club but the City that has had this thinly veiled discrimination from the media and Westminster pointed squarely in it's direction.
Hillsborough and Heysel are two examples from my teens that outraged me when hearing the reporting especially. Just deliberately and even vindictively blinkered views. It seems some in the media and even Westminster are programmed to see only the bad and never the good when it comes to Liverpool.
The problem was we were just too good in the late 70s & 80's, we are hated for this, and right on cue the 'anyone but Liverpool' brigade woke out of it's slumber just as the team has and resumed hostilities as per. The best way to shut these up is to do what we always do, we come together, we become one, and we overcome, and we continue to overcome!
Liverpool and her people have a character and humour that would be the envy of some and a jewel of the Empire to others if it wasn't for the resentment that automatically attaches to all things 'Those Scousers' manage to achieve in their own right. Nobody's perfect and Liverpool is no exception, but I'm proud of my Scouse heritage even if I didn't grow up there! I'm proud of the City, it's people, the Reds and anyone that follows them! YNWA
Articles published since last Friday, with samples:
Sunday March 31st:
Sheer Force of Will Sees Liverpool Ramp Up Their Best Title Challenge In Decades, by Paul Tomkins.
It would also be nice if our incompetent refs could – having already spotted the two arms around van Dijk every week – actually penalise it? How many more goals would Liverpool have if that was the case? Refs seem to tell opposition players to let him go before the corner comes in, then ignore it when they continue to hold him.
But while Liverpool almost never get any refereeing decisions at the Kop end anymore (one league penalty in two years!), the old stand still has the power to intimidate goalkeepers; especially late in games, when it's ramping up the pressure. When you think of the Jordan Pickford howler and the Julian Speroni clusterfuck for Palace, and add it to today, it makes for three game-winning goals gifted by opposition keepers late on at the Kop end.
Monday April 1st:
My Day at the Match (and the Match I Didn't Make) – Tottenham (H) March 31st 2019, by Chris Rowland and Taskin Ismet.
Then, finally, that goal! It's bedlam. Later we debate whether the Origi goal against Everton caused the greater reaction – a dead heat I reckon. My glasses go flying up in the air several rows in front. When it calms down, a fellah hands me my glasses back, and says "Spurs are winning 4-1 mate!"
Afterwards there are mass outbreaks of singing on the courses, the stairwells. The Firmino song, the Van Dijk song, Allez Allez. It's buzzing. We walk bloody ages trying to find a bus or taxi, but the taxis seem to be in town for Mother's Day taking the easy fares, bugger the football traffic. We finally get one and head for the Dispensary for a pint of White Rat, where we exchange cliches about that's how titles are won and that being our hardest remaining game, however Southampton won't be easy and Chelsea will do us no favours. There's a bit of discussion about the Champions League – we've reserved some accommodation in Getafe, a short train ride from Madrid, just in case …
Post-Match Analysis: Liverpool 2 – 1 Tottenham, by Daniel Rhodes.
All of the expected goal models have this one fairly even, with the Reds' figure ranging from 1.04 to 1.56; with the visitors slightly lower on 0.75 to 1.4. It is a similar trend when we look at the shot counts: 14-11 in our favour. Seven shots inside the box to six. Three shots on target to two. Finally, with one big chance apiece, the underlying stats suggest a point for both sides would have been fair.
But, who the hell cares about fair? We kept going. We've kept going all season. And in virtually all other seasons, it would be a procession for the title on this amount of points. Another win. Another victory snatched from the jaws of a draw. Stuff of champions.
Tuesday April 2nd:
Can We Drop Our Genius?, by Bob Pearce.
You may like to think that when we call someone a 'Genius' we are paying due respect to an individual we believe is blessed with a gift for the extraordinary.
But I'll tell you that when we call someone a 'Genius' we are actually paying due respect to an individual we believe is blessed with a gift for appreciating the extraordinary. That's us.
You could say that we're making it known that not only are we aware of their work, we also have the impeccably sophisticated taste and exquisitely discerning judgement to savour it. We're pointing out our pointing out.
It's a badge that says 'I'm a genius-spotting genius'.
Wednesday April 3rd:
In Focus – TTT Player of the Month for March 2019: Mohamed Salah, by Andrew Beasley.
As often when considering a top Liverpool forward, it's worth looking to Ian Rush. In 1983/84, Rush scored 47 goals for the Reds, but followed that up with 'only' 26 the next year to get a total 73 from August 1983 to May 1985, at an average of 36.5 per season. If Salah doesn't score again this year he'll still have averaged 32 across his first two seasons. If you can get close to what peak Rush achieved, you're doing something right.
Lucky, Lucky, Lucky, Lucky, Lucky Liverpool, by Paul Tomkins.
Fuck 'em!
(the whole article!)