A national media podcast this week:
"This is something you can't say on Twitter, but Man City are a much, much better team than Liverpool. Their level of play is much higher. Liverpool are the ones who have been getting lucky results. Fulham away the other week, Pickford, Spurs on Sunday, Mahrez's penalty."
This is something you can say on Twitter: Man City are a much, much costlier team than Liverpool with a far higher wage bill, with a world-class manager, and a record points haul from last season. They are an older, more experienced team, with two or three titles already under most of their belts.
To expect Liverpool to match City for every ounce of quality is utterly fatuous, when City have allegedly cheated FFP to rack up such a big squad over the years, qualifying for, and playing in, the Champions League to further boost their coffers when they could have been ejected, if Der Spiegel's claims, via Football Leaks, are true. If Liverpool were financially doped it might be easier to have seven world-class players on the bench.
But hey, imagine your luck in being up against an excellent, potentially era-defining side that operates under this cloud of suspicion, and where everyone in England seems happy to look the other way? – where the real sense of "fair play" now emanates from Germany?
Lucky Liverpool!
Equally, Liverpool reached the Champions League final last season and currently have an incredible 79 points after 32 league games this season, whilst also being in the Champions League quarter-finals. For almost any club in any era that would be a sensational run of form. For almost any other club in history that would not be the basis for scorn and derision.
So come on, a bit of credit might be nice. The whole "lucky" narrative around Liverpool is really disrespectful to a team that has had an incredible 20 months on a budget that, with inflation taken into account (with City spending a ton of money in a less-inflated market prior to the latest TV deals), is just over half as expensive as City's. Players like Kevin de Bruyne and Sergio Aguero cost way in excess of Liverpool's most expensive player, the £75m Virgil van Dijk. (With inflation, Liverpool spent more on Andy Carroll, but hey, that mistake didn't linger too long.)
To say "City are a much, much better team than Liverpool" is to not understand everything that goes into being a good "team". As Louis van Gaal said recently, City play the more beautiful football, but Liverpool are "the better team". Indeed, it's being a better team that has Liverpool in contention with City, because a "team" digs in, works hard, has each other's backs. It's not just lovely rondos from several players who, after football inflation, cost £100m-£150m.
Before City's game tonight, Liverpool have posted the 3rd-best points total in the Premier League era after 32 games, with an easier run, on paper, in the final six fixtures ahead; City can knock the Reds down to 4th. A bit more respect for the qualities of Liverpool might be nice.
And since when has scoring late goals been illegal or lucky? How did Man City win the league in 2011/12? With two injury-time goals. Liverpool's goal against Spurs at the weekend wasn't even in injury time.
And since when has putting teams under a ton of pressure, with corner after corner, and their goalkeepers making mistakes, illegal? And haven't all teams benefited from goalkeeping errors this season? Is it just Liverpool?
Without doubt Liverpool have had some fortunate decisions, and indeed, benefited from some bad goalkeeping. And without doubt Liverpool have had some unfortunate decisions go against them, too. Without doubt City have had some fortunate and unfortunate decisions.
And if benefiting from own goals is "lucky", as Liverpool supposedly were against Spurs, City have therefore been luckier, as they've benefited from more. So come on, play fair.
The BBC published an article this week saying that if you took away all Liverpool's late goals – none of which were scored beyond the allotted time – they'd have been a few points behind Man City, and not ahead. Well, fucking hell, why not take away a big selection of Man City's goals from a random portion of matches and see how the table looks? Where are the rules that you can only score up to the 60th minute? If you took away City's goals between the 1st and the 90th minute they'd have been relegated by now; because it's a fucking stupid concept.
It took Gary Lineker to shit on the BBC's own website article about "fate" driving Liverpool to the title, as if it's just luck; adding that it might actually be something to do with the Reds' football.
(Again, it may just be coincidental that the BBC is now in Manchester, although one of those articles was written by an Evertonian.)
All along I've said that to win the league in a tight title race is going to require some luck. But Liverpool have had a mixture of good and bad luck this season, and so have City; who have all the other cards stacked in their favour. I keep hearing about all the good luck Liverpool have had, but let's look at the balance of luck.
Fairness
First of all, regarding the aforementioned list of "fortune", no one asked Mahrez to put the penalty into the toilets at Goodison Park. That was bad play on Man City's part. If it was on target and Alisson's boot had fallen off, and Alisson's boot had saved the penalty, then that might have been lucky for Liverpool. City's new £60m squad-player deciding to take the penalty was nothing to do with Liverpool's fortune. City controlled that situation; City blew it.
Next, what about Kompany's non-sending off in the game against Liverpool that every ex-ref in the media said was a clear red card? Because this wasn't recent it doesn't get lumped in, as hacks reach for recency bias to build their cases; although the Jordan Pickford howler, from further back, somehow gets remembered.
City shouldn't have been able to win that game, due to having only 10 players for 60 minutes; plus, the ball not crossing the line for a Liverpool goal by mere millimetres? SO LUCKY! And City, at home, even lost to the Reds on xG despite the referee – FROM MANCHESTER – not sending off their key defender and one major leader? (The points gap could have become ten, instead of four).
How would Man City fans feel if Mike Dean reffed the game at Anfield and bottled a big decision against City that meant Liverpool won the points at a key stage of the season? (According to LFCHistory.net, Mike Dean has refereed Liverpool just twice in the Premier League, and one of those was against Everton. The other was at Stoke.)
How's Liverpool's luck in getting a Manchester referee who costs them the game? Right now, if the Premier League appointed Mike Dean for Liverpool's final game of the season, would City fans think that is fair?
What about the offside goals Man City have also had? It was just a couple of weeks ago that City needed a clearly offside goal to break the deadlock at 0-0, and before that, the kind of dive from Bernado Silva to beat West Ham at home that Mo Salah – who went down easily (but under contact) against Newcastle – would have been driven out of England for?
Against Leicester, when an illness-ravaged Liverpool side had to play in the most bizarre hail and snow storm that was so icy it couldn't be melted, Naby Keita was taken out in the box. Clear penalty, said the ex-ref on BT Sports. Two points dropped as it wasn't given, assuming that Liverpool had continued to convert all their penalties (and it's not a lot of penalties; half what Crystal Palace and Man United have won) this season.
(In addition to this, I'll just remind people that Liverpool rank outside the top ten for league penalties won per season since 2014.)
The "offside" goal Liverpool had wrongly ruled out at Arsenal in a 1-1 draw, that was chalked off after ball hit the post? Liverpool had a similarly not-offside goal ruled out when Roberto Firmino missed the ball at Wembley; but when an offside Burnley swung and missed the ball at Turf Moor right in front of Alisson, the goal was given. Some consistency would help here, but the rule seemed to be used to rule out Liverpool goals and rule in opposition goals. (Which isn't to say that James Milner wasn't miles offside at West Ham. But so too was Cardiff's goal at Anfield, amongst others. Why do only the offside goals Liverpool score, and not the ones they concede, seem to be relevant?)
The blatant foul on Alisson by two Burnley players? The offside Burnley goal at Turf Moor, and the lack of a red card for some horrible fouls, with one of the less-bad overly aggressive challenges breaking Joe Gomez's leg? (Lucky Liverpool!) Keita being held at the free-kick when West Ham got their equaliser? Harry Maguire not sent off for a last-man foul and then able to score Leicester's equaliser, which came after two minutes of added time – when only one minute had been added and there were no new stoppages, when the ref let Leicester take a corner, and continued playing for another minute? Under the Luck Index created by ESPN and Bath University last season, this would have been deemed a goal beyond the fair amount of allotted time, and therefore very unlucky.
The Crystal Palace players holding Liverpool players when they got their equaliser at 2-2 by some (other) twat called Tomkins? Look at the picture below, and at how this is Liverpool defending a corner; Palace's players not just blocking but illegally holding? Stuff like this never gets picked up on. This is systematic rule-bending, and VAR would snuff it out.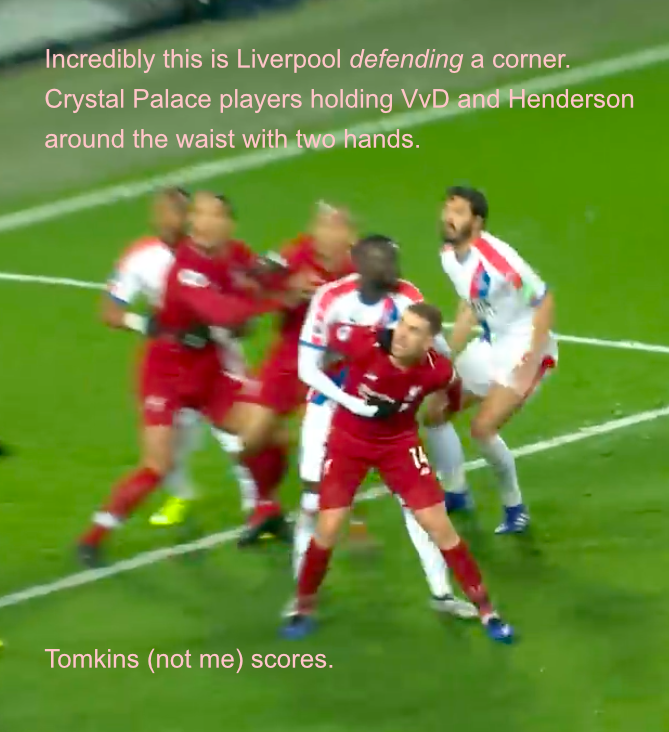 Has anyone else noticed how Virgil van Dijk – statistically the best aerial player in the league – gets held at almost every single free-kick and corner, to stop him being effective? Lucky Liverpool! Imagine if Raheem Sterling was allowed to be held every time he tried do his main skill, and dribble the ball?
When Liverpool scored from a moving-ball free-kick against Fulham it was labelled as massive luck, and some kind of scandal, that was played out over and over in the media; when Harry Kane took a moving-ball free-kick this weekend that led to a Spurs goal, no one seemed to care (the BBC commentator didn't even mention it on Match of the Day 2). That's how narratives work. Spurs' goal also came from Christian Eriksen mishitting his shot, which fell straight to Lucas Moura. Lucky Liverpool!
And it's now one Kop-end penalty at Anfield for Liverpool in the league in two years (half as many as Spurs have won at the Kop end in that time), and two years since Liverpool last won a handball penalty, home or away, in the league. I can name at least five blatant ones they should have had this season.
And as for Jordan Pickford's mistake, a lot was made of Liverpool being lucky to beat Everton that day, given that, for once, the Toffees played quite well; but the xG still said 3-1 to the Reds would have been the "fair" result. Divock Origi had already hit the bar from a yard out just minutes before he scored. Liverpool regularly pile on pressure at the end of games if they need a goal, and it's not their fault if opponents crack. Indeed, it's all part of the process.
It's all part of what good teams do, and what City had to do at times last season.
Scheduled Luck
Over the gruelling Christmas period Man City messed up against two weaker sides while Liverpool had to play Wolves (away) and Arsenal in the short period before having City away as their fourth and final festive game. Twelve days, and you play four teams, three of whom are in the top seven. Wow, that's so jammy! (Spurs had the toughest fixtures in terms of time between games, but the Reds faced by far the strongest opponents.)
Again, how many runs like that have City had to face this season? To date, none. I've just gone through, and every tough game has usually been bookended by easy ones. Consecutive tough games, or clusters of tough games? Nowhere. Go check for yourselves, and then compare Liverpool's.
Liverpool's run of games from mid-September was: Spurs away, PSG, Southampton (okay, that one was easy), Chelsea (when they were on top form and top of the league), Chelsea again (away), Napoli (away) and then Man City. By … October 7th! Six games against five of the top-12 ranked teams in Europe on the Euro Club Index … in three weeks!
LUCKY LIVERPOOL. SO DAMNED LUCKY.
And just weeks later it was away at Arsenal (ranked 13th in Europe) during the Gunners' long unbeaten run. This was, objectively speaking, the toughest run of games for Liverpool in the entire Premier League era, and perhaps ever. (Based on European Club Index rankings, which looks at league and European form.) Most "unconvincing" sides would have been found out, and worn out.
But Liverpool got even luckier. After the tough festive period, Liverpool went to Dubai for a midwinter break and a load of players ended up with food poisoning, while others got the flu. The Reds dropped four points on the back of this trip. Lucky Liverpool! – you can't buy that kind of good fortune.
Recently Liverpool had to play the 4th-ranked team in Europe, Bayern Munich, and go away to Everton and Man United in between; the third really difficult run of games in the season.
City simply haven't had these kinds of runs of games this season, with a nice, even spread of fixture difficulty and always having played more home games than away – although they finally have a similarly difficult run starting soon, with their toughest Champions League games this season, against Spurs; and then Spurs, and Man United away, in the league.
It they come through that with nothing but wins, fair play (albeit with the asterisk about financial fair play, and how it might not actually be such fair play).
Thus far, City have had to play more cup games, admittedly, but they appear to be playing some of the worst teams in England, and some average ones in Europe. Their cup games have been like training matches. Every time it seems they may get to face tough opposition they get to face weak opposition.
The 14th best team in Germany? Really? That's who you get in the round of 16? How many times have City had to put in a gargantuan midweek effort? None, as yet. And Liverpool have played more of their Big Six games, with only one left, to City's two. Plus, have Liverpool not already gone away to their city rivals and also to their most hated rivals? Have City? No. (And for City that means just one game, not two.)
City have played Oxford United, Lyon, Hoffenheim (mid-table in Germany), Shakhtar Donetsk, Burton Albion (twice), Rotherham, Newport County, Fulham, Leicester, Burnley, Swansea and next, Brighton, in the cups. Chelsea, in the League Cup final, are the best team City have played in any cup tie this season, but by which time Chelsea were struggling. Otherwise it's two games against Shakhtar Donetsk, ranked 19th.
Liverpool have played two cup games against the team ranked 4th, two against the team ranked 5th, one against the team ranked 10th, and two against the team ranked 12th. Even Porto, who are supposed to be easy, are ranked 15th. Plus, away at the 7th-best team in England.
And lucky, lucky Liverpool, with one of its best players last season yet to kick a ball this season. A lot has been made of any City injury, even with their massive squad, but Gomez and Alex Oxlade-Chamberlain are two quick, athletic and skilful players who'd have helped make the Reds even stronger this season. Liverpool's squad is clearly not as big, therefore any absence hits harder.
Virgil van Dijk will deservedly win all the player of the year awards, but he wasn't even Liverpool best defender in the first part of the season. Since December it's mostly been Liverpool's 4th-choice centre-back alongside the Dutchman; the free-transfer, Joel Matip. Gomez was off-the-charts good, his pace a key factor in Liverpool barely conceding a goal. Go back and listen to Martin Keown, a title-winning centre-back, extol Gomez's virtues, game after game.
Balance, and Less Snide
Again, to be clear, I don't want the media to say Liverpool are the best team in the history of football. City are closer to that level, after what they did last season.
But Liverpool are surely worthy of a bit more respect. Or is it all just banter, even from supposedly smart journalists? Is that what the national media has become? – just a windup merchant seeking hits? Just a bait-and-response machine for Twitter?
The 3rd-best start to a season in three decades, and also one of the best of all time – months on from reaching a Champions League final – and it's all just "luck"?
An excellent defence and an excellent attack – including Sadio Mané, the top non-penalty scorer in the Premier League – and it's reduced to "luck"? The best two attacking full-backs in England, with assist and chance creation stats most no.10s would cherish?
But because the midfield doesn't do flashy stuff, it's somehow not legitimate?
A midfield that includes Gini Wijnaldum, whom it seems only people who actually understand the game can fully appreciate? A goalkeeper with an excellent save percentage, passing range and xG protection, but who is brand new to English football, and who has been unfairly treated by referees?
Aren't Liverpool actually a fucking ace, beautifully balanced side? Not one of the very best in the history of the game, sure (at least, not yet), but absolutely miles ahead of Spurs, Arsenal, Man United and Chelsea in the league right now, when Klopp, unlike Guardiola, inherited a team miles behind those sides? – and when Liverpool were forced into selling their most bankable asset just last season?
Does City's undeniable brilliance, with their undeniable genius of a manager, have to be used to besmirch the Reds? Can't Liverpool be almost equally as brilliant, instead of apparently nowhere near City's level? How is Liverpool reaching a Champions League final and setting almost unprecedented points tally in the league the next season anything but sustained quality? To be lucky for two years? Come off it.
This City team is older than Liverpool's, by about a year; a big margin. They had titles already under their belt. They are not operating under the kind of desperation for success that Liverpool are. It's undeniably naff to say it "means more" to Liverpool, as the club's slogan claims, but this season it probably does; just as water in the desert means more to the parched throat than it does to the person with access to unlimited supplies.
Because some neutrals don't like Liverpool FC and/or Liverpool fans, we've had articles all season long about why it would be good for the game if a team being investigated by no fewer than four footballing bodies for financial doping won the league instead.
Lucky Liverpool, eh?
Yes, I am biased. I am a Liverpool fan. But unlike some also clearly biased journalists, it's on my Twitter bio, and the header for this site. I don't pretend otherwise. If I wanted to listen to a discourse on American politics I'd expect to be told if the independent (cough) expert is a paid-up Donald Trump campaigner. If I listen to the Anfield Wrap or Anfield Index I know what I'll get, just as I would if for some reason I listened to a Man City fans' podcast – where I'd expect a clear, natural and understandable bias; but some "neutral" journalists are hiding their allegiances and resorting to snide barbs. As a Liverpool fan, I feel it's only fair to set the record straight.
And luckiest of all? Liverpool could get 97 points and still not win the league this season. Wouldn't that be the jammiest thing ever?