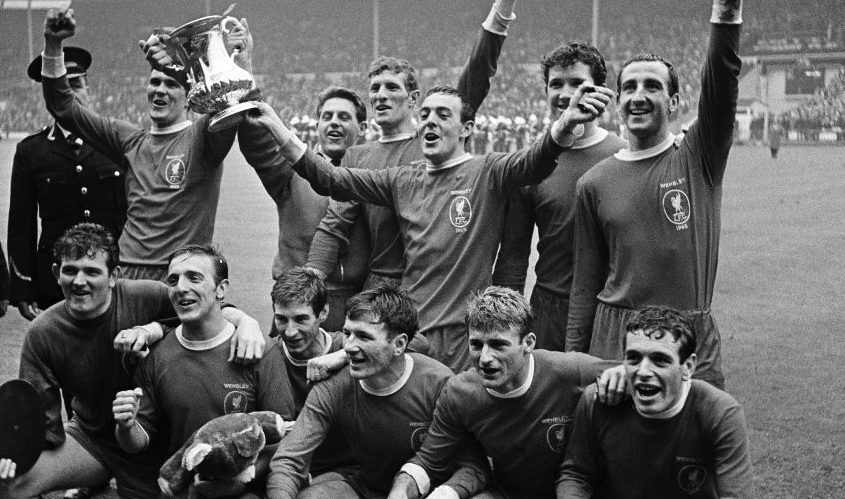 Posts selected by Chris Rowland and Daniel Rhodes.
The idea of this weekly round-up is to give you all some idea of the range of debate on the site and the articles we publish. If you'd like to be part of our troll-free community, there's a 'Subscribe' tab at the very bottom of the page.
1 – With the FA Cup Round 3 taking place, cvt123 had this rant over the FA Cup:
Warning – I am going to rant and swear.
I fucking hate the FA cup. Hate it. It is a fucking waste of space. I am 45 years old and grew up in love with the 'magic of the cup'. But about 12 years ago, I read soccernomics in which they had a chapter on how pointless these cups will become unless they innovate. Low and behold… the prophecy unfolded.
For any 'serious teams' (i.e. needing to win points either to win the premier, qualify for CL or avoid relegation), it is a total resource sink without the financial payback. As Paul has pointed out – it cost teams points and in this day, the cost of coming fifth instead of fourth now means millions.
On top of this.. In the pursuit of the 'real game', it also means that every fricking referee has a temporary lobotomy to allow any lower placed team to kick the shit out of a premier league team and not call fouls in the spirit of the 'romance of the cup'. Fucking bollocks.
The FA have probably justified the reason to keep the same format in the name of 'tradition'. What a total crock of shit. Well… all long lasting traditions have had an ability to innovate… Look at Christmas. The current symbol was adopted an avatar from a 1930s advertising campaign… We no longer give coal. Silver pieces are not put into Christmas pudding etc. etc. We may argue whether Christmas is good or not, but the tradition is still strong (and also better than what it was 100 years ago). So why the fuck is the FA unable to innovate on the format of the FA cup (or the Milk Cup for that matter). Things they could do are:
1. Give the winner of the FA cup 5 points in their league (i.e. reward their risk taking)
2. Give the lower positioned team the choice of venue (i.e. to avoid Accrington Stanley attempt to get a draw to get a pay day replay against Man Utd at Old Trafford)
3. Referee the games properly
4. Not have the third round at the end of the Christmas schedule (I mean – what the fuck?)
I seriously hope that Klopp fields a totally second string, U18 team tomorrow and then during the press conference just say the team is wiped out after a totally ridiculous holiday schedule, accusing the FA for not understanding the modern demands of the PL…
As I said.. I grew up loving the FA Cup, totally bought into the romance of the cup. Right now.. I couldn't give a flying f….
Phew. rant over.
2 – He'sbighesred in praise of Virgil van Dijk:
Something I'd like to work into an article myself at some point, and something I have a very strong hunch is correct, is that Van Dijk is Moneyball in action.
Moneyball? But isn't that about finding players on the cheap?
Nope. It never was. It's about finding undervalued players, undervalued talents, undervalued metrics.
I'm almost certain that in a few years' time we'll start hearing about how, to buy someone like a Messi or Ronaldo in their prime, you'd have to break whatever the transfer record is. So let's say that's Mbappe, and let's say £300million as a ball-park figure.
What do you get for your £300million? A fantastic player who'd improve any side he joined. Without any doubt whatsoever. But by how much? If we played Mbappe instead of Firmino, we'd gain goals and lose pressing. If we played him ahead of Salah, we'd gain physicality but would we actually gain goals?
He's a phenomenal player, potentially (soon) the best in the world, but even Mbappe needs the platform of a solid team behind him in order to perform. No midfield? No Mbappe. Even the best striker in the world doesn't get more than a few ineffective touches if the team behind him isn't performing, and even Shane Long (actually, no, that's going too far) even the average striker can get lucky with the one single chance they get in such a situation.
Yet for £75million we bought the defensive Mbappe. He's a player who absolutely and completely dominates his zone, which is also the single most important zone on the pitch. He destroys almost everyone in the air. The tiny fraction of players he doesn't, he absolutely crushes in terms of pace, positioning and skill. He dominates most players in terms of skill. The few that he doesn't, he has a vast physical advantage over. And on and on. In fact, we can just cut all of that analysis down to one verb:
Virgil Van Dijk Dominates.
And because he's a CB rather than a CF, he dominates regardless of how the team is performing. In fact, the more dysfunctional the team becomes, the more he dominates. He dominates when we're on top or under pressure. He dominates from minute one to minute 90, in every single one of those minutes. No player on the pitch sees more action than the CB, and we have the best there is, being the best at every one of those actions, in which he has more opportunity to show his superiority than any other position on the pitch simply as a result of how much CBs are involved in the game.
Not only that, but he's involved from game TO game. No one plays more games than CBs. No other position regularly plays every single major game without injury or rotation. Van Dijk is a difference maker, and unlike an Mbappe his difference making can be employed not 80% of the time, not 90% of the time but, ***touch wood*** 100% of the time we need him.
He, by himself, gives us a platform upon which to win games. No other position offers that opportunity, and there is no other player in any other position who is more dominant relative to either his peers or his opposite numbers, with the possible exception of someone like Messi at his best, or Pogba if his attitude could match his talent. But Messi is unobtainable, Pogba is unfathomable, and even then, neither play in positions as influential as CB.
We've got the world's best player in the best position to have a best player in. The biggest difference-maker in the position that makes the most difference.
And even with a 'here you go Southampton, sorry about that mess' premium, he cost us £15million less than Lukaku, a player who is currently struggling to make a touch, let alone a difference.
Cheap at twice the price? Absolutely. And you can bet that exactly that truth has not gone unnoticed by our player recruitment set up.
Expect more of this as the years go on – buying young, breakout attackers who we sell at or near record prices, breaking record prices to buy peak, dominant players in positions that allow them to reflect that dominance in every single game.
Now have a think about who else we paid top-dollar for in the summer.
I really think that, just for once, we're at the forefront of the new wave, and I'm going to enjoy surfing it for as long as I can!
3 – 5537will on the start of Klopp's second dynasty:
The post-mortem on last nights game over on the other thread has raised interesting questions regarding transfers. There is a consensus (I think) that this is the swansong for a number of players – Moreno, Sturridge, Origi, Lallana, Mignolet. I think also that on the evidence of the last couple of games, you could make a reasonably coherent argument that Milner is starting to melt a bit around the edges, (though we all know he wasn't given the easiest job last night).
Since Klopp arrived he's delivered a masterclass on improving players. He's played the hand he got dealt very well indeed, as well as the club doing some very good business recruitment-wise. This, allied with a very strong team ethic has been the rock on which this very impressive team has been built.
I feel like we can look at this point as the end of the first Klopp era, if you want to put it in dynastic terms. I think this January and in the summer, we're going to see the first big clear out. Moreno, Origi, Lallana, Mignolet, like Clyne, need to be playing regularly at this stage of their careers and they've come as far as they are going to with us. They have to go. I was surprised that Solanke went to be honest, but maybe £19m was too much to turn down.
In their place, Wilson, Brewster, Camacho, Jones get the opportunity to stake their claim, (Hoever was fantastic but I can't see us starting a 16 year old regularly). There will be recruitment obviously, which I won't speculate on because there's no point, however, I think that come next August, we're going to be looking at a first team squad built entirely in Klopp's image. The whole squad will consist of his players, the average age will be in the early 20's and it'll be highly competitive. Young players will have other young players alongside them to help them bed in and that all-important squad unity will remain.
It seems pretty dramatic, but it's undoubtedly planned. In the old days, we'd have moved these older players out one by one, bought a couple of players who may or may not have worked and simultaneously convinced the youth players that they were never going to make it. As with everything Klopp does, this is better thought out and better executed. The first dynasty of Klopp is coming to an end, I'm looking forward to finding out what the second brings.
4 – Jeff on the changing world of football:
The world of football has changed beyond recognition that past 50 odd years I have followed Liverpool first in the old First Division and now in the Premier League. I seriously doubt that anyone who knows anything about football would dispute this statement. This being said, sometimes people want to cling to the dead and gone and refuse to acknowledge the world has changed.
Whether one wants to acknowledge it or not money has changed football beyond recognition from the game of say 50 odd years ago. When I arrived in England people were still talking about the fact that Johnny Haynes broke the 100 pound a week wage barrier and were shocked in a few years what George Best was making. There was a time when 100,000 pounds for a player was a huge deal and you could find any number of articles in 1970 talking about the end of football with Martin Peters going for 200,000 and shortly after than Alan Ball going for a bit more. In this world, the money a club could make from the old FA Cup actually had meaning because it was extra gate money and extra gate money was meaningful.
In today's world the real money in sports comes from broadcasting for a club such as Liverpool. On this point, where does the money that a team gets for finishing 1st in the Premier League come from and that is from broadcasting. Where does the money come from winning the European Championship and the answer of course is broadcasting.
The simple truth is that the money that comes into the game from broadcasting is so darn huge and a club such as Liverpool knows that the money from finishing as high up in the Premier League and going as far as possible in European means getting huge sums of money and the money in the FA Cup or for that matter the League Cup is insignificant compared to the Premier League and European Championship money I have talked about. .
To Liverpool it makes no sense putting resources into the FA Cup or the League Cup and in football resources are your top notch players and as a result what does not does not happen in the FA Cup or the League Cup has no meaning in regard to what will or will not happen in the Premier League or the League Cup.
One final point on this line of reasoning. To me Lucas Leiva was on the verge of being the best defensive minded midfielder in England and a lad who had the skill to be a more than useful deep lying play maker and then along came his first major knee injury at Fulham. He had a fine career in Liverpool and is not playing at a high level for Lazio but I still think that if he had not played against Fulham he would have gone on to be one of the top Liverpool player of his generation and of the modern era. Simpy put, was the match at Fulham worth losing the talent Lucas Leiva could have become? I say no.
5 – Ignoring Klopp's CL Final achievement, by Ding:
What annoys me is that pundits and non-LFC fans seem to trivialise Klopp's achievement in getting us to the UCL final last season. As if it was some mean feat, or something that was undermined by losing to Real in the final (did they think we were playing Tranmere or someone like that in the final?).
First off, how many English clubs have done that in the last decade? Only United and Chelsea, and that was six years ago for Chelsea. For United, it may as well be a different era, since it was Fergie and some of his best teams. Moreover, both squads were both powered by money. Even City, for all their wealth, fortuitously landed a semi-final place in 2015/16, then proceeded back to anonymity. Point being: it is rather difficult to get to the final, even when you are a very rich English club.
Second, look at the position that we were coming from: Liverpool barely scraped fourth place in the league in 2016/17, with a thin squad and lacking quality even in attack during the pre-Salah days. Klopp took over a team that had only been in the UCL only once since 2010, in a disastrous 2014/15 campaign. A good part of his squad had no or very little UCL experience, unlike perennial hopefuls from Manchester or London.
Third, the football we played in the UCL was quite exhilarating. The 2017/18 side set the record for most goals scored in a UCL campaign. Until we travelled to Rome we had yet to lose a single game, even against megarich City. Sure, the route may have been a bit easier than Real's to the final, but that can be somewhat excused in the context of how raw the squad was (even compared to the likes of our group stage opponent Sevilla, which had a squad hardened by numerous Europa and UCL campaigns), and anyway the football was really vibrant. How many UCL-winning sides can say that? Not Chelsea of 2011/12, or Inter of 2009/10, or even some of the Real teams of recent years.
6 – Stevenson1988 on the 'wonder of the FA Cup':
Let's be brutally frank here, much of the myth of the romance of the FA Cup is rooted in a time when going to Wembley, in London, (wow!) was almost some exotic trip to the unknown great metropolis. Getting on the chara first thing in the morning for the trip down south. Walking along Wembley Way and seeing the twin towers for the first time, remembering all those pathe news films about the cup final where most of the film comprised some prat with a rattle and they invariably almost missed the goals. That's the romance.
The reality on the other hand is an international notion, totally at ease with foreign travel. PL clubs that are mostly owned by foreigners – or in some cases foreign countries, packed to the rafters with international stars and a beauty pageant of some of the greatest managers operating in football today. Romance of the FA Cup? Don't make me bloody well laugh. Yes, it's still a day out at what is now a half decent stadium, although the cost is pretty flaming prohibitive for some/many. Other than that, how quickly would all supporters forget the FA Cup triumph when, having missed out on 4th spot, their club is slogging through the Europa League and playing catch up every Sunday? Heaven fucking forbid that a tilt at the FA Cup should derail the quest for the holy grail of a first title in 29 years.
As someone once said, Liverpool Football Club exists to win trophies. That is true but the trophies that interest Liverpool Football Club are the big ones, the PL and CL, not scrapping amongst the riff raff for the minor baubles. Any "football expert" who thinks otherwise is an oxymoron.
Articles published on the site this week, and samples from them:
Saturday January 5th:
18/19 FA Cup 3rd Round Preview | Wolves (A), by Gary Fulcher.
Between 1987 and 2019, just ten of our 3rd round ties have been drawn to be played at Anfield in the past 32 seasons. Of those 32 third round ties, Liverpool have lost twice at the 3rd round stage at the first time of asking and lost a replay three times (1993, 1994, 2010) and lost a second replay once (1987).
Sunday January 6th:
City (2) – Liverpool (1): Detailed Tactical Analysis, by Benjamin Magnusson.
Within the first few minutes, it was evident that Guardiola had once again singled out Liverpool's right-hand side as the defensive weakness. The reasoning for this was twofold. First of all, Salah would obviously act as Liverpool's focal point during their attacking transitions, and therefore he would not track back to the same extent as Mané, which gave City some more breathing space on the right-hand side. Second of all, and perhaps most importantly, was the chosen personnel of both City and Liverpool, which played a major role in the focus on these areas. TAA and Lovren are both great players, but their defensive qualities are nowhere near that of Van Djik and Robertson, and as such, it made sense for City to focus the majority of their attacks down that side. At the same time, Agüero would often drift to towards David Silva and Sané, in order to create a devastating triangle. I often place a lot of emphasis on numerical superiority, but it is important to understand that numerical equality does not necessarily mean that the situation is equal.
Monday January 7th:
TTT Player of the Month for December 2018: Virgil van Dijk, by Andrew Beasley.
I've taken a look at van Dijk's defensive aerial numbers for December, and they're astonishing. 30 duels contested and 27 won for a success rate of 90 percent. As you'll see from the following pitch charts, the three he lost were a long way from goal too, with one closer to the half-way line than the Liverpool box. Nobody got past van Dijk in the air within about 25 yards of Liverpool's goal last month.
Liverpool Need the FA Cup Like a Hole in the Head, by Paul Tomkins.
This game cost us Lovren, who looks like he could be out for a couple of weeks at least if it's a minor pull, and that's the perfect example of why we just don't need these games. As poor as he was against City, he had been in good form up to then, and Brighton won't be as mobile as City's front-line.
So while I never like to see Liverpool lose, it never bothers me when it's clearly the reserve team, in a reserve competition, when there's loads of other things to go for. Indeed, it would be nice to opt out of competitions, like Man United did with the FA Cup in 2000. Then you could be out, without the drama of losing.
If Liverpool were safely 4th, and out of Europe, then by all means start caring about the FA Cup, but winning it three times in Arsene Wenger's later years did nothing to stop him being sacked, or remove the sense that Arsenal were drifting as a club. Liverpool have a league title to focus on.
Tuesday January 8th:
My Night At the Match – Wolves (A), FA Cup Rnd 3, January 7th 2019, by Donny Gow.
It's hard keeping my emotions in check throughout the match, although I'm sitting next to the only other Liverpool fan in our group (and the entire prawn sandwich brigade section), so he helps by letting it out for me instead. I clap in all the right places, of course. I'm safe. The game pans out as the game pans out, but I'm deeply impressed with the shift Hoever puts in in trying circumstances and similarly disappointed in both Studge and Moreno. Ah well, I did say to the big boss he could have the FA Cup match and I leave slightly sad but relieved it's all over and we change focus to the important stuff for the remainder of the season.
Domestic Cups Mean Nothing In Terms of Winning the Big Trophies, by Paul Tomkins.
I remember writing on RAWK in January 2005 that Liverpool going out of the FA Cup to Burnley was not a disaster (BBC Radio 5 had a "Liverpool in Crisis" section), and I pointed out that the Reds were in the final of the (aforementioned) League Cup, but more vitally, still in the Champions League. (A month later I wrote a piece for Football365 that pointed out how Liverpool could win the Champions League; oh to have that kind of successful prophesying on a regular basis…)
How did that work out? Lost the League Cup final, won the Champions League. But damn that stupid Benítez for playing Djimi Traore and co. at Burnley! What a fool! What a fool he was to give us Istanbul instead of two or three more games in the FA Cup.
Wednesday January 9th:
Liverpool's Long Shots: Surprising Results as to Who Succeeds From Distance, by Daniel Rhodes.
The first thing that stands out is Liverpool gradual reduction in shots from outside the box over the past five years: in 2014/15 we attempted 7.5 per game – and apart from a slight increase in 2015/16 to 7.63 the figures continued to drop from 6.82 in 2016/17, to 6.53 last season and now just under six with 5.94 this campaign. There's been a 22% decrease in shots outside the box since the 2015/16 peak. More importantly, the ratio of shots in the box to outside is far more skewed in favour of the former. Whereas it was virtually identical with a 50/50 split in 2014/15 and 2015/16, since Klopp took over full-time the figure has increased to around 60%, with shots inside the six yard box also creeping to nearly double what they were in 2014/15 (0.66 to 1.28).