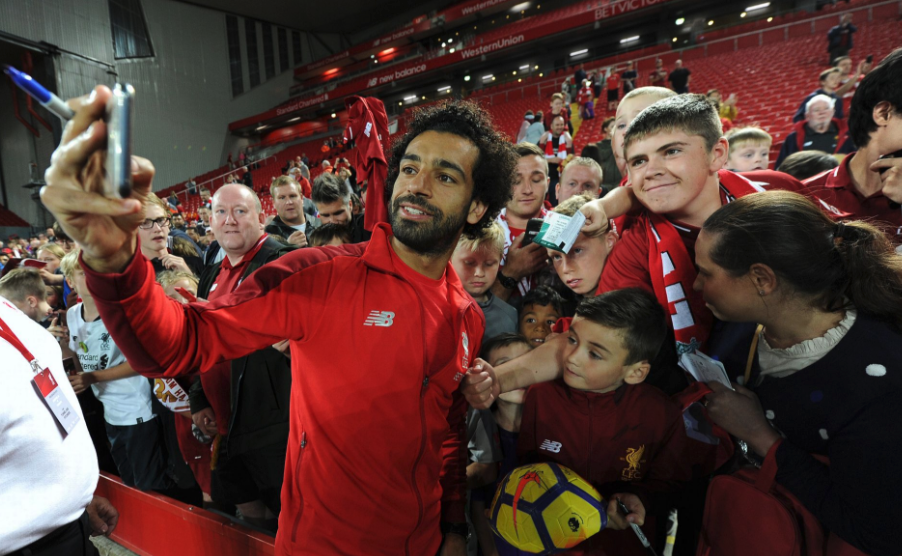 Posts selected by Chris Rowland and Daniel Rhodes.
The idea of this round-up is to give you all some idea of the range of debate on the site. If you'd like to be part of our troll-free community, there's a 'Subscribe' tab at the very bottom of the page. 
1 – Thundyr responding to Mobykidz's post analysing where Liverpool need to improve on last season:
Good analysis, Moby, but I'd like to add one thing into the mix:
But look at the bottom line – we "only" won 12 home games and drew 7!
How many of those draws were engineered by poor refereeing? If I'm right and it's three (eg Everton [Calvert-Lewin], West Brom [Solanke disallowed goal], Spurs [fist pump!]), then we are only 1 draw away from PL-champions home form on "merit". In other words, we are a lot closer than our form suggests (with our end of season form seeing us "somehow" drawing against Everton [maybe we were bad?] and West Brom [Hegazi no red card for assault, twice] again while we focused on the CL). Despite all that, and several other incidents [Watford on the opening day etc], we only finished 6 points out of second place and reached the CL final.
I don't mind people pointing out that our season could have been better but we got what we did through no fault of our own, and weak officials ultimately undermined both EPL and CL campaigns. More accurate refereeing sees us as City's only challengers, never mind our investment.
2 – 5537will, in his debut on Free Friday, on the changing nature of what attracts a player to a club:
I think this transfer window and Mourinho's issues at Man Utd, have showed us to be at a bit of a crossroads in terms of football culturally.
I also think that the modern footballer is more aware of who he's signing for than ever before; more aware of the football played and how they'll fit into the team, how they'll be treated and developed, not just of the pay check. It seems that players want to play for Klopp for example. It's also clear that some (Kovacic) actively don't want to play for Mourinho.
This all feeds back into the business of money, which lets face it, is pretty much what football is about today. In a landscape where fairly unremarkable players are going for £50m, clubs increasingly are not going to able to afford to employ dour managers, teacup throwers, bus parkers. I feel that modern, systems-aware footballers want to play for managers, want to play in a style, want to be developed. Remember we used to get a lot of the; "So and So is on Liverpool's radar but really wants to play in London" nonsense? I haven't heard any of that for ages.
To refer this back to contracts and the transfer window, it's clear to me that in modern football, players need to be happy and fulfilled and clubs now have a huge financial incentive to make sure that's the case. They have a massive incentive to make sure that their club is attractive to top players and this is where we'll see the decline of authoritarian, combative managers like Mourinho, whose personal scorched-earth policy at every club he manages is starting to catch up with him again.
3 – Proudred at the Torino friendly at Anfield on Tuesday night:
I too loved going to the match last night. Seeing all the young fans with smiles on their faces and wearing the different kits, mums and dads in tow. I felt there were many locals turning up last night which I loved to see. Like myself after chatting to a few they were priced out of League games or just could not get tickets.
These sort of games have a more fun and enjoyable atmosphere. Not missing some of the miserable fans who sit there silently and feeling entitled. The fans last night were thoroughly enjoying the experience to see their heroes in the flesh.
Personally just seeing my favourite player Firmino  playing is thrilling enough. He has matured so much since I saw him in his early days with Rodgers as manager. On the verge of being World Class in my opinion. Watching Salah, Firmino and Mane together lives means you daren't blink, they are so fast, both in mind and movement.
But the best moment of the evening was when the crowd cheered Karius onto the pitch when he came on as a substitute. I was so proud of our fans. As it has been mentioned before YNWA means exactly that and the Anfield crowd proved again that this Club is truly special.
4 – ChrisK79 on Nat Phillips after he left Bolton:
As a little aside, a mate of mine goes out running with Nat Phillips. When Bolton let him go, his dad, former Bolton full back Jimmy Phillips phoned someone he knew, (via former Wanderers team mate Tony Kelly) at Liverpool and convinced him to give his lad a trial. Obviously that worked out well as he signed for the club and here he is, two years later, impressing in pre-season under Jurgen Klopp. How unpredictable life can be. Also, trivia fans, he is apparently named after Nat Lofthouse.
5 – Snatch discusses a rare trip to Anfield:
I made a rare trip to Anfield last night and thought the atmosphere was really good, as others have said lots of families. Most unlike the normal bunch of miserable buggers that turn up week in week out. I live about 3 miles from the ground and have of late not been to matches over the past few years for a number of reasons.The cost of tickets and their availability, I also found that the atmosphere to be poor, people moaning and groaning. I found myself arguing with folks, mainly to no avail. I must add that my first trip to Anfield was in April 1950, my much older brother took me as birthday present, I was seven years old, I hated it, I was shoved and pushed, did not see much, but he persisted and they became my team. Lived through the relegation of the Fifties with loads of grief from the other lot across the park. The arrival of Shankly and we all know what happened then.
I digress, to return to last night and the atmosphere, the Torino fans were a source of entertainment in their own rite. Before kick off I noticed that the stewards had to separate two Torino fans, I also spied a fan sporting a large beard and wearing a kilt plus sporran. A couple of rows in front of me their was a large family group, young kids, grandparents, the kids had made posters declaring they were LFC fans from Khazakstan and passing out sweets to those close by.
The football was decent and it was great to see the front trio on the pitch and the new goalie. The playing surface was magnificent, a thing of beauty. The inter action after the game was over between the crowd and the players was great. I hope to be able to get to a game during what is going to be a wonderful season for us all. I had a good look around the ground before walking home, I beat the No.68 bus by the way. How different the place is from my first visit 68 years ago. Onwards and upwards.
Articles published on The Tomkins Times this week:
Monday August 6th:
Liverpool's Secret Weapons For A Title Charge – Bring It On!, by Paul Tomkins.
Tuesday August 7th:
How Well Are Liverpool Finances Performing? The Full Story Through The PL Years., by Graeme Riley.
Wednesday August 8th:
More Of The Same Please – How Liverpool's 2018/19 Preseason Shaped Up, by Andrew Beasley.
Can Shaqiri Really Shake It As A Number Ten?, by Daniel Rhodes.
Thursday August 9th:
The Runners and Riders For the Premier League 2018/19. Hope In Our Hearts Being Replaced By Expectation? by Mark Cohen