By Graeme Riley.
We will have to wait another six months or so to see the full effect of the Champions League campaign on the figures for 2017-18. However the following is a summary of what the club has achieved since 1992-93 compared to the rest of the big 6 (hereafter referred to as RoB6). All figures are taken from the clubs' published annual accounts, the only remaining caveats being that Man City were absent for several years and no figures are available for Chelsea in 1992-93.
Revenue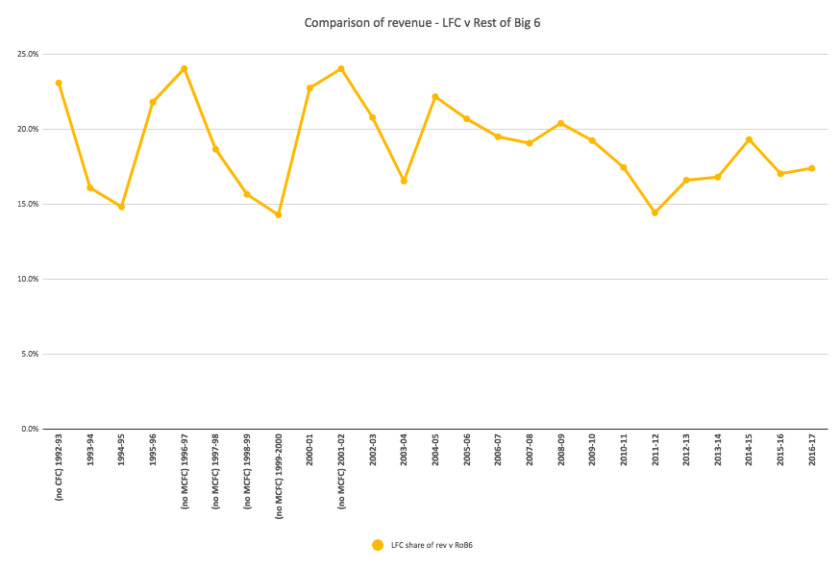 With all six clubs being ever-present in the Premier League since 2002-03, it makes sense to focus initially on the last 15 full years to 2016-17. Although there are significant variations in revenue between the clubs, it would normally be anticipated that the share of total revenue would remain reasonably static, since the success of one club in, for example, the Champions League, can only come at the expense of another who would therefore lose their share. The only impact this might have on LFC would be if a) the club was directly impacted by qualifying one year and not the next or b) an interloper such as Leicester denies one of the other clubs their share of the revenue.
Possibly the biggest concern in all of this data therefore is the gradual decline in LFC's share over the past 15 years. Being one of the big 6 would mean that on average LFC would expect to have a share equivalent to one fifth or 20% of the RoB6. Indeed, until about 2009 this was the case, but there has been a gradual decline since then. Despite some recovery in the past few years, we have still not recovered to having our representative share of the pot – in 2016-17 for example LFC was only trading at 17.4% of the total for RoB6, leaving a gap equivalent to £55m per year. Since 2011-12 when Man City overtook us in revenue terms, we have outperformed them twice and Spurs in every season, but Arsenal, Chelsea and Man Utd have remained out of reach. It will therefore be interesting to see Arsenal and Chelsea's performances in the current season without Champions League football.
The rest of this article is for Subscribers only. 
See below for details on how to sign up to read all paywalled material and join an intelligent, respectful and diverse community.
Also, click here for details on Boom!, our book on last season's thrilling campaign.
[ttt-subscribe-article]