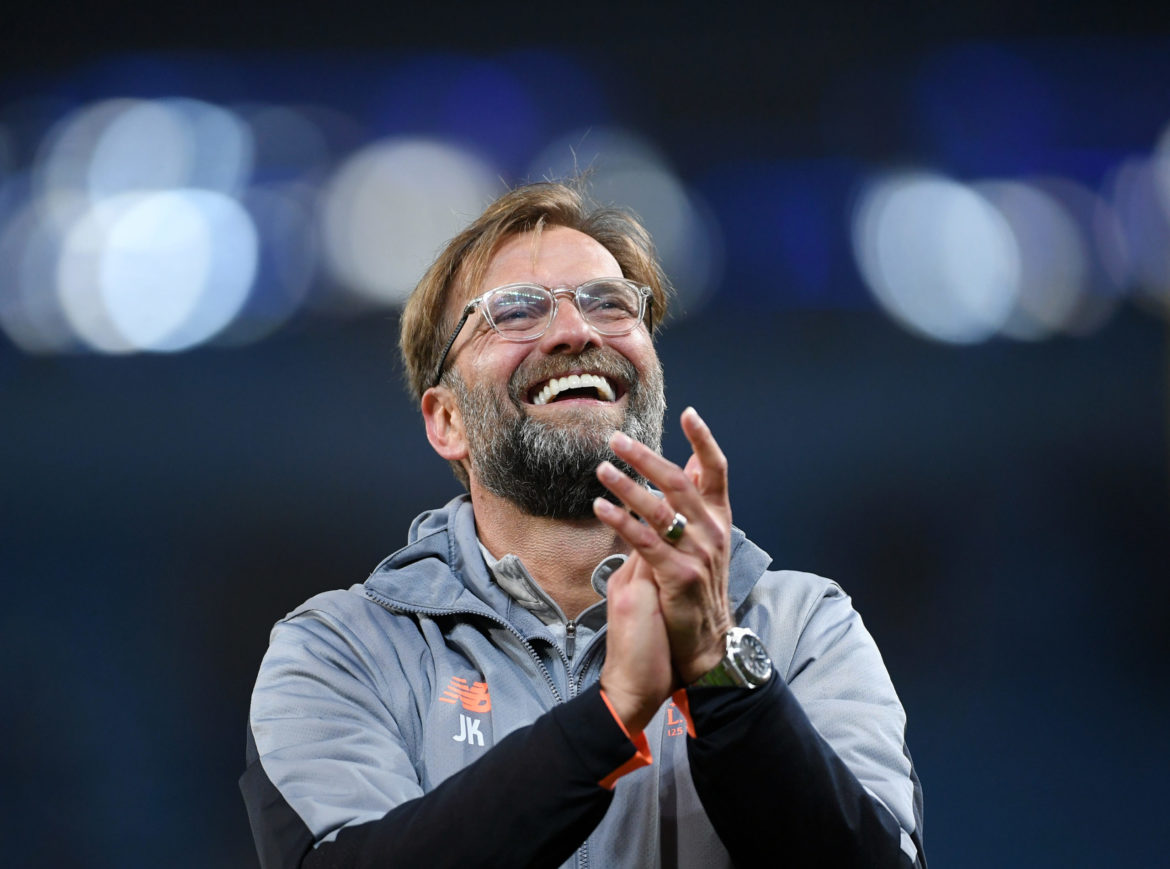 For the first time in a decade, Liverpool feel like genuine title-challengers at the outset (in 2013/14 it was more of a surprise). 
While there are caveats when beating Man City 3-1, Man United 4-1 and Napoli 5-0 in preseason (not least because it's preseason), it's also not been without Liverpool's own issues and absentees, and has involved blooding new players (while other clubs perhaps leave their business until the last minute, and so should be able to rely on greater understanding between the players). 
It's hard to recall a Liverpool squad looking so hungry, so intent to win every ball, even in preseason. The spirit seems to be amazing, the competition for places intense; and perhaps most importantly, even squad players who you might expect to have a chip on their shoulders (such Daniel Sturridge and Xherdan Shaqiri) are full of smiles, enjoying the minutes they are getting to play.
I honestly think this is the best-prepared Liverpool have been in the Premier League era. After this summer's business – and assuming the new players settle as hoped – then Liverpool will finally have a spine to potentially match the 2008/09 side, but with more quality in wide areas, and a shade more quality and variety in depth; with the attacking prowess to even outscore the 2013/14 side, whilst defending much better at the other end.
Equally, it feels like several other clubs have cause for optimism. Man City may suffer a post-celebratory hangover (or a big shift in priorities to focus on Europe), but if they don't, they will take some beating. There's no obvious reason for them to get worse, other than the post-title dips that a lot of clubs have had lately – plus, a slight concern over the ages of some players. Many of their players are still at good ages, and they a handful of excellent sub-25 players, but five first-teamers – Vincent Kompany, Sergio Agüero, Fernandinho, David Silva and Nicolas Otamendi – are entering the melt-zone, when supreme experience may start to shift into decline. (Agüero is the youngest of these, having just turned 30; but 30 can also be when explosive forwards start to lose their edge.)
Chelsea have yet to lose the players they were expected to lose, and have added a top-class manager who probably won't be as divisive as the previous two, where quick success was followed by a massive dip. Maurizio Sarri may even blood some younger players, as Chelsea may finally tap into all that stored potential. Chelsea have already loaned out 22 players, and City have loaned 20 so far; compared to just seven by Liverpool, showing how the two 'blue' clubs have stockpiled young talent.
Arsenal have a new manager – long overdue – and have added some steel, and like Chelsea, don't have the Champions League to worry about (so it depends if they choose to get bogged down in the added games of taking the Europa League seriously). Arsene Wenger used to be a pioneer, but it will be interesting to see if they actually have better players than it seemed, and his approach was holding them back (along with the sense of inertia, and the general unrest).
Having a new manager can obviously provide a boost, but it can also make for a transitional season, especially as both Arsenal and Chelsea are changing their styles of play; while the first year in England is often a lesson in adaptation. So it could go either way, or be an inconsistent mixture of a scintillating boost, at times, allied to some confusion, like Klopp's initial campaign with the Reds.
Spurs are still a young side (albeit a fraction older than Liverpool) with a lot of quality, but perhaps have an unsettling season ahead with the delayed stadium move (which also means lots of away games to start with), and the high number of players who had gruelling summers. My hunch is that – after perhaps missing the opening game – these World Cup players will start the season with the summer's sharpness still in their limbs, but it may take its toll later in the season, especially for those who played a lot of games last season. 
And indeed, it seems that Liverpool could be the least affected out of last season's top four by post-World Cup fatigue, given that Holland, Scotland and Guinea didn't qualify, Senegal, Switzerland and Egypt exited early (and Brazil earlier than expected, plus Fabinho was omitted anyway), and several of the Reds' England players – Sturridge, Adam Lallana, Joe Gomez and Alex Oxlade-Chamberlain – missed out due to injury, and Milner due to international retirement. (And of those who went to the World Cup, Trent Alexander-Arnold and Marko Grujic barely featured; meaning that while they'd have been training hard, they won't have the extra mileage of games 'in their legs'.)
And of course, for all their manager's grim protestations, Man United's squad cost, £XI and wage bill still dwarfs Liverpool's, and Jose Mourinho still knows how to 'win ugly'. If gnarly experience and the height of the team still count for anything, United will be contenders.
Liverpool are being portrayed as the big spenders, trying to buy the title, but it's a club that 'lost' Philippe Coutinho for £142m and is spending that money; getting nothing for the also-departed Emre Can. These are two big names – one world-class, the other international class (EDIT: and of course, the fast-improving Alex Oxlade-Chamberlain could miss the whole season) – who have left in 2018, and that is something Klopp and the club has had to deal with (but which other managers neglect to mention).
So far in 2018, however – starting with Virgil van Dijk – it seems that this has been achieved, and then some.
(Since I drafted this article, Mourinho has now said that Liverpool are "buying everything and everybody", which is odd, given that it's just four players, one of whom was signed last summer. In his first three seasons at Chelsea, Mourinho brought in 20 first-team players: seven, then five, then eight, at a cost in today's money – TPI football inflation – of £1.5billion. I know he's talking bollocks, and he probably knows it too; but it his words seem to get reported as gospel by some.)
The Time Is Now
Based on history, this is around the time in his tenure that Jürgen Klopp's teams move up a couple of gears. It's also traditionally when Mourinho's sides self-implode. But each situation is unique, and you can't say that these things will happen. History is often about as good a predictor as we can get, but the future, for all the similarities we might see, always plays out in unique ways. 
Success rarely comes from nowhere, completely out of the blue. Every now and then there may be a big surprise, but at most it's usually minor surprises. Right now it feels like the Big Six should be pulling further away from the pack. 
And it feels like Liverpool have done the best business of any of them this season, but in many ways, Klopp had the most to do when he took charge of a mid-table Liverpool side that couldn't defend, and had no pace and no goals in the team. He has performed a complete rebuild in less than three seasons.
The Stars Aren't Aligning … But Key Factors Are
Based on an in-depth look at the history of Jürgen Klopp, of Liverpool FC and of the Premier League in general, there are a whole host of factors that bode well for the Reds. This isn't about superstition, juju, witchcraft or fate, or those bizarre coincidences that pop up about members of the royal family doing something like getting married or killing peasants the year Liverpool last won the major trophy in question. 
It's about several positive factors – the kind seen in successful teams – aligning in just the right way. Those alignments are clicking into place, but even having all the right ingredients doesn't guarantee success. But it certainly improves your chances.
What follows is an article about some of those aligning factors.
This article is for subscribers only. See below for details on how to sign up to read all paywalled material and join an intelligent, respectful and diverse community.
Also, click here for details on Boom!, our book on last season's thrilling campaign.
[ttt-subscribe-article]