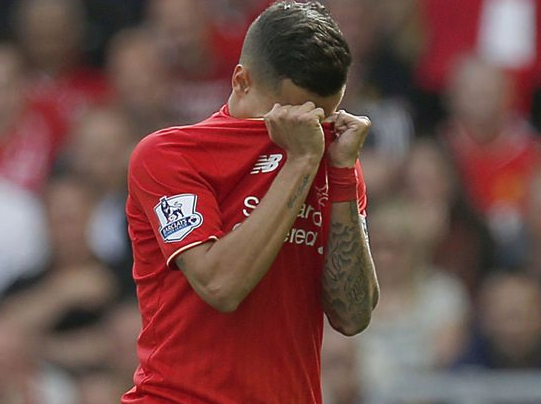 This week's posts selected by Chris Rowland and Daniel Rhodes.
This gives you some idea of the range of debate on the site and the type of articles published. If you fancy being part of it, there's a 'Subscribe' tab at the top of the page. 
1 – Mark Cohen arguing why Dele Alli would be an ideal replacement if Coutinho leaves:
If, and I strongly agree with other posters that this is a big 'if' and not a when, Coutinho leaves, my hunch is that Liverpool will be in the market for a larger, more aggressive player in the Dele mould.
For me, this guy is going to be one of the best that ever played, and it's worth remembering he is just 20. 20. The guy's still a kid, still learning, and yet he already has everything you'd need to be a global star in a Klopp team.
Lets review:
Stamina. Yes. Balance. Yes. Power. Yes. Close control. Yes. X-factor. Yes. Pace. Yes. Liverpool fan??? Yes!!!
Other posters have said that Spurs would never sell him to us, but that ignores a simple truism that if we are in for him, it's because we've just lost our 'never sell' to Barca, so 'never sell' is just a figure of speech meaning 'need huge offer'.
It probably needs to be recognized that if the offer is attractive enough to Mr Levy, who is looking to balance books to aid the stadium build, then he will fall in.
Equally, in purchasing VVD, Liverpool have arrived in a clutch of 8 teams in global football who would be considered behemoths. PSG, City, Chelsea, Barca, Real, United and Bayern making up the other seven.
As I passionately wrote in the summer, there was a massive game theory play to keeping a Coutinho style player in the face of a bigger predator raid, and when we coupled that with spending a world record on a defender just four months later, we confirmed our new place among the elite.
There is nobody now in global football who, upon hearing the name Liverpool, don't take it seriously.
People wonder if FSG are in it to balance the books with transfers and this shows a  lack of understanding into what they want out of their ownership:
They want an asset. A big, growing, frothing, teeth gnarling asset that continues to accumulate value whilst hey watch on.
They understood last summer that the time was absolutely right to catapult Liverpool into the topmost echelon in world football as they could see the way global football was going – it has been turning, from a perfect competition, into an oligarchy.
Now, this has been happening for probably 35-40 years already, but the influx of loot worked to such an extent that it reached an obvious tipping point when PSG, the newest oligarch, prized away a South American footballer from his spiritual home Barcelona, in the prime of his career to go and fuck around in the French league.
There is much more to be discussed about this fascinating subject, but the main thrust is that, if your a club with a global following, you are in a group of about 6 clubs, and Liverpool are one of those. If you are a club that has the funds to purchase global stars, you are in the larger group of 8 clubs + some Chinese megamoney outfits, and we are one of those too.
If you can marry the two facets together, you are a true global club, and as football grows and the value of clubs goes up alongside that, so too does the value of Liverpool shoot up.
The Boston Red Sox are routinely valued at around 2.8bn dollars whilst Liverpool, playing in a much bigger sport, with much larger and faster growing revenues are valued at around half that.
So the growth in FSG's portfolio had an obvious name – and it wasn't the baseball team.
It thus made total sense to start speculating to accumulate and that is precisely what FSG did, first in not allowing Coutinho to leave and then in spending 200m in the least six months.
FSG understood that a global team needs a global outlook, and these includes having major league players on its books to attract fans and money to the club.
They can see that the football world is being carved up for the foreseeable future and the way to get your slice is to pay for it.
All of this should be obvious and very attractive to the likes of a Coutinho because he wants to challenge for and win things, and this is precisely what the club has been built to do.
Not for thirty years have Liverpool the football club been in such rude health, and the next couple of years are going to be truly sensational.
Enjoy it.
2 – Progress and prospects are in Madchenkliop's sights:
I agree we're very close to being the best team in the league now. And the trajectory of improvement is plain to see and I agree it's not finished yet.
As I've said a few times recently, I think the most satisfying of Klopp's achievements has been developing four superb solid full backs in TAA, Gomez, Moreno and Robertson. They all have slightly different strengths and weaknesses, but just the fact that there are four of them has made such an enormous difference, providing that extra reserve of energy to respond to danger and exploit tiring defences. And it's cost us virtually nothing in financially,  but a few rookie errors aside, they have fixed the areas that teams were targetting as weak spots last season. It's changed the dynamic of the team and almost game by game you can see opposition teams aren't fancying their chances of making us wobble so much.
I think the VVD is going to do the same for the CBs. I'm not sure how it will shake down, but personally, the balance seems about right with those four. It will be interesting to see how the VVD passing range affects the whole team balance and whether Klavan and Matip in particular will start to compete with him in terms of proactive passing. There are small signs that things are already taking that direction. If Karius gets to play more also I could see us becoming even more dynamic as an attacking force.
The 2 positions I think make us vulnerable in terms of squad depth and whether players are in form are the No 6 and the No 9. Can on a good day – and I thought these last 2 games were pretty good if not sensational – is a real asset to the club. Hendo also, but he has had a lot of injury problems and has taken time to work back to his best form. But there's always this sense that whoever plays in that position is somehow filling in rather than making it a real strength for the team. Wij is one of my favourite players and I think he's been quietly improving with his defensive work.  I would rule out him that position more regularly, but I still think we could do with someone who bosses the position more. More of a controller. Who knows what how Keita will be deployed. I think he'll combine well with Hendo and Wij in that they've been trained so well to change positions and cover for forward runs. But if Can goes then we still need someone else. He's not the leader we once thought he would be but he has a lot of presence and makes a difference at important moments as seen with that run that set up Ox's free kick for the winning goal. I still hold a candle for Grujic coming through and I think he could complement Keita really well with his periscopic passing range and Naby's mobility. But you've got to say that Grujic probably will never get the opportunity to get up to speed, because unlike at full back, mistakes in central mid tend to get punished so mercilessly at the higher level. It's a shame though, because it would be so exciting to see someone with more of a Pirlo/ late SG- esque capability in that deeper role. It's that passing that we need, especially when Phil goes.
As for the No. 9. position, I think Firmino is fabulous, but there is a drop when he's not available. I think Solanke is progressing well and does the donkey work, but he can't quite pull off the amazing combination play that makes the front 3 so devastating. His touch needs to improve and will it? He could get there, but he or someone else needs to push the level a bit higher for us to have a squad capable of pushing in two or more competitions. I also think there's still a role for an impact striker like we're always hoping  Sturridge can be (and to fair, has been on occasion). I'm not really convinced Ings can get back – his incredible energy and determination were his strongest qualities and he can't push himself quite as hard these days, but he know he won't give up.
As for U23s it was great to see Woodburn on the bench today. I have this sense that they are trying to time his development to coincide with the eventual decline or departure of Coutinho and Lallana. He's played consistently deeper for U23s which is interesting. Also, Ejaria would need to produce a spectacular spell of improved performance but he has the talent to move up.
3 – MikeH on Coutinho and Barca's bullshit:
Just because tbis story is repeated again and again doesn't make it true. The internet regurgitates continuously.
What do we know as fact?
Barcelona want Coutinho.
Coutinho would like to go.
We told Barcelona to get lost in the summer.
Barcelona couldn't meet our valuation.
From everything we are hearing, not much has changed.
What is the purpose of all this bullshit, they dont like the price and need it to come down and this is their crass and undignified way of attempting that.
I suspect it will make zero difference to FSG. Coutinho 's contract allows us to play as hard as we want.
Personally I'd get Barcelona and Phil in the same room and spell the message out. This is the price now, this is the price in the summer. No haggling, no conditions. Pay the money and he's yours. Barcelona are currently lying to everyone including Phil to try and get their way.
They have become a truly shabby club. Mired in scandal and corruption. A case study in economic mismanagement. The same lack of grasp of financial reality is causing them problems here. The game has moved on, we don't NEED their money. They  simply cannot face up to new economic realities and the financial power of the EPL or us.
4 – To show we don't just talk about football, an important health call from Stevenson1988:
Fellow TTTers, this is important: I've been largely "hors de combat" for a couple of weeks over Christmas and thought I'd explain why. A very good friend of mine died last year at the age of 59. I'd been at school with him so had known him for over 40 years. He was the life and soul of the party, we shared rooms together on golf trips and he is sadly missed by us all. He died of prostate cancer. I presume you have pretty much all seen the prostate cancer awareness ads featuring the Sky football pundits, so if you do nothing else as a New Year's resolution, please get a PSA blood test done if you fall into the relevant age group. I did and, to cut a long story short, it has led to a series of tests around Christmas and New Year, culminating in a Cystoscopy – Google it if you're not sure what that is. It sounds dreadful but in actual fact was not a problem (honestly!) and it was all handled very well (so to speak) by the brilliant staff at my local NHS hospital. Fortunately the results are clear so I'm afraid you're stuck with me for a while longer, but not everyone is so lucky and the earlier this is caught, the better. Us men are pretty bloody useless at getting stuff like this checked out but one stat scared me to death – 2 men will die during the course of a football match from prostate cancer. Do yourself a favour, get the blood test.
5 – Glasgow Red on the Coutinho Saga and possible solutions:
I'll tell you this for nowt. I'm fucking bored of the whole situation already.
I have full faith in Klopp/FSG that whatever happens will be for the best and be part of the bigger plan.
Sell now and no incoming? Deal with it using the very good squad we alraedy have.
Sell now and some incoming? Better than above
Don't sell now and Phil goes on strike – see point 1
Don't sell now and Phil leads us to FA Cup, 2nd place and CL glory – rejoice.
I'm reading the oft quoted book on here 'The Subtle Art of Not Giving A Fuck'. One of the biggest insights I've had from it – in fact it's so fucking profound, I'm now re-reading the book again, is this.
Rather than visualise and focus on the joy of the end goal and all it's glory (i.e. League title, CL win, return to world dominance etc), you should focus on the actual level of pain you're prepared to endure in order to get to your chosen glory state.
I've probably not explained that very eloquently but hopefully you get the gist. The point is, if selling Phil now and getting no immediate replacement, finishing outside top 4, losing tonight and getting knocked out by Porto is the pain we need to endure in order to win the league in 2020 and CL the following year, would you accept it?
Exactly.
Now consider all the column inches and gigabytes being taken up with this Phil story. Consider the effect on us as supporters and then consider the effect on the players. It absolutely has to be affecting them at the moment.
As such, if I was in charge, I'd release a statement now saying that one way or another Phil Countinho will not play for Liverpool at all in the month of January and that we have total faith in our squad to continue the wonderful journey we're on this season. Furthermore, no official from the club will be discussing anything to do with Phil Coutinho until such time as the club deems it suitable to talk about Phil Countinho.
As you were.
Articles published on The Tomkins Times this week:
Sunday December 31st:
Post-Match Analysis: Leicester City (H), by Daniel Rhodes.
My Day at the Match – Leicester City (H), Dec.30th 2017, by Chris Rowland.
17/18 Premier League Preview | Matchweek 22 | Burnley (A), by Gary Fulcher.
Monday January 1st 2018 (Happy New Year everybody!):
Liverpool Could Have A Title-Winning Side Next Season, by Paul Tomkins.
Tuesday January 2nd:
My Day at the Match – Burnley (A) Jan 1st 2018, by Chris Rowland.
Wednesday January 3rd:
2017/18 FA Cup | 3rd Round Preview | Everton (H), by Gary Fulcher.
Thursday January 4th:
The Secret Pundit Takes on the Commentators, Part 13: 'That's Changed His Half-time Team Talk', by Per Dantic.