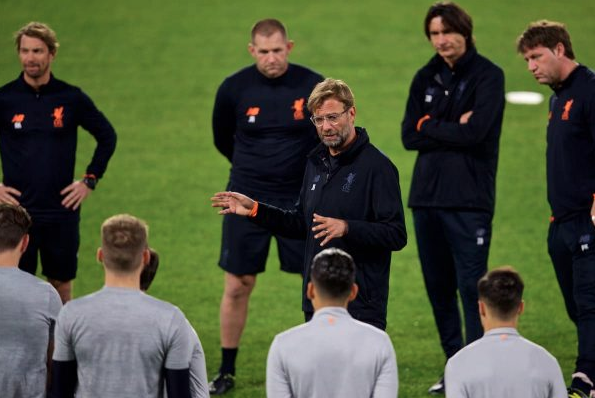 This week's posts selected by Chris Rowland and Daniel Rhodes.
This gives you some idea of the range of debate on the site and the type of articles published. If you fancy being part of it, there's a 'Subscribe' tab at the top of the page. 
1 – RoboKlopp with a couple of gripes despite the 4-0 win at Bournemouth:
I won't add to the superlatives already shared here – we were absolutely purring today.
However, a couple of gripes if I may!
1) On the subject of refereeing decisions, when Firmino cuts it back for Lovren, the commentator starts saying that much has been said about decisions in Liverpool's recent matches (Everton/West Brom), but "this one's gone his way". Do we now need to be grateful when referees don't make incorrect decisions against us!? The ref didn't do us a favour in allowing the goal to stand – the ball was active and it was just a goal, simple as that. How is that an example of refereeing "going our way"?
2) Robbie Fowler. I love the guy, but I thought his comments today were a bit naff. He kept implying that players need games in order to thrive, and that the reason we've  dropped points is because of said lack of game-time-which-guarantees-thriving. It ignores the actual performances that we've put in – anyone with a brain knows that our rotated team destroyed Everton. We were a bit flat vs WBA with a more "full strength" team. The evidence isn't there to support his argument.
Furthermore, at half-time when they are discussing Salah's 20th goal in 26 games, Fowler says "that's what happens when you play every game (i.e. like I was saying earlier)"…. but before the game that's exactly what he was criticising, because Salah HASN'T played every game. He has been rested. That's a contributing factor as to why he is still playing so well, no? He gets taken off early a fair bit, and gets rested just like the others.
Other than that, very little to complain about today (not that I like things to complain about!). Happy man.
2 – Madchenkliop on rotation:
Some interesting comparisons in this piece;  Ox > Can,  Rodgers < Klopp in terms of player and club promotion and strategy. It really does draw attention to the skill with which JK keeps all aspects and people at the club on board. He can even essentially sack a player in a gracious and warm hearted manner if the interaction with Jordan Ibe was anything to go by.
It's useful to be reminded of the way Rodgers approached rotation, which I think was also a sign of neediness in promoting his own agenda, where he used to emphasise that this or that player was 'in possession of the shirt" or had "earned the right to be a starter". He would ring the changes, but often one game too late in a reactive way showing faith in a player for the previous performance without taking into account whether they were tactically suited or fit enough for the next game. Sometimes it could work, but often, regularly, it would wind up creating fresh problems with players losing confidence and the whole team becoming insecure about what was expected of them.
Klopp has gone a completely different direction in establishing a framework for rotation as with the goalkeepers or for example, Gomez and TAA sharing duties. On the surface it would seem these changes are being made on an ad hoc basis, but the reason it works is because there's a massive amount of detailed preparation being done by the whole management team. Klopp is a fantastic front man and leader, but I think our massively improved squad depth is down to a huge amount of work by a small but extremely well run army of specialists and strategists.
I always have some sympathy for Rodgers in that despite his good intentions to establish a management team at the beginning, the job was simply too big for him. By the time he had affected changes in the Academy and negotiated a functional working relationship with Stevie G, (had his teeth whitened, got a new girlfriend) and so on, he'd taken his eye off the ball and failed to notice that the previous team that he'd brought with him from Swansea had stagnated and become impotent. Going for O'Driscoll, McAllistair and co. was a recognition that to nurture his own long term support network was vital, but by that time he'd lost the players and most importantly the faith of the club's own strategic long term planners.
What feels absolutely right at the moment is that we're not just one or two injuries or loss of form away from a dramatic nosedive. We won't collapse if Mané loses his mojo. We won't have to rely on Danny Ings' work ethic or convert James Milner into a Centre Back this season. We've turned a corner in terms of preparation. It's not just that the summer transfers have been over 50% successful – it's that we've bought enough time with our extended support team to afford the 20 minutes here and there to allow the likes of Ox and Solanke to acclimatise without being crushed by unrealistic expectation. It's not just having more quality players available it's the painstaking planning that's gone into how and when to deploy them.
I've been really enjoying how we're beginning to develop a system of using substitutions for impact in terms of saving and boosting energy levels. To be fair, bringing on Solanke and Ox in the WAB game very nearly worked and similarly, now we have Lallana back, I could see the trend of us not scoring late on in games being turned round sooner rather than later. Klopp's management team is very systematic and methodical in the way it goes about implementing changes and that's reflected by the lateness of introducing substitutions to impact games which is typically quite conservative, but I predict we're getting to a point where we'll see some effective tweaks here also. Who knows, we might even arrive at a rebirth of the 'super sub'. I could see intelligent players like Solanke or Lallana in his twilight years (or both) becoming more specialised in their roles late in games. I was really struck by just how Lallana seemed to be popping up everywhere in that short cameo at Bournmouth. On form, he would surely be a nightmare for a tired team to deal with.
3 – Mark Cohen debating with a Man Utd supporter on the clubs' relative current standings:
Something occurred to me today that was at once so blindingly obvious and yet so utterly bizarre that I could barely process it:
A Manchester United fan I know was discussing football matters and made the throwaway comment that it was fairly obvious they'd finish second and that Liverpool would be battling away with the Burnleys of the world for 6th and 7th as our defence is 'so shit'.
He didn't say it with any particular mean spirit, and he is not a banter merchant, he just really saw things this simply.
I joined the conversation at that minute and said to him that whilst United possess a strong squad on paper, their underlying numbers were poor at both ends of the pitch and that if I was a betting man, I'd actually place Liverpool a point either side of them come May.
He was incredulous and he laughed, again not aggressively I must stress, but more like 'wow' another simple 'Scouser'.
(A quick tangent, here in South Africa, you are humorously referred to as a 'Scouser' if you support Liverpool, this might seem trite but is in fact a fascinating discussion in of itself and one of the reasons Liverpool football club remain the last great community club – the inexorable link with the City from which the club hails, I mean, could you ever see a Chinese Manchester United fan being called a Mancunian? Anyway, that discussion is for another day).
The lad – he held up an open hand to me, as if imploring me to see sense… 'Liverpool aren't playing the same sport as us Mark." He said, "We have scored more goals and our defence is the best in Europe, you have Lovren and Mignolet…You have a manager that doesn't even pick his best team for the derby, and he has been found out for not having a plan B long ago anyway…"
I looked at these lads having their discussion, and I saw that to a man, I appeared the idiot, it was me who was clueless and a dreamer, and it was they who were the parents spoiling Christmas by telling me Santi didn't exist…
I could see they were humoured by me, and I almost never speak to lads like these about football, but I asked them if anybody had ever heard of 'expected goals'.
They said no.
I asked them if they thought it was possible to train a team to play two entirely different ways, to a near perfect level and if it is impossible, should a manager rather work on his overall ethos and make that better and better, so essentially improving his plan A?
The main lad retorted that Klopp's plan A had been found out at Dortmund and he was 'almost' relegated.
I asked if there were 10 teams in the Bundesliga.
He asked why.
I said there must be, because three go down and Dortmund finished 7th that year from a standing start. So, narrowly avoiding relegation then?
He didn't get it.
I asked him if he understood perfect storms, or black swan events and they all stared blankly.
I asked them if they tracked any running averages, as if they did, they'd see an alarming pattern where United's expected goal difference is continually shrinking whilst Liverpool's is now one of the highest in Europe.
I asked them if they realised that Liverpool have massively outscored United since the third month of the season and the gap is widening.
I asked them if they'd be surprised to end outside the top four this season as their form is being propped up by one truly world class performer, sitting between the sticks.
They actually laughed.
"We are second, and if City slip up, we'll capitalise and all this with their unprecedented spending!"
I asked if they realised for all intents and purposes that theirs and City's squads have been built with the same net spend.
I asked if they understood the pressure their team and manager are under due to the overwhelming expectations placed on them because of their size and spending.
I asked if they could see the team is becoming more and more defensive as the season wears on and that these were all signs of a pressure overload.
The main lad chuckled and said something about being in a crisis in 2nd.
He had a point, I laughed with him and left it at that.
You see, every single footballing idea that I carry forward in my adult iteration as a lifelong fan of Liverpool and football in general, I have from TTT.
I don't know if Paul meant it when he started this thing, but it has changed mine, and I am sure thousands of other people's basic understanding of the game.
The depth in which I now view every single game is far beyond what I used to and I feel enlightened by the information which I have learned to use, all via this genius of a website.
I will now religiously check the expected goals fundis take on, not just our games, but dozens of games a week, just to see what really happened beyond the score line.
That will come in tandem with a five or six times a day reading of TTT to see what the brains are saying, not just the paid for brains, but the comments too, like-minded lads and lasses putting their minds to work.
It is no longer enough for me if Liverpool win, we need to have won the vital stats. It's like having a defibrillator restart your heart. Yes, you are breathing today, but it would be better if your vitals were constantly strong, rather than having needed the jolt.
I take enormous solace from dropped points in great performances, just as I take wins with humility when we do them lucky, as I now know the difference.
What Paul says in this piece is too true, in that, by using these tools we can see, with our own eyes, how large the improvement under Klopp is and that, regardless of a few results, we are on the right track if we continue to perform this way.
The Manchester fan today said to me that Liverpool and United are now playing a different sport. That was hyperbole. What is reality is that that lad and I are now watching a different one.
4 – Watyeonaboot in praise of English managers and coaches:
Someone posted a good Telegraph article on Quality Media this morning about the British insularity toward foreign players and coaches – this blog from Richard Keys is somewhat incredible, really – can he not see how Watford and Huddersfield have improved so much this season. Regarding Hodge, Allardyce and Moyes, he seems to have completely forgotten their years of utter mediocrity, and does anyone notice the double standards of his comparison of Rafa against Sean Dyche???
For some time now I've been banging the drum for British coaching. Despite the usual hysterical reactions, mostly from people who half read what I write and immediately jump on their keyboards, I have no intention of stopping. Let me say it again – in my view British coaches are every bit as good as their foreign counter-parts.
Now let's qualify that statement. Nothing about it is 'anti' foreign. Nothing at all. Where would we have been without the entertainment Mourinho has given us down the years? Granted, more off the pitch than on!
It's an absolute pleasure to watch Guardiola's City. After a difficult first season when he completely under-estimated the PL, Guardiola has produced something very special for all the neutrals to enjoy. He's had a few quid to do it with mind you!
Klopp has given us the 'Fab 4' and believes in entertainment. Wenger wants his teams to 'play'. Pochettino went close over the past two seasons and his Spurs were a terrific to watch as well. And a small army of foreign coaches have delivered a steady flow of trophies at Chelsea.
Of course I get it that foreign owners want what they perceive to be the best that European coaching has to offer. Football is business these days and the 'Super Coaches' are instantly recognisable around the world. They are very 'saleable'. Everything has to be now.
The guys are good, but there's a common denominator – they all get the very best to work with and they get shed loads of money to buy the very best players – again, thank goodness they do because we want the best in our league.
So I get it that the 'showbusiness' that comes with the 'Super Coaches' is both welcome and understandable. Thank goodness these guys have gravitated to the PL. They're needed if we're to remain the best league in the world.
It's when foreign coaches start filling jobs lower down the league that I have a problem. Why do Leicester and Southampton feel the need to go abroad for a coach? Why do Watford or Huddersfield?
Here's an inconvenient truth – the three Brits who've taken charge at Palace, West Ham and Everton have lifted those clubs 16 places since taking over. Not bad eh? Moyes is fast becoming a hero at West Ham, Allardyce has got Everton moving and Hodgson has got Palace off the bottom and out of trouble.
By the way, if Allardyce can deliver Pierre-Emerick Aubameyang in January then its 'lift-off' at Goodison.
But I've often wondered how a 'Super Coach' would manage at the wrong end of our league – and it looks like I might be getting my answer. I've said before – great credit to Benitez for the job he did getting Newcastle up. It was every bit as good as the job Chris Hughton did the last time they got promoted from the Championship. To get the job done Benitez spent £102m and took 17 players to St James' Park. Hughton didn't.
Now the Toon languish in the bottom 3 – having taken just one point from 27. I'll say that again – one point from 27. Benitez wants more money to correct the problem. Of course he does. I'm sure Alan Pardew does at West Brom. I'm sure Paul Clement does. I'm sure David Moyes, Eddie Howe and Roy Hodgson do. I sure Mark Hughes does. Will they get it? I don't think so. No, I'm sorry Rafa, it's a different game at the other end of the table isn't it? The run Newcastle are on is NOTHING to do with Mike Ashley and EVERYTHING to do with what's happening ON the pitch – or rather isn't happening on the pitch. No Rafa, this one is down to you.
Sean Dyche hasn't had anything like £102m to spend at Burnley. In fact, last summer he traded at a profit -again. The Brits are obviously doing something right.
Long may it be the case that we attract the best of the best to England – but let's accept the notion that that might just include our own coaching talent. If not, as I said recently RIP British coaching – and what then would've been the point of St. George's Park?
The argument that British coaches can only pick up the breadcrumbs and fight relegation battles is puerile. These are the only jobs they can get for the reasons I've stayed above.
5 – Madchenkliop returns for his second Free Friday entry in one week, a feat rarely achieved in these parts!
Fantastic article and topic Beez.  Very much look forward to the next installment also.
Ive been fascinated by the way games have unfolded according to success of our tactical plan and whether we've scored early or needed to be patient.  This also has a big effect, as you've mentioned in the article, on how we approach the last 15.  It seems like it's possible to categorise the games very crudely into 4 types:
1.  Score early and play counterattacking style using our pace and rack up unsurmountable total.  Last 15 irrelevant. (We have mercy on opposition who are already clearly dead! 😉 ) Arsenal H, Hoffenheim H, Spartak H, Huddersfield H, Brighton A, Maribor H & A , Bournemouth A, Everton H, Stoke A
2. Opposition Reaction: Score early or before 30 minutes.  Tactical plan working well and dominance established by half time.  Opposition come up with counter plan, typically after half time and make a game of it.  Energy levels a problem by final 15  i.e. Sevilla H & A, Hoffenheim A, Watford A, Leicester A,
3.  (plan B!) Patience:  sit deeper and don't press like maniacs.  Draw out parked bus teams.  i.e. Crystal Palace H,  West Ham A, Southampton H, Burnley H, Newcastle A, West Brom H,  Manure H,
4.  Fuck up.  Tactics don't work or events conspire to derail.  City A, Tottenham A.
(I put Everton in category 1 as I really feel our tactics to smash them early worked well and their goal was completely bogus.  That's football.  There's a few other games like Spartak A, Burnley H and even Manure H that our tactics deserved better and could have been included in category 1.)
Anyway the point of this (in my fevered mind!) is to hopefully illustrate how Klopp's tactical approach to games means that the vast majority as seen in categories 1 and 3 are done and dusted by 75 minutes into the game.  Dominance is either established early or if employing the patient approach we normally have control by the hour mark. Teams may sneak goals thereafter and results not go as we want, but this is not down to our tactics as far as JK is concerned.
There are very few games that have come to a peak in the last 15 in a tactical sense.  Ones like the Leicester away game have been very rare, (thankfully for my blood pressure!)  Our improving defence has also meant that the games in category 2, are becoming rarer.  Sevilla A was a blip – and interestingly, i think it happened just before Klopp started using the new rotation system in earnest.  Really he should have gone with Robertson in that match, partly because Moreno had played too much and was also overly invested emotionally, but JK was still in the track of trying to be consistent with his back 4 and AR hadn't played enough for such a big game.
What I'm trying to say is surely the statistics about the final 15 mostly reflect that the current version of LFC are putting enormous emphasis on controlling games.  This suits the type of players we have who need to express themselves through superior technique rather than intensity of character.  Salah, Firmino and Coutinho excel when the team has worn down the opposition to let in chinks of bad concentration which is typically going to be towards the middle of matches.  However, you rarely see them, particularly Coutinho, putting in a rousing finale. It doesn't suit his game.  I think we are at the point where we have the players in our extended squad that could perhaps specialise in a super sub role.  I can really see Lallana being an absolute pest for tired defences and perhaps also Ings.  The emergence of Ox as a proper alternative to one of the fab four also means that one of those can operate as a super sub.  Klopp, as Jeff says, is a planner and I think we'll see more and more of a pattern emerge  in regard to subs and the last 15 as the season goes on.  It's been lower priority up until now as obviously he's wanted to get the over arching style and structure sorted first.
Articles published on The Tomkins Times this week:
Monday December 18th:
Post-Match Analysis: Bournemouth (A), by Daniel Rhodes.
Why Does Klopp Never Play The Strikers Who Have Now Scored 50 Goals?, by Paul Tomkins.
Tuesday December 19th:
Playing a Different Sport, by Mark Cohen.
Liverpool FC's Expected Goals: It's All a Question of Timing, by Andrew Beasley.
Wednesday December 20th:
17/18 Premier League Preview | Matchweek 19 | Arsenal (A), by Gary Fulcher.
Friday December 22nd: 
Pressing Concerns or A Return of the Gegenplaymaker By Daniel Rhodes