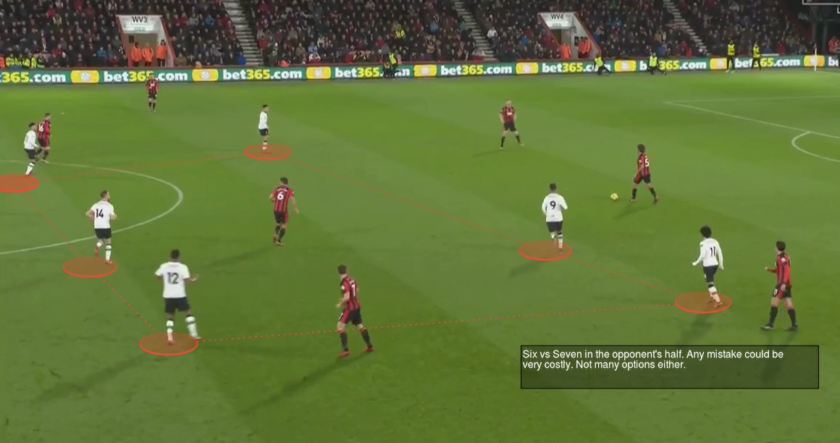 Tactical Twists and Turns: Part 2 – Pressing
When the Sunday Times' Jonathan Northcroft wrote about Liverpool earlier this season, his focus was on the lack of pressing in the first few weeks of the campaign. This, despite Alberto Moreno insisting there was no change in instruction from the manager. This, as Northcroft mentions, was slightly confusing – and maybe concerning – because Klopp himself refers to the pressing as "the best playmaker there is."
This was also backed up by the 'Under Pressure' podcast: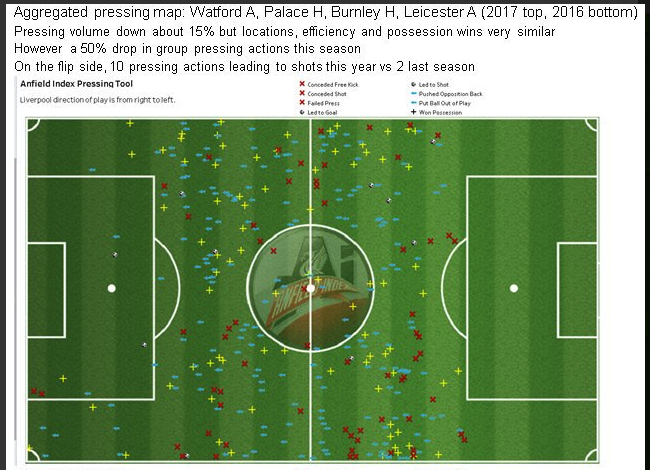 As discussed on latest pod. Aggregated pressing map 2017 v 2016 for WAT, CRY, BUR, LEI pic.twitter.com/zX7C4ZsmOj

— AIUnderPressure (@AIUnderPressure) September 26, 2017
Those weren't the only articles on the subject, first of all there was this by guest writer Daniel Wong on This is Anfield, which questioned many areas of the Klopp brand of gegenpressing at the start of the season, but mainly the suitability of new signings.
By adapting personnel he has, Klopp has inadvertently played a key role in Liverpool losing the identity of pressing as a team.

With one signing, he tweaked the system, resulting in the team going from a team-pressing generated organised chaos, to pressing in-cohesively and ineffectively, while leaving their defence out to dry.

These are issues that top teams like Atletico Madrid have also recently faced and had to deal with, in the incorporation of players with more flair such as Carrasco – exchanging some defensive solidity for attacking prowess.

It is clear that success can be had from team-pressing, as well as Gegenpressing. Klopp's previous success and the entire world of football's recent shift to more cohesive pressing style of football is a clear example of this.

However, until Klopp is able to address the issues his tweaks to the system have created, it is likely that the goals against will keep on coming.
Or there was this more data-driven analysis, as you would expect on Statsbomb from TTTer Will Gurpinar-Morgan:
Liverpool's major problem last season was their soft under-belly but they were often able to count on their pressing game denying their opponents opportunities to exploit it. What seems to be happening this season is that the deficiencies at the back are being exploited more with the reduced pressure ahead of them.

With the season still being relatively fresh, the alarm bells shouldn't be ringing too loudly but there is at least cause for concern in the numbers. As ever, the delicate balancing act between maximising the sides attacking output while protecting the defense is the key.

Klopp will be searching for home-grown solutions in the near-term and a return to the familiar pressing game may be one avenue. Given the competition at the top of the table, he'll need to find a solution sooner rather than later, lest they be left behind.
It's probably helpful to read through the above references before carrying on.
Gags Tandon, who has meticulously collected pressing data on Liverpool since the Rodgers era, and has virtually every game of the Klopp era in a secret database only accessible by himself, Dan Kennett, Simon Brundish and – luckily – myself! He's been kind enough to allow me to use some of it for this analysis. But only if you all* agree to sign up for AIPro (*okay, not technically all, but at least one of you, please!). Finally, if you sign up on the link above, then The Tomkins Times itself receives 20% from the first sign-ups.
This from Rene Maric's excellent article on gegenpressing is a good, albeit brief, introduction to the subject:
In the history of football "Counterpressing" is not a really new concept. The big Dutch teams – Ernst Happel's Feyenoord, Rinus Michels' Ajax Amsterdam and the Dutch National team with Johan Cruijff as captain – already used it; other teams before them also intuitively pressed immediately when losing the ball.

The Busby Babes for instance were never lauded as a great tactical side, but they already displayed short passing football with mostly zonal marking and immediate pressing when losing the ball to prevent the opponent from countering.

Still, a few teams often are called stand-outs in the application of this specific strategy. Some even see Jürgen Klopp's BVB as the modern team most focused (and perhaps best) in "Gegenpressing" which is one of the fundamentals of the success and philosophy of his great BVB side. Another coach often connected to this style is obviously Josep Guardiola, whose teams would always try to get the ball back as fast as possible; no matter if Barcelona or Bayern. And the forefather of both in terms of defensive work and counterpress is Arrigo Sacchi, who won back to back European cups 25 years ago.
The rest of this article is for subscribers only and includes in-depth video analysis of the Bournemouth match, as well as Chelsea and Stoke; there's also a look at which individuals are performing well this season. 
[ttt-subscribe-article]