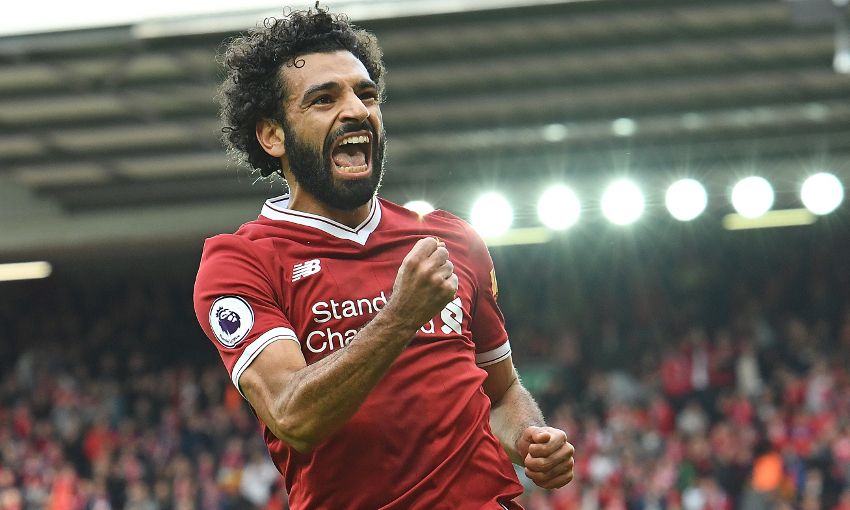 Before getting onto some thoughts after the 4-0 pummelling of Bournemouth – in which Liverpool continued this season's rehabilitation against South Coast clubs (P:3, W:3, GF:12 GA:1) – a quick follow-up on my recent piece, in which I detailed how, in the past five seasons, Liverpool get penalties at Anfield almost four-times as frequently in the Champions League as in the Premier League.
Using the data of TTT and LFCHistory's Graeme Riley, the graph below shows Liverpool's penalties in the Premier League era. As you can see, in the years – before there was so much scrutiny – the Reds got a lot of penalties at Anfield, even when actually a fairly crappy team. But weirdly – and fitting my hunch that English refs dare not be seen to bow to the Kop – the trend for Liverpool being award penalties away from Anfield has now overtaken the Anfield ones. I don't know if this is a pattern with all clubs, but Liverpool are now more likely to win a penalty away from home. Which is odd.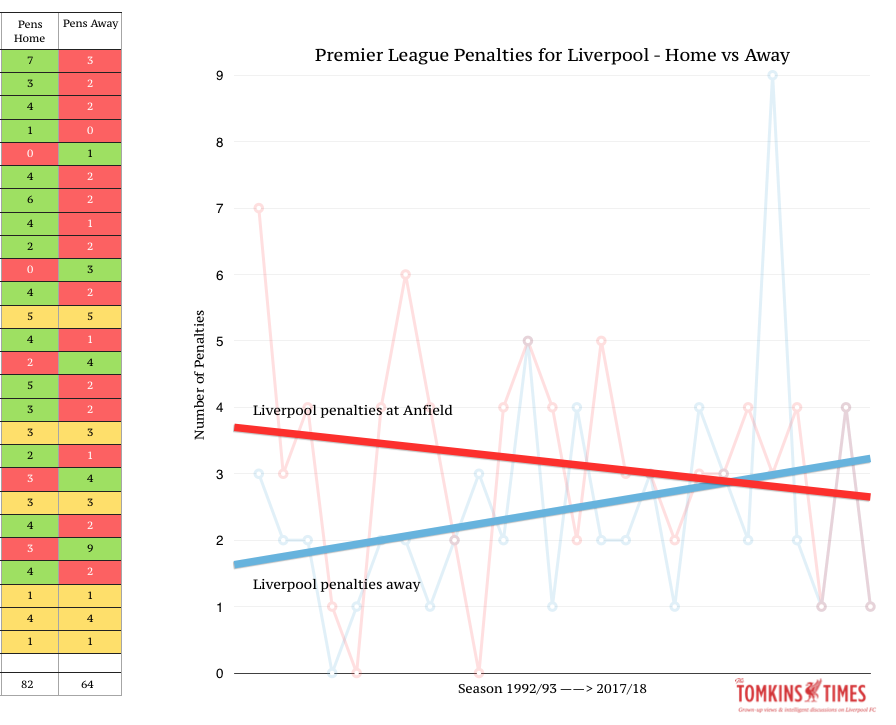 Why Does Klopp Never Play The Strikers Who Have Now Scored 50 Goals?
Jürgen Klopp continued to rotate his side, and the freshness told, as it has throughout the past dozen unbeaten games, with the Reds "winning" all twelve on expected goals (xG), and – during a hectic period – none of those players picking up injuries. Of course, Klopp was lambasted by the English ex-pros in the media for it, as if this is still 1987. (And obviously Klopp's rotation hasn't worked, as the front four haven't scored 50 goals already … d'oh!). The logic from the ex-pros seems to be play your players until they get a knock (Jermaine Jenas and Terry Butcher both said this on the BBC.) So yes, let's wait until a hamstring pops in mid-game and it's three-six months out.
The difference between the thumping wins and the draws has largely been one of finishing (which blows hot and cold for all teams and all players), and the randomness of what refs think they have or haven't seen. Liverpool absolutely battered Everton, after all. And the Reds had all of the 'big four' starting vs West Brom, but didn't take their chances. Last season Liverpool were "Mané or bust". But on current form, Mané is the most expendable of the front four.
This article – which includes a look at all of the new players who played a role at Bournemouth – is for subscribers only, as are all articles (besides the digest Free Friday) for the rest of this season.
[ttt-subscribe-article]