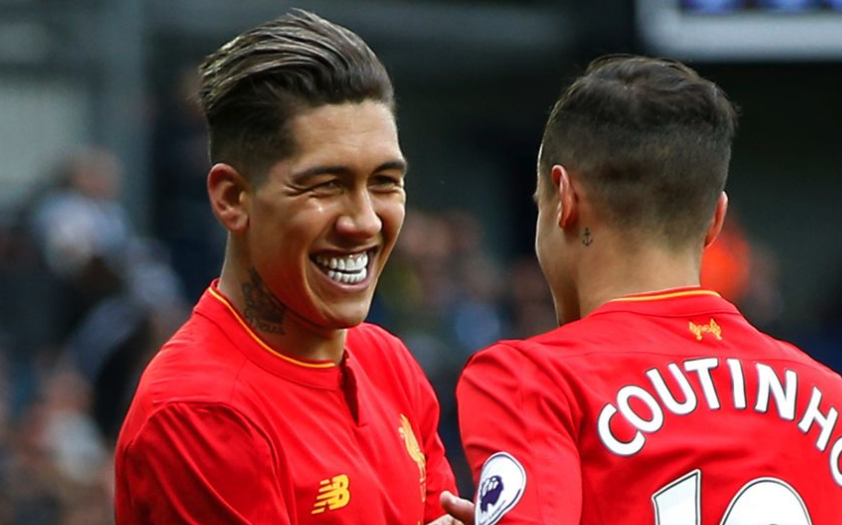 This week's posts selected by Chris Rowland and Daniel Rhodes.
1 – Stevenson1988 on Firmino's work rate:
I don't know whether anyone watched the final of the Rugby League World Cup? In the last few seconds England had a great chance to score, but the winger opted to kick through rather than pass to 2 teammates inside him – although they were slightly blocked off from him. However, there was another teammate who had been inside him but who, for some reason, just stopped running. Had he continued he would have been on the winger's shoulder to take the pass and score. This is in a World Cup Final, in the last seconds and he stopped. The moral of the story: Firmino's second goal on Saturday was the exact opposite of that. Here is a player who set the move going and played it forward to the quickest player on the park. Did he stand and admire his handiwork? No chance, he sprinted his bollocks off to make sure that when Salah cut inside one of the 4 or 5 defenders surrounding him, he was there for the pass. What is even more astonishing is that if you look at his celebrations after the goal, he isn't even out of breath! It just encapsulated everything that is great about Klopp's Liverpool: skill, speed, style, a touch of swagger and bucketloads of effort. When you put that little lot together, is it any wonder that we're on the run we're on?
2 – Bob Pearce on Sam Allardyce's criticism of Watford manager Marco Silva as someone who got Hull relegated:
Sam, think about what you're saying.
Your new employers actually tried to get that someone who 'got Hull City relegated' before they considered you Sam.
3 – Thundyr on the sad state of much of today's football journalism, in response to a woeful example (we won't give him the publicity of mentioning the writer's name or publication) posted on our 'Poor Media' thread this week:
Football journalism is eating itself.
It seems to me that the drivel spouted by the ever-increasing number of 'commentators' on the beautiful game is drawing attention to how little of actual value these people as a collective provide to the observer.  Were a football club owner to put any faith in transfer rumour, the opinion of pundits, or the Twitter emoji feelings of the "fan base", that owner would probably be sacking someone every week.  We TTTers realise that the BBC Salford agenda amounts to nothing other than propagandist 'banter', and while something would be done about it in a honest world an honest world is not what we live in.  So nothing is likely to change until Liverpool have established themselves at the top of the English game once more.  Pundit opinion is just so much clickbait these days, and Twitter is a simple, free and repercussion-free means of trolling people you don't like, and Liverpool in my experience is the most universally hated club in the English game.  So hating Liverpool online immediately draws outrage from the LFC fanbase and intense support from all other quarters – we're the perfect target for anyone wanting to make a name for himself, on either side of the line!
So the truth is, quite simply, that we need to close our eyes and ears to football journalism.  Turn off Twitter.  Don't hold your breath only to get upset about the bollocks on MotD.  Tune out the fools at the Daily Fail the same way you tune out the S*n.  Because you know that club owners have already realised that their own internal policies and the opinions of their own staff matter much, much more and are far more accurate than some nonsense made up by people whose connection to a salary relies on their ability to get likes rather than their ability to get likes for your club.
And that's when you realise the essence of football journalism has been lost.  It's not about the article or the story any more – it's about the author. It's about getting people to read *something* regardless of whether said something is worth reading.  It's not about getting heads nodding – it's about getting tongues wagging, and the more people say, "so-and-so said that…" the more attention is drawn to so-and-so. Journalism is not about the news, so ignoring it won't make you any less informed. It's a pointless exercise that allows a easy income stream for lazy people who can string a sentence together to earn money from lazy people who think they have a right to place their opinions higher than facts. Online chest-shoving is just as much bullshit as chest-shoving was in the school playground, and the world is full of people who didn't get enough of that when they were kids.
Let them fight over nothing.  Keep to your own counsel.  Let journalism continue to eat itself.  You'll feel better immediately.
4 – Nari Singh on Klopp, his new book, and savouring his days with us as manager:
So I've been reading Rafa Honigstein's book "Klopp, Bring the Noise" – it's a really fascinating read, a proper insight into Klopp and more importantly, his football education.  Yep, he's not just a clown (@A.Shearer!!) – he's a proper thinker of the game, but of course we all knew that on here anyway 🙂
It talks quite a bit about the influence Wolfgang Frank had on German football (changing the well known sweeper in a back 3 to a back 4, which at the time was viewed as madness!).  He studied Arrigo Saatchi's work and bought it to Mainz, a real thinker of the game.  He tried to introduce cognitive behaviour changes, nutrition (this is back in the mid 90s!) and how Klopp absorbed all this up – he was so ahead of his time in a sense. It was also Frank who bought the idea that by running faster, harder BUT smarter, you could far exceed the sum of your parts and take better football teams apart.
Reading it you can really understand where Klopp's got his ideas from and how he's developed them further too.  Incidentally, Frank's 2 sons are scouts for LFC in Germany.
Regardless of where we finish and what happens in the CL, we should enjoy every minute of having Klopp at LFC, there is a real blueprint in place for long term sustainability on the football pitch.  I'm really not fussed at all about who stays, who goes where etc, I know there are so many people who would do anything to play for Klopp, so I'm relaxed about transfers.  The good thing is that, beneath all the crap of lazy journalists, there are a number of people in the football world who know what Klopp is about and how much respect he actually commands.
The future is bright, the future is………..RED!
5 – Jeff on the legendary teams of the past, and how the Reds compare to them:
Paul there are some here who remember a match that happened 51 years ago when Ajax destroyed Liverpool and the impact it had on Liverpool. Simply put, Bill Shankly saw the future after seeing this Ajax team featuring a young Johann Cruyff and a number of other future great Dutch players and over time remade Liverpool into the most continental team in England which was the foundation of Liverpool's incredible run in the league not only in his last years but in the years of Paisley and Fagan and Dalglish.
There are those here who remember some of the great teams of the 1970s and 1980s and will tell you that Liverpool as a rule was simply unplayable and the results not only in the old First Division but in Europe support this contention.
Now, at least to me, the question that needs to be asked and answered is Klopp building a Liverpool them that will simply be unplayable for teams not only in England but also in Europe? Today, the answer is somewhere between maybe and yes.
If  you have had a chance to watch Liverpool play on NBC's tactical camera view of matches you will quickly see that opponents simply cannot cope with how Liverpool are playing and simply do not have the pace to keep up not only with the obvious candidates – Mane and Salah – but also players such as Wijnaldum and Emre Can and on and on.
I have watched football for more than 50 years and I have yet to see a perfect team. Every great team whether we are talking about club teams such as Ajax or Juve or Bayern or national teams such as Brazil or Italy have strengths and weaknesses but they all do something so darn well that the opposition simply could not beat them. The evidence is starting to support the notion that Liverpool's front 4 of Mane, Salah, Firmino, and Coutinho is simply unplayable. There is an old adage in North American sports that the best defense was a great offense and to me this is true of this Liverpool team.
Am I saying that this Liverpool team will win the European Championship or the Premier League title? NO What I am saying is that this  Liverpool team is a threat to win the European Championship for the first time in years which should make every Liverpool supporter happy and will be a solid member of the top 4 in England this season and will make a real run at the top spot in the near future.
Articles published on The Tomkins Times this week:
Monday December 4th:
The Secret Pundit Takes on The Commentators, Part 11: 'From Hero to Zero', by our mystery correspondent Per Dantic.
Tuesday December 5th:
17/18 Champions League Preview | Matchday 6 | Spartak Moscow (H), by Gary Fulcher.
Wednesday December 6th:
Liverpool's Post-Match Radar Round-Up: Week 15, by Andrew Beasley.
Thursday December 7th: 
My Day At The Match: Spartak Moscow (H) by David Perkins
Jurgen's Bombing-On Blitzkrieg Reds Go Boom! By Paul Tomkins
Friday December 8th: 
The Road to a Banquet Without Wine, Our Book on LFC By Anthony Stanley