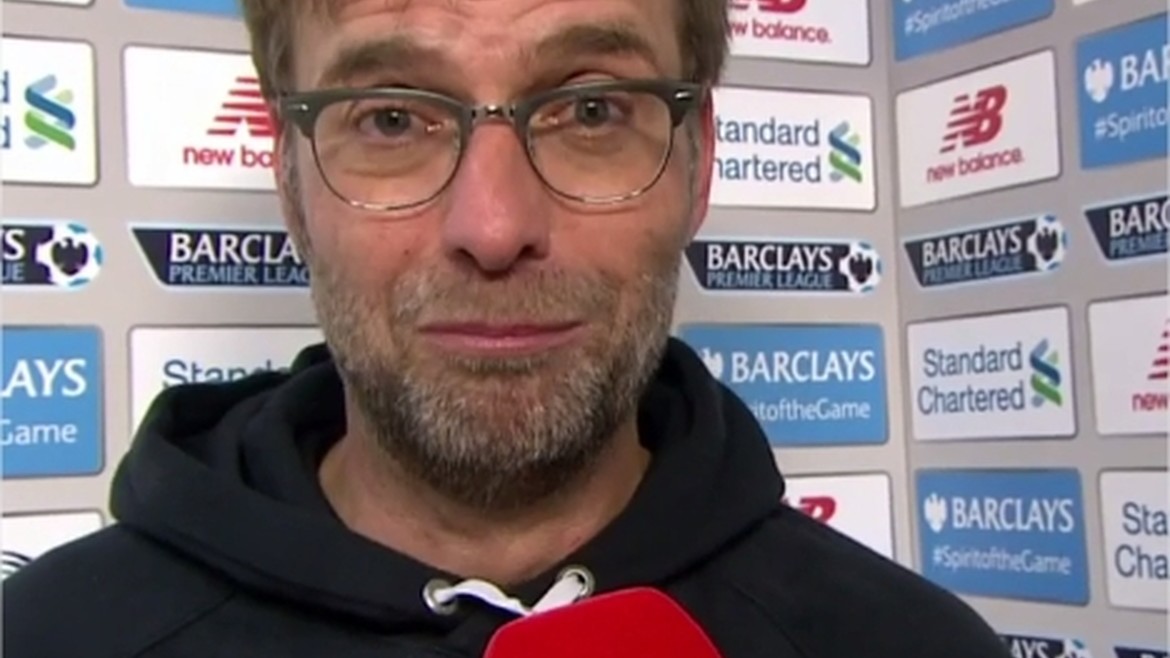 While using war terminology outside of a conflict can seem fatuous – especially about a German (don't mention the war) – Liverpool's wonderfully modern, cosmopolitan side can be described using two key words from WWII: "bombing" (as in, bombing on, bombing forward); and blitzkrieg, the German term meaning "Lightning war", often shortened to blitz in this country. These terrible events become innocuous metaphors, used in everyday language.
(In this case, last night, there were also a lot of shellshocked Russians, and a red army, although here the German came out on top. Of course, back then the Russians were famed for digging in during winter, although if I torture this analogy any further I may be tried for crimes against metaphors.)
Like warfare, football is a tactical battle of attack and defence; advance and retreat. You can hunker down, or go gung-ho. Football isn't about life or death, but the tactics of where to focus your resources within an arena has clear parallels. (Although there was that infamous match at Anfield under Roy Hodgson against Utrecht where both teams hunkered down, the midfield a no-man's land.)
Jürgen Klopp's brand of football is distinctly in the latter bracket of gung-hoism, although I feel that is a team that attacks and defends (mostly) with a great shape; unlike the exciting 2013/14 vintage, this is a swarming side, rather than exceptional individuals often picked out with clever long passes from deep during Steven Gerrard's last hurrah (one of Brendan Rodgers' best decisions). At times, Luis Suarez would do a lot of it on his own, albeit enabled by the structure put in place.
Sometimes this side swarms too far upfield, and that can make it hard for its own central defenders when it breaks down, but this vintage – while still prone to the individual errors seen in Rodgers' great campaign – doesn't actually give up a lot of chances. The swarm mostly keeps the ball away, at the other end. Sometimes that high-press is beaten, but even then, the energy of players like Emre Can, Jordan Henderson, Alberto Moreno and Gini Wijnaldum means that a lot of the time numbers can get back, too; but mostly the Reds keep the opposition encamped in its own half.
As the late 20th-Century philosopher and army corporal Orville Richard Burrell* said – and which could be used today to sum up Liverpool's own General – "I'm Mr. Boombastic, say me fantastic, touch me in my back she says Boom! Boom! Boom!" (* Better known to most as Shaggy.) And, as the noted World War One poet said so eloquently, "Boom boom boom! Boom. Boom! …"
Twelve goals in four days, with teams who were supposed to be pretty good at defending absolutely wiped off the map. With 23 in six games it was the most goals ever scored by an English team in the group stages of the Champions League, and this came after six goals had already been put past a top German side over two legs. That's 29 in eight European games, with 19 of them coming in the six games against top German and Spanish sides, and the Russian champions.
This, when some serious numpties are saying English football is at a low ebb, when four teams top their Champions League groups and a fifth, the reigning English champions, qualify; making for five teams in the final 16 for the first time in the competition's history.
It's all further proof, to me, that Klopp has massively improved Liverpool; but the issue is that, since his appointment, Manchester United have appointed Jose Mourinho, Manchester City have appointed Pep Guardiola and Chelsea have appointed Antonio Conte. The Manchester clubs then spent well over £200m each; United spending that, almost, on just two of their many signings. Liverpool raised the bar when getting Klopp, and everyone else had to raise the bar too. So Liverpool's progress looks muted by contrast, especially with City's form, but this is a wonderful Liverpool side.
Liverpool can only look to progress as a club themselves, and can't control what richer clubs do with their money and with their managerial decisions. They can't force United to take back David Moyes (as it was in Rodgers' day), or City to go back to the talented but unremarkable Manuel Pellegrini. They can't force Man City to give back Raheem Sterling, or sell Gabriel Jesus and Kevin de Bruyne, signed at a time when Liverpool were shelling out for Christian Benteke. Klopp couldn't stop City spending over £100m on full-backs this summer. All he can do is look to improve the team he has managed; a team that, in over half a century of games before his arrival, were winning just 42% of matches, and just 22% of their final 18 games. As I've said a lot lately, that is the context of what Klopp inherited.
Klopp has clearly taken Liverpool forward by getting them back into the top four, and keeping them there with all the extra games (eight additional matches in Europe already this season compared to last), and now by reaching the last sixteen for Liverpool's first time since 2009. And to break an English scoring record in the process should be clear proof, although some people (I'm looking at you, Kevin, although we really don't need to talk about you) will continue to perform hatchet jobs on the German because they don't understand context. (Or maybe some newspapers are getting really desperate.)
Or, should we be reminded of how many goals Liverpool scored in the Champions League in 2014/15, the only other appearance in the competition since the halcyon European days under Rafa Benítez?
The Reds scored five, less than one per game, in a group containing Basel and Ludogorets. The Reds lost three of those six games, winning only one. Let all that sink in.
And while losing to Real Madrid twice brought no shame, Liverpool failed to win three of the four matches against Basel and Ludogorets. Liverpool only failed to beat Sevilla this season, beating Hoffenheim and Maribor twice each. (And look at all the other European games won by Klopp since his arrival.)
The next season, after the dismal Champions League return, when Rodgers was finally deemed beyond repairing what had become a mess at both ends of the pitch, Liverpool had scored 11 goals in 11 games, with just three wins in all competitions. An injured Daniel Sturridge was the Reds' only hope of goals.
It's easy to dismiss the opposition, but I'm not sure Russia's champions Spartak Moscow make a habit of shipping seven goals. And remember, even lowly Maribor's worst ever home result in many seasons in Europe was 4-0, before the Reds put seven past them at their place. Let's not underplay just how good this Liverpool's attacking prowess is, although an early goal – and an opponent that needs to attack – makes life easier.
The interplay last night was yet again some of the best I've ever seen, from a team scoring some of the best breakaway goals in modern football. I said as much at the weekend, and it was on display yet again. You obviously wouldn't say this Liverpool side look anything like one of the European greats overall, but going forward they have to be up there. You don't get sides that attack this well very often. To get to this from where we were is an absolute wonder. Liverpool can make some pretty good teams look absolutely ragged, due to the movement, skill, pace and understanding.
We can bemoan the fact that the defence isn't on the same level (although it's looked better of late), but two years ago, when Klopp took charge, Liverpool had a dull attack and a leaky defence. There was almost no joy in any of the football once Luis Suarez left in 2014 – for a full fifteen months – and losing Raheem Sterling was another blow. It says a lot that three of Liverpool's scintillating attacking quartet have signed since 2015, and show that the club is heading in the right direction, as well as showcasing the astute transfer business it now conducts.
The difference from earlier in the season includes strikers in form now taking their chances, although perhaps converting beyond a sustainable level (we'll take it while it lasts); but also, for most of the season we haven't been able to see the mighty front four in action together, and at times lately at least one has been rested in order to handle so many games in such a short space of time. While you can't rely on having all your best players available, these four really elevate things. Having them all fit at once means all four can be unleashed in all their power and glory, or three can play and one remain in reserve on the bench, just in case.
The availability of Philippe Coutinho after the standoff (and remember, at that point the Reds had neither the magician, nor the £120m to reinvest)…
The final third of this article is for subscribers only.
[ttt-subscribe-article]