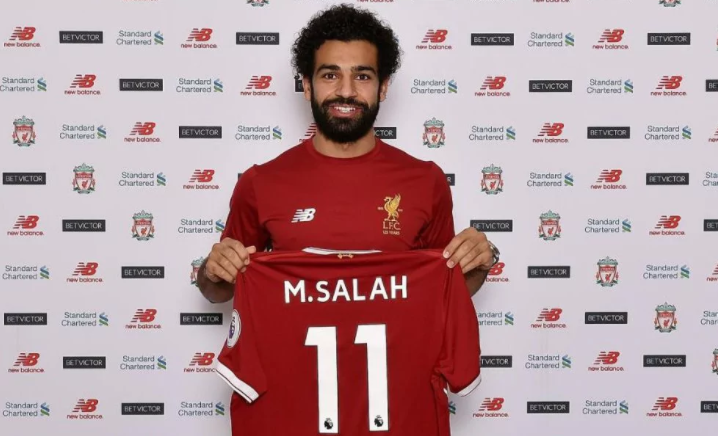 By Chris Rowland and Daniel Rhodes.
Here is our weekly round-up of five extracts from articles or comments that have appeared on the site during the past week.
This is just to provide a flavour of the debates our subscribers get involved in during the week. If you fancy a bit yourself, there's a Subscribe tab at the top. 
1 – On Monday, Beez posted these goal involvement stats:
This may interest you… #LFC Goal Involvement stats for 2016/17.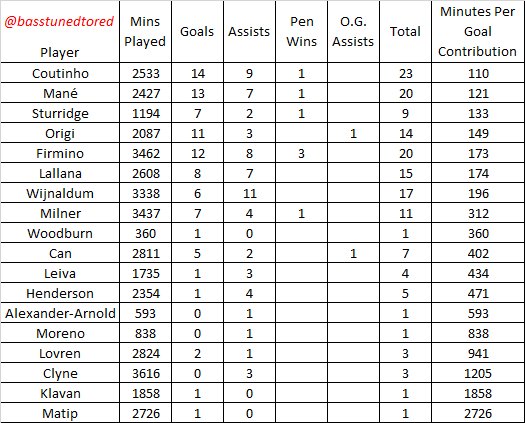 Based on stats from last season, Salah (with a goal involvement of 94 minutes in all comps) would top this…
2 – Mark Cohen on what signing Salah could offer Liverpool:
The Salah deal is one I have been hoping for immensely since it popped up.
The simple reason for this, without looking at his obviously strong statistical return, is because he is a left footer.
I cannot emphasize enough how stunted we were last season by routinely fielding a team where none of the attacking weapons (from forward to full backs) possessed a more than capable left foot. It effectively allowed teams to 'park-a-bus' knowing that their 90 minute challenge was to stunt our right and central side.
It didn't work all the time thankfully, but it caused us enough overall headaches to end our title charge and bugger up our confidence for a large portion of the season.
I realize we scored some very good goals off the left, but the fact remains that by and large, we were held in check if teams could successfully counter our right hand and central threat. Also, once Mane was injured we really battled to stretch the play across the width of the pitch, and our goal action dried up considerably, ditto Coutinho's injury in December produced an almost immediate plummet in attacking threat.
Considering we were already one of the top scorers in the division (and prior to Coutinho's injury, well on our way to a 90 or 100 goal haul), it makes for a frightening prospect for the rest of the league that we were in proper balance for precisely zero fixtures last year.
I am certain that a left footed full back will also arrive and that is where we will finally, in Klopp's third season, witness a team in full flow attacking balance.
When one then considers Salah is not just any old left footer, but one of the fastest and most skilled players in Europe, with exceptional creativity to boot, it smells like the signing of the summer at under 40m.
Something that Jeff often repeats is that Liverpool in the past were often guilty of procuring players without proper thought of the teams needs and the players skills. So, its not just that Salah is a very good player, but that he is a very good player bought for a system that will get the very best out of him.
If we field a front five (in virtually any combination) with Mane, Coutinho, Firmino and Salah in it, there is far too much cross field threat for teams to successfully park a bus more than once or twice a season. Each of those players is good for 10+ goals and an equal amount of assists.
I've always been of the opinion that balance is probably the most important and under-rated requirement of all great teams.
This 17-18 one (please god with VVD too), is shaping up to be the strongest Liverpool side in years, primarily because it appears as though everyone we are chasing meet the Klopp requirement for balance (pressing in defence and attack, great stamina and sharp technical ability among other things).
Whilst I believe the squad is well short on challenging for both the CL and EPL concurrently, I can see a deep run into the CL and a strong showing in the league if we can get two or three more that fit the Salah mould, in terms of what Klopp wants. VVD probably the very finest exponent of such a template, but there are others, and if Klopp can get lucky in the transfer market than we should see Liverpool's autumn performances replicated across a large percentage of the season next year.
Now, that, is scary. 
First of all, after watching around 150 clips, I'd only seen Salah touch the ball with his right foot twice. He dribbles with his left, shoots with it and I'd be surprised he doesn't brush his teeth with it either judging by its effectiveness. After watching more and more, he can clearly use his right when need be, and even sets up a couple of goals with it, but he usually adjusts his body position so he's primarily on his favoured left peg.
Secondly, is a factor we have to consider for all forward players in Klopp's system, and that's pressing. Watching the video above, his pace is clearly an asset for defending as well as attacking. He regularly puts his opposition full-back or centre-back under pressure, and on a couple of occasions you can see him instructing the players behind him to follow up when he leads the press. I haven't seen enough of Roma, but they don't seem anywhere near as proactive in the high press as we do, so it is tough to judge properly. Salah certainly has all the attributes to slot into a gegenpress.
Next up, his dribbling skill. It is an exhilarating strength as well as an infuriating weakness, depending on the day. He averages around four take ons per game, and half of them are failures; but the risk involved in beating the man and the amount of space it can create, or the little gap against a parked bus, is vital. It's a toss up, the Liverpool full-back or midfielder behind him needs to be on hand for when it doesn't work – but also to follow up when it does, because he can take two or three players out of the game in a split second.
I think signing Salah signals a new era for LFC. Fans will whinge and moan we "took too long" to get the deal done, but it isn't deadline day, so there's no rush to get anything done right now.
We've identified an area the team is lacking, found a very high quality player who addresses most, if not all of the areas needed bolstering, and signed the guy before pre-season has started by paying a club record fee.
It's also interesting to see the different reactions from the Mane signing to now. Klopp is slowly but surely turning doubters to believers, even if there's way too many dickheads on social media that can only moan.
Last summer was an incredibly successful one, could this one be even better?
PS. Also really like how LFC announced the signing, pointing the finger at impatient fans and showing them they mean business.
Just goes to show how good our transfer business last year really was.  Are there *any* members of the current 1st team squad who clearly need to be moved on?  I don't think so.
Seems like our only concerns regarding the current squad are either injury related (Henderson, Sturridge, Gomez), or whether they are happy to play an elder statesman role.  I'm especially looking at Lucas here, but maybe Milner as well.
Contrast that to so many summers in the past where there were a clear handful of players who were melting, or failing to live up to potential or simply not good enough.  Dead wood to be cleared out.
Don't know whether we'll get any of them, but I really like the way we're talking about the likes of Salah, VVD and Keita as additions to our current squad.  Not that they are replacements for player X who needs to be moved on or can't be held onto.
Ok, so we might shuffle off a 4th choice CB if we land VVD or an equivalent player, but that's not the same.
Articles published this week:
Monday June 19th:
Should They Stay Or Should They Go? Part 1 – Goalkeepers and Defence, by Andrew Fanko.
Tuesday June 20th:
Post-Match Analysis: 1978 European Cup Final, Liverpool v FC Bruges, Wembley, by Andrew Beasley.
Wednesday June 21st:
The Notorious T.T.T – "Mo Salah, No Problems", by Daniel Rhodes.
Thursday June 22nd:
Should They Stay or Should They Go? Part Two – Midfield By Andrew Fanko