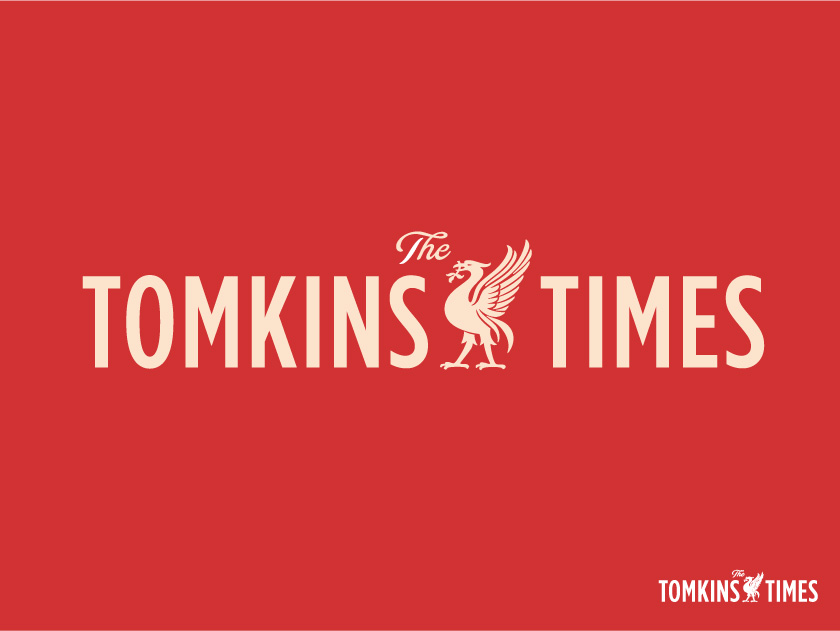 It's true – this Liverpool side really don't know when they're beaten. Indeed, it's rumoured that they came in from the games against Swansea, Leicester, Hull, Wolves and the early-season reverses at Burnley and Bournemouth thinking that they'd won. Great players, but absolutely terrible at maths.
Joking aside, this team has come from behind on numerous occasions, to show the "they don't know when they're beaten" adage in its more common and less literal football usage.
Below is a visual created for TTT by Tableau Zen Master Robert Radburn, which shows the "game states" of Liverpool's Premier League matches this season. You could argue that the best sides rarely go behind, although the randomness of football means you can concede a goal without doing anything wrong. (Especially with so many referees taking LSD and magic mushrooms, and at least six of them being medically blind.) Aside from the five-game run from Swansea to Leicester in the late winter, the pattern looks exceptionally good: on no fewer on than five occasions (the best in the league) the Reds have turned a deficit into a victory. And before that, the Reds rarely went behind.
And of course, there are two games where the result was changed after the 90-minute mark: Everton away (a win, yay!) and Bournemouth away (a loss, boo!).
The second half of the season shows the Reds behind a lot more often than in the near-perfect run up to January, but it's no fewer than three occasions in the last six games that Klopp's men have turned defeat into points: two wins and a draw (although that draw – against Bournemouth – saw Liverpool both behind and in front. Liverpool have dropped five points this season late in games against Eddie Howe's side, as the result of aerial bombardments, not that I like to mention it).
The pattern suggests less defensive stability of late (so many injuries to the central defenders hasn't helped) but a bit more grit and determination.
Also, a couple of months ago I wrote this piece about how, despite being in the middle of a slump, there was plenty of evidence throughout Liverpool's history (good and bad) of poor runs being followed by good runs; even for Bob Paisley's early sides, when the man who became (and remains) Britain's greatest manager struggled in his first year or two.
It's easy to see no way out of a dark place when you're in one, but the truth is that, most of the time, the Reds have indeed found their way out before too long. The light is usually just up ahead. People got angry when I pointed this out, but only once – under Gérard Houllier – has the winless streak gone on for an unusually long period.
Winless runs of four or five games for Liverpool are very common since the last title in 1990, when a maximum of only two consecutive games were not won. There have been a handful of seasons with a maximum of three-games in a row not won; Klopp's maximum so far is five without victory, while Brendan Rodgers was sacked soon after a run of six games without a win, following five games in 2014/15, and five games in his debut season; his best figures being the maximum of three games in the wonderfully bonkers 2013/14.
Between 2000 and 2009 there was a lot of consistency, with no season seeing a worse run than four without victory, and none seeing a better run of three without victory. This current decade hasn't been as good, with a maximum of seven winless games under Roy Hodgson, and the six of last season, and a fair few fives. Of course, it's still all about the points you take, not the ones you drop: fail to win eight games in a row mid-season but win the other 30 and you'll be champions. The aim is always to get a lot of points, and the manner in which you drop the rest is often largely irrelevant.
The overall trend this season is much better, with 24 wins from 42 games (and 19 from 33 in the league); both equate to a 57% win rate, which is exactly what Rafa Benítez averaged in all his games over a six-year period, and for me, before hopes of the title can be realistic, the aim to be as good as Liverpool were back then (or in the peak years of Houllier, and Rodgers' best season). We all jump to early-season hopes of a 19th crown, but becoming a consistently good side is the first aim, before any thoughts of greatness, although the occasional "out of the blue" campaign like Liverpool in 2013/14 and Leicester last season can occasionally buck the trend. And I think Klopp is achieving that steady improvement. (And again, Benítez, Houllier and Rodgers all began to peak from their second season onwards, in terms of overall quality and win-percentages.)
Since publishing that piece the Reds have gone on a run of seven league games unbeaten, with five wins and two draws (this is a better way to go on unbeaten runs than Manchester United's, where they are only winning half their games.)
Indeed, to be more correct, since the piece was written (just ahead of the 2-0 win over Spurs, but published days after), the Reds are six wins from nine, with two draws and only the galling reversal to Leicester in the mix. Points were dropped at home to Bournemouth, but otherwise, Spurs, Arsenal and Everton were beaten, and Man City drawn with at the Etihad; with the latest two victories at the "bogey" grounds of Stoke and West Brom, where the issues – in these lands of giants – are less about not being "up" for it, but usually not being sufficiently upright for it.
At the time of the slump, few would have seen the Reds beating Spurs, Arsenal, Everton, Stoke and West Brom, as well as getting a point at Pep Guardiola's City. But that was the whole point of the article: that things can change quickly. We just can't often feel that they will.
So, below is the updated interactive Tableau graphic from that article (it will appear updated in the old piece too, as we continually update the visual). You can see the upturn in form, but also see all the dips in previous years – and even decades – going back to 1959. And below this graphic is this week's Free Friday – TTT's sampler of stuff from behind the paywall. If you enjoy it, become a subscriber (subscribe here) and help fund the site, as well as taking part in the debate and getting subscriber-only content.
FREE FRIDAY
By Chris Rowland and Daniel Rhodes.
It's Friday, so it must be Free Friday. Here is our latest round-up of five extracts from articles or comments that have appeared on the site during the past week, just to show the world outside what we get up to here behind the paywall!
1 – Paul Tomkins' article after the WBA match – Red Progress – Another Huge Win at The Land of the Giants – was part-free, part subscriber-only. Here's a bit from the subscriber-'only part:
English football left its own dark ages in the mid-1990s, but the complicated nature of our league – the old-fashioned stragglers, the throwbacks – means that you have you will always have games where chaos reigns. Could Liverpool defend like this all season long? Was this the start of something better in that sense, or are aerial experts still required?
Crystal Palace are up next, although at least that's at Anfield (where only Swansea have made the most of their height in the league), and they'll be without one of their giants, due to him belonging to Liverpool. (Although he's 'only' 6'2"). Watford away could be another test, although hopefully they'll be "on the beach" by then; while West Ham, though only mid-range in height overall, have their share of aerial experts.
Perhaps Liverpool can also treat the last five games like a cup run, or a title run-in, in that the focus and intensity becomes easier to retain than it would in a mid-season slog; the task is clearer, and there's less scope to 'not fancy it' (which I think all teams experience now and then.)
In any task, the start and the end are usually the most energetically undertaken: fresh at the beginning; end in sight near the conclusion. The middle can be where you feel stranded – neither shore in sight – and low on energy. To make matters worse this season, Liverpool had an injury crisis and the African Nations Cup right at the time when things were at their busiest, in the overloaded, grind-it-out part of the campaign. With some similar issues last season, this could be where Klopp and his players need to be better next year.
But for now, finishing in the top four would represent a huge leap forward. My pre-season prediction (or a realistic scenario to my mind, as part of progress) was 3rd-5th-place with c.70 points, and for once I may have got something right.
Mike L. Goodman:
"Weird stat. English defenses stopped giving up shots. 5 out of the six best shot suppressing teams in Europe are English."
Ted Knutson in reply:
WONDER WHAT CHANGED?

*looks at Klopp, Pep, Conte, Poch, LVG legacy at man United*

Ohhhhhh
3 – Chris Rowland on Wednesday after Leicester's match against Atletico Madrid last night:
Much is being made of the 'fantastic atmosphere' at Leicester last night. But wasn't most of it choreographed? Endless pyrotechnics, all those foil flags left on the seats hours before the match, the giant fox face banner lowered from the roof … it was all orchestrated, a mass of identical flags being waved, none of it seemed organic, there was nothing home-made about it, nothing about the ingenuity of the individual.
4 – Tord74 on the left-back situation, and who might replace Milner next season:
The left-back situation is a tricky one.
Sessegnon is clearly rated very highly and these kind of opportunities you have to take (look at the Dele Alli situation, we could and should have got him but discussion about the requirements at that specific time blocked it, which is short sighted). If we have a chance at Sessegnon then you have to take it, he could be your left-back for 10+ years.
Personally watching milner, at first I thought he was doing a really good job but as the season has gone on, I think he has become a real problem.   Teams are just letting him have the ball (and Clyne) and letting him turn in side, where they block up the middle. Especially against low block teams.   For me, our issues against low block teams will not be solved next season if Clyne and Milner are full-backs.  Could be that we see more of Trent (although i'm surprised we haven't seen him get more minutes to date, especially in a 3 in back shape).
Milner's contract is a problem though.  Clearly Milner is a good pro, good around the squad, in a relatively young squad.  But if he is not 1st choice left-back, I really don't see him playing in midfield, maybe a jack of all trades bench option but I don't see Klopp using him in attacking roles (to block up one side of the pitch) as City used to. We seem to want pace there. So ultimately if he is not starting, I don't see his role.
On his existing contract (circa 150k) no one is going to take him, so we would no doubt have to pay some of his wages, so I cannot see us buying 2 full backs and just getting rid.
My suggestion would be we get Sessegnon, but loan him next year to allow him to continue his development. We then get a more experienced player (Kolasinic would be ideal) to compete with Milner this year, with a view to moving Milner on next summer (where his contract has run down further so less hit to take if we need to pay him off).  If the options are Sessegnon and Milner next year then I'd worry that Sessegnon might not be ready to start and we suffer as a result.
5 – Beez, in the comment section of his article on the Reds' set-pieces this season:
Re the defence – yeah it seems mad that we've now gone seven years without conceding less than one goal per league game. We'd done it in 11 of the preceding 18 seasons, for context.
It's interesting though – I was just looking at our PL history, and we may end this season with a similar points total to 2005/06, when we got 82. We'll be a few points back this time, but hopefully not too many.
Anyway, looking at the club's goals per game rankings from 25 years of the Premier League, and 2005/06 had our best defence but only 17th best attack, and this season has (as it stands) the 2nd best attack, but 19th 'best' defence. It's the old blanket analogy again, but it shows there's many ways to skin a cat!
And what's more, 2013/14 had the worst defence and the best attack!