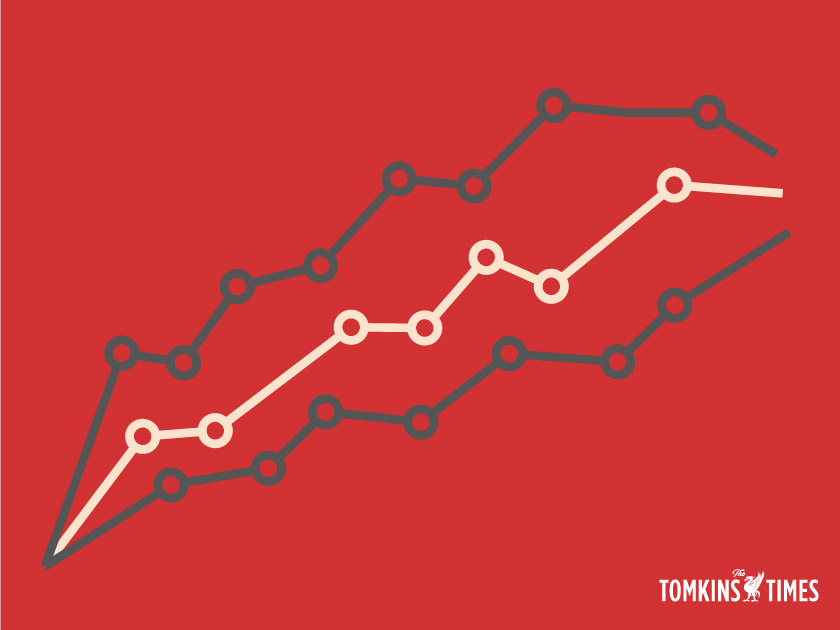 By Andrew Beasley (TTT Subscriber 'Beez')
Liverpool emerged from the land of the giants with a vital three points last weekend, and one of the surprising stats to emerge after the game was that West Bromwich Albion didn't have a single shot on goal from a set piece. That seems pretty remarkable when you consider the set piece goal stats for the Premier League this season.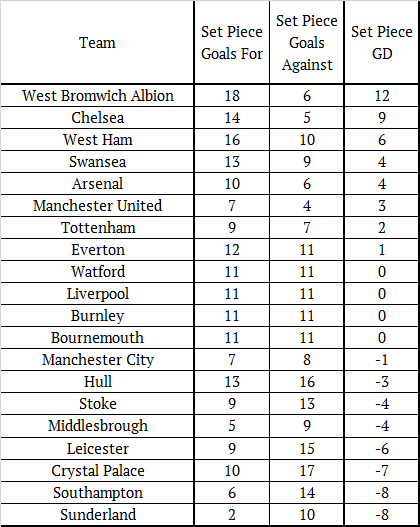 A team has only had a set piece goal difference of more than twelve three times across the past seven seasons in the English top flight (with Liverpool's +16 in 2013/14 the highest seen in that period). To prevent this West Brom side from having a set piece shot must mean that Liverpool defended superbly, right?
Maybe. This may be hard to believe, but at present only two teams in the Premier League average fewer set piece shots per game than the Baggies, with the Midlands side having just 2.9 such attempts each match. Set piece shots have been converted at a rate of 9.1% overall this season, yet West Brom have scored with an eye-watering 18.9% of their set piece goal attempts.
But then that is Tony Pulis' philosophy down to the ground. Keep the ball in play as little as you can, win your battles, and be as efficient as you possibly can be at both ends of the pitch. Nothing wrong with that (not that I'd pay to watch it every week) but the Baggies' general lack of set piece shots this season does suggest that Liverpool's clean sheet on that front may not be as impressive an achievement as it first appeared.
To try to put it into context, I've totted up how many free-kicks, corners and throw-ins have been sent into the Reds' penalty box this season, and how many shots have resulted from them. Having done that, it reveals that Liverpool's efforts last Sunday were their best this season for defending set pieces, and comfortably so.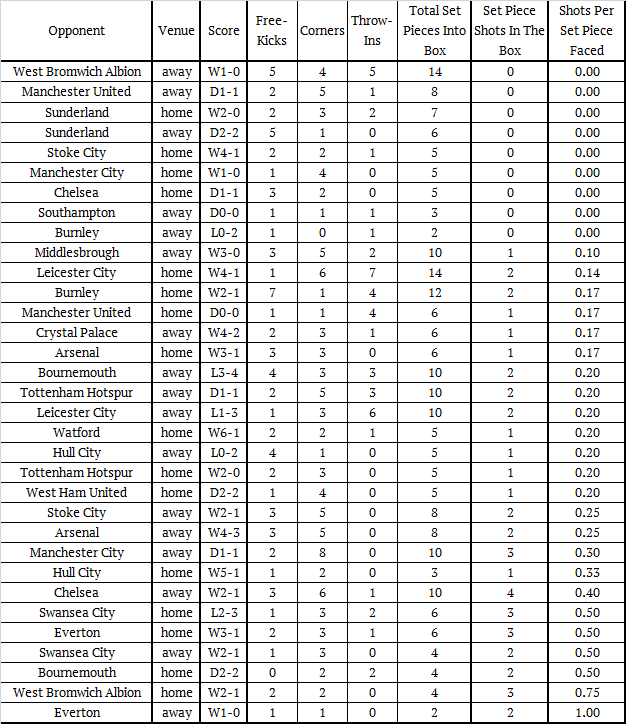 The data obviously can't take into account the quality of the delivery, but we can see that at The Hawthorns the Baggies sent the joint-most set pieces that have gone into the Liverpool box this season, yet as we know they didn't have a single shot. The same side did have the second most efficient performance of the season in the earlier meeting at Anfield though.
The perception has been that Liverpool have been under a long throw assault recently, and it's certainly true to say that three of the five matches where at least four throw-ins have gone into the Reds' box have been in the last eight league games. Interestingly, Manchester United at Anfield are one of the others… But the real masters of the long throw game (against Liverpool at least) have been Leicester City.
The rest of this article is for subscribers only. 
[ttt-subscribe-article]