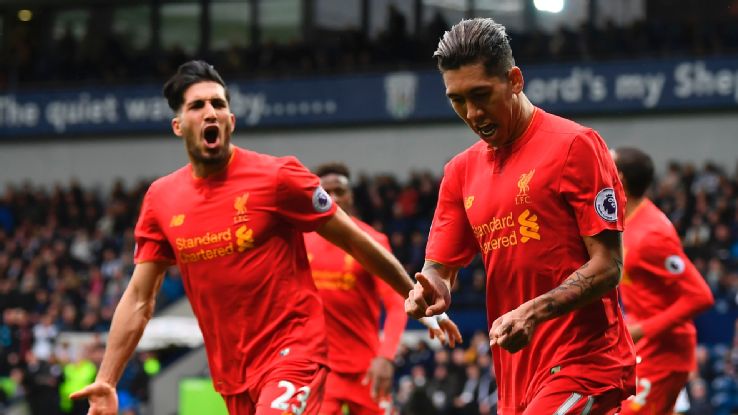 Credit to West Brom for making a go of it at the end of today's game, when not a lot was at stake for them; but fucking hell, this is English football? Long-throws, the constant aim for set-pieces, and the goalkeeper up-front late on for throw-ins, as the home team end the game with eleven six-footers on the field? (Having started with 'just' ten.)
Visit Stoke and West Brom, and come away with all six points, and you're doing something right, albeit after several months of struggling in similar fixtures. It's especially pleasing to see Liverpool do so with several players out injured, and when rivals had already got points on the board in the earlier games of the weekend.
These were two games about bottle (as well as talent), and although clearly still missing Sadio Mané, others have stepped up. The notion that the Reds can't win without him has been put to bed, although his pace, and goal-threat, are still hugely important. Liverpool's remaining front three can still score without him – all are now in double-figures (all four strikers doing so without penalties, too) – but Mané's pace is hard to replace.
My recurring theme for the past couple of seasons has been Liverpool's need for greater physicality, and much more height, even if the need to "beef up" to deal with the "thugs" depresses me somewhat. I wish it wasn't the case, but alas, the need to be big and strong still counts in English football, as I've repeatedly highlighted. You can still have small players, but they have to be pretty special. (Spurs, Chelsea and Manchester United have them, but usually at least seven or eight of the others are really tall.)
Six or seven teams (usually with British managers) are just so big and strong that if you can't get your passing game going they will flatten you with sheer might. At this point it's worth including the graphic that Robert Radburn created for this site in February, to remind people of the "types" of team in England:
The first thing Sam Allardyce does is sign giants. The only thing Tony Pulis does is sign giants. And though it predates Pulis' arrival, West Brom's youth policy is size-oriented; the U23s game against Liverpool earlier this year was full of giants.
Allardyce, meanwhile, has signed full-backs Jeffrey Schlupp (5'10") and Patrick van Aanholt (5'10") – not exactly giants, but much bigger than Liverpool's full-backs; plus Luka Milivojević, who's 6ft, and Mamadou Sakho, who's 6'2". Allardyce's three signings at Sunderland (Wahbi Khazri, Dame N'Doye and Lamine Koné) were all over 6ft. Palace, Sunderland and West Brom all had plenty of tall players when these managers took over.
Stoke, meanwhile, still have a residual supply of giants from Pulis' time, although Mark Hughes was too proud to "put it in the mixer" as much as they might have last week, even with nine six-footers in the XI; while Peter Crouch stayed on the bench. (Conversely, they created a lot of chances, even if they didn't look fixated on Liverpool's height issue.) Also, every week the Reds' opponents are taking long-throws, as if it was 1987 again. It's horribly nervy to watch, but Klopp's men are defending them better.
Although I cannot pay him extra for the psychological damage (and it was his choice, after all), this site's Daniel Rhodes admitted to watching 100 attacking West Brom throw-ins last week, as part of his study on West Brom's set-piece prowess (see the article and videos here), and after the match yesterday noted that he hadn't seen any long ones in all that video footage; yet five were launched into Liverpool's box yesterday. Leicester started this tactic, and it worked for Bournemouth late on at Anfield (and almost worked for Burnley in injury time, too), but Liverpool actually defended them brilliantly at the Hawthorns.
It clearly helped that the Reds' first-choice (and tallest) centre-back pairing was fit (and both Lucas and Emre Can in midfield are very good in the air). You only had to look at Chelsea yesterday to see how a change in goalkeeper, and a change to a wing-back, led to a change in centre-backs (Azpilicueta moved wide, Zouma came in), and even with four of their first-choice back six in place, they were not their usual assured selves defensively. (And I may be alone on this, but I really don't get the fuss about N'Golo Kante, who seems a great ball-winner who is not much of a footballer; at least, whenever I see him. I don't recall the same level of hype around Javier Mascherano or Momo Sissoko, who did much the same thing for Liverpool. Kante at Leicester was more of a story, to me, than Kante at Chelsea.)
Liverpool have had disruptions at centre-back all season, and results with the first-choice paring of Matip and Lovren have clearly been better than without either of them. And, of course, there have been disruptions with the goalkeeper, with none of Chelsea's luxury of having an elite no.1 and a very strong no.2.
Still, Klopp's team defended brilliantly at West Brom. Indeed, it was probably close to Liverpool's best aerial team, perhaps by luck rather than judgement; no Adam Lallana, who's been great this season but is weak in the air, while Ragnar Klavan is also sub-par in that area when compared to others in his position; and even Jordan Henderson, whose all-round game is being missed – although Emre Can has stepped up – doesn't win the number of aerial duels that the other holding alternatives do (Can and Lucas).
And while Divock Origi's talents are more on the deck, his inclusion adds height, too, while Roberto Firmino has improved massively in aerial duels this season. Indeed, this was one of those rare games where Origi excelled in the hold-up role at centre-forward at that same time that Firmino was also able to shine from a wider position; often Firmino becomes too peripheral, and there's not the surprise of him popping up everywhere.
That said, while I have focused a lot of my recent studies on aerial duels, in which Joël Matip does fairly poorly relative to his height (but still does okay for a centre-back; just not for a six-foot-five centre-back), I was told by TTT stalwart Andrew Beasley that the amount of headers he clears is very high – which can be seen when a ball is played into his zone, and he's not challenged. Being 6'5", he can cut out crosses at their highest point (relative to what smaller players can do). Dejan Lovren, the bulkier of the two, is better at duels, where weight can play a part too (a strong physique makes you harder to knock out of the way, and more able to knock someone else out of the way, as the header is challenged for).
For all their huff and puff, the Baggies did little to worry Simon Mignolet in the air; their one clear-cut chance expertly saved by a goalkeeper enjoying his best spell of form at the club, as he enters a goalkeeper's peak years (stats suggest 28-30 are the best years, on average, although elite keepers can stay at the top until their late 30s).
Maybe – just maybe – he's found the mental strength to be a Liverpool goalkeeper (he always had the talent, but the job is tough, psychologically). Of course, he needs to go longer without the mistakes that, due to their previous frequency, always undermined any good work he'd done, and spread nervousness around the team; the curse of David James, as it might be called. But this season Mignolet has been more solid, and his improvement in the air – particularly punching – is something John Achterberg must get credit for, given the rugby-style training the Belgian no.2 has been put through by the Dutch goalkeeping coach (who still may have his own faults, but here he deserves credit).
Perhaps it also helped that the Reds had a week to work on set-piece defending in training, whereas some other "easy" games have been against the physically stronger "weak" teams when the Reds were coming off the back of a game just two, three or four days earlier. When you're not as fresh you're therefore not as sharp, and then it often becomes a fight rather than a game of skill.
Now back to just one game a week – like with most of the excellent start to the season (aside from weakened League Cup XIs) – the Reds are coping with whatever is thrown at them (often from 50 yards or more).
My argument for cutting Jürgen Klopp some slack in January wasn't so much the absence of Mané, but the eleven games in 33 days from Boxing Day, and the additional absence of Philippe Coutinho, as well as others; any rotations had to be scraping the barrel within the squad – after all, the best squad players were playing regularly, and they became the ones that had to be rested. Youngsters were thrown in together out of necessity; ideally one or two, at most, are blooded at once.
The second part of this article is for subscribers only.
[ttt-subscribe-article]