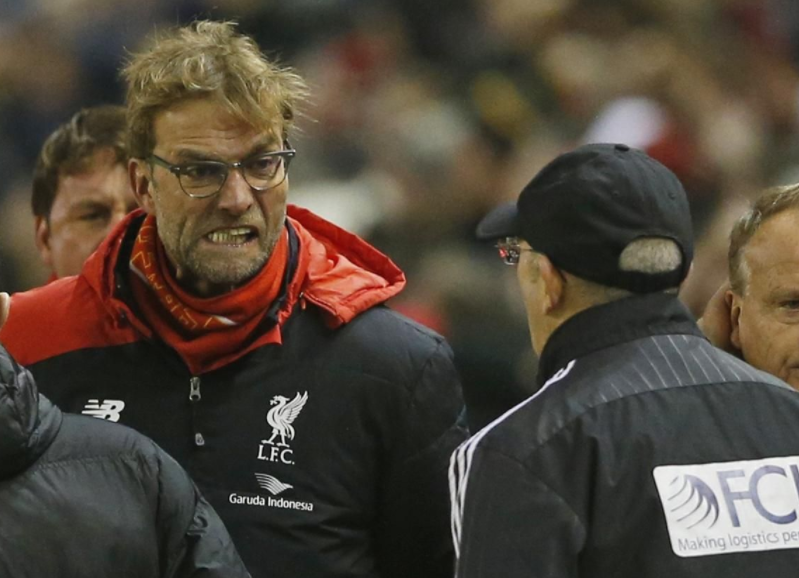 By Daniel Rhodes.
The initial plan was to do a stats piece looking at the how West Brom compare to the rest of the league, with specific focus on set-pieces; and how they're likely to target the flaws in the Reds' own defensive set up against corners, free-kicks and long throws.
Then, to save me a lot of work, Alex Fischer recommended this in-depth look at the Baggies this season by the ever excellent Alex Stewart. Here is the introduction, but it is worth the time to read the whole piece, and adds some context to the video analysis coming up:
When 35.9% of your assists come from a set-play, and 21.8% of your chances from set-plays, it's fair to say it's something that's being concentrated on and to no little effect. West Bromwich Albion are the set-play kings this season, both absolutely and relatively. The recent win at Arsenal, which put significant further pressure on Arsene Wenger, cementing West Brom and Tony Pulis' reputation of maximising the attacking potential, or at least trying to, of set-plays in general and corners in particular.

Of 39 goals, they've scored 14 from a set-play, either directly (a header straight from a corner) or indirectly (converting a flick-on from a near-post header, say). Their 35.9% of goals from set-plays as a total of overall goals scored is a league high in the Premier League. Their 21.8% of chances created, including assists, from set-plays is also a league high.
Alex looks at the percentage of chances each side creates that are from set pieces: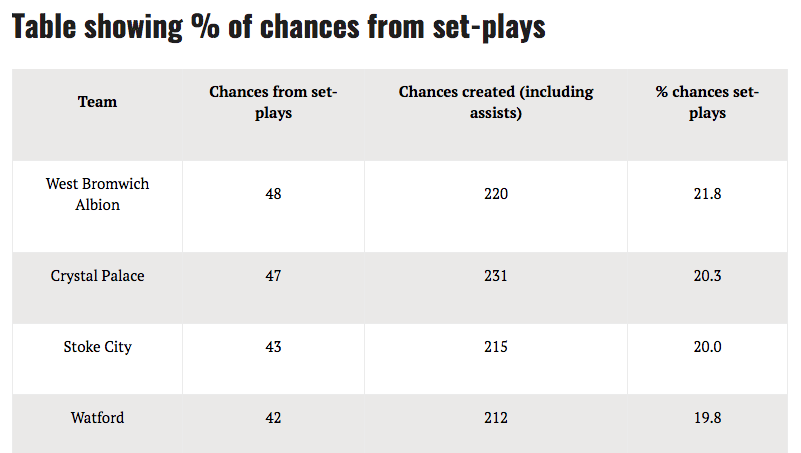 The top four includes West Brom top, Big Sam's Crystal Palace second, then another former Pulis side Stoke City in third; finally, the biggest and tallest side in the league, Watford, are fourth.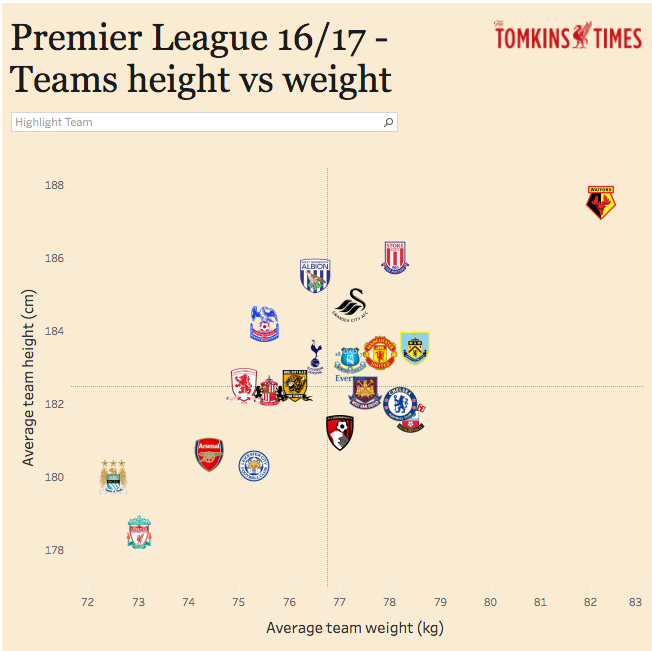 In terms of opponents, there isn't another in the league whose strengths align so perfectly with our weaknesses. Set-Piece Supermen against a Liverpool who, especially since the turn of the year, have been conceding chance after chance, and often goal after goal, against a variety of set piece attempts. I recently when through all the chances the Reds have conceded in their last ten games, and it was often like watching the same chance: long throw, flick on, doesn't deal with the second ball, big chance conceded (go and watch the Burnley match again, I promise!).
Then there's this Opta Pro Forum Presentation by Neil Charles, highlighted by Terry Dolan on the Stats & Analytics thread, and looking at 'The Secret to Tony Pulis' Success'. The WBA part is from 12 minutes onwards. Neil looks at their shot locations, as well as the location where the chance was created. The contrast to other teams is worth a look, as Pulis' sides shoot from central inside the box, whether that's a header or from the ground, and the same trend applies to the location of the chances: two circles around the corner of the penalty box on the diagonal.
Before you turn away from this article, in pure disgust at the problems Pulis is likely to cause us. There is hope from this parish though, in the form of short blogpost (as Beez goes all retro on us) about our underperformance against West Brom, Crystal Palace and Stoke. All I'll say is: we are due a win!
Over the previous 336 Premier League matches, Liverpool's average shots on target difference per game has been 2.13, yet against the teams of Tony it has been 2.93; 38% better than average, in other words. In my opinion, Pulis has definitely been lucky to get as many good results against the Reds as he has.
The rest of this article is for subscribers only, and includes:
All of West Brom's set-pieces from their last five games.
A in-depth look at the attacking corners, attacking free-kicks and long throws Pulis has employed against the Reds in the last 18 months.
[ttt-subscribe-article]