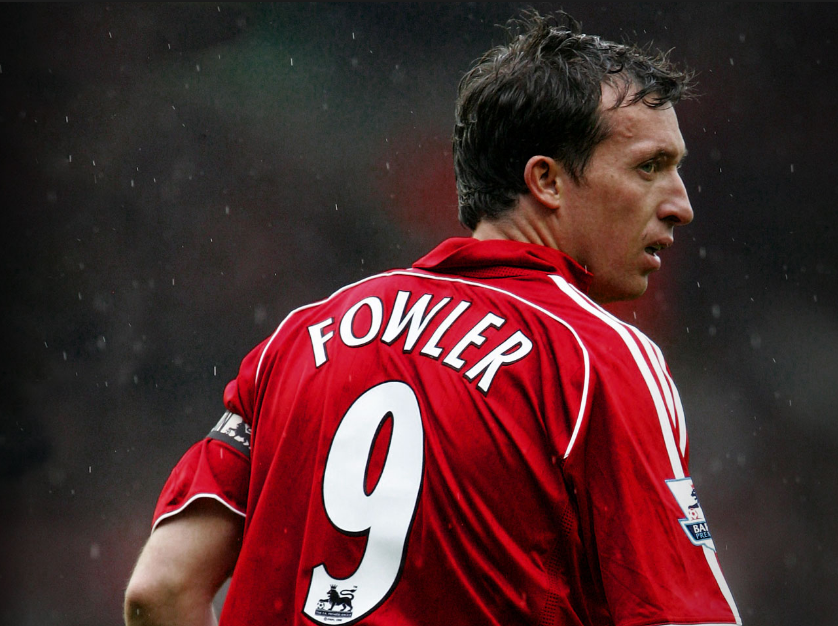 A Scouser Born and Bred No 6: Robbie Fowler
By Daniel Rhodes. 
The year was 1993: the Grand National was cancelled, England failed to qualify for the World Cup in the US, the "Maastricht Rebels" nearly brought down the government and from this, the UK Independence Party was first formed. To a thirteen year old Liverpool fan in the early nineties however, with limited access to Ceefax, the most memorable event that year was undoubtedly the emergence of a Liverpool legend, a local lad named Robbie Fowler. Or God, for short.
"It wasn't just the goals. He knew when and where to put the ball away, and run into space. He had such a lovely touch on the ball." Liverpool scout, Jimmy Aspinall, watching Fowler when he was 11 years old. (LFC History)
It is still clear as day. I initially heard about Fowler after he made his debut at Craven Cottage, scoring once and putting in an impressive all-round performance. His talent had been talked about for years around the area, but to fans further afield, without a gluttony of Twitter updates, ITKs and youth team games on demand, this was the first time we'd heard the name. It was possibly the only highlight of what had been a terrible season up until that point: Souness was on the rocks after losing four in five and the squad looked terribly unbalanced.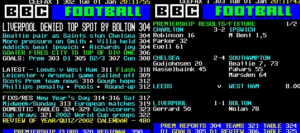 Nevertheless, it was the second leg, this time 'Live on Teletext', that will stick with me forever. The epiphany; the beginning of The Fowler Testament.
It is impossible find the actual page on Ceefax, despite plenty of effort. Doesn't matter though, the moment is etched into the memory bank. Type in – on the TV remote – page 302, then onto 303 for the latest scores.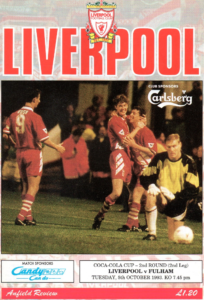 Despite this being a competition Liverpool had dominated in the past, only 12,541 turned up for the match. Though that figure has risen to 42,000 at least as the years pass.
Although not his Anfield debut (that came against Arsenal during a 0-0 draw in the league), Fowler was selected for the second leg against Fulham.  Luckily for the Reds, he opened his account on the thirteenth minute. Cup tie put to bed; job done. Me and a friend go upstairs to start a Sensible Soccer tournament, 'Fowler' is added to our custom Liverpool teams.
Back downstairs at half-time, pestering my parents to let us interrupt The Bill to check the scores: Liverpool 2 – 0 Fulham; Fowler 13, 21. "No way, he's done it again. Surely he won't score a hat-trick?!" We were already excited, and this despite never having seen Fowler play…
Probably seeing the excitement in our eyes, we were allowed to watch the start of the second half LIVE. The page does its rounds and ends up back on the Liverpool match: Fowler 13, 21, 47. A hat-trick.
"A Rush-like finish" according to the commentator.
This is fantasy football now. The fourth goal was probably the only flying, diving header Fowler ever scored.
"He's scored with virtually every part of his body."
The fifth was probably the first time I was ever speechless. The bombastic bluster of youth reduced to being unable to comprehend what had just happened. In fact, it was the first time we'd ever discussed a double hat-trick. It felt like a computer game. Except, to Robbie Fowler, who had just scored a perfect hat-trick plus two more, it was normal. Scoring goals was the most natural thing in the world to him. He'd been doing it against his mates, against other local teams, and for the Liverpool Schoolboys for years.
"I was watching my lad playing in goal for Ormskirk schoolboys against Liverpool schoolboys and this little lad knocked in two against him. I asked someone what his name was; 'Robbie Fowler'. From the start he was a fantastic talent."

Roy Evans
Forget three kings, forget virgin births, forget gold, frankincense or myrrh, if you want to announce yourself on the scene, scoring five goals in only your fourth game for the Reds is about as unique as it gets. If it happened today, Twitter would break with a billion retweets of the vines. Thankfully, because of said social media platform, I was able to ask Robbie Fowler a few questions, and he was kind enough to take some time out to answer them. No confessional booths required.
What was it like growing up in Toxteth?
No different to anywhere else I'd imagine, everything felt normal, loads of lads around my age, so always playing football, building dens. We lived in maisonettes so had a real close bond with most people living there, including other family members. Obviously Toxteth became famous/infamous because of riots but I honestly don't remember them, I was only five or six at the time.
This is the probably the key factor in his appeal to so many fans across the years. His normality. His love for the area. In an interview for the 'Off The Ball' show Fowler was questioned about hanging around with celebrities, and going nightclubbing in London; his response was he just preferred staying around Liverpool with his friends and family.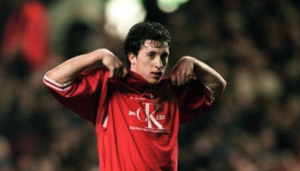 Not only did he enjoy the people and the area, he supported them on and off the field. Including wearing a t-shirt to support the dockers who had been sacked. A "political protest" that earned him a £1,000 fine from UEFA. The plan was to show support – alongside McManaman who was also wearing one – at the end of the game when they swapped shirts; however, that plan was ruined, because Fowler scored. Of course he did.
Who spotted you for Liverpool?
Fowler has a particular dislike for some Everton fans, even though he grew up as one, for their chants and rumours about his supposed drug use (hence the celebration at Goodison Park). In his book he speaks about two members of family who died because of drugs, and
the devastation it caused
.
If people could see what a devastating effect it has all had on her [Auntie Pat], how she has to live with it every day of her life, then I don't think they would be making jokes about drugs, and about me taking them.'
Despite his loathing of drug-related chants, he was never a saint either. He apologised to Graeme Le Saux for "trying to wind him up" during a match. Later admitting he'd been "stupid" and regrets the incident. Then there's cutting up Razor Ruddock's £300 Gucci boots on the plane, before taking a punch on the nose for his 'prank'. He still claims, despite all the goals, the trophies and the individual honours, his proudest moment as a Liverpool player was "not going down after being hit by a Ruddock punch". And of course, perhaps worst of all, was the argument with Houllier's assistant manager, Phil Thompson, after Fowler had supposedly tried to hit him with a ball; even though he insists he was just practising his shooting after training. It was the beginning of the end, and soon after he was sold to Leeds Utd. By far the worst I've felt when a player has left the club. Although, thankfully, there was to be another resurrection when Rafa Benitez brought him back to the club years later.