By Paul Tomkins.
Leicester's achievement so far this season – five points clear after 29 games – is utterly remarkable. But at the moment it's likely to be an outlier, possibly even the first exception in almost 15 years to prove the rule that money buys success, at least in the Premier League. (I'm not quite sure how it proves it, but one-off exceptions to the rule are indeed supposed to prove something. I didn't invent the saying.)
Most seasons, 60 points after 29 games would put a club between 3rd and 5th; but even then, to be 3rd or 5th at this stage for a club like Leicester would be amazing. To be top is just insane. It's a mixture of their brilliance and the underperformance of the big clubs. Other people will write reams on the former, and rightly so; but the latter is the key issue here.
My par argument – that you tend to finish roughly in line with your spending (either the average cost of the XI after 38 games, or the wage bill) – was always predicated on the assumption – valid until now – that none of the Rich Three of Manchester City, Chelsea and Manchester United would be terrible at once. It hadn't happened in 15 years (for ten of which it was just Chelsea and United), and while always an outside possibility that all three could be well below expectations, it seemed too remote.
If Chelsea screwed up in the league, as they did in 2012 when winning the Champions League, then City or United would reap the dividends. If United were below par, Chelsea and City would step in. Occasionally Arsenal and Liverpool would get themselves into the mix, just to confuse matters, before falling away. On average, the top six would finish within one place of their financial ranking.
That was, until this season, which I'd call a perfect storm.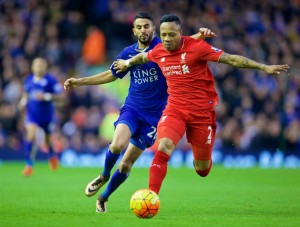 In football, random stuff happens, and in many metrics Leicester haven't been the best side, but they've taken their chances and rode their luck – and worked bloody hard. No model is perfect; something I've admitted whenever writing about "par". Nowhere have I ever said money, and money alone, is what leads to success. I have always said money, when allied to hard work and clever thinking, will beat just hard work and clever thinking.
Also, I've never said that par should be the limit of a team's ambitions; just that, if everyone else performs to their expected level, that's how things will tend to look in the shake-up. And for years that was the case. That's what almost always happens.
The par argument is also based on money being wisely spent; something the big clubs always tended to do, even if it was with a fair amount of natural wastage too. However, that has certainly not been the case in the past couple of years, when more money has been wasted than wisely invested by the biggest clubs.
My par argument was first made several seasons ago (based on years of our Transfer Price Index analysis, starting in 2010, that followed on from others' wage bill work), and at the time made sense. It still does, although a lot has happened to reduce the effectiveness of the big clubs, which I will try to explain below.
Having said all that, if you'd have told me in August that Leicester would be five points clear after 29 games I'd have thought you certifiably insane. I'd have got the police onto you. I'd have bet my right testicle that Leicester wouldn't be where they were, and I'd have bet my left testicle that Jamie Vardy wouldn't have scored as many goals. (So I'd be down to just the central testicle…)
I'm not alone in being utterly wrong, and bamboozled, by this, but I was wrong all the same. I didn't think it even remotely possible, and I've had to accept that even weirder shit that I ever imagined possible can happen in the game we love.
That said, if the concept of par is "complete and utter bollocks", as someone told me on Twitter on one of my increasingly rare forays into that dark world, then Leicester doing a Leicester wouldn't be a thing, as the analyst Mike Goodman put it. It would just be running a football club.
It would just be the league, as it used to be, 30 years ago. If par was such rubbish, no one would have spent the past 15 years roughly conforming to it.
(As a quick aside, the person who called par "complete and utter bollocks" moaned that I blocked him because of a "difference of opinion", rather than the hostile and dismissive language used when discussing work I've spent innumerable hours on, over many years. I've never blocked anyone for saying "Paul, I respectfully disagree" or even "Paul, I disagree", or even "nope, it's not for me". But calling anything I do "bullshit" or "bollocks", as many have – often prefaced by "complete and utter" or "total" – and then moaning that I'm too sensitive because I block them, suggests the person doesn't understand the drip, drip, drip of persistent rudeness. By all means think that my work is utter bollocks, but if you tell me directly, and in that language, then I might think you worth avoiding. Anyway, rant over.)
Why are the big clubs worse?
To me, it feels like the big clubs have got fat, bloated and lazy. Not literally – although Yaya Toure's shorts are pretty big – but there seems to have been an acceptance of mediocrity.
Make no mistake: despite what Leicester are doing, most of the time the titans will win. But by working harder, and being smarter, smaller clubs stand a chance of competing. The problem is that if the Goliaths also work hard and are smart, the Davids have no chance in the marathon that is the league; but maybe possess a 20-30% chance in any given game between big and small, with the odds depending on various other circumstances (venue, form, injuries, freshness, etc., although form and momentum are debatable concepts in terms of leading to you winning the next game).
As regular readers will know, by analysing over 3,000 Premier League transfers I have been able to say that just under half of all moves work out in a positive sense (c.40%), but the same analysis also shows that the most expensive buys succeed 50-55% of the time. The more you pay the better your odds, but only by a fairly small margin.
For almost fifteen years, big clubs were regularly winning the title, and staying streets ahead of the chasing pack, by amassing a greater number of these expensive signings, and building a team with the ones that "stick" and discarding the flops.
They'd also have top managers who drove the players hard: famously a decade ago, there were the extreme taskmasters of Ferguson, Mourinho and Benítez – regular trophy winners who were tacticians too, but who had no truck for complacency. None of them were known as nice guys who didn't care about losing if there was some pretty football.
The three clubs they managed, plus Arsenal, were perennials in the Champions League for five successive seasons, and all four made finals between 2005 and 2012, with Liverpool, United and Chelsea winning the trophy and also finishing as runners-up in that period.
But things have grown more complicated. First, FFP was introduced a handful of years ago, and Chelsea's relative spending compared with a decade ago is now much lower, as part of the drive to break even. The slowing down has been clear, as seen in going from by far the most expensive squad (after TPI inflation is applied) in 2015 money a decade ago, to third now. For a club that look set to dominate English football, this season will end as them having won one title in six seasons (not that I'm not a little jealous of that all the same).
But for FFP, they'd have bought another four or five expensive players in the summer – and not had to sell promising assets like Lukaku and De Bruyne – and maybe not had the meltdown that ensued; although the nature of the meltdown is a story in itself. It shows that money, plus a poisonous atmosphere, equals a poisonous situation.
Jose Mourinho is usually a ticking time bomb, and while he helped improve Chelsea last season, his schtick famously gets tiresome by year three. So there was always a good chance that Chelsea would struggle; again, based on precedent, even if no one saw them being in a relegation battle during his third season. In this case, rather than the effects of money, the precedent was that Mourinho over-inflates his teams until they spectacularly burst. Teams don't climb gently under him, and they don't go quietly, either. It's all about the combustion.
United and City
Based on FFP, Manchester United can spend the most, but they are also the most destabilised club since the retirement of Alex Ferguson, and appear directionless at the top since the departure of David Gill. They lost the two men who ran pretty much all aspects of the the club, and now have Ed Woodward (not to be confused with Edward Woodward) who, touch wood, would (okay, will) not be the one to see them out of the woods.
Ferguson had let the squad grow mediocre by his usual standards, but his powers of "persuasion" helped push them ever onwards. By the end they were like a cartoon character who overruns the cliff, and only hangs in mid-air because they've yet to realise that they should be falling. Once they replaced Ferguson with Moyes, and not another elite manager, it all fell apart. Players started to slack off under the underwhelming, rabbit-in-headlights David Moyes, who represented an easy touch after the intensity of Ferguson.
City, meanwhile, simply spent really badly between 2011 and 2015. Against the odds, almost all of those expensive 55%-odds-to-succeed transfers fell into the 45%-odds-to-fail category. By contrast, several of their big-money signings up to 2011 – Tevez, Aguero, Toure and Silva – all hit the magic target (whilst City discarded costly flops like Robinho, Adebayor and Jo, without too much damage in the lead-up to FFP).
On top of this, cheap buys like Joe Hart, Pablo Zabaleta and Vincent Kompany bucked the odds; all clubs find the occasional dirt-cheap bargain, but it's fairly rare to find three key ones.
The problem is that these successes, with the exception of Tevez, all remain key players. They spent bigger, and better, in the summer of 2015, but Raheem Sterling's finishing is still wayward (his goalscoring record is improving, but he still snatches at too many shots), so they probably aren't yet getting the full value for their £49m. Even at £55m, de Bruyne looks great business, but is injured right now. And it was injuries to key players that showed up all the poor spending; all clubs are inferior without their elite talent, but if your £42m back-up centre-back plays like Mangala does, then you can hardly say "well, we have no centre-backs".
To compound this, I'm not convinced that Manuel Pellegrini is an elite manager, and that's why they're replacing him with someone who is. This will be Pep Guardiola's toughest task in terms of winning a league title, but you sense that City won't be quite as flabby under him.
I like Pellegrini, and would have taken him over Roy Hodgson at Liverpool in 2010 (oh to go back in time and make that happen). But he's probably not one of the top ten managers in the world. I'm not sure if he had a big say in many of the buys between 2013 and 2015, so it could be argued that he's been saddled with duds, while his critics might argue that the signings are duds because, as a non-elite manager, he couldn't get the best out of them.
United do have an elite manager, but one whose best days appear to be behind him, and who the players know is winding down his career. In addition to the fallout post-Ferguson, they have had the same problem as Liverpool, which I will come onto.
Failing
Then there's Europe, and domestic cup competitions. Usually the squads are big enough to cope on these fronts, but perhaps the Premier League is speeding up in intensity; it certainly appears to be, especially the way teams attack with such searing pace on the break. At the same time, the bigger clubs have stopped being "clever". Many of the smaller clubs are getting fitter and stronger, and the bigger clubs are losing their edge.
What's clear is that smaller clubs also now have more money, with the new TV deal. And yet the bigger clubs have been overpaying for mediocre talent. (Although putting a big fee on a player, whatever his talent, perhaps explain why 40-50% of them still fail; sometimes even the ones that seem too good to fail. Similarly, joining a bigger club comes with its own pressures.)
While the smaller clubs don't have the squad depth, I'd agree with the notion, as espoused by plenty of people, that they've been able to add c.£10-15m players that aren't any worse than those for which the bigger clubs are now paying £30m.
As well as Adam Lallana has played at times these past few weeks – and he's slowly winning me round, albeit whilst still lacking consistency (he was fairly quiet at Palace after his best game for the Reds on Wednesday) – his fee, based on his two years at Liverpool as he approaches 28, still looks seriously overinflated. Whilst his wages won't be astronomical, you can see better value in many other places. Dimitri Payet cost less than half, and looks the superior player; but had Payet been at another Premier League club he'd have cost £30m. So why buy from the Premier League?
The big clubs can't attract the bona fide world stars as easily, in part because the wealth of Barcelona and Real Madrid expanded exponentially with their special give-us-all-the-money TV deals; and England's Rich Three, plus the relatively wealthy two of Arsenal and Liverpool, have started to share Champions League qualification; something that Spurs also got in on a few years ago.
Suddenly a player may think twice about going to Manchester United because they may not be in the elite competition every year; and while United, like other Premier League clubs, remain a massive draw, if it just caused 10% of doubt in a player's mind then that could cause them to end up at PSG, which would have been unthinkable a few years ago.
The whole top tier of English football no longer as clear-cut as it was a decade ago, and while that's good for the neutral, it's not so good for the six clubs who have been regularly vying for four spaces. Everything revolves around those four places (which could go down to three; imagine that). It's not just about the money – at least it isn't for me – but the twin appeal of great occasions (playing Barcelona is always more alluring than playing Crystal Palace), and the way it can help attract better players. Of course, it's a double-edged sword, as it takes more out of your team physically, but you have to be prepared for that downside.
By squeezing into England's financial elite, City have put a spanner in the works. As I've said many times, Spain doesn't have a City or a Chelsea – reasonably successful clubs, historically speaking, who were lifted to the level of the nation's über-clubs by external financial investment. Atletico have done amazingly in Spain recently, but not at the expense of the two grandest clubs. They haven't squeezed the big two out of the top four.
Not only are Barcelona and Real Madrid richer and more glamorous than any English club, but they, along with Bayern Munich, guarantee a tilt at the domestic title and regular Champions League football.
PSG are becoming like them, in that they are so far ahead of the rest financially that it's attractive for players to go there and win things, and to be on the elite stage of the Champions League, even if Ligue Une is probably only Europe's 5th best league. (Paris is also a nice place, which helps.) The majority of the Spanish, French and German teams aren't weak, but the one or two elite teams in each country have unfeasibly good squads, and XIs containing the world's best players.
Another issue here is that best players in the world are mostly South American; certainly most of the best strikers – Messi, Neymar, Suarez, Higuain, Cavani, Dybala et al – are from that continent. And language, climate and work permit regulations all make Spain their preferred choice. The Premier League is only able to hoover up La Liga's rejects; and if it does get an elite Latino, he'll be off to Spain as soon as he is proven to be elite.
The elite players that go to Spain, Germany and France end up at maybe just one or two clubs, which makes them self-perpetuating successes. But the elite players in England are shared between five clubs. I mentioned this last season, but had City not emerged in the way they did, then the status quo of the "big four" (as it was six years ago) would more likely be maintained, as it fits so nicely with the four qualification places. (This also means that, by no longer being Champions League perennials, it's harder for a club like Liverpool to do the country proud when they finally do get back in; 2014/15 was like a slap in the face, with all the European nous built up under Houllier and Benítez lost.)
City have nudged out Chelsea, Liverpool and United in the past few years, and bought a handful of players that the other four would have loved to have got their hands on, and would have had a chance to do so had City remained a mid-sized club, and had the status quo been maintained.
Unimaginative thinking
But my biggest issue is the lack of clever scouting by bigger clubs, not least because it applies to Liverpool. While I didn't object to Brendan Rodgers' signings on an individual basis (I hate writing players off before they've had a chance to even prove themselves in a red shirt), his body of work – with the deals he got to drive through irrespective of the transfer committee – was very poor; certainly based on the performances of those players at Liverpool to date (which can of course change, but that change needs to be more than sporadic good performances from those players).
In the summer he wanted "Premier League proven" players, and started speaking of "ready made" players, as if his job wasn't also to assist in finding future stars and to help them blossom (although by this stage the pressure of the failure of last season was probably taking its toll).
I wrote a detailed piece a few weeks ago about how inter-Premier League spending was damaging Liverpool and Man United. It staggers me how much they have handed over to other Premier League clubs.
The biggest overachieving clubs right now – Leicester and Spurs – still spent some money on these shores, but mined the lower divisions; otherwise they spent overseas. They knew the Premier League was a rotten market, and avoided it as much as possible (as have West Ham and Southampton, two other overachieving clubs). And Arsenal and Manchester City, who still comprise half of the top four, also spent a low percentage of their budget within the Premier League.
Sadly, Liverpool and United did not. This is a brief extract from the piece:
I decided to look at the current top six, plus Liverpool and Chelsea (the two biggest clubs outside of the top six), to examine their recent buying habits.

Of all eight clubs, Man United have the highest proportion of their overall squad cost put towards Premier League signings: some 63.4%.

Liverpool are the next-highest inter-Premier League spenders in terms of percentage of outlay: 52.5% of the current squad cost. (Compare this to the Benítez-era 30%, although this was on his spending and not what players he inherited, which included prior Premier League players in Hamann, Kewell and Finnan.) However, if you look at the players bought during Rodgers' tenure, and include the two Italians who'd already played in the Premier League (Borini and Balotelli), the figure rises to 58%.

However, none of the other six clubs (Leicester, Spurs, Southampton, Man City, Chelsea and Arsenal) has spent more than 26% of its budget – based on current squads – within these shores, and the average for all six is just 16%. Compare this 16% to the 52.5% of Liverpool and the 63.4% of United. Who are the two clubs who appear to be getting least bang for their buck right now?

Leicester have handed over the lowest proportion of their budget to other Premier League clubs: a measly 9.8%. Is that part of their secret?
Liverpool's transfer committee has not been perfect by any means, but as much as I admired Rodgers' coaching, and felt the personal jibes and brickbats were below the belt, his role on the committee, and his driving of certain deals, reduced the Reds' effectiveness.
The committee tended to go for young overseas players (like Emre Can and Divock Origi), and track even younger home-grown talent further down the league structure. While the choices weren't always successful, it is without doubt the most sensible strategy.
The best age to sign players is 20-23, in terms of those who go on to be great successes after changing clubs, but of course, the occasional 28-year-old is fine (just be prepared for them to lose their legs on your pitch, as Bob Paisley famously warned against; and the average age of Paisley's signings – without doubt the best buyer of talent in Liverpool's history – was just 22).
If you need older players, then get them cheap (Rodgers was right on Milner, although the vice-captain let everyone down today), but mainly, try to develop your own youngsters who will want to spend their careers at your club and they will become your elder statesmen; easier said than done, but the likes of Gerrard, Carragher, Terry, Giggs, Scholes, et al, are always such a bonus to any club. It's one area where City have yet to make an impact; a couple of homegrown gems saves fortunes. (Iheanacho, who joined City two years ago at the age of 17, looks a good player, mind.)
On top of this, keep the effective but low-value ones around for a lifetime. See Man United under Ferguson, with Phil Neville, Nicky Butt, Wes Brown, John O'Shea, et al. None of these would have generated big transfer fees, or commanded big wages, and their experience was handy to have around; these types of "journeymen" (who, in truth, journey nowhere) are hard to replace; you can pay £20m for someone who ends up being worse than them. For Liverpool, this has been Lucas Leiva, and maybe could be Jon Flanagan.
Liverpool's travails
In the summer, when defending Rodgers' desire to get in Benteke, I argued that the big striker could be a really effective player (and stated I'd be happy if he arrived), but I also noted that there must be better value elsewhere. After inflation, £32.5m puts the Belgian behind players like Djibril Cissé and Emile Heskey, as well as Andy Carroll, but he wasn't exactly cheap.
Still, had Rodgers stayed and tried to prove to the world how good Benteke could be (which he may well have done), he'd have probably continued to overlook Roberto Firmino, a young and superior player, but one who was driven by the committee, and one for whom Rodgers had no apparent role.
The same happened with Lovren over Sakho, and Lallana over Markovic, and while these decisions could be argued to be based on footballing ability or tactical reasons (as, at the time, I said they could be), the sense now is that they were not.
The three cheaper, younger imports (Firmino, Sakho, Markovic) were selected behind the older, "Premier League proven" Benteke, Lovren and Lallana. None of these players has been perfect, although Firmino is clearly the most successful (and improving all the time), and the youngest, Markovic, was not given sufficient playing time anywhere other than a brief run in the alien role of wingback – the merits of which you are free to draw your conclusions over.
That destructive schism is now gone, not least because Klopp has no vested interest in any specific "Rodgers" or "committee" signings succeeding: he just wants to pick who is best for the team. This is why, for me, Rodgers had to go, once it was clear to me what was going on, allied to results suffering on the pitch. On top of Klopp's extra top-level experience, the lack of transfer politics will be a nice change. (The point of bringing this up again in this piece is that it should lead to better value for money, and this is a piece about value for money.)
As a continental manager, Klopp already seems much more in line with the committee's thinking, so the problem should not arise again. With it, gone should also be the propensity to overpay for proven Premier League talent, the benefit of which is simply an utter myth (look through the list of the best Premier League signings since the turn of the millennium, as I did, and the vast majority had no prior Premier League experience; and look through the list of costly flops, and there are as many with prior Premier League experience).
As a result, Liverpool can be a leaner operation under Klopp, with more belief and unity, and the drive to succeed which the German brings.
But this season is perhaps too soon; the top four looks tantalisingly within reach, but in reality, is probably a step too far. This season is all about Leicester, and maybe even Spurs. It could even be about West Ham too, whose summer rebuilding had nothing to do with buying from within the Premier League. Indeed, the total 2015/16 spending by Leicester, Spurs and West Ham within the Premier League was … £3m.
Robert Huth's £3m was the sole transfer fee paid by these three clubs to other Premier League clubs in 2015/16. West Ham took a couple of young free transfers, and loans from within the league, while Spurs signed a player from relegated Burnley, and Toby Alderweireld arrived from Spain with Premier League experience, but not a Premier League price tag.
By contrast, Liverpool spent around £45m within the Premier League last summer, following on from £50m in 2014/15; while Manchester United spent £27m on one player (Schneiderlin) for £27m, following on from £27m on Luke Shaw in 2014/15 and £27m on Marouane Fellaini the year before that. That doesn't make all these signings bad, but it does promote a certain mediocrity.
Whatever happens now, Leicester will certainly finish well above par, although they may still choke when it comes to the title. For obvious reasons, choking often happens on the big occasion, and usually affects the favourite more than the underdog. (Underdogs tend to freeze rather than choke – where the occasion gets to them, rather than the unfolding situation getting to them.)
Choking is when the fear of losing becomes paralysing, and it only gets that way if it's yours to lose. Liverpool were going great guns in 2013/14 until they clearly choked at Crystal Palace – full of confidence at 3-0 up, and going for a big goal difference, there were no problems; but once it went to 3-1 the fear set in, and at 3-2 there was outright panic. (Ditto Milan in 2005.) Cricket is a particularly good sport to see this kind of collapse: once one batsman falls, several more can quickly follow.
And even though Palace had nothing to gain today, as soon as they were 1-0 up and a man up the fear got to them; no longer could they be the plucky underdogs. Having looked like ending their long non-winning run, they felt some pressure – their prize was to beat Liverpool and finally win a game, and if they didn't given the game state, questions would be asked. Liverpool, by contrast, were freed to put in one of their best 30 minute spells of the season, when a man light.
Good luck Leicester!
Leicester now have six winnable games in a row that could sew up the title for them, before three very tough (on paper) games to end with. But they're favourites now, and these "easier" games will allow the opposition to do what Leicester have done for most of their 29 games to date: sit back and soak everything up. If they can keep the yips at bay then it's theirs for the taking, and although it will only lead to more criticism of the concept of "par", football would be all the better for a genuine rank-outsider defying all odds.
But before we talk of money being unimportant, it will need more than one (albeit rather incredible) success to prove it. At the very least, however, it should empower the triers.
This is a free piece, which is supported by people subscribing to the site (which pays me, the staff, and all the running costs). Click here to subscribe, which gives you access to lots of exclusive content and one of the best comments sections on the internet. If you don't like it we'll give you a free video clip about someone getting their money back.