By TTT Subscriber David C Jennings.
Driving up from Seattle in the Pacific North-West, you enter Canada where Interstate 5 ends. It's just a few more minutes until you reach metropolitan Vancouver. Just before you arrive at Stanley Park (of all places), a parcel of land jutting into the estuary separating English Bay from Vancouver Harbour, you pass through the city centre where you can find The Butcher and Bullock – the pub that's the home of LFC Vancouver, an Official Liverpool Supporters Club and the largest and most active group in Canada.
The establishment is licensed for 280 people and that is usually, but not always, enough to contain the support for Liverpool during every Reds game. I've described them previously as "the vocal Vancouver group" because their Facebook group (Liverpool Fans in British Columbia) is very active, has diverse opinion and is one of the most intelligent I've come across.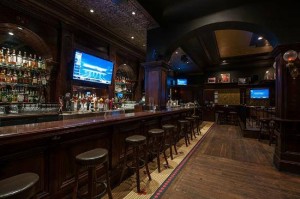 It's the morning of the Europa League 2nd leg tie v Augsburg. I'm texting Ste Speed, one of the group's organisers and the club Secretary. Ste was instrumental in taking the Greater Vancouver supporters from casual gatherings to being an Official Supporters Club branch. We're talking in the morning because it's a 6pm kick-off at Anfield which means 10am up and down the West Coast of North America.
We'd already discussed attendances for games before but I wanted to gauge it further in what for us is a pre-lunchtime midweek kick-off. So I ask him "Are you at The Pub?" I tell him that 16 people have showed up at the Auld Dubliner (The Dub) in "The OC" – metropolitan Southern California between L.A. and San Diego. Early in the first half he responds that they have 29 but by half-time they have 78 while attendance at The Dub has barely touched 20. The half-time picture from San Diego on their Facebook page shows they have a similar attendance to us while Debbie from L.A. tells me their turnout is even smaller. My curiosity is piqued as to what drives the much larger interest in Vancouver.
This article is for subscribers only.
[ttt-subscribe-article]