By Paul Tomkins.
It's hard to tell if Liverpool's second three-goal win of the season over Man City was a sign of the Reds' improvement or another case of City being so inconsistent, or perhaps lacking vitality after 120 minutes at Wembley with virtually the same side.
The older side, who won the cup on penalties, ran a hell of a lot less than usual last night. So that helped to make Liverpool look better, although that is to take nothing away from Klopp's men. It's another good example of how "weakening" the XI in terms of quality but improving it in terms of freshness can have positive effects.
Liverpool probably needed to win the League Cup more than City (who still had the title and Champions League still to fall back on), and City needed the win at Anfield more than Liverpool, with their need for league points more vital if they were to remain in the title race.
Often needing in sport is dangerous. Most teams want it. But needing it is often debilitating, as it creates more internal pressure. Only the best teams, and the best sportspeople, win again and again, without suffering under the stress that it brings; and likewise, they are not the types to get complacent either, and coast after a big achievement. City certainly haven't reached those elite levels, despite two league titles in the past half-decade, and three domestic cups. That's an impressive haul, but not quite as good as you'd expect from such a talented squad.
You sense that Pep Guardiola will get them closer to elite levels, although he may inherit a team playing Europa League football, the way City's league season is fizzling out. And apart from teams comfortably leading the table, winning silverware in February seems to present problems, given the fate of quite a few recent League Cup winners, including Liverpool in 2012. Indeed, it can present problems to the losers too, as it can signal the end of what were the highest hopes for the season, with three months still to play. Just as teams "winning" the first half can see their second-half display fall away, winning a trophy in February is an odd thing, psychologically.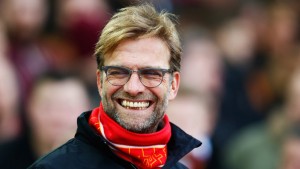 As baffling as City are, Liverpool are also an enigma under Klopp; albeit a more expected one, given that this is a manager who only took over in October and has yet to add a permanent signing to the squad he inherited. (The two signed so far arrive in the summer.)
The Reds' superior fitness could be seen in the way the energy was there to press the life out of City, especially in the cases of Henderson, Clyne, Firmino, Milner and Can, who all featured heavily in the 120 minutes on Sunday (Firmino only playing the first 80 minutes of the final). They are clearly amongst the best athletes at the club; hence why they were able to not only repeat games so quickly, but also look fresh. But this is a squad yet to have a preseason training to play this way. That can easily add another 10 or 20%.
Right now Liverpool are hugely inconsistent, and that's what often happens when a new manager tries to change things, but can only change the tactics and the training, and not alter the personnel. You can definitely see times when Klopp's Liverpool look like his Dortmund, but there isn't quite the same consistency and ruthlessness (not least because that Dortmund team didn't suddenly appear like that overnight; it took years of work). Some players will be lifted up to that level by his methods, and others will prove of insufficient quality or consistency.
I've been one of Adam Lallana's biggest critics, but three goals in his last four league games is a big step forward, with assists too; including a shot that hit the post on Sunday and rebounded to Philippe Coutinho. Neither that shot nor his goal against City were particularly well hit – the first lacked accuracy but had power and the second lacked power but had accuracy. But still, they were good contributions all the same.
It's still not enough to convince me that he has what it takes to be a regular starter, as he approaches 28, but he's making a better case to stay beyond the summer. He certainly has the pressing-style and first-touch to be a success under the German; but final-third quality is what's needed from players of his ilk and age (and yes, transfer fee, too). Lallana also needs to stay fit, as his time at Liverpool has been very stop-start.
The final thing he needs to do is cut out the needless fancy turns and overelaborate footwork – both of which were gladly absent against City – and use his skill to make things happen, rather than to showboat. At times he slows Liverpool down, by not keeping it simple and effective (compare him with how Firmino also takes people on, but has a swiftness to his play, with his one-touch passing often extremely effective). I've been making all of these criticisms for over a year now, but in his games in 2016 there seems to be an improvement.
Ditto James Milner, as another whose game seems to be coming together more. He's obviously not got Lallana's first touch, but obviously tends to play deeper, so fewer goals and assists should be expected. But he's also adding goals (other than his reliable penalties) and assists at a decent rate, and his famous energy remains incredibly high despite turning 30. I was very disappointed with his first half of the season, but could still see the sense in keeping a model pro like that around the place; but he's now looking like the player I witnessed whenever I saw City play (which obviously wasn't all the time). It just shows that even English players who've spent years in the north west can struggle when they move a few miles.
With six open-play goals from his last seven league games, as well as one of the highest chance creation rates in the league (4th in the league, based on minutes played, according to Dan Kennett), Roberto Firmino is now firmly up and running. The Brazilian is another hard-pressing, clever attacking player, who seems perfectly suited to Klopp's methods, unlike the sure-to-be-sold Christian Benteke. (I rate Benteke, but he just hasn't settled into the German's style. If he had cost £8m, or even £12m, I'd say keep him, as a Plan B, but £32.5m is a lot for a plan B; even a sale for £20m would provide the chance to buy better options.)
The occasional game still passes Firmino by, and every now and then he mucks up a simple pass, but he has more non-penalty goals per 90 minutes than Harry Kane this season, ranking 9th in the league according to Dan Kennett's stats today (a copy of which can be seen here by subscribers). He's also ahead of Mahrez of Leicester, and Alexis Sanchez, and is the only new signing in the top 10. He is a wonderful combination of a reliable finisher of chances, allied to the ability to spot teammates in space, and aged just 24, should improve the longer he spends in England.
Michael Owen continues to damn Firmino with faint praise, but would be eulogising about him if he was English. To have the 4th-best clear-cut-chance creation stats and the 9th-best goals per 90 minutes rate in the Premier League, and still be called very inconsistent on the basis of having a difficult start to life in England, and the very occasional poor game, is ludicrous. (Owen is never one to worry about confirmation bias. And as good as he was, he was the epitome of inconsistency: hot streaks and barren runs.)
And there's Philippe Coutinho, who has started scoring 18-yard-box goals under Jürgen Klopp, as opposed to the speculative "worldies" struck under Rodgers. Coutinho had just one goal in ten games under Rodgers this season (and averaged seven a season under the former manager), but already has six in just 18 games for the German. A cute free-kick aside, he is now scoring goals within the box, and has thankfully ditched the constant long-range shooting that was blighting his season.
He's gone from a goal every five or six games to a one-in-three man since the managerial change, and that's what you need from attacking players. His skill on the ball remains up there with the best in the world, and still only 23, he can get better still.
These players have helped turned Liverpool, who struggled for goals for 18 months, into the league's joint-top scorers in 2016.
And Divock Origi, at just 20, has rightly usurped Benteke in the pecking order on account of his superior pace, work-rate and willingness to run the channels, and also looks more of a goal threat than in his early games (as you'd expect with a youngster settling in).
Origi, like Firmino, was a non-Rodgers-driven signing, and it's easy to see why Klopp and the committee are reported to get on well, unlike the previous, disruptive situation at the club. (I'm looking forward to seeing Joe Gomez, another committee-driven deal, back next season.)
We haven't seen enough of Daniel Sturridge under Klopp, for obvious reasons, but he's shown his clever footwork and movement can make things happen in the final third. It's a big "if" when it comes to leaving his injuries in the past, but Klopp seems genuinely impressed by just how good a player he is, rather than merely being a top-class goalscorer.
Jordan Henderson is one of the few who hasn't played as well under Klopp as he did under Rodgers, but playing with a persistent heel injury was always going to inhibit him (you try running with a very sore heel). Fans moan when someone like Sturridge refuses to play when carrying an injury, and then moan when someone who does – like Henderson – finds that he obviously can't play as well. The same was true of Sakho after the knee injury he picked up.
The captain has lost some confidence along the way, which happens, but he and the still-improving Emre Can provide some physicality, a truckload of eager running, and a fine passing range behind the more creative players – doing something Rodgers' sides never did, and providing a proper shield to the centre-backs. Neither is perhaps the perfect playmaker, but neither has any glaring weaknesses to their game either.
Possibly Rodgers' best two "these are mine" signings of his tenure were Danny Ings, who seems perfectly suited to Klopp's style if his knee is fully healed, and Nathaniel Clyne who, despite being limited on the ball, is a top-class defender. (Joe Allen remains a good buy in theory, but just hasn't stayed fit enough.) It's a shame we haven't seen Ings in a Klopp side yet.
Both Ings and Clyne have the kind of energy and commitment to thrive in the hard-pressing style. And as I've noted before, both were reasonably priced, due to contract situations, which helps when so many Premier League players – particularly if English – are badly overpriced compared with what's available overseas (and even in the lower divisions).
But it's not just attacking players who have improved under Klopp. There is no doubt that Dejan Lovren has been far more commanding and far less error-prone since the German arrived. And certainly before his knee injury, Mamadou Sakho was also showing more consistency and belief. Kolo Toure rolled back the years against City last night, and he's another who I thought was destined for the exit but is somehow defying the odds. He is the opposite of Mario Balotelli in terms of just being good to have around the place, to help keep the squad united.
And of course, there's Lucas Leiva, another model-pro, who had some excellent games in midfield early in Klopp's tenure, before a few shockers in games in which Liverpool got badly overrun. His unexpected transformation into a centre-back, however, virtually guarantees his stay on Liverpool will make it to the 10-year anniversary. He's been imperious whenever he's played there, and although the sample size is still small, it bodes well. (Kevin Stewart has emerged nicely as a more mobile version of Lucas as holding midfielder.)
The arrival of a giant centre-back, in Joel Matip, who also has pace, makes it a bit easier to field a centre-half who's 5'10", and removing Alberto Moreno from the back four and replacing him with a "standard" size full-back would further help. Jon Flanagan could be that man, although it's still early days after almost two full years out. I love his aggression, although he needs to take a leaf out of Jamie Carragher's book and use it a bit more judiciously.
(For what it's worth, I still like Moreno, but I'm not quite sure if his pros outweigh his cons. He has his uses as a full-back, especially if Liverpool have the domination to have him playing as a quasi-winger, but it's hard to know what he'd be like as an actual winger, due to the difference to when runs are started. But he could perhaps become an option there. At full-back he allows the opposition to play one long diagonal ball, or cross, and have a chance at goal.)
Jordon Ibe hasn't quite pushed on under Klopp, although he's still only 20, and as I noted in this recent piece, well ahead of most of his age. By the time he's 22 I think people will see how special he is; and until then, it's a case of trying to gradually improve.
His take-on success rate per game is extremely high (it may even be the highest in the league), but the next stage of his development is a bit more coolness once he beats the defender; the talent is there, but it's a question of bringing his game together. That comes with age and experience.
Martin Skrtel, meanwhile, remains as hot-and-cold as ever, as does Simon Mignolet. I would say that neither of these has improved under Klopp so far, and although not everyone is going to adjust to his methods overnight, I worry that these two have a kind of institutionalised failure lurking in their psyches, after so many mistakes for the club down the years. The more mistakes you make, and the more defeats you play in, the stronger you have to be to bounce back.
Mignolet ranks very low in the Premier League in terms of save percentages since 2011, especially when weighted against the difficulty of shots faced, so even his famed shot-stopping abilities aren't consistently good. He made some great saves in the final on Sunday, but only after letting a simple shot go straight through him (not literally, but it looked that way).
It makes sense for Klopp to back him publicly for now, and I'd have no problem if the manager seriously believes in him and feels he can improve him next season. But it's one key area where improvement seems necessary, either from Mignolet himself, or via a replacement.
On the whole, I think most players have improved under Klopp in terms of general performances as well as high-point performances, but it's still not quite fully consistent. Consistency is often what separates the good players from the great ones; they may be able to hit the same heights, but the best ones do it most of the time. The same goes for teams.
And the more time a team stays together, the better its bonding and understanding should grow. This team, even without any additions, should be better next season, especially as no key player is older than 30. But with three or four astute additions to the squad, including one genuine top-class player, it could be so much better than what we're seeing now.
The next aim is to push as high up the table as possible and knock Manchester United out of Europe; they've just started hitting some form, based in part on bringing through a few young, fit and hungry players. Going out to them would be horrible, but I think there have been enough positives from Klopp's tenure to feel optimistic – many of which I listed in Monday's piece.
This season is part of a big learning curve for Klopp and his players, and while not guaranteed, I'd be shocked if the Reds don't look a much better side in 2016/17.
This is a free piece, which is supported by people subscribing to the site. Click here to subscribe, which gives you access to lots of exclusive content and one of the best comments sections on the internet.