By Mihail Vladimirov.
Seeing his team play 120 minutes only two (full) days ago and, for once, having the option to rotate, it was a given that Klopp would refresh his starting XI for this game.
Sturridge and Coutinho were always going to be the first two players pulled out as a precaution with Lallana and Origi replacing them. Then with Lucas and Sakho unavailable through injuries, the return of Lovren came in handy in that he formed a partnership with Kolo Toure at the back. Lastly, the German manager decided to also give Moreno a rest – with Flanagan handed a rare start.
For Pellegrini, the option to refresh his side was much more limited. He lacked midfield options with Nasri and De Bruyne long-term absentees and now Yaya Toure needing a rest following an injury sustained on Sunday. This meant that realistically, the only positions the Chilean manager was able to rotate was his back four unit and up front, with Hart always likely to come back despite Caballero's penalty heroics.
Unsurprisingly, Man City named the same side except Navas came in for the injured Toure (with Fernandinho moving back into a central position) and Zabaleta replacing Sagna at right-back.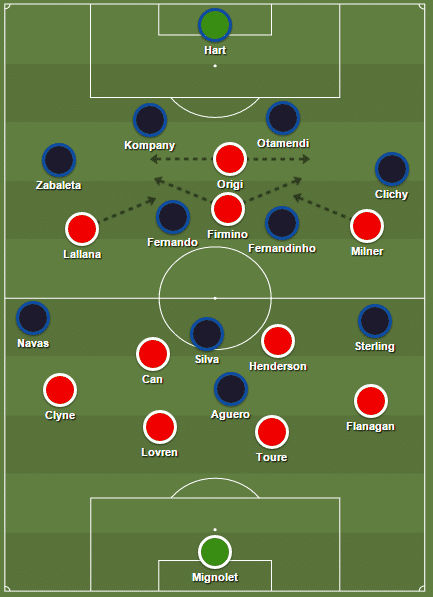 Man City's approach
Toure's injury essentially forced Pellegrini's hands in terms of starting formation and personnel – and from there his overall strategy. Going 4-4-2 was a possibility (Bony or Iheanacho replacing Toure), but with a physically depleted squad this was always going to be a risk against a rotated – thus fresher – Liverpool side, and with the Anfield crowd up for revenge.
There was also the chance of Pellegrini going completely left-field and, for example, using Demichelis or Zabaleta as a holding midfielder in order to continue with Fernandinho in a narrow position on the right and keep the shape from Sunday unchanged. But for all his tactical acumen, City's manager has never been one making such surprising tactical calls (although the recent redeployment of Fernandinho down the right is evidence he is well capable to invent new ways of maximising the talent of his disposal).
With all this in mind it was always going to be the case that bar rotation at full-back City were going to field the same XI, with Navas coming in down the right and Fernandinho moving centrally in what would have been a 4-4-1-1 formation.
In terms of strategy, it was also completely unsurprising to see the visitors opting for an even more reactive initial strategy with the order of the day being to keep it tight from the start, weather the expected initial early Liverpool storm and take it from there. The accumulated fatigue, lack of options to rotate and the type of players going to start (wingers down the flanks, battling midfielders, overlapping full-backs), all pointed to counter-attacking tactics and a primary defensive-oriented initial approach.
In fairness, all was going according to Pellegrini's supposed game plan in the opening half an hour. The Citizens successfully went through the initial period of around 20 minutes where Liverpool pressed more intensively and looked to keep the tempo high by always looking to quickly hit direct balls forward and look to attack as quickly as possible whenever the ball was regained. Apart from a couple of more dangerous-looking attacks, the home side couldn't really create anything of note and the visitors gradually grew into the game. Gradually their initial flurry faded away and City quickly grew into the game.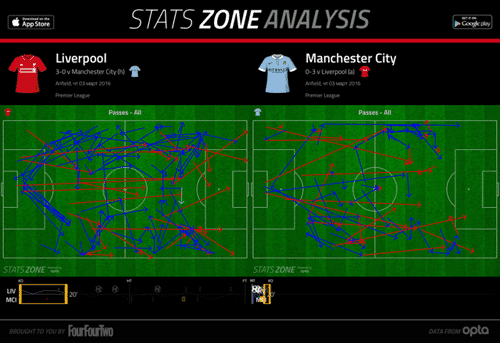 After that initial period it was obvious how the tide began to turn around with City more dominating and starting to threaten going forward the more possession they got. There was a couple of dangerous attacks involving Navas and Zabaleta down the right. Then twice Silva found himself in very good shooting positions in Liverpool's box but both times decided to seek out Aguero with a pass instead of having a go himself.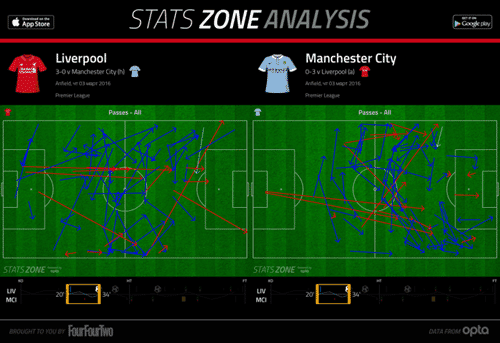 Liverpool – rotated, tweaked and improved
With Liverpool always going to be more or less rotated for this game, Klopp had several potential options and tactical scenarios. Without going into too much detail, there were basically three main options ahead of the German manager.
The rest of this post is for subscribers only.
[ttt-subscribe-article]