By Chris Rowland and Daniel Rhodes.
W/c Monday 29th February 2016.
Welcome to our weekly round-up, a diary of news and events on the site, matters relating to LFC and the world of football generally.
The Week in Football – Liverpool FC:
Monday:
Jürgen Klopp says his side will "strike back" and that "only silly idiots stay on the floor and wait for the next defeat". (Liverpool Echo)
Klopp also says he does not yet know enough about his players, five months into his Anfield reign.
But the Reds boss suggested he would not be scared to spend big to enhance the talent at his disposal if the player was needed and available.
He will happily spend the money if necessary but believes Liverpool must "go their own way" to avoid the scenario where the club struggled after a star player left, specifically referring to Luis Suarez.
Klopp wants a more stable approach and of course continues to believe training is more important than transfers, a mantra he has been preached since the day he walked into Anfield last October. Klopp said:
"When I came here I spoke about how I am the only one who believes in training, all the others believe in transfers.

"I was not asked how will you work with the team so much as 'who will you buy?'

"But if I started my career thinking about money I would have no chance.

"Football is about development, football is about training.

"I have really good players here. I don't know enough about them at this moment but I know a lot more than I did five months ago.

"I love in this game, that working together – helps.

"And I would not like in this game that I take this guy from here, this guy from there and in the end you have 11 and then you let them play together and you think it works.

"That's not how I understand this game."
Noel Gallagher was asked about his score prediction for the Capital One Cup final outside Wembley before the match – and said that Manchester City would win on penalties with Yaya Toure netting the winner. (Daily Mirror)
Tuesday:
Jürgen Klopp has been given the go-ahead by the club's owners to bring in a number of significant new faces this summer. (Daily Mail)
Raheem Sterling was confronted by an angry Liverpool fan following Sunday's League Cup final win against the 21-year-old's former club. (Manchester Evening News)
Wednesday: 
The Reds' financial results were released today, with FSG writing off £50+ million pounds worth of debt. Not quite "greedy bastards".
The club's commercial revenue increased by 12 per cent to £116.3m following the announcement of 12 new partnerships and renewals, as well as opening 180 new retail outlets around the world including one standalone store in Malaysia.

Media revenue also continued to grow from £100.9m to £122.6m due to participation in the 2014-15 Champions League and progressing to the semi-final stages of both domestic cup competitions. Likewise matchday revenue increased by 15.9 per cent to £59m as a result of additional ticketing and hospitality revenue from the additional fixtures.
Details of the final Hillsborough memorial service at Anfield have been announced, including information on how to obtain tickets to attend the event.
Friday April 15, 2016 is the 27th anniversary of the Hillsborough disaster, in which 96 fans lost their lives.

This year is an extremely significant landmark for the families and all affected by the tragedy as it marks the conclusion of the Hillsborough inquests and also sees the final memorial service to be held at Anfield.

The service will commence at 2.45pm prompt, with access to the stadium possible from 1pm. A one-minute silence will be observed at 3.06pm and the service will conclude at around 3.45pm with the singing of 'You'll Never Walk Alone'.
Thursday:
Read Jürgen Klopp's post-match thoughts here on the official site, saying the performance must be the role model for his side.
Jon Flanagan described his crunching challenge on Raheem Sterling as "just business." Only 30 seconds into Wednesday's 3-0 victory for Liverpool over Manchester City, Flanagan knocked the £49m signing off his feet with a strong but fair tackle.
"It was something I had to do to get the crowd up," the 23-year-old said."The crowd have been fantastic, always right behind me even in the dark days. Me and Raheem were good mates at Liverpool but now he's gone to City it is just business on the pitch."
Liverpool's owners Fenway Sports Group "underestimated how poor the playing squad was" when they bought the club in 2010. The revelation came during a legal battle between Mill Financial, Royal Bank of Scotland and former Reds co-owner George Gillett. (Liverpool Echo)
Q. You also testified earlier that the club would require "a significant amount of investment" to enhance the value of the club. How did you take that into account or how did NESV take that into account in is valuing LEC in October 2010?

A. I think we underestimated that. We ended up losing quite a bit of money in our first couple of years and we had to make even more considerable investment in the playing squad than we had estimated as we went through the bidding process. So, you know, like trying to catch a knife falling off the table, you're not sure where before it's hit the ground you've caught it. You know, I think we underestimated how poor the playing quality of the squad was, and frankly, we underestimated how difficult it was going to be to stabilise the asset. We were overconfident in assuming that many of the things that we had done in Boston at Fenway would translate naturally to the Premier League and they just didn't all translate.
Former Manchester United defender Rio Ferdinand has criticised the quality of the Liverpool side and says he would replace the whole squad in the summer.(Daily Express)
"I would have loved to come here and play against this Liverpool team," he said. "I don't see a threat.

"If I'm Jurgen Klopp, I'm a worried man. I'm thinking roll on to the next window."

And when asked how many players he would replace, Ferdinand replied: "The whole lot."

He added: "You could potentially do them all if you wanted to.

"Nathaniel Clyne has been fairly consistent, Henderson is the captain so you wouldn't see him changing."
So not the whole squad then.
Liverpool FC submitted a planning application which provides further details on the plans for a new club store within the Main Stand's new public realm. (LiverpoolFC.com)
Former Liverpool owner David Moores has been attacked during a violent burglary at his home in west Lancashire.
He was taken to Aintree hospital with head and leg injuries after two men forced their way into his house in Halsall on Wednesday night.
The raiders ran off with jewellery and watches, said police, who described it as an "isolated, targeted attack".
Moores, 69, a member of Merseyside's Littlewoods Pools dynasty, sold the Anfield club to American duo George Gillett and Tom Hicks in 2007.
Philippe Coutinho has been included in the latest Brazil squad for the 2018 World Cup qualifiers against Uruguay and Paraguay later this month.
Brazil host Uruguay on Friday March 25 before travelling to Paraguay four days later. However there is no place in the 23-man squad for Roberto Firmino.
Friday: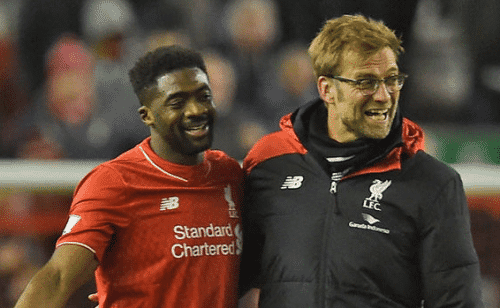 Klopp also reserved his only standing ovation thus far for cult hero Kolo Toure, and not for a goal, pass or shot; but rather his challenge on Aguero:
"The challenge of the day was Kolo Toure against Aguero. I think it was the first time I've made a standing ovation in a game for a player. That was really great.

"Everybody who came in… you saw Christian Benteke is in another moment now, he is training really well and you could see. Divock Origi, 70 minutes working hard, first half really good and in the second half you saw it was a long time out. Joe Allen came in and was very important for us.

"Adam Lallana, after his injury, is a key player for us – like a few of them – because he loves the style we play, so it's easier for him to do it and he can carry all the others with him.

"Emre and Hendo gave a great performance, and both full-backs. Flanno, after this long time, was very smart – really saving energy, really concentrating in defence. Clyney did well on the wrong side.

"And Simon Mignolet with not too many but a few brilliant saves was very important for us. Everything was like it should be."
Crystal Palace Press Conference:
The Week in Football – General:
Monday:
New Everton shareholder Farhad Moshiri will provide the Goodison Park club with £100m investment in the summer. (Daily Mirror)
Former England manager Fabio Capello claims fellow Italian Antonio Conte, who is expected to be named Chelsea manager, is already "preparing" for the Stamford Bridge job. (Fox Sports, via Daily Express)
Leicestershire Police have started planning for European football nights at Leicester City's King Power Stadium. The Foxes are two points clear at the top of the Premier League table with 11 games to go.(Leicester Mercury)
Tuesday:
Tottenham are the Premier League title favourites, according to Claudio Ranieri, manager of Spurs' title rivals Leicester City. (BBC Sport)
"Tottenham are strong in every situation," said the Italian.
Arsenal have £135m in the bank, according to financial results revealed last week, but will only give manager Arsene Wenger £70m to strengthen his squad this summer. (Daily Mail)
And Wenger should be sacked if Leicester or Tottenham win the Premier League this season, according to former Gunners midfielder Paul Merson.(Sky Sports)
The rest of this round-up is for Subscribers only.
[ttt-subscribe-article]