By Paul Tomkins.
To read Part I: Souness, click here.
To read Part II: Evans, click here.
To read Part III: Houllier, click here.
More to follow as the week unfolds.
Rafa Benítez
Even now, Rafa Benítez remains Liverpool's most controversial manager, having come in for more criticism than anyone else I can recall, despite five years of relative/undoubted success in six seasons.
His transfer record has been shot at by all and sundry, and yet for the most part they appear to be missing both the point and the target.
There's no doubt that the Spaniard's final two seasons saw a big drop in the quality of player he was bringing to the club – or, at least, in how they settled and performed (Aquilani, Keane and Johnson were not poor footballers) – although his final full summer, in 2009, was blighted by two awful owners at war with each other, as they halved the promised war-chest, with their mishandling of the club driving it deeper into debt. Benítez's pre-planned signings in 2010, who arrived after he departed, were when the club had begun to delve only into the bargain bins of fairly promising kids and ageing Bosmans (in many ways a false economy).
But even then, his desire to stop the academy focusing solely on mediocre local youth if they couldn't produce any gems (and at the time they weren't getting close), and to instead buy-in players from further afield, like Raheem Sterling, was a shrewd move. He is noted for instigating a lot of battles during his time at the club, but this is one which he won, and paved the way for arrivals like Ibe and Oji.
I've said for years now that only 40-50% of all transfers succeed in any discernible way (either success on the pitch and/or sold for a profit), and that only 10% are really successful.
I'd now take that one step further: under 2% are über-deals; those buys that provide immense value for money, due to a combination of brilliant football and many years of service (or alternatively, being snaffled up by a bigger/richer club for a massive profit before they had the chance to rack up 300 or 400 games).
While Benítez had his fair share of flops (much like Arsene Wenger and Alex Ferguson), his tenure, like theirs, is defined by his outstanding buys. That was why Liverpool rose to number one in the European rankings, and, in 2008/09, registered 86 points in the league.
Indeed, his overall success rate in the market was distinctly average – 39.5%, which is strictly 'par for the course'; in other words, only four out of every ten players he signed succeeded in any clear way, which is precisely what I'd expect to see over a longer period of time (and which matches or betters most of the other Liverpool managers covered). He also had a "disastrous" signing ratio roughly in keeping with the league norm – no more, no less.
But as with Wenger and Ferguson, when he got it right he got it really right. For Benítez, signings rated as "very good" are more than double the league average, and those that rank as outstanding are four times the norm.
Continue reading, and amongst other things, I'll name those players and explain why they rank so highly.
This article is for subscribers only.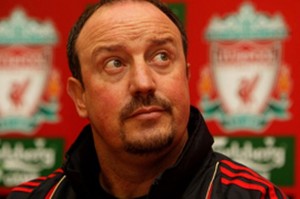 [ttt-subscribe-article]