Welcome to today's daily digest, listing the day's Liverpool FC news, the latest LFC transfer news, other major football news and also providing links to the best posts on the site's debate section.
LFC News:
Daniel Sturridge has no regrets about playing 90 minutes for England against Germany while carrying a thigh injury even though it infuriated his club manager Brendan Rodgers (Guardian).
Speaking of Daniel Sturridge, the 24 year-old striker told the Liverpool Echo: "There is so much talent running through this team. It's not about individuals, it's about Liverpool Football Club and it's great to be part of it."
Sturridge also revealed how Steven Gerrard's advice allowed the Reds to strike back in the game:
"Steven told me to attack the near post and I'm glad I took his advice," he said. "The delivery was brilliant and I was just able to direct it into the far corner."
Only three months since joining Liverpool player, Mamadou Sakho is already feeling right at home as a Red:
"I wouldn't have changed my choice for anything in the world," Sakho explained to The Guardian.

"My decision to come to Liverpool has been fantastic for me. I haven't been here very long at all but I've settled in well.

"It was always going to be hard because I've only ever known one club and been a one-club person before coming here, so that makes things a bit more difficult.

"But I've been prepared to go and ask advice from everyone – my teammates, coaches and the manager. I've asked them a lot about the game here. My family has settled in, it's going well."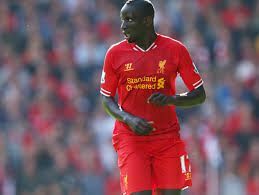 Feeling at home …
LFC Transfer Talk:
Liverpool are reportedly considering a move to sign Juventus playmaker Sebastian Giovinco according to Sports Direct News.
Brendan Rodgers is looking to bring in further creative midfield options to boost his side's push for a coveted Champions League berth and a move for the pint sized Italian international could perhaps be a realistic one to pursue.

The 26 year old Turin born flair player has been a peripheral performer in Antonio Conte's side this season, making just two Serie A starts thus far and as such has seen his chances at national team level falter and a move to secure regular first team football may tempt the former Parma man.
Arsenal and Liverpool target Yohan Cabaye has indicated he could leave Newcastle at the end of the season, as he is desperate for another chance to play Champions League football.
The France international was the subject of a £10 million bid from Arsenal, which was flatly rejected by Newcastle as it was considered as derisory.
Genoa are preparing to step up their interest in Arsenal and Liverpool target Konstantinos Mitroglou.
Reds target Porto's Colombian striker Jackson Martinez appears to be on the verge of sealing a January move from Porto to Chelsea.
Benfica have sounded out Dnipro Dnipropetrovsk over the availability of Ukraine winger Yevhen Konoplyanka – and that could prompt several Premier League clubs into making enquiries of their own. "The 24-year-old is being eyed by five English sides, including Arsenal, Chelsea, Manchester United, Liverpool and Tottenham."
'Including'? Id' say that was all five of them.
Other Football News:
The red card awarded to Sunderland's Wes Brown in Saturday's game at Stoke has been rescinded by an FA panel.
Head Coach Gus Poyet said: "I would like to express my thanks to the panel for giving the matter their consideration. Naturally we are delighted with their decision, which is fair and just."
Articles Published Today:
The Best Liverpool FC Books This Christmas, by Daniel Rhodes.
Best/Most Interesting Posts Today:
In the debate on our midfield, Javelin made the point simply and clearly that "I think it's fair to say that if Lucas and Gerrard haven't developed a proper understanding of each other yet then they never will."
Assessing the current squad against the 2008/9 model, Arjun aiyar concluded that:
… the current side has world class at the top end of the pitch and at GK…the rest are either close to being world class (Coutnioh and Lucas/Gerrad/Johnson on their days) or are premier league class (the CB's (sorry, but Aggar is now at that level) and the full backs)…and this really is where the team currently falls short when compared to the 08/09 vintage. The four players in the middle of the pitch tasked with sitting deeper and starting attacks are currently not as consistent as that side
Projecting the current scoring rates of Suarez and Sturridge across the rest of the season, Beez concluded:
Liverpool could feasibly (though still with a host of caveats at this point) realistically finish the season with 80+ goals even if nobody else ever scores again!

—-

my point is that we should savour having these players, as we've got a better front duo than we've had for about 20 or so years, and as good a goalkeeper too.
Bazz believes "there is more than one way of controlling a game."
Possession is only one of them. Control of the ball definitely does not mean corntrol of the game. I think it's about imposing your game more effectively than the other team, which can mean being very good with the ball and using your team's strengths, or it can mean exploiting other team's weaknesses while keeping their strengths under wraps.

—-

I think the many conversations about controlling the games all come back to Paul's article on Sunday and some of the responses for that. Maybe we recognise weaknesses, or maybe we're all looking for them to justify our fears of losing something tangible for the first time in years.
Rafaisthebosphorus believes that "the issues we have in CM are about tackling, mobility and possession, and concluded with the interesting thought that: "the midfields are structured so differently that it's hard to see how to really use the data".
Mik D contended that:
It seem obvious that to find openings to attack will sometimes only be achieved if a well organised opposition comes out and plays and that only happens if they have the ball. So conceding possession is at times advantageous if it is part of a controlled plan i.e. you are then set up to aggressively close down and win the ball back quickly to catch the opposition out of position and then break through them.

I think we are playing a bit like this at times. The issue arises when we don't close down aggressively in an orchestrated way and then our midfield looks worryingly porous. But when we do, we always look dangerous. So perhaps successful teams with intelligent players can do both at different stages of a match depending on how the game is going.
Jeff as ever put the issue about Gerrard's role succinctly when he said:
maybe the time has come to realize that Gerrard maybe does not have the instincts  or maybe he does not have the desire to be a deep lying midfield player.

To me the elephant in the room is that Gerrard is still a highly skilled footballer but where do you play him? Does he want to change his game to excel in his new position? Does Rodgers have the courage to either drop him or find a way to benefit from his abilities without the liabilities he brings to the pitch?

I do not want to be seen as anti-Gerrard but I want to remind everyone that in sports father time always wins and Billy Liddell and Kenny Dalglish no longer play for Liverpool.
TTT's Assistant Editor had his latest Talking Reds guest column on the official site today. Appraising the Merseyside derby, Daniel Rhodes said:
Every Merseyside derby is intense; every Merseyside derby means something – regardless of league position and the relative success of each club at the time. Saturday's derby, though, which kicked off the Premier League weekend after an international break, put every subsequent match to shame and had every football fan in country on the edge of their seats throughout, and was, potentially, a little glimpse into the future of a new era in the city of Liverpool. It was a fast-paced, frenetic, often controversial affair, filled with moments of quality and at the same time, slightly marred by a moment of madness. Nevertheless, one thing is certain: both teams played to win, something that hasn't always been the case in recent years.

To use the word 'nonsense' is not a criticism, or a slight on either manager – it's just the only applicable description of a game that made no sense to anyone watching. Usually a football match has a fixed narrative, set tactical plans and a key moment that changes a game: a goal, a bad tackle, a great save, an intelligent run or a sublime finish. This game had all of that, in the first 20 minutes.

—-

It was 90 minutes of mouth-watering nonsense.