By Paul Tomkins.
It's been a very good start to the campaign for Liverpool, and yet all season I've been trying to work out why I'm not enjoying the football quite as much as some other Reds are. I very much appreciate the attacking play, which at times can be sumptuously free flowing. In that sense, it's good to watch.
Then I realised: it's like being served a delectable meal by the multi-Michelin-starred René Redzepi, but between each course Gordon Ramsey is free to kick you in the bollocks.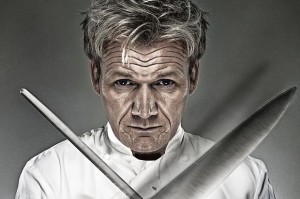 Liverpool play "good attacking football"; or rather, they attack with style, panache and penetration, to provide great excitement. It can be a joy to behold; genuinely thrilling stuff going forward. But overall the play is still too haphazard – at least to this non-neutral – for pure enjoyment, because the midfield offers almost no protection to the back four. Either the shape of the team isn't quite right, or the personnel are falling short; I can't say for sure which it is.
The good news is that, according to the league table, it's working; keep outscoring the opposition and you'll be okay. But perhaps it's working because, as the angry Scottish chef lines up to put his size ten into our crotch again and again, there's the protection of Simon Mignolet (the reinforced cricketer's box in this increasingly weird analogy).
The big Belgian is of course there to do just that: protect the team's onion bag (which is not an intentional part of the metaphor, but I guess could be, if said bag happens to contain two onions.)
Still, Liverpool aren't quite as puzzling as Manchester City, who thrash everyone at home at lose tamely away; or Spurs, who generally keep things tight at the back but get absolutely hammered at City, and who have also lost three times immediately after Europa League games (which clearly won't help their desire to get back into the Champions League).
And right now, Liverpool look better than Manchester United, which is never a bad thing; Moyes apparently turning United into Everton in the way that Hodgson turned Liverpool into Fulham.
This post is for Subscribers only.
[ttt-subscribe-article]