By Chris Rowland.
Welcome to today's daily digest, listing the day's Liverpool FC news, the latest LFC transfer news, other major football news and also providing links to the best posts on the site's debate section.
LFC News:
Victor Moses says he's "proud and honoured to win the Nigerian Footballer of the Year award for 2013. It's a dream come true to play for my country so thank you everyone."
Kolo Toure, 32, has told Manchester City they will "regret" letting him go. It's quoted on BBC as being from The Sun, but Sky Sports and the Daily Mail have also carried the story, so it's likely to be one of those syndicated pieces that everyone claims as their own.
Talking about Saturday's Merseyside derby, Jamie Carragher praised the performance of John Flanagan at left-back:
"I thought the best player on the pitch was Simon Mignolet, but in terms of outfield players it was Flanagan and [Ross] Barkley. For me, they were the two stand-out players in the teams. It was great for me to see two local lads on opposite sides who were the two outstanding outfield players on the pitch."

"Flanagan came in at left-back. I've played there and it's not easy playing on your opposite side. Flanagan proved himself under Kenny Dalglish.

"We talk about young English players getting a chance, well Flanagan gets a chance and is one of the best players in the derby match.

"Now he has the confidence of Brendan Rodgers, I think we'll see a lot more of him."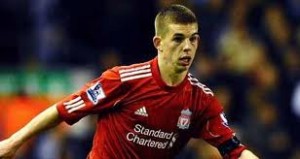 Praise from Jamie Carragher
Sebastian Coates is pleased with the progress he's made so far on the road to full fitness.
He told Liverpoolfc.com: "I'm making progress slowly but surely. It's an injury that takes a long time this one, and you have to work hard on a day-to-day basis to recover, but fortunately that's what I'm doing and so I hope to come back fit and well just as soon as I can.

"It's been going very well. As I said, it's a long recovery process for this injury and I think it's more about how you are psychologically in your head and trying to keep positive in order to be able to get back to full fitness as quickly as possible.

"You always think positively, I think that's the most important thing. In my case, I keep myself going by focusing on getting back as quickly as I can, and with the national team, the World Cup is another goal to help me with my recovery."
LFC Transfer Talk:
Transfer rumours are starting to repeat themselves – a sure sign that a new transfer window is about to open.
Midfielder Yohan Cabaye, 27 has opened the door for a move to Liverpool or Arsenal by saying he will assess his Newcastle United future in the summer (Daily Star).
Manchester United and Liverpool are preparing bids for £33m-rated Atletico Madrid midfielder Arda Turan, 26, in January (Daily Express).
But this is a new one: Luis Suarez has recommended fellow Uruguay striker Kevin Mendez, 17, to Liverpool (Daily Mirror).
According to French newspaper L'Equipe, it's Everton who could be about to sign French midfielder Yann M'Vila, 23, from Russian side Rubin Kazan, after speculation that it was Liverpool who were lined up for him after he was spotted at the Merseyside derby on Saturday in the Liverpool section of the crowd. He was there as a guest of his close friend Mamadou Sakho, apparently.
Other Football News:
According to the Guardian, Andre Villas-Boas is on the brink of losing his job as manager of Spurs after spending big in the summer but making an less than impressive start to the season.
Mike Phelan, 51, says he was effectively the manager of Manchester United during his and Sir Alex Ferguson's final five years together at Old Trafford (Daily Mail).
Today is the second anniversary of the death of Gary Speed. In the week when Jonathan Trott returned from the Ashes series in Australia suffering from 'stress-related illness', it's worth thinking about the other side of the seemingly pampered lifestyle of top sports people – the pressure to perform, the constant public scrutiny,  the long and regular separation from family and friends.
Articles Published Today:
Does Gerrard Get Preferential Treatment? – Symposium.
Best/Most Interesting Posts Today:
Some great writing and debate on the Symposium today. In the continuing debate over our midfield, Mike Taylor came out in support of Rodgers' decision to maximise use of Steven Gerrard:
The current EA Sports Player Performance Index rates him the 8th best player in the premier league this season, ahead of Ozil and Yaya Toure. We don't have any other midfielders in the top 35.

So it's all very well for people to call for him to be dropped because our midfield is not as solid as we'd like: it's a legitimate criticism. But what I want to know is, what's their plan for replacing Gerrard's attacking contribution? Who's going to create those goals? If we replace Gerrard with (say) Allen, we will get a more coherent midfield. But let's not fool ourselves that we're also going to get what Gerrard gives us. It's a trade-off. And on current form (and stats), Rodgers is calling it right.
Arjun aiyar on Sky Sports reports that Sami Hyypia has admitted he'd love to be Liverpool manager one day:
"Many people have asked me – 'Where would I want to manage?'

"There are two special places for me; I was at Liverpool for 10 years so that would be great.

"That doesn't mean it's a target – but it would be something special.

"And I come from Finland – and the Finnish national coach is the biggest job there. It's also not a target but it would be great."
Not for the first time, Martin Samuel has written something we don't necessarily agree with, in whichever Little Englander newspaper he writes for – posted by Ross:
STURRIDGE SCORES A SCOUSE OWN GOAL

Daniel Sturridge (below) says he has no regrets about playing for England against Germany, even though it cost him a starting place in the Merseyside derby.

Big mistake. One of the reasons many Liverpool fans never took to Michael Owen was the belief that he put his international career first.

They treat their football team like a republic up there. Any player who expresses a desire to represent England is suspected of disloyalty.

Meanwhile, Luis Suarez is free to return to Uruguay and slag off the club. Strange.
It drew this eloquent little rant from FirePhoenix23:
Do Liverpool fans believe that Liverpool is more important than England? Yes, of course we do, we're Liverpool fans, aren't we? Isn't it the same for every club? Isn't every club more important than the national team playing a meaningless friendly?

He's also completely incorrect. Many Liverpool players have expressed a desire to play for England, most recently the England Captain and possibly the most revered Liverpool legend of his generation. Do we suspect Gerrard of disloyalty?

And don't get me started on the Suarez comment! He's become the journalistic equivalent of the "This is Anfield" sign. Walk past the sign, must touch it. Talk about Liverpool, must kick Suarez.
Having triggered today's Symposium debate with his original question, 2yyiam explained his position over Gerrard:
Obviously he's the main man at the club, the man all the fans identify with (me included) and I'm not suggesting he should be left out for long periods. I just feel he needs to be managed more carefully so that he gets to be more effective more of the time when he's on the pitch.

Reading all the thoughts above, I agree with the majority about his importance to the club. I just feel he can be managed in a way that helps him and the club and gets the best form possible from him. It may be that he doesn't give the manager any choice. He demands to be picked everytime and to stay on the pitch for the full 90mins. If that's the case then I guess Rodgers hands are tied for now.

As a small point to conclude, his last goal from open play in the Premier League was against Man City in Feb I believe. Doesn't that say something about his effectiveness in the last third? And couldn't that be improved if he was managed more carefully?
Thundyr had this suggestion as to how best to use Gerrard:
Demand more from him and see if he responds.  It's the only way.  What if Rodgers went to Gerrard and said, 'You will play as an attacking midfielder on the weekend.  You will not track back, but conserve your energy for attacking play, including heavy pressing.  If I think you're getting too tired I will hook you so that we can keep fresh legs out there in that role for the full 90.  If I see you slacking off I will assume you are too tired to continue"? Can Gerrard honestly refuse?
Beez pointed out that "only Paul Lambert has made fewer subs than Rodgers this season, by just one, and no manager has used their subs for fewer minutes than Rodgers has (583 – 20.8 mins each on average)."