By Chris Rowland.
Welcome to today's daily digest for Subscribers, listing the day's Liverpool FC news and latest LFC transfer talk, other major PL news and also providing links to today's best posts on the site's debate section.
LFC News:
Lucas Leiva believes Luis Suarez's return to action has brought both world-class quality to the Reds' attack – and an injection of confidence to the whole Liverpool squad.
"He's just given us more confidence. The squad that we had without him was a good one, but with him back in it, we'll be even better. He's one of the best in the world."
However, former Reds striker John Aldridge is not so enthusiastic, and has urged his old club to ditch plans to offer Suarez a new contract. Aldridge says Suarez should not be rewarded for wanting to leave.
"Suarez was very keen to leave Liverpool in the summer and I have no doubt that he will look to get away once again," said Aldridge. "So why try and get him to commit to the club now, so soon after he did the dirty on them with his bid to join Arsenal?"
It's thought that despite Aldridge's comments, negotiations over the new deal could begin as early as next week.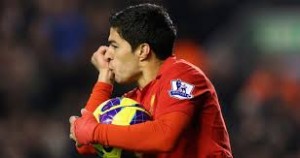 In the news again …
BBC Sport had a video called 'Inside Liverpool's youth set up', where "times are getting tougher for local youngsters with the influx of foreign players into the Premier League."
Sally Nugent spoke to Steven Gerrard, Brendan Rodgers, Frank McParland and Robbie Fowler to find out how the future looks for young footballing talent on Merseyside.

Last season, Liverpool players captained the England team at senior, under-21, under-19, and under-16 levels.
The official site has a video tribute to Stephen Packer available to watch for free online for the very first time on what would have been the youngster's 10th birthday. Stephen was a promising Liverpool U9 player, who sadly lost his brave battle with cancer in November 2012.
The U18s lost 2-4 at home to Fulham, Daniel Trickett-Smith and Harry Wilson getting the Reds goals.
LFC Transfer Talk:
Liverpool face competition from AC Milan as they pursue Paris St-Germain playmaker Javier Pastore, 24.
Brendan Rodgers is on the hunt for a new creative midfielder after missing out on Henrikh Mkhitaryan and Willian in the summer, and Pastore is believed to be one of his main targets for the January transfer window.
Other Football News:
Tottenham boss Andre Villas-Boas says the FA's decision not to ban Chelsea's Fernando Torres for scratching Jan Vertonghen's face is a "disgrace".
"Obviously, it is almost a farcical decision. It doesn't matter to me which player or club is involved. I think the FA has made a decision almost a joke. It looks incredible. I think the decision is a disgrace. I think the FA has lost all opportunity to put some sense into the images everybody saw."
Swansea manager Michael Laudrup is excited by the potential of Spanish playmaker Alejandro Pozuelo and claims the 22-year-old can make the same impact as Philippe Coutinho has at Liverpool.
Stoke City chairman Peter Coates has banned their players from talking about former manager Tony Pulis after claims that comments by striker Kenwyne Jones had provoked a dressing room row. The Trinidad and Tobago international described the ex-Potters' boss style as "sky football" and reports suggested other players were upset by that. Pulis left Stoke in May. Ah, so that's what sky football is.
Coates tells the Stoke Sentinel: "It is not fair on Tony to be rubbished, or for Mark Hughes to have the past talked about."
On US TV, Sir Alex Ferguson has said David Moyes is the right man for the Manchester United job. He said "the club is 'in good hands' with Moyes. He will be fine, he's a good manager."
Ferguson also ruled out returning to management. "I want to go to the Kentucky Derby and the US Masters, the Melbourne Cup. I want to visit vineyards in Tuscany and France."
TTT Time would like to see the state of his nose after the latter.
A cafe on the outskirts of Paris has created a £25 burger in homage to Paris St-Germain striker Zlatan Ibrahimovic. Jean-Phillipe Grandin, manager of Doddy's Cafe, has created 'Le Zlatan' burger, which apparently has the 'power and strength' of the 31-year-old Swedish forward.
Surely we could do something similar here? How about the Wayne Rooney baked potato? A pack of Suarez Bites?
Articles Published Today:
What's Our Best Central Defence Combination? – TTT Symposium
Best/Most Interesting Posts Today:
John Aldridge's comments on Suarez today (see above) caused a few reactions. Chardo34 took against Aldo:
Sorry John, but taking this stance in the dog-eat-dog world of modern football is hardly going to bring us success is it? Do you really think we should prioritise soothing your moral outrage while other clubs make decisions that see them increase the gap in wealth, which seems to be the main determining factor in success?

And if you believe you can have your cake and eat it, I've got two words for you – MacManaman and Owen!
But Garythespud was on Aldo's side:
 Luis had his raise last year, so he shouldn't get another. Mooting to leave in various rags should not be a suggestion to your club to up your bank balance.
There you go. In the immortal words of John Lydon, 'two sides to every story.'
Which brings us t the debate on the 'Tis The Season To Be Crazy' thread, sparked by last night's comment by Joseph Cousins that Brendan Rodgers is basically 'winging it' and that "the great goal scoring form of Suarez and Sturridge along with some wonderful shot stopping from Mignolet is papering over some serious cracks." He wondered "if someone could tell me how we've achieved our results through tactical design."
There was plenty of response to that as might be expected, mostly critical but with some support. Beez asked:
Joseph, can you explain how we've winged it to 69 points over the equivalent of a full season? I understand that we've probably won a few games we didn't deserve (but then which teams don't), and maybe Rodgers is a complete chancer for all I know, but I just can't fathom how a team can fluke it's way to a decent points tally over such an extended period – to my mind it doesn't seem possible.
Mountainsti made the point that if we've been lucky so far this season then we're due some after recent seasons:
A couple of seasons ago, we were playing great football, battering everyone and hitting the woodwork so often I thought our strikers had turned into lumberjacks. Although extremely frustrating I was convinced it would even itself out and we'd start getting the results our performances warranted.

Is it too much to suggest that our luck is finally balancing itself out this season? If so, then we're due a great big fucking helping with raspberry sauce hundreds and thousands crushed nuts a wafer, flake and a chewy at the bottom of the cone even if it ain't a screwball..

Can't wait to tuck into that one, even if the ice cream don't taste that great.
And Duck328, in a well recommended post, came over a touch philosophical:
So here's a thought – how about being happy about where we are and the clear progress we have made over the last year since Brendan Rodgers came on board, instead of living in a constant state of anxiety and perplexity, believing we can't be happy until some future imagined event comes to pass?

Happiness is not at the end of the road, happiness is the road…
Dan Kennett entered the debate, saying "IMO, like any manager, he will be judged primarily on whether he got the most out of the resources that were available to him."
On the pitch we went from a possession-based 433 to a largely counter-attacking 4231, almost overnight! [In January 2013].  This season we've continued with the counter-attacking and have now switched to 352.  What if he [Rodgers] realised fairly early on that the results weren't good enough and he didn't have the personnel to implement a possession-based 433?  If he then acknowledges his own shortcomings (a mature quality in any manager) and changes his plan to something more effective then isn't this the most important thing?
SW4Cougarrr came out in support of Joseph Cousins:
Whilst its nice to be sitting 2nd in the table – we are only 6 games in, and have yet to put in a convincing performance in a full game. I do think our position is flattering us, and I am waiting to see some dramatic improvements because BR has yet to convince me otherwise.
And so did Garythespud:
I think it's fair to say I don't always agree with Joseph due to the Glass Half Full Theory, however, I do agree with him on this one. I don't think that our points tally in any way correlates with our performances as they've been uniformly dreadful and we've been bloody lucky.

I just can't see a consistent thread to any of them (games) other than we've been fortuitous. …. I would like to see a game where we control the proceedings. Then I'd like to see another. Then another. And then I'd be convinced we're onwards and upwards with a bloody good chance for 4th or above.
Back across the table went the ping pong ball, with Cianos:
I don't think that's fair at all Gary. By my reckoning there was only one performance I would class as dreadful, that being Southampton obviously enough.

At the moment, in general, we seem to be scoring when we are on top and not conceding when we aren't which is surely what we are aiming for. If we can keep those two qualities and slowly add more time being on top in games we'll go a long way.
and with drzshen:
For me, I just feel that BR is not getting enough credit for what he is doing. What I see from him is a real good man manager with great emphasis on building a close knit team. After all, football is a team game. You can have great individuals but a divided dressing room with low morale and I think the best tactics may not be enough to get you results.
Finally onto other issues, and Arnar Steinsson posted the story from the Liverpool Echo that Robbie Fowler, Steve McManaman and Rob Jones are going to be "assisting head coaches Alex Inglethorpe and Neil Critchley by providing specialist sessions in their particular area of expertise". Brendan Rodgers said:
"Steve McManaman is working with the wingers and attacking players, Rob Jones is doing some work with the full-backs and defenders, and Robbie Fowler is obviously working with the strikers.

"They are giving them little pointers and passing on experiences from their own careers to help the youngsters. What we are doing is providing an opportunity for the former players.
Rafa – no not that one –  had an interesting view on tactics and selection:
In simple terms I see players like ingredients and tactics like a recipe. With an amazing recipe and average ingredients you can create something bigger than the sum of its parts.

On the other hand, you can have amazing ingredients but an awful or no recipe, and the results could be bad….
Maradoo had some interesting things to say about what qualities a modern central midfielder should possess:
All of the other top sides now possess central midfielders that:

Have technique

Have powerful engines and/or pace

Have passing strength

Have physical strength

In order to attack with proper gusto in modern football, you need 6-7 forwards to overwhelm defensive systems – with Gerrard and Lucas (and Agger), you'd only ever have 4-5. Not enough, I am afraid, and a primary reason why we are battling to control proceedings properly at moment.

The reason we'd have only 4-5 is because Gerrard is too scared to launch forward as he cannot recover like he used to, and Lucas's remit seems to be to stay almost exclusively deep, like a slightly higher centre back.

It's causing issues as we are doing most of our playing just outside of our final third.