By Chris Rowland.
It may be difficult for younger TTT subscribers (ie nearly all of them!) to appreciate how important a part Roger Hunt played in Liverpool FC's modern history, and just how many goals he scored for us.
It's a story that started with the arrival of the Huddersfield Town manager and ex-Reds player Bill Shankly on December 1st 1959. Shanks came to a  Divison 2 club with derelict training facilities and a bleak outlook. If we were a sleeping giant, we'd taken an overdose of sedatives before turning in for the night. Amidst the ruins, Shankly had a vision. A vision to take Liverpool back right to the top and make them 'a bastion of invincibility.'
High amongst the list of footballers who were instrumental in delivering that vision and establishing a new dynasty was Roger Hunt. Along with young local boys Tommy Smith, Ian Callaghan and Chris Lawler, and Scots Ian St John and Ron Yeats, Hunt was one of the mainstays of the team that took the club to glory, and was certainly its cutting edge.
In the 1961/2 promotion season, Hunt scored no fewer than 41 goals in 41 League matches, including five hat-tricks. Five! Two years later, Liverpool became league champions, then the following season won the FA Cup for the first time in the club's history against Leeds in 1965, when Hunt's stooping header broke the deadlock early in extra-time before St John scored the winner. We then won the league again the season after, becoming the main challengers to Man Utd's glamour team of Best, Law, Charlton – and Nobby Stiles. And all the way through, Hunt was the main man for goals, top scorer eight years in a row, from 1962-1969. His partnership with Ian St John has since passed into Liverpool football folklore – the first formidable strike partnership in Liverpool's modern history. You can barely say one without attaching the other's name  It would later be rivalled by Keegan and Toshack, Dalglish and Rush, and Beardsley and Aldridge (Fowler and Owen were sort of let down by their respective partners, Collymore and Heskey!).
Roger Hunt was the only red in the England starting side in the 1966 World Cup Final – it was him who can be seen turning away, arms aloft, after Geoff Hurst's shot bounced down off the bar for that still-controversial third England goal. Even back then, controversy and resentment surrounded a Liverpool player – Hunt's selection was widely criticised by some fans and especially the London-centric press, who preferred the flamboyant Jimmy Greaves of Spurs, whose place Hunt was seen as taking. But the pragmatic manager Sir Alf Ramsey valued Hunt's workmanlike style in the wingerless 4-4-2 system he was operating. As the official site's Hall of Fame says,
"The exploits of hat-trick hero Geoff Hurst mean he's sadly overlooked when a dewy-eyed nation reminisces about '66, and it's easy to forget he was regarded as one of Alf Ramsey's key men going into the tournament."
Hunt played in all six games of the 1966 World Cup, scoring three goals, and was on the losing side only twice in 34 internationals. England World Cup captain Sir Bobby Moore knew all about his qualities:
"Roger Hunt is a player's player. He is possibly appreciated more by those who play with him and against him than by those who watch him."
To give an idea of just how many goals Hunt scored for us, he was the club's all-time record goalscorer until Ian Rush came along, and remains the Reds highest scorer in the league with 245. Hunt's goalscoring stats bear a closer look; 286 in 492 games – more than a goal every other game, over ten years.
Little wonder The Kop awarded him an honorary knighthood – Sir Roger's perch in the Anfield pantheon is a lofty one indeed. Hunt was actually awarded an MBE in 2000.
Sir Roger also scored the first Liverpool goal I ever saw live, in the first match I ever saw – 1-0 v Wolves at Anfield, April 5th 1969.
The Cheshire-born striker was signed from Stockton Heath in the Mid-Cheshire league in July 1958, and made his Reds' debut against Scunthorpe at Anfield in September 1959. He scored, of course.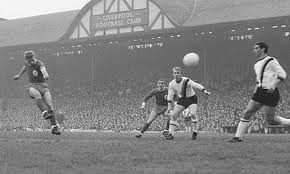 Hunt playing against Inter Milan in the European Cup semi final 1st leg, 1964-5. He scored after 4 minutes.
Hunt was quick, strong, skilful and possessed a rocket of a shot. More importantly he never gave up and worked his socks off for the team. Like Keegan after him, what he lacked in natural ability he made up for in extra effort.
"I knew perfectly well that I wasn't an out-and-out natural, the sort who can make a ball talk, so it was down to me to compensate for it in other ways," said Hunt. "I made up my mind that if I didn't succeed at Anfield it wouldn't be for the lack of determination. From the first day I threw myself into training, ran and tackled for everything and practised my ball skills at every opportunity."

"We knew that all other things being equal, like skill, tactics and run of the ball, it was fitness that would count in the end. So we kept at 100% at all times, and it paid us. We have found that there is more satisfaction in a good win than there is in a pint or a cigarette packet."
Despite his scoring prowess he could not please all people, as Tommy Smith remembers:
"We used to call him 'Over-the-bar Hunt'. Everyone used to get mail, praising you, calling you names or simply asking for an autograph. Roger used to get a letter on a regular basis from a lad, who clearly didn't like him. It always used to start. 'Dear Over-the-bar-Hunt. I see you missed another couple of sitters on Saturday."
His last appearance for Liverpool was in December 1969, as Shanks began to overhaul his all-conquering but ageing team and fashion the next dynasty. Out went Hunt, St John, Lawrence and co, in came Keegan, Toshack and Heighway, Neal, Lloyd and Clemence. Late in 1969 Hunt signed for Bolton Wanderers. At his well-deserved testimonial, the Anfield gates were locked hours before kick-off. An astonishing gate of 56,000 was the official figure, with many thousands more locked outside.
The famous Kop chant of the time – 'Sir Roger Hunt – is wonderful!' bounced around Anfield one last time.
(Thanks to the official site and lfc.history for the research).
http://www.lfchistory.net/Players/Player/Profile/326
http://www.liverpoolfc.com/history/past-players/roger-hunt