By Chris Rowland.
My umbilical cord connection to Liverpool FC, and through it the city, may have started on April 5th 1969.
Speaking of umbilical cords (conceivably [!] the first time that phrase has ever opened a paragraph), it didn't come from my parents. They were from Lichfield, Staffordshire.
It didn't come from my birthplace. That was Hong Kong.
It didn't come from residence. I've lived in the South, the Midlands, now the North, but never Liverpool (that's what happens when your dad was in the Royal Navy. You kept moving.)
I do have one tenuous link with the city of Liverpool though. When we first came back from Hong Kong, the ship was meant to dock at Southampton but got re-routed due to fog in the Channel. To guess where? Liverpool docks were the first English soil my 2 1/2 year old toes stood on. Hardly makes me a scouser, but some connection nevertheless. (On the basis of ending up supporting the docks you arrived at, I should have been a Southampton fan. I'm forever grateful for Channel fog.)
Fast forward a few years and there I sit, listening to the football results being read out at Saturday tea time and looking forward to my Saturday treat – being allowed to stay up 'late' for Match of the Day. I toss the words around my head, fascinated by their magic. Sunderland, West Bromwich Albion, Aston Villa, Burnley, Preston North End, Bolton Wanderers, Sheffield Wednesday, Hartlepool United. Even Kilmarnock and Dunfermline Athletic. And where on Earth were West Ham United and Queen's Park Rangers?
But one name always stood out. I could even pick the word out of a whole page of newspaper print in the first second of looking at it – there, 4th column, 3rd paragraph down, second line! The word itself fascinated me. It had a rhythm, a balance, a cadence. Liverpool. Why?
When the 1965 FA Cup Final came around, the one everyone looked up to at school – there was always one (this one was Neil Johnson, a Stoke City fan) – went round the playground with a piece of paper and pencil asking people who they wanted to win, Liverpool or Leeds. I already knew. Liverpool won that, just as they did the Cup Final itself. Somehow, I knew I was now a Liverpool supporter. Here was a connection, a meaningfulness that no other team's results had, no other team had. They were mine. I didn't question it. You don't when you're eight. Later I got to thinking that, unlike your nationality which is an accident of birth, your club is more of a choice and therefore more intensely personal to you.
We – because by then it was 'we' – won the FA Cup, for the first time in our history apparently. That got us into the European Cup Winners Cup, and we reached our first ever European Final,  against Borussia Dortmund at Hampden Park in the 1966 Final. I was so desolate when we lost to a late freak goal, straight from a corner, that I smashed a vase of my mum's. I got a lengthy ban from watching Match of the Day. And a slapped leg. And the threat of the nuclear deterrent if I ever, ever did anything like that again – bringing my dad in. That winner was nearly as freakish as another goal that cost us a Cup Final, the FA Cup against Utd 11 years later, the goal that deprived us of a League/European Cup/FA Cup treble. Let it go my arse!
In the 1968/9 season, having been top from December 1968 through till early February, Liverpool were second behind Leeds (that's how it stayed) by the time we came to play (we didn't 'come not to' in those days!) the exotically named Wolverhampton Wanderers at Anfield on 5th April.
Quite a few of the kids at school supported Wolves, so there was a bit riding on it. But having beaten them 6-0 at Molineux in September – with Roger Hunt, Alun Evans (signed from Wolves) and Peter Thompson all scoring two each – I was sure we would win. We were expected to. Wolves were in the lower reaches of the table, eventually finishing 16th.
But for a 12 year old boy who barely slept the night before, this unremarkable home game was one of the most exciting times of his life. He was going to be making his Anfield debut.
In those days you could book travel on coaches from Lichfield to all Villa, Wolves and Albion games, home and away. You just went to a local newsagent to book it – you didn't need a match ticket then (other than the Everton game), you just turned up and paid at the gate – if you got there early enough.
Me and dad booked on the Wolves coach to Anfield. On the journey up I was barely even aware I was on an opposition supporters' coach. I just stared wide-eyed out of the coach window at the landmarks which would become so familiar over the years but which seemed so exotic and foreign back then – the M6, the motorway service stations –Keele, Sandbach, Knutsford – the Manchester Ship Canal, the sign that said 'Liverpool 30 miles'. As we got nearer I was so excited I could have burst.
Then, finally, the ground itself. I knew The Kop was our end, but it seemed a bit intimidating back then, it felt a bit like it should be the preserve of the locals, before it became my spiritual home from about 1972 onwards. It was full anyway. Turnstiles locked. Instead we went in the Anfield Road end, and went right to the front. It was just one single terrace then, no seats or sections, and unsegregated. If you wanted a fight with away fans, you just paid at the door of the Annie and stood near them, or even amongst them. There was the odd skirmish behind me but nothing too serious. Dad was pretty handy anyway, so I felt safe!
The attendance is recorded as 45,399 – about 2,000 short of our home league average of 47,354 that season. But it was basically me, dad and 45, 397 others. Dad didn't even support Liverpool. Or anybody. He wasn't that bothered about football.
Shanks's side that day was:
Lawrence
Lawler Yeats Smith Byrne
Strong
St.John
Callaghan Hunt Evans Peter Thompson
They lined up in a sort of 4-1-1-4. Very attacking, very open. Geoff Strong was a sort of defensive midfielder/utility man, filling in for the injured Emlyn Hughes, but even he liked to get forward and scored the odd goal. Ian Callaghan back then was an out-and-out right winger, albeit of the hardworking covering back variety. Roger Hunt, Alun Evans and Ian St John were all strikers, with St John playing slightly deeper. Peter Thompson was a left flank touchline hugger of a winger who was equally at home on the outside or jinking inside.  Plenty of firepower there, if not much balance.
Wolves' star was Northern Irishman Derek Dougan – The Doog. Managed by Bill McGarry, they also had Peter Knowles, a very talented inside forward, as they used to be known, who later gave up football to become a Jehovah's Witness. He was the brother of Spurs' left back Cyril Knowles.
I can't recall too much about the game. I remember Roger Hunt scoring a typical Roger Hunt goal after 20 minutes, right in front of us. I remember a save by the Flying Pig, a diving Tommy Lawrence, late in the game, to keep us ahead, right in front of us. I remember us winning 1-0 to stay second.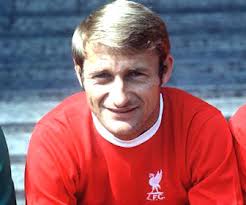 But all my memories were of the occasion, of being there, the match itself secondary. The distinctive old Main Stand with the club name  feature. The strangely named thing they called The Kop opposite, where all the noise and colour came from, which swayed and surged rhythmically like some giant underwater plant moving with the tide. The unfamiliar, harsh yet oddly exotic and compelling scouse accents. Above all, the sense of communion. I'd found my religion, and my church.
When I got home I think I may have gushed a bit, telling mum about the M6 and the names of the service stations and the Manchester Ship Canal and The Kop and the enamel liver bird lapel badge dad bought me (still got it!) and what Wolves fans were singing on the coach (or some of it) and … I was hooked.
Looking back, I was already hooked before I went. My first trip to Anfield just cemented it. I'd no idea the depth that relationship would go on to achieve, where it would take me, not just physically (though that would include Rome, Paris, Istanbul and Athens as well as Barnsley, Coventry, Luton, Aberdeen and various bits of London including countless trips to Wembley), but emotionally. The unparalleled success I would witness over the next 20 years, the joy and triumph it would bring, and the misery of defeat and failure, and the different but uniquely harrowing experiences of Heysel and Hillsborough. It all began that day.
Footnote: It very nearly wasn't my first time. I very nearly went to a match before that. At The Hawthorns on March 30th 1968. An FA Cup quarter final. We drew 0-0. Then 1-1 at Anfield in the replay. Then we lost the 2nd replay 2-1 at Maine Road. Albion went on to win the cup, beating Everton in the final with that Jeff Astle strike.
But the coach was booked up.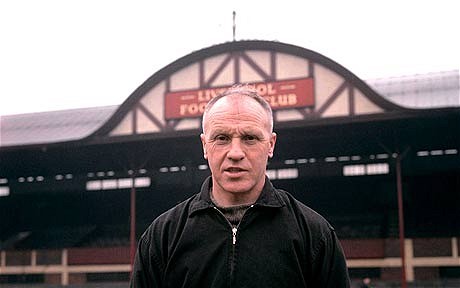 Shanks in front of that distinctive old Main Stand