Pre-match stats
These two sides mustered 16 shots on target between them in the reverse fixture which ended as a 1-1 draw.
Only Wolves (6) have picked up fewer points than Liverpool (12) in 2012.
Liverpool have only won three of their last 15 Premier League matches, losing nine in that run.
Norwich have won just two of their last 10 Premier League games and have gone 11 without a shutout.
Liverpool have won their last two visits to Carrow Road by a 2-1 scoreline.
The Reds have converted just nine per cent of shots into goals, a lower proportion than any other side in the top flight.
Liverpool have now hit the woodwork on 30 occasions this season, more than any other team, while only Bolton (6) have the struck the uprights fewer times than Norwich (7).
Norwich have scored the joint-most headed goals in the Premier League (15).
The Canaries have conceded just 18% of their goals from set pieces, the lowest proportion in the Premier League.
Liverpool have allowed their opponents just 120 shots on target, fewer than any other team this season.
Starting XI and overall shape
Following the loss against Blackburn in their previous match, Lambert made four personnel changes and changed formation from 4-4-2 to 4-4-1-1. Vaughan and Hoolahan made way for Johnson and Fox to feature in the midfield, pushing Howson in the hole behind the lone striker Morison. On the flanks, Surman was replaced by Pilkington on the left wing, while Naughton replaced Martin at right back.
Dalglish reverted to the 4-2-3-1 formation that the team has predominantly been using in the past couple of months, making even more personnel changes – five. In defence Skrtel was rotated with Carragher, while Spearing made way for Shelvey. Following certain problems I outlined in the match against WBA, it was no so big surprise to see both Maxi and Kuyt benched, with Downing and Bellamy taking their places as inverted wingers. Last game it was Gerrard rested due to precaution, now it was Carroll left out of the squad for very same reason, making way for the captain to feature.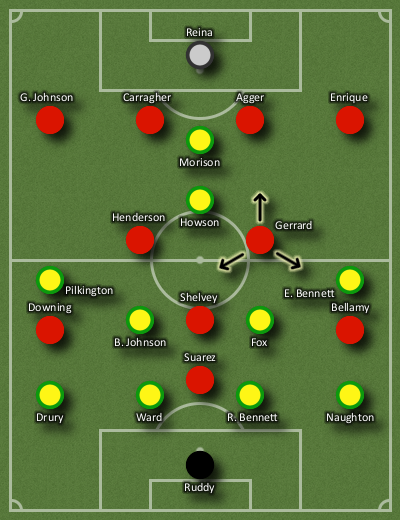 Norwich were poor
In the preview for the match I noted that Norwich are one of the most tactically flexible sides in the league this year. But surprisingly they were really poor, tactically and technically.
As expected their main attacking approach was to hit direct passes down the flanks and the outside channels, then hitting crosses into the box. But they failed to do so with the best possible effect due to two main reasons. First Liverpool's full backs were sitting relatively deeper, rarely being too adventurous in the opening twenty or so minutes. As a result Norwich's wingers rarely managed to receive the ball in good attacking positions and even more rarely succeeded in creating decent attacking opportunities (statistically they didn't create any chances and didn't have a single shot at Liverpool's goal in the whole first half). The second reason was that in the box there was only Morison as a potential receiver of these crosses, and logically he was easily marked out by Agger and Carragher.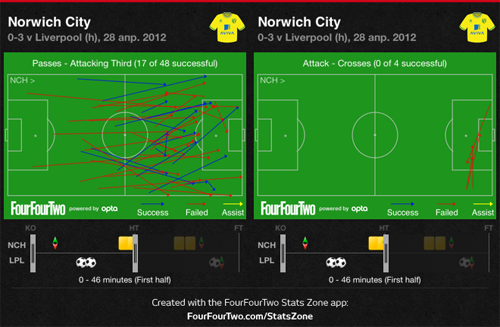 However the bigger problem was that Norwich were as a whole really static and rigid in terms of overall movement and attacking behaviour. Playing in a 4-4-1-1 formation, it was logical for them to defend with two banks of four, sitting deep and preventing the opposition having space and time in their half, especially with Liverpool actually playing with a 4-2-3-1 formation, which meant the risk of opening too many gaps through the channels and between the lines was great if Norwich dared to fiercely press and push their defensive line higher up the pitch.
Only subscribers can access the rest of Mihail's tactical review and conclusions
[ttt-subscribe-article]