Starting XIs and overall shapes
In the light of the forthcoming FA Cup Final, not unexpectedly Dalglish made wholesale changes to his starting team. There were nine new faces following the previous league match, with only Shelvey and Henderson keeping their places. But the formation was the same – once again, as so often this year, the team started with 4-2-3-1.
On the other side, Billy McKinlay, currently in charge of Fulham as Jol has been hospitalised due to health problems, only made a few changes within his team's preferred 4-2-3-1 framework, with Kelly starting at right back, pushing Hughes centrally in place of Senderson, while Murhpy was reinstalled in the starting team in place of Diarra, while former Liverpool winger Kacaniklic starting on the left in place of Frei.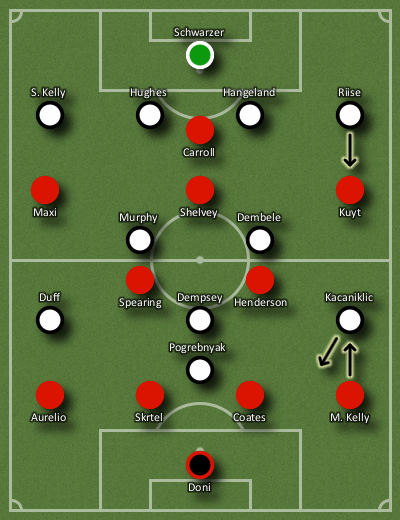 Fulham penetrating early on
Given that both teams started with similar formations, it was logical to expect the difference to come from how the players were tasked to perform tactically. But more or less both teams had similar tactical outlooks, so the actual difference came from the very basic difference between the players – Fulham's attacking players were faster than Liverpool's, and right from the start of the match Fulham were the team adapting faster and better to the actual match context.
The rest of this post is for subscribers only
[ttt-subscribe-article]