Don't want ads ? Subscribe to remove them. Only £5 a month.
Liverpool face Fulham in their penultimate fixture at Anfield and it will be interesting to see who Dalglish includes in the side with the not-so-small matter of the FA Cup final against Chelsea taking place just four days after we host Martin Jol's team.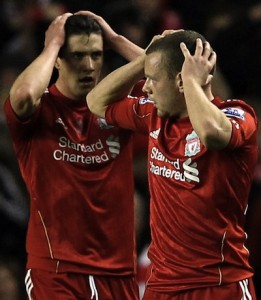 The Cottagers secured a 1-0 victory at Craven Cottage in December, thanks to a late Clint Dempsey strike after Jay Spearing was controversially sent off despite clearly winning the ball. As a result, Liverpool will be hoping to prevent Fulham from claiming their first league double – and first ever win at Anfield – as well as ensuring we head into the FA Cup final in a positive frame of mind, building on the emphatic victory over Norwich City in the process.
The rest of this post including statistics, league form and team news is for subscribers only.
The rest of this article and the comments are for subscribers only
"The most intelligent guide to LFC around"
(Independent on Sunday)
Subscribers get access to the entire site, including hundreds of exclusive subscriber-only articles, free e-books and forums
Subscriptions cost only £5.00 per month or £55 a year.