That's right: Roy Hodgson was not the worst modern LFC manager. (No, this is not an April fools' joke.)
To my mind, that unenviable honour still belongs to Graeme Souness. But just as Hodgson's acolytes stress that he wasn't given time to get things right, to my mind the Londoner arguably only sits above Souness because he wasn't given the time to get more wrong.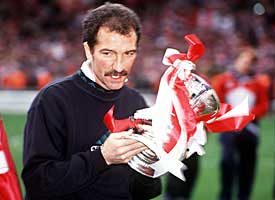 Even Souness betters Hodgson in some regards: he won a trophy (but of course, had more time to do so), and his poor league win percentage of 41% eclipses Hodgson's woeful 35%. And Souness at least won a few away games, even if one season the total was as low as three (still better, pro rata, than Roy's from his 10 on the road).
But the Scot had almost three years to make all his mistakes. It's actually quite impressive that Hodgson got so much wrong in such a short space of time – but he still didn't do the damage the former captain brought to bear on the club.
As with almost every failed manager, there are always extenuating circumstances that contributed to things going wrong. Souness inherited a side aging in the aftermath of Hillsborough, while Hodgson took charge of a club being crippled by debt.
But Souness took also took charge of the reigning champions, who were still top of the league, and who, in his first full season, oversaw a fall to 6th, and then 8th. Hodgson took charge of a team on the decline, but rather than arrest it from a point that was already seen as unacceptable, he hastened the fall, from 7th the previous year, to 12th by the time he left.
Hodgson might choose to blame the quality of the collection that he inherited, but he was responsible for purchasing a quarter of the squad he took into battle: a fairly hefty amount for one transfer window.
While he had no say in the exits of Yossi Benayoun and Javier Mascherano – two important players – he did play a role in ousting Emiliano Insua and Alberto Aquilani, and was looking for buyers for Lucas Leiva (last summer, at least) and the ostracised Daniel Agger (in the winter). Hodgson admitted listening to Christian Purslow's advice on the football side of things, and that in itself was a mistake.
All managers make gaffes in the transfer market; my guesstimate is that getting 50% spot-in is pretty good going. And of course, perceptions of success and failures change with time. But on the evidence so far, Hodgson didn't even get 20% right.
Of his six signings, only Raul Meireles has hit the right notes. Joe Cole and Fabio Aurelio were free transfers, and while gifted individuals, they came with proven injury records; wages were paid often in order to sit games out. Christian Poulsen has proved fairly disastrous, although at times he looked okay in the slower Europa League games. And both Paul Konchesky and Brad Jones have been loaned to the Championship, as 20-year-olds already at the club when the manager pitched up (Martin Kelly and Péter Gulácsi) usurped them in the match-day squad.
In terms of transfer fees, Hodgson indeed attained his 50% success mark: Meireles takes up roughly half of the total he spent. But the wages of the other five are the real outlay here.
It does show how difficult it is to pick up bargains (Benítez also left a 'free' dud in Jovanovic), but just as Souness had in 1991, Hodgson tried to do too much too soon – and got too much wrong. Unlike Maxi Rodriguez, for example, Joe Cole has failed to justify his wages after a Bosman move.
Hodgson felt he was a canny wheeler and dealer – and claimed he would succeed because he didn't need big funds. He could work with what he inherited. But his dealings weakened the squad. As I noted in the summer, it's easier to rescue someone like Damien Duff's career in the low-pressure environment of Fulham, but how many fading stars succeed at big clubs, when they're actually put under more scrutiny?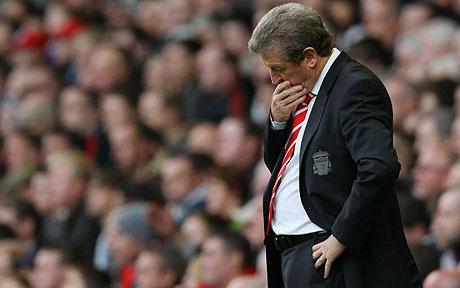 And in keeping with the theme of my 'Steven Gerrard is Melting' article, too many of the blocks of ice Hodgson purchased (average age of 30) were well on their way to being mere puddles of water.
To compound all this, when he chose his teams, the style of play was dictated by choosing limited footballers in three of the back four positions; contrast this with how Dalglish instantly put Agger into the side ahead of the committed but technically limited Kyrgiakos, and opted for Aurelio ahead of Konchesky. It was a negative approach backed up by a negative goal difference.
By opting for 'stoppers' at the back, Liverpool actually barely kept a clean sheet; once Dalglish returned to Benítez's philosophy of deploying footballing defenders, the clean sheets returned. Coincidence? Liverpool kept the ball better, and therefore the opposition were less of a threat.
In his fortune, Hodgson did have Gerrard and Torres to pair together far more often than his predecessor, but their productivity suffered heavily. So while the manager had some misfortune (losing Mascherano, for instance), he failed to make the most of the good luck that came his way.
So, in his short time, Hodgson got an incredible amount wrong. His press conferences were excruciating, his attitude sounded defeatist (as he lowered expectations to basement levels), results were generally poor, and the brand of football was almost unwatchable. Rather than look like improving, things were quickly deteriorating. And when the chemistry is wrong, and the manager is out of place, more time is not going to solve the problems.
But unlike Souness, Hodgson only got to make one big signing. So while he messed up – and failing to understand the club, its fans and the tradition is not about money; and nor, in many respects, is the style of play – he did so on a fairly limited budget. Souness, meanwhile, crippled the club by spending an absolute fortune on expensive misfits.
Using inflation devised for Pay As You Play, the true horror of Souness' dealings can be seen. Based on 2010 prices (2011 prices will be available soon), the Scot spent £127m on 13 players. That's £9.1m per player.
Here's the sorry list, in 2010 prices:
Stewart P £15,309,274
Ruddock N £14,926,735
Wright M £14,643,654
Thomas M £9,984,309
Clough N £13,583,329
Walters M £8,320,258
Saunders D £19,302,998
Piechnik T £3,328,103
Bjornebye S £3,328,103
James D £6,656,206
Dicks J £11,941,388
Jones L, £1,996,862
Kozma I, £1,996,862
Jones R (I), £1,996,862
Total: £127,314,943
The true crime is that only £33m of that money, in 2010 prices, was recouped.
Rob Jones was an absolute bargain whose career was curtailed by injury; Mark Wright had some good seasons amid the bad; and for a year or two, Stig Bjornebye's crosses were put with laser precision onto Robbie Fowler's head (before his gauge was re-set to row 27 of the Kop). Michael Thomas was solid enough, and David James could be brilliant as often as he was bonkers. Some think Neil Ruddock wasn't too bad, but many others recall the weight issues and drinking games.
But overall, a pretty ropey collection. The shock is that almost £100m of the £127m spent went down the drain – and that's before considering the wages paid to ghost men like Paul Stewart and Nigel Clough, who went on to spend years on the books without getting a game. At a time when Alex Ferguson and Kenny Dalglish were buying future title-winning players at United and Blackburn, Souness was filling the Liverpool squad with dross, or players who lost their way as soon as they donned the red shirt.
These days, £127m would represent around half the cost of a top Premier League squad. But, even though we've allowed for inflation, back then fewer players were required. So in 1992/93, for instance, the average cost of the top four squads was just £78m. It's not until 1999/00 that the average cost of a top four squad (in 2010 money) overtakes Souness' spending between 1991 and 1994.
Whereas Liverpool FC has already managed to recoup almost the entire transfer outlay of Rafa Benítez, due to many of his players leaving for profit (Alonso, Sissoko, Crouch, Carson, Arbeloa, Bellamy, Mascherano, Benayoun, and most recently, Torres; with those remaining at the club worth in excess of £100m), Souness lost roughly two-thirds of the money he spent. Not one single signing made a profit, and only Rob Jones saw his value increase while at the club.
So Roy Hodgson still had a way to go to equal such awful spending; spending that Liverpool never really recovered from, as other clubs grew more wealthy.
Also, Hodgson may have failed to understand Liverpool fans, and what they expect; and indeed, gone so far as to even insult them. But he never did anything as crass and insensitive as selling his story to a certain reviled newspaper on the anniversary of the Hillsborough disaster. Souness later admitted the stupidity of the act, but even though recovering from open heart surgery in 1992, it's hard to know what he was thinking.
As for Roy – my hunch is that, as tends to happen in football (aka Sod's Law), he'll get what is deemed the last laugh by a victory this weekend.
But if so, let him have it; we got our victory in January, and I'll gladly have traded that for one defeat later on.
As a club we've come a long way since his departure, and already Dalglish has made a lie of the excuses peddled in Hodgson's honour about a mid-table squad. Hodgson may well do a great job at West Brom – just as he did at Fulham – but he was never suited to a club with the pressures and expectations of Liverpool.