Apparently I'm a hypocrite, because I had faith in Rafa Benítez, but struggle to find it with Roy Hodgson. So, what is different from previous seasons? And am I wrong to have a different attitude to the respective managers?
Believe me, I'd rather be talking about a new, successful Liverpool manager, but everywhere I turn I hear Benítez's name being assigned to the rapid decline of the club, and Roy being excused his own shortcomings.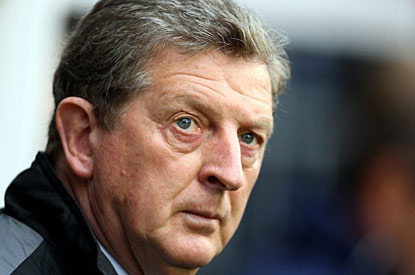 I wrote this piece in reply to all those who continue to blame Rafa for the financial woes, including a leveraged-buyout chancer. But Tom Hicks isn't the only one blaming Rafa.
The other week Clive Tyldsley said that Liverpool didn't even really win either of the trophies Rafa is credited with, because both games were only drawn after extra-time. Ergo, Rafa wasn't that good after all. (I'm looking forward to seeing the United-supporting Tyldsley tell Ferguson that his second European Cup is null and void.)
Howard Wilkinson recently said that Torres was burnt out by Benítez: "He was always playing, Benitez just wouldn't leave him out."
(Yes, Howard – that's why there was never uproar on those occasions when he did rest him, or the many occasions where he'd take him off after 70 minutes to protect his muscles, or the occasions he was only a sub when returning from injury; and also ignoring that most of the injuries tended to occur on international duty, too. I really must get a toke on Wilko's crack pipe.)
Harry Redknapp came out in sympathy for Gillett and Hicks, wondering what they'd done wrong. (Thankfully, David Prentice at the Echo answered that one.) No offence Harry, but why not talk about the clubs you left that subsequently went into administration?
Add to these countless TV and newspaper opinions blurting out, one after another, that "it's all Rafa's fault", like squealing schoolchildren trying to pin the blame on anyone who might be a sucker for a caning. Blame the foreign kid. It's what bullies do.
While Rafa took some deserved criticism at times last season, I felt he'd copped his fair share (if not more), and that it would end when he was dismissed from his duties.
But no, it seems he has to cop for the shortcomings of Roy Hodgson too, and more alarmingly, the horrendous mismanagement of the club higher up. Every last thing has been blamed on the Spaniard. I came to accept that the time was probably right for Rafa to move on, given the politics at the club, but I was never convinced that Roy Hodgson was the man to replace him.
It's not about wanting Rafa back, but moving on in the right way, not the wrong way.
Hypocrisy
The reaction to this recent piece was interesting to note. Roughly a third thought it was bang-on the money; a further third thought I had gone too easy on Roy, and that he was a waste of space who had to go; while the remaining third were up outraged at my 'hypocrisy' – up in arms like Mary Whitehouse rewinding and re-watching a Peter North video, just to get annoyed all over again.
This is the lot of the football writer. Sometimes I can say something on Twitter and get abuse from people who think I only say blindly positive things, and replies from those who call me a hypocrite for treating Roy 100% differently to Rafa – all in reply to the same original comment.
Perhaps I am a hypocrite; we all inadvertently contradict ourselves from time to time.
It seems that those who spend their time ranting about what I say have got their knickers in a twist because I haven't defended Roy to the extent I defended Rafa. Well, aside from one or two changes of opinion (which we are allowed to have, so long as we don't change back and forth on a whim), there are some valid reasons for this.
First, people compare my current blogging to my work I used to produce for the official Liverpool site. People who can't distinguish between the difference required in approach and tone are not intelligent enough to debate with.
(I recall with great humour one angry person saying something last year, along the lines of "if Rafa was replaced by Guus Hiddink, that Tomkins would be saying that the new man's a world-class manager and defending him to the hilt". I remember laughing, thinking that of course I'd defend a world-class manager! If the person had said Steve Bruce, I would have taken exception. In many ways, he proved my point. You defend those who are the best around, and have concerns about those who are not.)
Regular readers will know that, contrary to popular belief, I made criticisms of Rafa on my blog, and in my books, and even to him directly. But of course my overall stance was one of positivity, because I understood his thinking and, on the whole, believed in his methods.
And this comes back to another problem with Roy, which is one that the Kop as a whole seems to be struggling with.
When Gérard Houllier was appointed, he arrived with a strong reputation; associated (not that he was slow to tell us) with France's World Cup success. For a few years, it seemed merited. To me, his appointment made sense, and he was what was needed at the time, even if I came to hate his tactics in later years.
When Rafa arrived, he'd just won two La Liga titles in three seasons, plus the Uefa Cup. (Someone tried to tell me the other week that he 'left a shambles at Valencia'; in his final season they won a league and cup double. Some shambles. The shambles, as the players who wanted him out later admitted, only happened once he left, because he was not there anymore.)
Along with José Mourinho, Rafa was the hot ticket in 2004; but it was achieved at the sharp end of football. This was a man taking on Barcelona and Real Madrid with a smaller club (but not a tiny club, and not a small-club mentality), and winning league titles.
By contrast, when Roy arrived, his team had just finished 12th, and scored only 39 league goals. They had a great run in the Uefa Cup – but cup runs involve a greater element of luck than a league season. Steve McLaren took Boro to the same final, but as unfairly mocked as he is, he was patently out of his depth under that England umbrella. Not a bad manager; just not the right manager. (Rafa also enjoyed cup success, but he averaged 72 points a season in his six years, seven more than the man he replaced: overall, progress.)
And this brings me back to my problem with the appointment of Roy in the first place: namely that my research – and it's a lot of research – shows virtually no success stories when it comes to 'promoting' managers who've done well at small clubs to the really big jobs.
Now, each case must be judged on its own merits, because someone can always prove the exception; but the trend is clear. There is an entire chapter dedicated to this phenomenon in Pay As You Play. (Around the time of its release I will make that the one free sample for people to read, to show what I'm talking about.)
Now, I don't know if sacking Roy or keeping Roy is the answer. Amid myriad concerns, I cannot state either way with any certainty. I thought he was the wrong man in the summer, but it's not as easy to find the right manager in October.
I do know, however, that the football has been universally dire, and that even though it's 'just' eight games, the league position is shocking.
I do know, however, that none of my doubts about appointing him have been assuaged. (These doubts were not part of any agenda; I made my feelings known before he was appointed, saying that he was in no way a bad manager, just one who seemed unsuited to this particular job. Having said that, I did at least expect a honeymoon period before talk of a divorce. I also expected a positive 'bounce' after NESV's takeover.)
I've also made it clear that the squad has been worn away by too many sales, and that this is not necessarily Roy or Rafa's fault. I've been at pains to say how difficult the job was with the pressure and expectations, and those god-awful owners. Indeed, call me a hypocrite all you want, but unlike those now leaping on the bandwagon, I've been saying this for three years, ever since Gillett and Hicks showed their true colours with 'Klinsmangate'.
Whatever the travails, and whatever the holes in the squad, this is a team that is woefully underperforming given the talent that remains.
Rafa was sacked, according to the club, for football reasons. I was told, time and time again by Rafa's critics, in emails, Tweets, etc, and indirectly via the media, that 7th wasn't good enough; that 7th was the result of him mistreating players and not having the passion to succeed. The squad was too good to be 7th, and so on.
Even last season's run to Rafa's 4th European semi-final in six seasons (with the two semis that were lost only being resolved in extra-time) wasn't good enough; and while I felt Rafa was harshly treated, I did not make the argument that the Europa 'success' was a big deal.
Because, let's face it, it really didn't feel like a big deal (and nor does our European form this season). Last season, that cup run was a mild distraction from a difficult league campaign. A cup semi was of little consolation.
People keep reminding me that we were as dire at Portsmouth and Wolves last season as we've been this season. That's hard to argue with. But those were low points from the season; they came before and after some excellent displays – even if there weren't as many excellent displays as in previous seasons. They weren't happening every single week.
The trouble this season is the lack of even one decent league performance. The second-half against Arsenal was full of character, but that aside, the football has been terrible.
Last year, Liverpool were rubbish perhaps 30% of the time; this season, it's arguably been 100% of the time. And for the life of me I can't recall Liverpool being totally outplayed, and beaten, by a promoted side at Anfield since the Houllier days. Or failing to even contest a derby under Rafa Benítez, whose record against Everton was superb.
Liverpool went 2-0 down to Hull a couple of seasons back, but a draw was quickly rescued, and it could have been 5-2 to the Reds by half-time. Some face was saved. There were tactics used that day that were beyond sending the big lump up front.
When both Houllier and Benítez arrived, there were quickly signs of progress. There were also setbacks. But this season has been setback after setback on the pitch. Not all are Roy's fault. Some are. And as manager, he's responsible for getting performances out of 20 international footballers.
Let's remember that I have always maintained that two consecutively poor seasons are what I consider failure for an established manager; this is in my first book, from 2005. Houllier left a team that won just 16 out of 38 league games in his final season – two fewer than last season – and racked up 60 points, three more than the team Houllier left had managed.
One key difference last season was the emergence of stronger rivals. And the other difference was that just a season earlier, Liverpool had won 86 points; in the penultimate year for Houllier was just 65.
Crisis
When Rafa arrived in 2004, the squad cost more (in current money) than it did last season. Houllier left a worse collection of players – and ones who had cost more money (£25m in current terms for Cissé just one example).
Rafa was new to English football, new to England, and new to the English language.
He needed time to settle in.
When the Reds lost in the FA Cup, he was accused of not understanding English football. And at times, in some away games, to some degree it showed.
But there were still some great results, and stunning performances. I was awestruck at Anfield in a 3-0 demolition of Norwich thanks to this new playmaker called Xabi Alonso and a mercurial talent named Luis Garcia.
In mid-January 2005 Liverpool were in crisis. Similar kind of stuff to now: Radio Five Live 'crisis' debate, and so on. The Reds had lost away at Championship Burnley, 1-0, in the FA Cup. Go and find the old newspapers; it was a sensation.
Of course, the Reds, under this new foreign manager, were still 5th in the league at the time, and in the knockout stages of the Champions League; an improvement on the club's previous showing, in 2002/03.
And the Reds were also in the Carling Cup semi-final. Yes, it was further into the season (23 games), but let's observe the radical difference in levels there. Rafa was taken apart for a far better start than this. And no-one was saying "yeah, but he was left a weak squad". It was all pinned on him.
I never had to defend Rafa winning only one of the first eight league games, or being 19th at this – or any – stage of a season. I never had to defend Rafa going out of a cup at home to a team more than one division below, let alone three. So how does that make me a hypocrite? I'd only be a hypocrite if I criticised Roy for the same kind of start I excused in Rafa's case. This, clearly, is far worse.
Roy has had problems and pressure to deal with; then again, a lot of this stuff isn't new.
Before the Champions League game away at Marseilles in late 2007, Rafa needed to win to save his job; he was going to be replaced with Jurgen Klinsmann, who'd been sought behind the manager's back – just months after the second Champions League Final in three seasons.
That's pressure, too. The Reds won 4-0, taking the French team apart on their own soil. Time and time again he was crucified by the media, and almost every time the Reds turned things around on the pitch. Rafa had at least as much negative press last season as Roy has had this, if not far more – all at points when things were a lot better than they now are.
But there's also a key distinction between a manager who has proved that he can punch above his weight at the top end of a major league and in Europe's premier competition for this club (as Rafa did on a number of seasons), and one who has no prior record of success in this particular job to refer back to.
My support for Rafa became almost unequivocal in Istanbul, although I saw signs of progress that whole season (such as coming back from a half-time deficit for the first time in five years, first against Manchester City, in the opening home game, then to win 4-2 at Fulham from 2-0 down, despite being down to ten men; followed in November by deservedly beating reigning 'Invincible' Champions Arsenal 2-1 at Anfield).
But I wasn't 100% convinced until he worked that particular miracle; and even then, I never felt convinced that we'd get close to winning the league (it seemed a million miles away in 2004).
He then followed it with the club's best two points tallies since the '80s. But now all we hear is that there was a total lack of progress under Benítez? Well, the ride dipped at the end; but let's not ignore five years of soaring.
As was pointed out to me by Fulham writer Richard Allen, their fans, and their players, had their miracle with Roy when escaping relegation on the final day of the season, coming back Istanbul-style to score three vital goals at Manchester City. That gave the club belief.
But that doesn't necessarily transfer to Liverpool, does it? That's Fulham's miracle, not ours. (And it only really relates to us if we remain down there until May, heaven forbid; or if a different kind of miracle is pulled off.)
Instead, so far it's been the reverse of a miracle: a nightmare.
And instead of Roy getting his share of criticism from the majority of media outlets, it's Rafa who continues to get a pummelling.
That bothers me, because Rafa had his share of the blame last season. He was also sacked with the statement that the club needs to get right back into the top four, "where it belongs". My view was always that top six is more realistic. Neither looks remotely possible right now; the football needs to improve a hell of a lot first.
Hypocrite or not, I enjoyed Rafa's style of football (although at times last season it was poor). Like any team, Liverpool could have struggles, but top scoring in the Premier League just two seasons ago was no mean feat, given that the squad was not within touching distance of the cost of the clubs the Reds were competing with (and that Torres missed half the season). Yes, it could be tactical, and sometimes even dour, but on the whole it was exciting more often than not.
But it's harder for me now, as I have a personal dislike of the Allen Wade style of football beloved of men like Hodgson, Houllier and Eriksson. If it's working, it's fine; but when it doesn't, it offers little redemption as a spectacle, and provides opponents with the chance to dominate possession and boss games. I understand the benefits of the system, but I'm not sure I get how it's meant to work at Liverpool in 2010, particularly at home to lesser teams.
I accept that a side can't be chock-full of skilful players; you need your grafters, and they were there over the past six seasons, too. But for me, a shift from players like Aquilani, Agger, Insua and Babel – even if they weren't always used – to Konchesky, Skrtel, Poulsen and the promising Meireles – leaves less creativity overall. (Cole should replace Benayoun fairly equally, though has yet to match the Israeli's output.)
Surely that's clear? Even worse, the Reds aren't even defending as well, despite the more destructive balance to the side. It's not working in any single area, and that's my concern. If we were grinding out results, fine; but we're just grinding our way to limp defeats.
Roy had a team at Blackburn that won only one of the first 14 games of 1998/99; he was sacked with them 20th. They revived a fraction after he went, but not enough – relegated in 19th, where the Reds currently sit.
That was the most expensive team to be relegated in the Premier League era (source: Pay As You Play). The team was the 5th-most expensive in the division that year – roughly the same as this Liverpool side. Food for thought?
The real hypocrite?
If you want to talk about hypocrites, how about Henry Winter? This time last year, Liverpool were suffering a poor start – but nowhere near as poor as this. The Reds were 3rd after seven games, 5th after eight games, 8th after nine games, 5th after 10 games. After seven games the Reds were just three points off the top; after 7 games this season it was 12 points. (Currently it's 13.)
In 2009, Winter attacked Rafa inhuman approach, bringing up his decision to stay in Japan with Liverpool in 2005 for the World Club Championship final rather than rush home following his father's death.
And yet this autumn, Tony Pulis – perhaps because he's not a foreigner – was lauded by the same journalist for making the very same decision; Pulis was showing his commitment to Stoke, Benítez was cold and uncaring.
None of this is to say that Benítez's inter-personal skills weren't at times lacking. Sometimes they were. But isn't that a bit of a cruel comparison?
Before the latest defeat against Everton, Winter was saying that the "hounds" have been unleashed on Roy; unfair for such a new manager, he says.
He might have a point on whether it's too early to criticise to such a degree (though the relegation zone is a new experience for LFC fans), but surely it's at least as bad to do so when the manager has previously won you the European Cup and, only months earlier, overseen the best league season in the club's recent history?
That's every bit as premature as this, if not far more premature. At least Rafa had shown he could win trophies for Liverpool and take a title race down to the wire in May.
However critical I am of Roy, getting personal like Winter did there is a low blow I would never dare strike. Bringing a reaction the death of a manager's loved one into your football criticism? For me, that's a red card offence.
Time Is Up?
I have always preached that managers deserve time. But there comes a point when you start to wonder if keeping him will only cause more problems. If he wasn't right to start with, will time change that?
My views remain unchanged, in that I won't call for Roy Hodgson to be dismissed; but he has to prove that he can adapt to life at a club like Liverpool, or face the consequences. And with every passing non-performance and a failure to win, he is eating away at whatever time he has left. At 63 he was never going to be a long-term appointment, but right now, Christmas seems a million months away.
* * * * *
"Pay As You Play: The True Price of Success in the Premier League Era" is released on November 9th.
Amongst other things, the book looks at the increasing correlation between transfer spending and success, with plenty of evidence presented to back this up. All 43 clubs to play in the top-flight between 1992 and 2010 have their own chapter, complete with views from an expert fan/journalist. To be 100% fair, managers are rated on how they performed purely in relation to their budget: looking at things like cost-per-point (in other words, how expensive their team was in relation to the league points garnered, and weighting this against the norm for such a level of achievement). And a lot, lot more.
Exclusive material relating to Liverpool will be made available to subscribers of The Tomkins Times. The contributors of other clubs will feature the research in their own work.
Jonathan Wilson: "An ingenious and intelligent look beneath the surface to reveal what the headlines too often don't tell us. Fascinating."
Gabriele Marcotti: "For years we've judged football and football people without the analytical tools to do it properly. Finally a book that attempts to do so intelligently. Hopefully a harbinger of more to come!"