My new book ranks managers in a unique way: amongst other things, working out how much it cost them to win each point, in relation to the expense of team they sent out in every single one of their games.
In reference only to Premier League games, it shows that Graeme Souness did a great job at Blackburn. (He even won the League Cup, but we looked only at the league.)
It shows that, in the end, Roy Hodgson did a terrible job at Blackburn (the worst relegation ever, for which he was largely responsible, as the man who guided the team to just one win in their first 14 games).
It shows that Souness did a terrible job at Newcastle (and Liverpool, but you knew that already).
It shows that Hodgson did a great job at Fulham. (But not better than Chris Coleman, incidentally.)
Above all else, we highlight, time and time again, examples of good managers faltering when asked to manage bigger clubs.
In his last 21 league games at a club expected to finish in the top six (Blackburn and Liverpool), Hodgson has won a measly two. Two wins. He left Blackburn when they were rooted to the bottom; he currently has Liverpool in the relegation zone.
But Roy seems oblivious.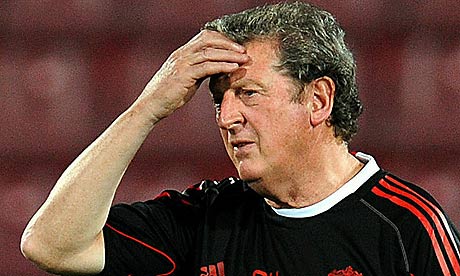 "It is insulting to suggest that because you move to a new club, your methods suddenly don't work when they've held you in good stead for 35 years and made you one of the most respected coaches in Europe. It's unbelievable."
Joe Kinnear did a great job at Wimbledon in the '90s; no big club in their right mind would want him anywhere near them these days. (And that's right, at the time Newcastle weren't a club in their right mind, either.)
Different methods are needed at different clubs because a different kind of result and performance is expected. The pressure if very different, on you and your players. You cannot set up to sit off teams when you're a big club.
And every last error is magnified. But that's the reason why those who succeed are made of different stuff.
Now, I write this not from the perspective of someone who expected Liverpool to be in the top four, now or in May. Or even the top eight at this point, after the fixtures we've had.
I write it from a refusal to accept that even with the financial problems, this is a bottom-half-of-the-table side, let alone one that should be in the relegation zone, even at what remains an early stage of the season. Teething problems are to be expected; but this feels like a dentist going at us with a pair of rusty pliers, turning a modest smile into a bloody grimace.
Yet I've been inundated with suggestions that it's all Rafa's fault. They keep coming, on and on and on. On Sky Sports, Jamie Redknapp, aided and abetted by Richard Keys and the guilt-free Souness, blamed Rafa. He'd spent loads of money and the squad wasn't good enough.
Well, not good enough for what? Only a year ago most of those players were supposed to be good enough to challenge for the title, and it was apparently only Benítez holding them back. As many as 15 of them were at the World Cup (not always as superstars, but there all the same).
Alan Hansen is now blaming players left by Rafa, such as Ngog (our top goalscorer this season), Kyrgiakos (gives 100%) and has said Kuyt never steps up to the plate. He says it's too early to judge Roy's summer signings, but did criticise Jovanovic, Rafa's summer signing.
The Squad This Summer
Hansen also mentions that Roy inherited a one-man team. I thought Alan could count a bit better than that.
Reina, Gerrard, Torres: three of the best players in their position in the country, if not the world. Any club would want them, and Rafa bought two of the three. (Same applied to Mascherano.)
Agger: a thoroughbred centre-back. Wanted by AC Milan in the fairly recent past. Skrtel: another very fine centre-back. Roughly £6m each. Kyrgiakos: about as decent as you'll get for 4th choice at £1.5m. Then there's Carragher; well past his best, but not exactly finished. (Trouble is, he's undroppable.)
Johnson: one of the best attacking right-backs in the world; in the right system, likely to create loads of chances in a game (defending not the best, but faults exaggerated this season from being too exposed).
Aquilani: over his injury problems, and such a clever player who's … now in the Juventus team. Not that Liverpool are short of passing invention (sigh). Effectively given away for the season.
Lucas, Maxi: not spectacular, but good enough to play for Brazil and Argentina. Maxi, in particular, became a key player towards the end of last season. Lucas seemed to be really progressing last season too, but has struggled this year. Then again, he looks like Pele next to Poulsen, who has usurped him.
Jovanovic – another experienced international. Not sure about him yet, but pedigree is there. Insua is another player who came in for criticism, but had the potential to improve; at 21, full-backs are just starting out.
Kuyt: not everyone's cup of tea, but almost every manager in the game sings his praises. Integral to Holland reaching World Cup final. Guarantees 10-15 goals from the wing almost every season, and as many assists. Does the work of two players. (Hansen thinks he never steps up to the plate, but look at all the goals he's scored and created in big games.)
Kelly and Pacheco: two youngsters with a lot of quality. Not really been trusted in the league this season, even though they are now one year older and, people expected, sure to be knocking on the door. Pacheco not even making the bench. Jonjo Shelvey – one for the future, and possibly the near future at the rate Poulsen is going. N'Gog – just 21, and just £1.5m, but seven goals already this season. Kelly was home-grown, Pacheco part of Rafa's Spanish connection.
Ryan Babel – frustrating? Hell yes. Likely to leave, whatever happens? Yes, too. But also, good from the bench? Yes, clearly. Not trusted before the Northampton game and now totally bombed out as a result. Roy said he'd been unfairly treated in the past, but now fails to even include him in the entire squad (and this is without inappropriate Twittering). Always a handy option with his pace on the wing, but Roy sees him as a striker (who doesn't play), and Roy doesn't use wingers.
Benayoun and Mascharano were also part of the squad Rafa left. Of course, they've moved on, through no fault of Roy's. But Roy did get £26m from those two to buy replacements. Riera and a couple of others went, too, which at least allowed Roy to bring in a number of his own players, four of whom have been regular starters when fit.
But of course, Roy didn't get all of the transfer money to reinvest; it's wrong to expect the squad to be quite as strong as it was. Yet by the logic used to frequently slate Rafa, Roy "has spent a lot of money"; the Reds were behind only Manchester City and Chelsea in terms of money 'spent'. However, the Reds ranked 1st in terms of money recouped. Rafa's net spend was never that high; Roy's isn't either.
All in all, however, there's enough there to be expecting a whole lot better than the relegation zone at this stage (for the first time in over 50 years) and out of a domestic cup to the lowest-ranked team to beat the Reds in 50 years. Rafa was sacked because he could only finish 7th with players that the media said should be doing better. The summer was supposed to be all about the feelgood factor: Gerrard, Torres, Cole; new manager, hip hip hooray.
There's been no great injury crisis, and if anything, the Reds have had a bit of the luck (contrast Sunderland goal with beach ball one, and bizarre free-kick award against Blackpool) that they lacked last season. But worse than the results, performances have been universally poor; every single first-half in 14 games has been dire. Last year was pretty bad, but there were good displays too.
There's been no apparent method, and rather than tighten up at the back, it's as if Phil Babb has returned with his mate Tubby Ruddock. The centre of the midfield was so invisible at times against Blackpool it was as stupefying. Gerrard was AWOL and Poulsen was lost at sea, considered dead.
The stats are damning. Liverpool have had just 65 attempts at goal this season, and the opposition have had 77 against us. Stoke have had more goal attempts.
What the Rafa-haters didn't foresee was that while a change of manager might help some players, it could also hinder others.
"My methods have translated from Halmstads to Malmo to Orebro to Neuchatel Xamax to the Swiss national team and many other jobs as well." Roy Hodgson.
But not to Blackburn, and only moderately so to Inter Milan (15 years ago; good first season, less good second season).
And with all due respect, none of those clubs Roy mentioned is in a major league, or is a major nation; these are not household names. Roy had the Swiss national team playing well in 1994; but then Roy Evans had Liverpool playing well around the same time. George Graham took Arsenal to a European final that year. Football has evolved dramatically in that time.
Liverpool still have a core of excellent players. And the club has its talent on the fringes. It may not be a top four squad anymore, due to too many sales in relation to purchases since 2008, but is should not even be a bottom-half of the table squad, let alone end the weekend in the relegation zone for the first time since 1964 (after a minimum of three games played).
Conceding six goals at home to Northampton, Sunderland and Blackpool, and winning none of those games, all in the space of 10 days, is unacceptable. The performances have offered nothing to cling on to. In the three most recent Anfield games the Reds have been outclassed. Blackpool were a credit to the game of football.
I'm not especially angry at Roy. I feel some sympathy for him; I don't enjoy watching a man apparently out of his depth, flailing and drowning.
But he should not have been appointed in the first place. I won't bring myself to say he must be sacked – he has the job, so now he needs to prove he deserves it – but as I said in the summer, his appointment was always more of a risk than the 'safe hands' tag suggested. And if his team loses the Merseyside derby, the calls for his resignation will be deafening.
'Going English' with the manager and transfers might have worked as a policy, but it needed money; therefore, drastic change was not a wise move. James Milner is a good English player, for example. He cost £26m. But without the budget, the Reds tried a sea-change, a U-turn.
This is all the folly of Christian Purslow, and that of his media cronies who badgered Benítez at every turn. (Yes, you know who you are.)
The history of warning was there with Hodgson at Blackburn, and the history there was in Spain, too.
As soon as Rafa left Valencia they crumbled. Spectacularly. The players who had wanted him gone realised the error of their ways. Valencia overachieved massively during his three seasons. After, they didn't so much find their true level as sink right through it.
If you replace a world-class manager, you need to get it right.
Roy's Mistakes?
• Calling the players who lost in the Carling Cup the 'B team', and blaming it all on them.
• Not defending Torres, saying Alex Ferguson has a right to his opinion; that opinion being that Torres is a cheat.
• Criticising the fan protests. (He's backtracked on these last two points, but the damage was done.)
• Picking a (virtually) full-strength team away in the Europa League, and expecting Torres' muscles to be 100% three days later. I thought he was going to use the 'B' team in the early stages, as he did at Fulham?
• Not buying a striker; I know Rafa struggled to find one at the right price, but it was the clear priority of the summer. Aquilani was bought to replace Alonso, and was now fit; and so, instead of going for Meireles and then not using him properly, why not keep Aquilani and buy a striker?
• Leaving it to the 80-minute mark in several games to make the first change, when a result was needed. (One of the TTT subscribers sits behind the manager's dugout, and said he'd never seen a Liverpool manager so passive during a match.)
• And do we really want to see Kyrgiakos as a centre-forward late in games against Northampton and Blackpool? Admittedly it nearly worked, but if we have to resort to desperate long-balls rather than try and play through lesser teams at Anfield, it's a sign of grave concern.
• Alienating Agger. Potentially a world-class centre-back. But doesn't fit Roy's style, which involves not taking chances with footballers in defence. One of the best players at the club, but not utilised.
• Loaning out Insua and Aquilani, without sufficient replacements. (Might not all be Roy's fault, this one, with Insua apparently offered to clubs by the Reds' hierarchy.)
• Paying £5m for mediocre players who are near the end of their careers (Konchesky, and the frankly risible Poulsen). Paying £11m for Meireles – a very good player – and using him as a wide midfielder (albeit one forced to play horribly narrow). Saying Rafael Van Der Vaart doesn't fit the profile of the kind of player he was interested in.
Biggest Error
And the biggest one of all: taking a team with players suited to pressing and rather than working with what he had, trying to reverse it. If anything was broken under Benítez, it was his relationship with Carragher and Gerrard, and one or two less-influential players.
The tactics were not the issue (look at how they were often successfully deployed at the World Cup) and maybe now people are seeing that.
Liverpool pressed high and hard – and fast from the start – and it suited Torres, Kuyt and Gerrard. It made it easier to create chances, because errors were forced. It gave the game some energy.
It now suits Samuel Eto'o at Inter: "With Mourinho we played on the counter-attack, with Benítez we press more and that's better for us forwards because we win back the ball higher up the pitch and create more chances."
Eto'o has 11 goals already this season, after just 16 last time. Torres has … one.
Last season I noted that Rafa was the only manager to get more than an average amount of goals from Torres. At the time, I wasn't sure if it was just coincidence, or maybe due to the very detailed and specific advice Rafa gave him (which Torres said was incredible). Now, I'm starting to think it was mostly tactical.
Torres' goal record in Spain was not the best; consistent, yes, but never above 13 from open play in a season (in one year he scored six additional goals from the spot). For Spain, it's a decent international record, but not outstanding. (Spain also press, but they often delay the final pass; Torres needs the ball earlier.)
For Torres under Hodgson, it's … one goal in nine games.
Now, he hasn't been 100% fit. And it's early days. But he wasn't fully fit for large parts of the previous two seasons. And he still got 14 in 24, and 18 in 22, in those two Premier League campaigns. Often he was coming back from injury, but rarely did he look this out of sorts. Rarely was he so starved of service, so isolated; an island within Anfield.
Perhaps the new style of play doesn't suit him? He'll always be a great striker – pace, power, eye for all types of goal – but the tactics were always tailored to his strengths. Now it seems tailored to the strengths of Bobby Zamora.
Now, if Roy wants to change the team's entire style, that's down to him. But it can be argued that it makes more sense to work with what he has (or for the club to employ someone to do so), in a way that suits the players, than force his ideas onto them; especially as he doesn't have the money to buy those who'd fit better into his system. (Not being funny, but right now, Emile Heskey would probably be better at what Torres is being asked to do.)
The style – which Hodgson has made clear he's carried with him for 35 years – is being forced onto the players. If it works, great. If it doesn't? Buck. Stops. There.
The next few weeks are vital in the future of the club, and so any decision can wait until that is resolved, and until after the Everton game. Win that game, and Roy might have a chance of taking his ideas into a new regime (if one finally arrives).
Fickle
I don't want to appear fickle, but can I really be that if I never wanted him in the first place? I said as much in the summer. I didn't say that Roy would definitely fail, but I did feel that his experience at Blackburn should not be brushed under the carpet, and that his achievements at Fulham, while admirable, do not necessarily transfer to a bigger club. I looked at his low-scoring teams that eked out a lot of draws, and that included his previous jobs at Blackburn and Inter Milan too.
Yes, I continue to remain annoyed at how the world-class manager we had was treated. But that's a separate issue to this. (Although the media keep merging the two.)
If you have to sack a manager, you find a suitable replacement; not just one who speaks perfect English and makes life as easy as possible for you. And you don't try to reverse a successful culture (Spanish) for one that has more faults. After all, how many great English players has the club purchased in the last 20 years? And how many great Spanish ones in the last six years alone?
If Roy stays, and turns things around, I'll happily hold up my hands. If he wins, I win too. But if he fails, and fails as thoroughly as he currently is, it needs pointing out.
It needs pointing out that the owners are a cancer, and that those running the club know next to nothing about football. It needs to be pointed out that some players wanted an English manager, who would comfort them. We needed rid of rotation, zonal marking; we need Gerrard in centre-midfield, 4-4-2, and a manager who celebrated goals rather than studiously taking notes. How's that working out?
It needs to be pointed out that on the basis of his team's incoherent performances and his own bizarre press conferences, Roy Hodgson looks like the right man in the wrong job.
"I've had two-and-a-half wonderful years (at Fulham) where nothing ever negative was said about me and my team. Now maybe people are saying negative things. It doesn't change anything. I work the same way as I did last year." Roy Hodgson