This season, Liverpool have allowed opponents 92 shots at their goal in their first six league games, in contrast to just 46 in the corresponding fixtures last season. (For those failing to grasp this concept, corresponding fixtures refers to games against the same teams we've played to date, not the first six games we played last season.)
In 2009/10, 72 crosses were delivered into Liverpool's box in those same games; this year, it's 126. Nine goals have been conceded this time, to four last year.
(And bear in mind, these were not necessarily Liverpool's better performances last season.)
Only one Premier League team has delivered fewer crosses of their own. Liverpool are not having as much of the ball, and any passing that does take place is in deeper areas. No-one hits the byline, or gets even close. Torres looks bewildered.
Now, as with any piece on the team these days, the off-field issues are vitally important to remember. They are the bigger issues. The sit-in last week, and the direct action this week, are all vital in fighting for the long-term future of the club.
But the actual football is still something that people want to talk about. (The healthier the Reds are on the pitch at the time this horrible saga is resolved, the less time it will take to restore the team to a position to challenge for honours.)
Wingless
"We don't play with wingers" said Roy Hodgson, and he'd know. But with only one attacking full-back – who himself seems unsure of overlapping as confidently as in the past – it makes for very one-dimensional football; especially with two holding midfielders sometimes deployed (the point of which is to allow full-backs to become quasi-wingers).
At home to Sunderland last season, Liverpool fielded eight players who could be considered 'attacking' (at least in relation to where they were deployed on the pitch). There were three progressive players in defence, three in midfield and two in attack. This meant fluidity could be achieved by interchanging positions. Sunderland were well-and-truly battered.
(The only player who was not exceptionally attack-minded for his position in which he played on the pitch was Maxi, but he's still a one-in-three goalscorer throughout his career, and a clever player.)
This was Benítez's usual tactic at home to teams who were not part of the elite: Gerrard in midfield, Kuyt off Torres, and players like Benayoun and Riera on the wings if not Babel and Maxi.
Look at Roy's team for the same fixture, and it's easy to see why Sunderland were the better side; from being hammered, they were now the more aggressive attackers, all in the space of six months. (I know it's not entirely fair to compare two games when the circumstances will always be different, but it's indicative of a more general trend.)
From eight 'comfortable' attacking players, it was down to just five.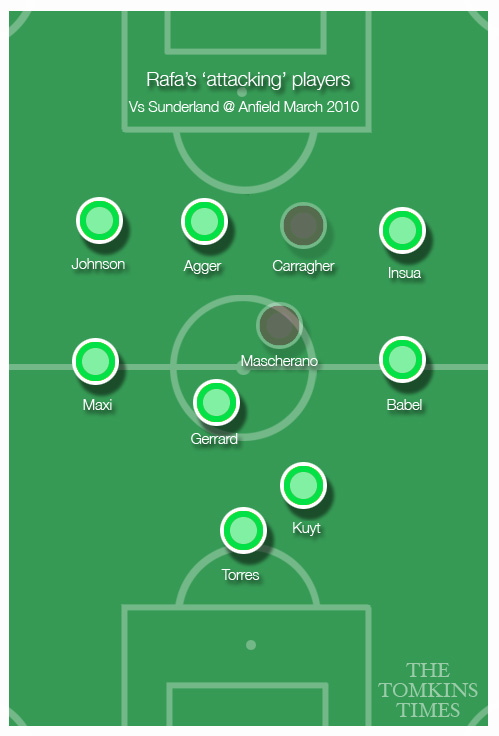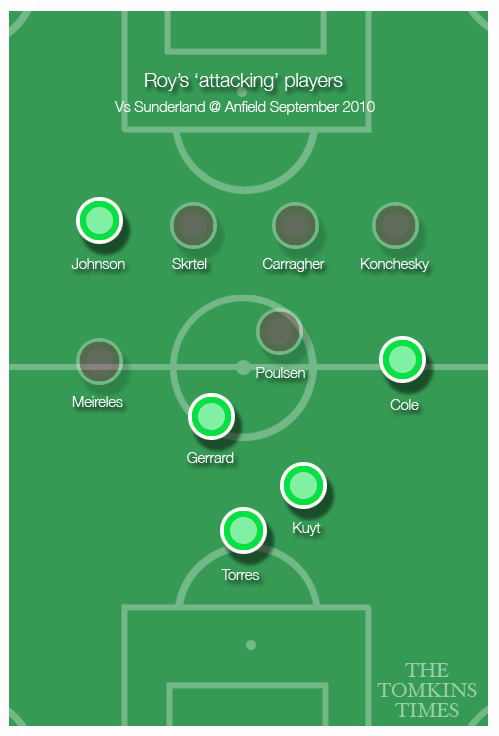 By choosing Skrtel over Agger for such games, Hodgson was instantly removing one of his best technical players. Skrtel is fine enough on the ball; but he's no Agger.
Konchesky is a decent all-rounder, but Insua was one of the top assist-makers from full-back in the Premier League last season. You could question his defending, but going forward he could deliver quality (watch the Wolves game at Anfield), and was often looking to beat his man with a dribble or one-two. So from three really comfortable possession players at the back, it's now down to just Johnson.
The loss of Mascherano obviously makes things harder for Roy; but so far, Poulsen doesn't look in the same league, let alone a half-decent replacement. At 30, he's not got time on his side, either. He's decent, but a plodder.
But Meireles – who many expected to replace Mascherano – is an interesting one. He's certainly not a purely negative player out on the right flank – he has ability on the ball – but he's not used to attacking in such a role. He looks a good player, and potentially a very good one, but not one whose play suggests right midfield is somewhere he's natural and comfortable. (I may be proved wrong on this, as I can only go on what I've seen so far.)
The way the team is set up exacerbates these issues. In the past, the high-pressing would enable Gerrard, Torres and Kuyt to swarm around midfielders and defenders, forcing mistakes and taking their chances in 'breakaways' that take place close to the opposition goal. It can be tiring for players (hence rotation), but it gives a bit of oomph to the play. Teams as good as Real Madrid were left shellshocked.
Even Fulham under Mark Hughes are now pressing higher up (according to Danny Murphy) and playing better football (as mentioned by Diomansy Kamara and a couple of others). Kudos must go to Hughes' predecessor for setting up that platform, but it was one built on low-scoring matches and a lot of drawn games. (Much like Roy's time at Blackburn and Inter Milan.)
Roy prefers the more Houllieresque (Allen Wade) approach of men behind the ball in two banks of four, sitting off from the opposition. In theory, you keep your shape and are hard to break down – although any kind of cross into our box right now seems akin to a fox lobbed into a chicken pen.
In terms of Liverpool's play, this either leads to direct balls to the striker/s, or possession in deeper areas: where the passing may look pretty, but where it's easier to indulge in, due to the fact that opposition aren't too worried. When the defence isn't 'hoofing', there's been some nice football on the deck; but unfortunately, it's not been going anywhere (bar one really nice move versus Utrecht).
An absolute lack of clinical passing in the final third has rendered the Reds largely impotent. Joe Cole and Steven Gerrard should be able to deliver on this front, but for some reason it's not happening.
Torres cuts a lonely figure; there's just no quality service into him. Granted he's not at his sharpest, but it usually only takes a couple of rusty games to get back amongst the goals in a Liverpool shirt.
Sitting Off
By sitting off teams, the Reds are allowing the opposition defences to gang up on him; without hassling them in return, they are in their comfort zones.
And by sitting off, we are inviting teams to come and have a go at us. We are playing like the away team at home. Looking at the Guardian chalkboards, our performance last Saturday looked more like the one put in at the Stadium of Light against the same opponents than the one at Anfield.
In some ways it's impossible to believe that we would be set up in exactly the same fashion as Fulham were, whose primary aim was to avoid defeat. But right now, it appears that way.
All my doubts about Roy – expressed at the outset – remain; I expected to see one or two – and hopefully three or four – erased by now. (Or at least partially addressed.)
He's a good man, but by this stage of the tenures of every previous Liverpool manager I can recall we'd had at least something to latch onto. The players currently look no happier than last season, and now far more clueless to boot. Yes, it may take three to six months to get the side playing exactly how he wants, but at least some signs of progression are normally par for the course.
I retain the fear that he is a good manager at clubs where expectations are lower (in itself a difficult task in many ways), but one without the progressive ideas to take a big club forward. They are very different types of job, requiring different skill-sets. It seems that he was appointed because he was the kind of man the suits would get along with, with no thought to the tactical side of the game taken into consideration.
He was also appointed to go down the 'safer' English route. I said it in the summer, but would Arsenal have done the same had Arsene Wenger failed to qualify for the Champions League a few seasons back (when only a stomach upset denied Spurs)? If Wenger retired now, it would be unthinkable for them to appoint someone like Hodgson. The club just isn't set up that way.
Things like Pepe Reina being asked to change his goalkeeping 'to a more English style' concern me. Why change what is so clearly not broken? (And of course, it's not like Spanish goalkeepers – with Spanish coaching – are the best in the world right now… Oops.)
It's now up to Roy to go on and prove that he has what it takes. I'll happily start doling out the credit, if it's due. I really thought we'd turned a corner five minutes into the Sunderland game, with a disallowed goal followed quickly by a legitimate one (in the ref's eyes). We were seeing both good football and good fortune. I was looking forward to feeling positive again. But it quickly evanesced.
There should be no calls for Roy's head – I find that unacceptable at this stage – but equally, he has to show that he's up to what is a really difficult job (even without the ownership farce), and face up to criticism such as this. He has to get his team playing better. That's his job. Some poor performances are to be expected in times of uncertainty, but not week after week.
I will continue to stave off all claims that he should be replaced forthwith, but in reply, he needs to give us something to work with. In return for time and patience, we need an idea of where we are going. There may no longer be a good enough collection of players to dream of the top four (let alone top two), but there is enough quality and experience to be in the top six (which is why last season was a case of under-achievement). This run of 'easier' games is his chance to show that he can get things right sooner rather than later.
But to date there seems very little connection between Roy and the fans, and that's strange. Even those who'd have taken Harold Shipman and his box of needles over Rafa seem unable to 'bond' with the new man. Yet no one thinks he's a bad bloke in the slightest; avuncular Roy. Strange. It just feels more like an arranged marriage right now, than one of love.
Finally, the following is from a Fulham season ticket holder, and was written in the summer. I thought it was worthy of a wider audience, given how it matches up with what we've seen so far.
On substitutions:
He'll make few substitutions, those he does will come late in the game and be mechanical. For example at Fulham he'll take off Danny Murphy on 75 mins, every game. His philosophy is essentially one of Plan A, Plan A, Plan A. He's worked on a plan with his team (no really, he has) and he'll see it through on the basis that it is just a question of keep on working at it and it will work eventually. He is not short on believing in his convictions.
On selections:

He believes in having a first 11. He will work out who it is and then stick with it, week in week out. Others will play in the Europa League and the cups [now labeled his Liverpool 'B team']. Don't expect to see him at the Academy too often, just not his thing.
On formation / tactics:

He'll get his team to sit back in two banks of four, very narrow and basically say to the opposition, "go on play through us". It had some success against teams like Arsenal. When you win the ball back, first option will be a ball to the striker and let him hold it up. Wide midfielders will often play on the side opposite their best foot to cut in (like Damien Duff at Fulham) and the fullbacks will have to provide any width. You'll find it frustrating to watch as they won't press, and as a fan it is very hard to get into the game when there is limited energy in attack or defence.
At Fulham the fans get into it because their expectations are lower and they have more games against what they see as better teams, and anything from the games is a victory of some sorts they can support. I think you'll find it tougher to hang on to that at Anfield.