This piece was originally published on June 21st. Since then it's become widely accepted that Roy Hodgson will be appointed this Thursday. This tallies with information I received a couple of days ago: that the appointment will only take place once Standard Chartered officially replace Carlsberg as the club sponsors. With this in mind, I've brought this piece back to the top of the site, as the main featured article.
Judging which managers are suitable for a big club is fraught with perils, especially if those in question have never held such a position before. Ultimately, those who've gone on to succeed at major clubs have had to have been given that initial chance first. But these days, it takes a brave chairman to appoint someone previously untested in a high-pressure position.
Ultimately, managers can only be judged by the possibilities and limitations of the clubs they've managed, within the context of the strength of the league and, in particular, against those rivals with shared aims.
However, to me it seems that there are clearly those suited to smaller jobs, who achieve great things with certain approaches, but whose methods don't transfer to bigger clubs, where expectations are higher and demands are placed on at least some 'style' to the play (case in point: Sam Allardyce from Bolton to Newcastle).
My choice, as outlined here, would be Manuel Pellegrini, because of the reasons outlined in the piece. But where does Roy Hodgson – the current bookies' favourite – fit in?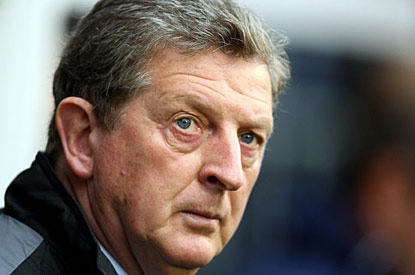 Background
Hodgson made his name in Scandinavia in 1977, taking Halmstads, who'd just finished 12th (out of only 14 teams) to the Swedish title in his first season. Over the course of the next four seasons he finished 8th on three occasions, and champions one further time.
His success here, and in several later jobs, was largely down to converting the team from the traditional German-style man-marking and libero system, to a pressing, 4-4-2 formation where players marked zonally in open play. These are now very much current trends.
This led to a move to England, and Bristol City. He took charge after two years as assistant to Bob Houghton, but lasted just 20 games the hot seat, winning only three of them. So it was back to Sweden, and stints at Örebro (where he won the 2nd Division North) and giants Malmö, where he topped the 1985 championship in his debut campaign – and indeed, wrapped up the league in the next four seasons, too. However, a play-off system meant that, despite topping the table in each of his five seasons, only twice were Malmö recorded as actual Champions.
These were Malmö's best years, and only once in the two decades since Hodgson left have they won the Swedish title.
Next up was Neuchâtel Xamax, in the Swiss league. Domestically they did okay – nothing remarkable – but a 5-1 Uefa Cup thrashing of Celtic and victory over Real Madrid showed an ability to humble bigger names.
This led to Hodgson taking over as manager of the Swiss national team in January 1992; taking charge of a country that hadn't qualified for the World Cup since 1966, and wasn't exactly blessed with bundles of top talent. But Hodgson ended that 28-year wait. The Swiss finished in 2nd place, ahead of Portugal and Scotland to qualify for USA '94, and just a point behind the tournament's eventual runners-up, Italy.
In the States, a draw with the host nation and a 4-1 thumping of eventual quarter-finalists Romania, saw the Swiss through to the last 16, where Spain turned them over, 3-0.
Qualification for Euro 96 was secured by topping a group that included Turkey, Hungary, and World Cup semi-finalists Sweden. At one point, quite incredibly, they were ranked 3rd in the world. This all led to Hodgson being offered the Inter Milan job, which he took in 1995.
The Milan giants had finished runners-up in 1993, but 13th a year later, and 6th the season before they installed their new English manager. Hodgson himself would lead the Italians to 7th and 3rd place finishes.
He did however take Inter to the 1997 Uefa Cup Final; as would be the case 13 years later, his side lost, although in this instance they were the more favoured outfit. Schalke won the first-leg 1-0, although Inter had been denied three of their best players through suspension, and others were sick with flu. The return saw Inter win 1-0, but not for the first time, a German side won the penalty shootout.
This wasn't good enough for Inter's fans, who pelted Hodgson with coins and lighters, causing him to resign – even though they were on the brink of qualifying for the Champions League. But Massimo Moratti, the man who recently gave Rafa Benítez his latest job in football, liked Hodgson enough to twice ask him to return, briefly, in a caretaker capacity.
Next up was Blackburn, which was fairly disastrous (more on which later).
Then it was back to Switzerland, this time to manage (ahh) Grasshopper for a season. This time, in contrast to his early career, titles arrived both before and after his time in charge. So it was back to Scandinavia – this time Denmark – to take charge of Copenhagen. The Danes, who had finished 7th and 8th prior to his arrival, won the title in his sole season.
In 2001, he left Copenhagen to move to Serie A side Udinese. Despite a successful start, he was sacked just six months into the job, after apparently making comments about regretting his decision to move there.
Between 2002 and 2004 he took charge of United Arab Emirates, but it was an unhappy experience, with a poor showing at the 2003 Gulf Cup. The Englishman was philosophical. "That was a period where I didn't know where my career was going. But all these experiences enrich you."
Repeating a theme, he returned to Scandinavia yet again, this time managing Norwegian side Viking. He took them from the relegation zone to mid-table, then 5th a year later. They qualified for the Uefa Cup, and enjoyed a famous victory (by Viking standards) against Monaco.
The Scandinavian set was complete when he switched to Finland, to boss their national side for their Euro 2008 qualifying campaign. He did fairly well, and they were reasonably close to an unlikely qualification, although 0-0 draws were the most common result.
And finally, Fulham, in December 2007. A poor start to his time in London was forgotten when the Cottagers improved in the spring of 2008, and pulled out a remarkable final-day relegation escape.
This impetus was taken into the next season, with an excellent 7th-placed finish, and finally there was the season just gone, when their league form slipped a little (although they still managed to beat Man United 3-0 and Liverpool 3-1 at Craven Cottage), but which was easily offset by a superb run to the Uefa Cup Final. They ended up empty-handed, but Hodgson was voted the 2010 LMA Manager of the Year by a record margin.
Present
So, all in all a mixed record – as you'd expect from three decades in the game at clubs of different stature – but enough highlights to suggest he has something. Hodgson is clearly a fine manager. But is he an outstanding one? And can Liverpool currently attract anyone from the top bracket?
I've heard it said that Hodgson is not suitable for the Liverpool job because of his 39% win ratio with Fulham. The question should be, what is a realistic win percentage for a club like that? Surely not better than 39%?
(For comparison, Graeme Souness won 41% of his league games at Liverpool, obviously on a far greater budget: he had the country's most expensive squad at the time. Rafa Benítez won 55% of his league games.)
More worrying is that Hodgson's win percentage at Inter Milan was just 44%, and at Blackburn 35%. Over 148 games, that's not very encouraging.
People spoke a lot about the games Liverpool drew in 2008/09, but 66% of league games were won that season. Hodgson's record at Inter, as at other clubs, shows a lot of drawn games. When they finished 3rd, they won only one more game (15) than they drew.
So, what can be read into the last time Hodgson managed an English club with fairly high expectations: Blackburn? As it was 13 years ago, it's fair to suggest that he will have learned plenty in the interim. Even so, it's a worrying blot on his copybook.
Blackburn were champions only two years before Hodgson pitched up, although it's fair to say that the club had fallen quite far in that short space of time, following Kenny Dalglish's departure from the dugout; they'd just finished 13th in 1997.
Even so, with Hodgson in charge, they were still spending heavily in the transfer market, if not quite as lavishly as in the early '90s.
Using TPI, Blackburn still had the 3rd most expensive average XI in 1997/98, when they finished 6th, and the 5th most expensive average XI a year later, when the club were relegated, upon finishing 19th. (By that stage, Hodgson had long-since been sacked; he got his marching orders in mid-November, when they sat bottom of the table, with just two wins in 14 games.)
So, in his time at Blackburn his XI was, on average, the 4th most expensive in the land; in other words, identical to Liverpool's average XI in 2009/10.
However, in his one full season, Blackburn's average XI cost 87% of the most expensive average XI (Kenny Dalglish's Newcastle), and only a fraction behind champions, Arsenal, whose figure was 93%. This dwarfs the current Liverpool squad.
The average cost of every starting XI fielded by Benítez last season was, at 48.5%, less than half that of top-spenders, Chelsea. (Manchester United's XI was 76.30% of Chelsea's, and Manchester City's was 66.80%. As an additional point, the Liverpool team that finished as runners-up in 2009 cost 57.9% of the most-expensive side – Chelsea – so it's clear to see a fairly significant drop in the intervening 12 months.)
In other words, Hodgson's Blackburn were far closer to the big spenders of their day than the current Liverpool set-up, and it's a gap that looks set to widen. And the pressure and expectation at Blackburn was nothing compared with what you get at Liverpool (although even with money, it's only fair to point out that Blackburn were never going to attract the real elite of world football to Ewood Park once they found themselves a mid-table outfit, in 1997).
Even though he had money to spend, and even allowing for the fact that his club lacked the glamour to lure the leading lights, Hodgon's record in the market was not at all impressive.
He paid £7.5m on Kevin Davies – or £17m in today's money (calculated using TPI). You could argue that Davies is still a 'successful' Premier League player (albeit in his own inimitable barrel-chested style), 12 years on. But '£17m' doesn't read well for a player who scored only one league goal in his year at Ewood Park, and who ended up being swapped for the unremarkable, low-valued Egil Ostenstad.
In just 16 months, Hodgson's gross outlay, in today's terms, would work out at around £75m.
Of these, only Stephen Henchoz, at £3m (£10,128,237), and later sold to Liverpool where he further enhanced his reputation, stands out as an abiding success; in stark contrast to the horribly mediocre Christian Daily, who cost £5.35m (£12,982,782).
Anders Andersson, with just four games in two years, and Martin Dahlin, with just four goals in 27 games, were both clear flops. Swedish internationals, the pair (who combined cost approximately £10m in today's money) weren't without pedigree, but they didn't succeed. Tore Pedersen, another from Hodgson's beloved Scandinavia, played just five games for Rovers.
It gets worse. Nathan Blake, a striker who barely scored, was another flop. Blake's fee – £4.25m – would in today's terms equate to £10,410,721.
Finally, Callum Davidson was decent if unspectacular: £1.75m working out at £5,908,138 in 2010. Blackburn at the time were a richer, more successful club than his current employers, Fulham, but his signings seem awfully mid-table – if that.
By contrast, his story at Fulham is, to date, one of success. In 2008/09 they had the 13th-most expensive average XI, and finished 7th, to take them into Europe. Last season they had the 14th-most expensive average XI, and finished 12th, with a great cup run thrown in.
And it's been achieved with far better signings than he bought for Blackburn.
My one nagging doubt, however, is that yet again he's often gone for the market he knows best: Scandinavia and Switzerland. This is natural; after all, Wenger plundered France, Benítez Spain. But even though you get the occasional excellent player from the Nordic region, real quality from these parts of the world is rare. At Fulham that's not a problem, but would he have the imagination in the transfer market to bring better than mere journeymen to Anfield?
At Blackburn, the fans expected him to raid Serie A; they got nothing of the sort. And while fans' desires for glamour signings just for the sake of them are to be avoided, the ability to spot and snaffle top-class talent is a skill. (For all Benítez's mistakes in the transfer market, with Reina, Torres, Alonso, Mascherano and Agger in particular, he signed players for fees in the same prince-range, taking inflation into account, as Hodgson bought at Blackburn. This is before getting onto the likes of Benayoun, Skrtel, Kuyt, Garcia, Crouch, Sissoko, Johnson, Maxi, et al.)
His one major signing at Fulham, Andy Johnson, has delivered little for his £10.5m fee. But perversely, the lesser-rated Bobby Zamora, at £5.8m, has been little less than a revelation. Hodgson deserves great credit for the improvement in his game.
Another major success has been Brede Hangeland, the giant Norwegian centre-back having previously played under Hodgson at Viking. He's the manager's one signing during his four years in English football who wouldn't look out of place in the Liverpool side.
But other Scandinavians have arrived, to far less impact. Leon Andreasen cost £2m, but was sold after just one season. Swedish international Fredrik Stoor, also £2m, joined from Rosenborg, but ended up on loan at Derby. Norwegian striker Erik Neveland, at just under £2m, has been a useful addition. Another decent £2m acquisition was John Arne Riise's brother, Bjorn Helge.
But his signings from other Premier League clubs have been much better. Mark Schwarzer, on a free: good signing. Dixon Etuhu, £1.5m: good signing. Zoltan Gera, free transfer: very good signing. Damien Duff, £4m: another good signing. And John Paintsil, £500,000: also a good signing.
Those who mock his recent procurement of Philippe Senderos for Fulham are missing the point; at 25, and yet to reach his peak as a centre-back, he seems well-suited to that level of club. And in fairness, that's what Hodgson has done well at Fulham.
Additional Thoughts, and Conclusion
The following is for Subscribers only.
[ttt-subscribe-article]
Thank you to Richard Allen of The Fulham Review for supplying me with some of the biographical information on Roy Hodgson. This year's review contains a 50-page look at the manager's early career. The book can be purchased here, for £5.