Subscribers to this website, with whom I've discussed the issue at length, will know that I named Manuel Pellegrini as my choice for the vacant Liverpool manager's job some weeks ago, even when his odds were 40-1. With his odds now slashed, and reports saying that he's been approached and even that a deal tied up, I thought it was worth stating why I believe he's the right man for the job.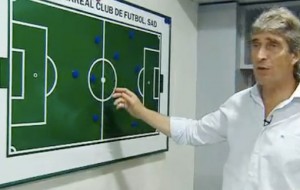 To be honest, I didn't expect someone with such an impressive CV to be in the running while Liverpool were out of the Champions League and deep in debt. But of course, 'Liverpool FC' retains its cachet, and, with the possible exception of AC Milan, I don't think there is a bigger club in world football currently seeking a manager.
While I can see the pros behind going for Dalglish or Hodgson, I feel there are a few cons, too. I wouldn't be unhappy if either were appointed, but – romanticism regarding Kenny and fairytales aside – not totally convinced either.
Of course, doubts exist when any manager or player swaps his usual environment for something new. (Or in Dalglish's case, returning to a massively familiar environment, but with management itself being increasingly unfamiliar, after a 12 year hiatus.)
No new manager would come with any guarantees, or without his faults and drawbacks. But for me, Pellegrini is the most exciting choice. With that in mind, here are my reasons for backing the Chilean:
1) He has sufficient gravitas to impress the major players, particularly the Spanish ones, given his record in La Liga since 2004. He managed Pepe Reina at Villarreal, and Torres will know of his qualities. Those who still speak to Xabi Alonso – and I believe it includes Gerrard and Carragher – will get a first-hand account of a 'proper' coach.
2) Pellegrini – modern, forward-thinking – is not someone who would abolish the good things Rafa had implemented, or bring about a disruptive 180º u-turn. There'd be no throwing the baby out with the bath water.
My opinion is that England and Newcastle are the prime examples of footballing institutions that bow to popular opinion and lurch from a people-pleaser to a disciplinarian; a local to a continental; tactician to a motivator. And then back again, as soon as it doesn't work out. This means costly squad renovations, as different kinds of players are sought.
As we saw up to 2008/09, Benítez got loads right, often in Europe, but also in the Premier League (82- and 86-point finishes). And while people will argue that 'losing' Alonso was a mistake, not that much had changed in terms of personnel in his final 12 months (the squad had been somewhat thinned due to budgetary constraints, but enough talent remains to at least contest the top four again).
Confidence obviously diminished, but that's replenishable; any new manager brings a clean slate. Unless they are sold off, Benítez left a very strong first XI; just one lacking confidence after the poor start to last season.
For me, the culture does not need changing; Chelsea never bothered to revert to a British boss after a couple of continental failures, and are now reaping the rewards. I'm not against British managers – I just don't feel one should be appointed simply to appease those who see British as best. (In worldwide coaching terms, this is certainly not the case. And most of the best ones are already at rival English clubs.)
And nor do the Reds need a pally-pally manager. The club simply needs the best available manager, and with no compensation to pay, Pellegrini is currently that man.
3) The Academy. With Rafa having established the Barcelona connection in overhauling the Academy, it's vital that someone who appreciates their value – and whom they respect in return – is appointed.
(Of course, this is also a positive in Dalglish's favour, with his relationship established with Rodolfo Borrell and Pep Segura over the past 12 months.) While he is Chilean, Pellegrini's six years in Spain would give him a connection with the staff that remain from Benítez's time, but also the promising young Spaniards making their way at the club (Pacheco, Ayala, Duran), not to mention the several South Americans.
4) Pellegrini is someone who would surely appeal to any future owner of the club. While there might be a case for a short-term appointment, to tide the club over, to me it seems vital to get someone capable of being around for a few years, so the process does not need repeating in 12 months' time. A top-class boss would almost certainly help the sale, rather than hinder it.
5) After a year at Real Madrid, Liverpool, even with the current ownership farce, may seem like a sane working environment.
6) Pellegrini worked for years at Villarreal on a small budget – and turned them into a big club. His side were one final-minute missed penalty away from taking their 2006 Champions League semi-final against Arsenal to extra-time, and he took them to a club-best 2nd-place finish. He didn't win the league – he was not at a club expected or equipped to – but he won La Liga's Manager of the Year in 2008.
He is used to the pressures of managing one of the giants of the game; in each of Chile, Argentina and Spain he took charge of the biggest team in the land. While his Madrid tenure is seen by some as a failure, he did register the most points in the illustrious history of the club: 96.
Of course, he still got sacked. In many ways, it's like ditching a striker who got 41 league goals because a rival striker got 42.
Yes, Pellegrini had some amazing talent at his disposal at the Bernabeu, but he also had to deal with some incredible egos, not to mention the difficult task of immediately fashioning a team from the massive influx of new players, many of whom weren't necessarily compatible (in contrast to Barcelona's less haphazard approach).
His desire to keep Sneijder and Robben led to an instant fallout with the tyrannical Florentino Perez, and from that point on, Madrid's newspaper engaged all-out war on the manager that made the UK media's attacks on Rafa Benítez look almost complimentary.
Failure in the Champions League was because Higuian, currently the World Cup's top scorer, missed a series of sitters – and it was the fifth year running they stumbled at the last 16, so it wasn't a backwards step. And losing out so narrowly in La Liga to Barcelona, so soon after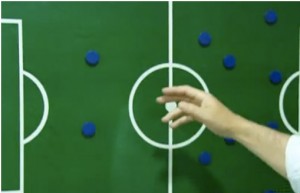 they won an amazing treble that saw them hailed as the best team ever, is nothing to be ashamed of.
He's tactical, but also seen as a very attacking coach, whose teams are noted for playing attractive football. He uses two strikers, but in a fluid 4-2-2-2 formation (see image); wing play comes from either a forward, midfielder or defender moving into the space.
(Regular readers will note that I don't see two strikers as in itself 'attacking'; it's how many forward-thinking players you have in the team that matters, whatever their position.)
Having said that, Pellegrini says he always used 4-2-3-1 against Barcelona when at Villarreal, the only team he felt ever had more of the possession than his side. And he won more than he lost against the Catalans.
On the downside, it's not clear if his English is up to scratch – I've heard mixed reports on his fluency. The fact that he attended coaching courses in the UK some twenty years ago presumably means he had to have some understanding. (Also, as he is someone who undertook a degree while waiting to make his breakthrough as a player, he's clearly intelligent enough to learn.)
So there you have it: for me, a bona fide top-class candidate, who only 12 months ago was seen as good enough to land the top job in club football. He was treated shabbily by Real Madrid (he's not the first), but this could be his chance to revive both his reputation and a club whose fans, in the middle of a hugely depressing summer, could use any kind of good news right now. Therefore, I hope the rumblings turn out to be true.