Whilst I lost faith with Gérard Houllier before he was sacked in 2004, I do think he did a fine job up until 2002. However, his incredible attack on Benítez cannot mask the fact that Houllier left a pretty dire squad low on value and morale, and that in almost every way you look at it, the Spaniard did better than the Frenchman.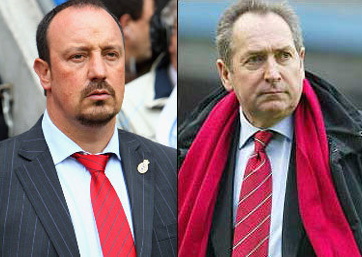 Houllier told Mihir Bose of the Evening Standard:
"After Rafa Benitez left this summer, one of the players sent me a message. He said, 'Boss, he hasn't beaten you.'"
I'm not quite sure what Houllier, or the player, means by this. Were they playing against each other?
Houllier won more 'proper' trophies than Benítez; but the Spaniard won the one that mattered most, and came close a further two times. Like Houllier, he also won an FA Cup; Rafa faced inferior opposition in the final, but far superior opposition on the way to it. He also took a title challenge into May, later than Houllier.
Benítez won 56% of games, to Houllier's 50%.
Benítez averaged 72 points a season, the 4th-highest in Premier League history out of those who have managed for more than two seasons; Houllier averaged 65, ranking 9th, behind Roy Evans, his predecessor. Benítez easily has the highest Liverpool average since Kenny Dalglish, and unlike Houllier, improved on his predecessor's tally.
Houllier's best season was 2nd, with 80 points; Benítez's 2nd, with 86 points. (Houllier's best season also happened to be the one of which he missed almost half, due to a serious heart complaint; results picked up as soon as he fell ill, perhaps due to a "do it for the boss" reaction, which gradually wore off. In fairness, it was his team, but Phil Thompson was doing the legwork.)
Benítez made it to three Champions League semi-finals and two finals, to Houllier's none. But Houllier did win more League Cups.
Is that what he meant?
"When I came into the changing room in Istanbul some of the players said: 'Boss it's your team.'" …
First of all, what the hell were you doing there, as ex-manager? What kind of egotist walks in like that, even if at the game in an official capacity? Did Roy Evans start wandering into the changing rooms in Cardiff and Dortmund?
… "Twelve out of 14 in Istanbul were players I had signed or developed. I left Liverpool with a team in the Champions League. But when you finish seventh with Torres [er – wasn't he injured for a lot of 2009/10?] and Gerrard  [ditto]. . ." His voice tails off. Houllier does not need to spell out the very different legacy Benitez has left Hodgson.
What, one with 12 players at the World Cup, and four – all signed by Benítez – in the squads for the final? Rafa leaves an excellent team, but one which cannot cope with many injuries and dips in form; as seen last season. It's not the deepest of squads, as the Spaniard himself acknowledged last season.
Also, Liverpool finished with more points (63 to 60) in Benítez's final season, and made a semi-final. The team Houllier left won just 16 of their 38 games, compared with the 18 won last season. Neither season was great; but come on, let's not pretend that was a good Liverpool side six years ago, just as it wasn't seven years ago.
Liverpool finished 23 points behind the Champions last season; but 30 points behind in 2004. Incredibly, Liverpool lost five league games at Anfield in 2003/04, and did poorly in all three cup competitions.
The problem of one bad season last year – but not as bad as 2003/04 in many respects – was exacerbated by better teams now existing to take advantage. (And while it was one bad season, I've said since before 2004 that two poor ones in the row is the true mark of a manager having lost his way.)
Liverpool were also a stable, fairly well-run club back then; no American owners pillaging and plundering. Yes, there was a lack of visionaries at the club, but that's better than what we've had to put up with since 2007.
There was also no Chelsea as we'd know it from 2004 onwards, nor Man City; both clubs have spent millions more than Liverpool. Indeed, in the last three years, Aston Villa, Birmingham, Spurs and even Sunderland have spent more (net) than the Reds. (Maybe Houllier could ask himself why his good friend Arsene Wenger has failed to even finish 2nd since 2004, when up until then his sides finished either as Champions or runners-up.)
Houllier is happily taking credit for Istanbul; but none of the blame for a lame squad that Benítez struggled to get 58 league points with in his first season (more-or-less what Houllier ended with).
He takes credit for Gerrard and Carragher, and yet while he played a big part in their careers, both were at the club when he arrived in 1998, and also further developed by Benítez in his first season; Carragher as a centre-back, Gerrard in a more attacking role (his average goal ratio was 6 a season in Houllier's time, with a maximum of 10; he averaged around 20 a season under Benítez, with a maximum of 24 and a Footballer of the Year award).
Houllier left Harry Kewell, who was never fully fit after halfway through his debut season (a bit like leaving a written-off Ferrari in pieces in the garage). He left Vladimir Smicer, who was talented but also rarely fit. And Chris Kirkland, who made Kewell and Smicer look indestructible.
He left Djibril Cissé, who, like Emile Heskey, cost in excess of £25m in today's money (source: TPI), but who lacked guile to go with his pace. He left Jerzy Dudek, whose excellent debut season and sublime performance in Istanbul were great bookends for the three nervy, error-strewn years in between. And as much as I loved Igor Biscan, he was, like Smicer, a hugely inconsistent and relatively expensive player entering the final year of his contract when Benítez took over.
He also left Djimi Traore, a player whose attributes (height, pace) were outweighed by his headless chicken act. Milan Baros was another headless chicken, although at least one with some talent.
He did leave Hyypia and Hamann – two fantastic players – but both were entering the final stages of their careers. Steve Finnan also had a limited time left, but it was only after Benítez arrived that he showed his true worth. And John Arne Riise was a good all-rounder.
But then there's Salif Diao, El Hadji Diouf, Bruno Cheyrou, Anthony Le Tallec and Carl Medjani. What a waste of time they were.
Getting any kind of money for Houllier's flops was a challenge. Indeed, making a profit on any of his successes was rare; only Hyypia, if sold at his peak, would have added greatly to his value and brought in enough money to reinvest. (The costly Hamann would have surely got his money back.)
Of course, Traore left for £2m, four times what he cost. Milan Baros was sold for roughly twice what he cost. Alou Diarra, who spent three years at Liverpool out on loan, also raised £2m, having been a free transfer. And the lively, likeable but often ineffective Sinama-Pongolle left for more-or-less what he cost. All told, about £12m raised on £6m of spending.
But Heskey, Cissé and Diouf left for less than half of their considerable original fees, at a time when high football inflation meant that they were sold for even less, in relative terms. Owen left for half of his actual value, too, with his contract in its final 12 months (having refused to sign a new deal under Houllier). Diao left for nothing, as did Cheyrou.
Stephen Warnock was also part of Benítez's inheritance. But at 22, he'd never been given a single game by Houllier.
As far as I can tell, during his time in charge Houllier didn't sell for a profit a single player he himself had signed; essential to rebuild without having to force the club to stump up cash it doesn't possess. And in total, only three players signed between 1998 and 2004 ended up making the club a profit, none of them hugely significant.
Now let's look at Benítez. Like Houllier, he signed some duds. Unlike Houllier, he regularly sold them for profit to make money to reinvest (making for a high gross spend, but a relatively low net one; essentially the money was recycled).
Following Benítez's exit, the £1m paid for Insua seems to have turned into £5m. Yossi Benayoun, despite now being 30, left for what he cost; a great deal for a player at that age. San Jose, signed for a negligible fee, recently left for £2.6m; in other words, paying for Danny Wilson.
If the club wanted, it could get £30m for Javier Mascherano and up to £70m for Fernando Torres. Pepe Reina and Daniel Agger are both worth far more now than when purchased; easily £30m combined. These were all excellent investments, both in terms of playing ability and resale value. None is yet at his peak.
Liverpool received £30m for Xabi Alonso, after five seasons (two of them excellent) following a £10.5m (£20m TPI) transfer. Despite only having a year left on his deal, Alvaro Arbeloa also left for a profit, heading to the mighty Madrid.
Flops like Gonzalez, Voronin, Leto and Paletta (due to a sell-on clause) all left for profits (yes, they required wages while here, but then so did all Houllier's flops.) Nunez, Josemi and Kromkamp all left for more-or-less what they cost. And players like Keane, Dossena and Morientes, though offloaded at a loss, still left for more than half what they cost; only Jermaine Pennant was a complete write-off.
And if sold now, El Zhar, Degen and various other 'free' fringe players would lead to a profit, while Maxi – who is in no way a flop – could easily bring in £4m (if Benayoun is worth £6m). Kyrgiakos, a desperate but essential signing when funds were too tight to go beyond £1.5m, would leave for at least what he cost.
Hit-and-miss players like Bellamy, Crouch, Carson (including £2m received by Aston Villa to take him on loan) and Sissoko all raised a lot of money through sales for profit; money that was usually spent on better players, and then disingenuously used against Benítez to make out he'd spent more than he had.
So far, eleven of Benítez's signings have left for a healthy profit (over £42m in total), compared with Houllier's three (worth around £6m).
And even if Torres, Reina, Agger and Mascherano weren't sold until 2013, then unless injured they'd still conceivably raise a profit of over £50m that a future manager could benefit from.
The fact is, if you add every pound spent by Benítez to every pound players have either been sold for or are now worth, he'd be well in profit. Not bad for a manager whose Champions League runs raised much of the cash in the first place, at a time when David Moores was running out of dough, and Gillett and Hicks were looking to run away with the money.
For more on the spending comparison, there is this article I wrote a couple of months ago.
Back to Houllier's interview:
By then the Frenchman was in sole charge and he still believes his pioneering tenure made it easy for Benitez to follow. "One, the pattern of getting a foreign coach was already accepted. Two, he had a Champions League-winning team."…
Woah woah woah. Back up. Two of the most important players in 2005 were Xabi Alonso and Luis Garcia. And I don't recall Liverpool winning the Champions League until a year after Houllier was sacked, following consecutive dire seasons. How can he claim such a thing?
He laid some of the foundations, clearly, but if Roy Hodgson wins the league in 2011 (however unlikely), will Houllier come out and say that it wasn't down to his good friend, but rather Rafa Benítez? Of course not.
…"Three, the team were already in the Champions League. Four, we had built new facilities. And five, it was a different training routine, different attitude and mentality."
Maybe these are true. But Liverpool were not Champions League regulars by any stretch of the imagination. And Benítez could not get the boost of introducing basic, continental techniques (fitness, anti-alcohol, etc) because Houllier already had. That one cuts both ways.
Above all else, it strikes me that the miracle of Istanbul was not due to the fact that the Reds came from 3-0 down at half-time against the mighty AC Milan, but how such a collection of players could even get near the final, let alone win it.
And for that reason, Benítez deserves far more respect than his bitter predecessor seems capable of affording him.