It's been a weird few days. First, the hard-to-fathom sale of promising, albeit rough diamond, Emiliano Insua – all the more strange as he was the third and final left-back out of the club in six months – followed shortly after by the signing of a player who wanted wages Liverpool could not match, Champions League football the club couldn't offer and a locale that was not in, or near, London.
Other than that, it was business as usual.
This led me to write two articles, although so inter-linked were they, I've merged them into one; albeit split into two distinct sections.
The first section is for Subscribers only. The second section is free to read, and is not dependent on having read the first part.
Part I: Young, Gifted and Gone
[ttt-subscribe-article]
Part II: Going English
'Going English' has been the theme of this summer. In some ways I still fear it is the usual 180º-turn/backlash against the (incorrectly) perceived problems that clubs like Newcastle and, of course, the English national side, end up making.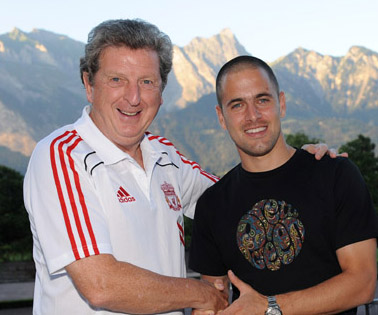 Signing Joe Cole is an excellent move; however, it seems part of a move to a more English set-up throughout the club. There's nothing wrong with that, so long as it's not simply to be different from what went before.
Apparently senior players at Liverpool wanted an English manager. If true, it's not hard to guess who they were; it's not as if Torres, Reina, Mascherano, Agger and Kuyt would be making such demands. They'd surely just want the best man for the job, irrespective of where he hailed from.
It's also the usual line trotted out by the older ex-Reds, who predate the mid-'90s continental enlightenment of the game. 'Old-fashioned' seems to be the byword at Liverpool right now; the brilliant Jonathan Wilson described Roy Hodgson as such in this informative piece.
It doesn't have to be only negative in connotation; Wilson's piece was fairly complimentary, and he prefaced 'old-fashioned' with 'endearingly'. Hodgson, as shown by his success at Fulham, is not out of touch; but he is in many ways old school. And it remains to be seen if that will work at a club, beyond the short-term, where more is expected.
(Of course, the appointment can be viewed as getting back to basics: perhaps there's the notion that if Hodgson won't be as inspired as Benítez at his best, he won't be as 'over-complicating' as Benítez at his worst. "Good old-fashioned ideas", and so on.)
Part of the problem I've had getting my head around things this summer has been that I prefer managers who are one step ahead of the game; as outdated as some of his ideas now seem, Bill Shankly was certainly that (at least as far as football in England was concerned; he learned from the Europeans while his peers remained insular, introducing ball-playing centre-backs in the early '70s).
I made it clear a few weeks back that I was no longer sure if Kenny Dalglish would be forward-thinking as a manager; but he was 25 years ago. I felt Benítez was, too. Mourinho, Wenger and Ancelloti are similarly inventive.
And Alex Ferguson has remained at the cutting edge for so long because he surrounds himself with people who don't hark back to the methods of his first successes at United, almost 20 years ago: he moves with the game,  replacing coaches on a regular basis; using more rotation than anyone else; experimenting with modern formations (the 'false-9' as Wilson describes it, when two years ago United had no 'real' centre-forward); and not buying Brits for the sake of it.
I remain to be convinced that Hodgson is the best man for the Liverpool job before a season of steadying, but he is certainly not a bad manager, and is definitely one of this country's finest.
Of course, that's partly the problem; it's not an especially big pool. Lest we forget, many pundits felt that Alan Curbishley should have got the job in 2004, rather than Benítez.
And although England tanked at the World Cup with an Italian manager, at least they got there, as they had with the Swede in 2006; with the Englishman in between, they failed to even qualify for the major tournament. (Although again, Steve McLaren – like Hodgson, with a Uefa Cup final and a foreign league title to his name – is one of the better English managers.)
While I'm definitely a fan of forward-thinking and innovation, some long-held (ergo old-fashioned) values in football remain constant: the need to care about the team before the self; the importance of not being a total arsehole off the pitch as it can come back to bite you on it; keeping the ego in check at all times; giving 100% on as many occasions as is physically possible in a season; and so on.
If you can guarantee most of those – and that's something that Hodgson seems to have the maturity and wisdom to command (at least until he 'loses the dressing room') – then, allied to good organisation on the pitch, Liverpool shouldn't do too badly at all next season. Often, any new approach can be positive, for a while at least.
But I'd like to think that the club are not pandering to the views of those hoary old pundits and rent-a-quotes who see the world through a sepia lens. Roy is now the manager, and although he has to earn his right to be revered, even his doubters will be give him time to win them over. So far he has spoken a good game, signed one very good player, and managed to keep a world-class one.
However, filling the squad with Premier League journeymen – if he (or Purslow) is planning such a move – is not going to help his cause. One thing Joe Cole's arrival has done is ease some of those fears, but with several further exits lined up, and no left-back on the books, more than one ticks-all-the-boxes signing is required.
It just seems a little odd – if it is indeed the path Liverpool are taking – to dilute the Spanish and South American influence, given the healthy state of these regions with regard to developing technically gifted players who are winners. Maybe it's just coincidental.
In truth, Joe Cole will add little new to the squad, simply replace what had just departed; albeit two years younger and, perhaps, with greater untapped potential, than Yossi Benayoun. While arguably no better than the Chelsea-bound Benayoun (worse goalscoring ratio, better assist rate), he is at least of the required quality to appease the fans.
Some other names being linked – Paul Scharner, Paul Konchesky, and, heaven forbid, James Beattie – are not. (In fairness, these are currently just names in the press.)
But Cole was a free transfer; otherwise, English players in particular are usually horribly overpriced. (Cole's wages aren't cheap – almost £5m a season – but in this case, they're probably worth it.)
Brits also often come with cultural flaws, such as the desire to chase every ball like it's playground football; an immature attitude to getting drunk; a fear of keeping possession when the going gets tough; and a distrust of 'thinkers'. (Get a GCSE and you'll probably be nicknamed 'the Professor'.)
Despite the impending rule changes relating to the amount of home-grown players needed for Premier League games, it's vital to get the best players irrespective of nationality. We were here before in 1991 when Souness offloaded Houghton and Staunton and bought inferior Englishmen, on one of the prior occasions when the rules for European competition were changed (before being changed back). You need your quota, but not at the expense of common sense.
If there's this tired notion that Liverpool need more 'English steel' because it's best (and not merely to fit the 6+5 ruling) then you only need look at the World Cup for a total lack of heart and technique and overabundance of egos. John Terry, Mr Lionheart personified, will throw himself in the way of a flying ball or take six studs in the head out on the pitch, but it's not much good if he's diddling someone else's wife and trying to undermine the manager away from it.
For me, bottle is about never hiding when the going gets tough; Insua showed bottle. Lucas has more bottle than almost any Liverpool player I've ever seen; he's more 'English' in that sense than plenty of my fellow countrymen. (Bottle isn't going around kicking people off the ball, ala Vinnie Jones, or diving into tackles without thinking, like the gutsy but tactically suspect Stephen Warnock.)
It doesn't stop there. Reina is the best captain Liverpool have never had. Torres is a fighter (who admittedly needs to sulk a bit less). Foreigners don't have to be scared of wet Wednesday nights in Wigan.
As for the 'they don't understand the club' rot, I'd rather have overseas professionals (Reina, Alonso, Torres, Kuyt, Hyypia, and so on) who give their all every game than some Brit with major character flaws who, all the same, 'understands the club'.
After all, it doesn't take long to play for (or manage) Liverpool to get what it 'means'. Or were Hyypia, Hamann, Dudek, Alonso, Riise and Garcia all passengers in Istanbul? Did Torres, from Spain, understand what Liverpool FC is about as much as fan-as-a-boy Robbie Keane? Did it matter one jot?
Maybe xenophobes also forget the antics of the 'Spice Boys' under Roy Evans, and how English players like Neil Ruddock devised drinking games while out on the pitch, and Stan Collymore only did his best when it came to staying away from training. I don't miss that.
It took some pesky foreigners to change that crass approach. Yes, English players are generally much more professional these days; but they're not without their faults. If you can find those who fit the bill, great; but I object to the notion of English-for-English-sake.
Right now, Liverpool have four first XI players who are English, plus three or four youngsters who, as things currently stand, won't let anyone down if included in the squad. There are also overseas kids who now qualify as 'home grown'. There's no need to panic. And there's no need to abandon the continental approach – making wholesale changes (which lead to longer bedding-in times) – just because of dinosaurs like Ian St John don't think Johnny Foreigner likes it up 'im. And to suggest that Rafa Benítez didn't understand Liverpool or the club itself is equally disingenuous; he and his wife did far more in the community than some home-grown players. He was from Spain; not outer space.
While each and every player needs to be judged as an individual case (you will get good and bad buys from both home and abroad), Liverpool's British signings have too often underwhelmed in the past couple of decades: Collymore, Heskey, Bellamy, Pennant, Barmby, Ince, Stewart, Saunders, Babb, Ruddock, Walters and Keane, to name just a few who arrived with full English top division experience (and in most cases, a hefty fee), but were average at best, terrible at worst.
Harry Kewell, Oyvind Leonhardsen, Bolo Zenden and Christian Ziege can be added to that list, if including overseas players who were used to English football, but a fat lot of good it did them.
When signing from the Premier League since its inception, only Steve Finnan, Yossi Benayoun, Didi Hamann, Gary McAllister and Peter Crouch stand out as definite successes, and two of those were truly outstanding. Glen Johnson is busy adding himself to that list.
So I don't see English league experience, or British nationality, as a simple solution; there's no evidence to suggest you'll have greater success. If you had to pick a team of Liverpool's best British signings since 1992 to play their overseas counterparts, there'd only be one winner. And that applies to value for money, too.
Equally, it's daft to suggest that Cole will go the same way as Robbie Keane simply because they both moved from an English club and wear the number seven shirt (if Cole is confirmed as such).
Cole looks to be an excellent signing, but in many ways a simple one: a free agent, and proven quality. He required no scouting; no great vision or imagination. He will have needed persuading – and well done to those responsible in that sense. But he was on the open market and destined for a good club.
And that's where some of my doubts remain; it doesn't really answer the questions I have about Hodgson in terms of spotting untapped talent. (Or indeed, about just who is behind the buying and selling policy at Liverpool right now, and if that policy is far-sighted enough.)
So far, so good; but if going English is to be more widespread, it's hard to see who the club could find of sufficient quality on the current budget. Hopefully Hodgson will realise that he has the bones of an excellent team, and that whatever their nationality, the quality – so long as injuries don't force him too deep into the squad – is there.
Ultimately, if Cole's arrival helps keep players like Gerrard (and as I write, Gerrard has confirmed he will stay) and Torres at Liverpool – with their hearts fully in it – then that'd be ideal. It's certainly got to be more persuasive than James Beattie trundling into Melwood.
But if it doesn't, the departures – especially if it's Torres late in the summer window with no real time to adjust – could throw us all back into darkness.