Using TPI© (click link to read full explanation of how figures were arrived at) to adjust the prices according to 'football inflation', the following table lists the price of the 50 most expensive Premier League transfers in "today's money": the Current Transfer Purchase Price (CTPP ©).
In other words, at the time Rio Ferdinand was purchased he cost £29.1m, but by today's standards, his transfer to Manchester United would be in keeping with a £53m deal.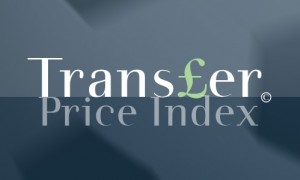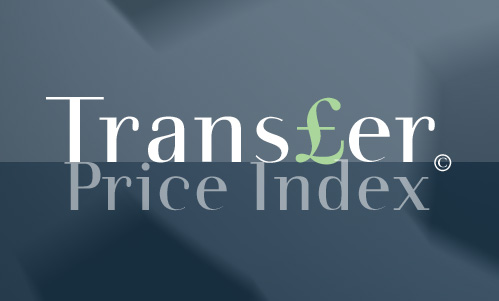 Players purchased in the first half of this decade cost a relative fortune, whereas those bought in 2008/09 now cost less in 'real' terms. Obviously, those bought since July 2009 are still the same value, as part of the current season.
Even with inflation, few of the players listed below pre-date the new millennium. The early 2000s was a time when spending £15m+ on a player really was big money. Even the £10.5m Liverpool paid for Xabi Alonso in "2004 money" equates to £20.5m in "2010 money", such was the rise of the average price of transfers between 2004 and 2009 (although it dropped slightly during the current season).
Alex Ferguson has purchased the highest number of Top 50 entrants, with 15, followed by Mourinho, 8, Ranieri 5, Wenger 4, and Benítez and Hughes, 3. Obviously, Ferguson has managed a major English club throughout the entire Premier League era.
But in terms of clubs, Man United obviously still have 15, but it's a figure exactly matched by Chelsea; next follow Liverpool, with 6, Man City, 5, and Arsenal, 4.
The main thing that stands out is just how much Rio Ferdinand, Wayne Rooney and Didier Drogba cost using CTPP; but at least their clubs can say they've provided value, and trophies, for their money. It also shows that the signing of Andrei Shevchenko was worse than even previously imagined.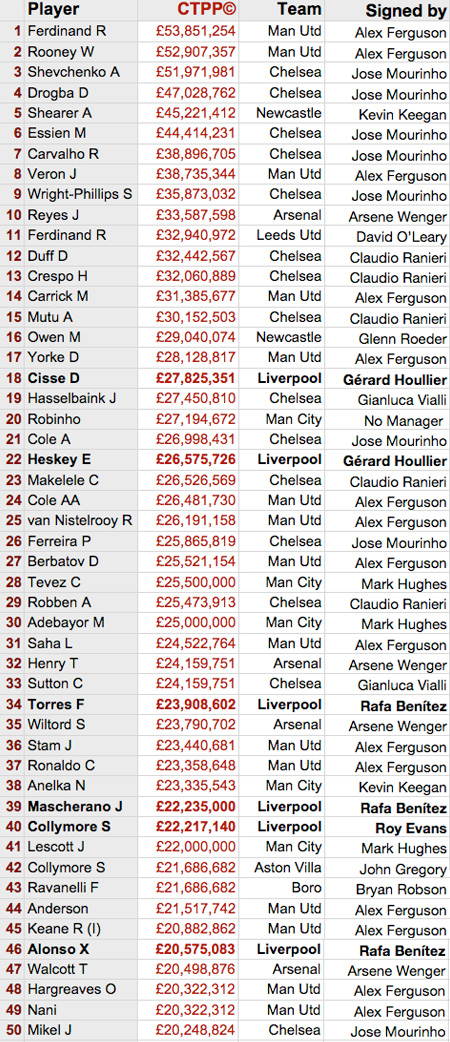 From Liverpool's point of view, it's…[ttt-subscribe-article]