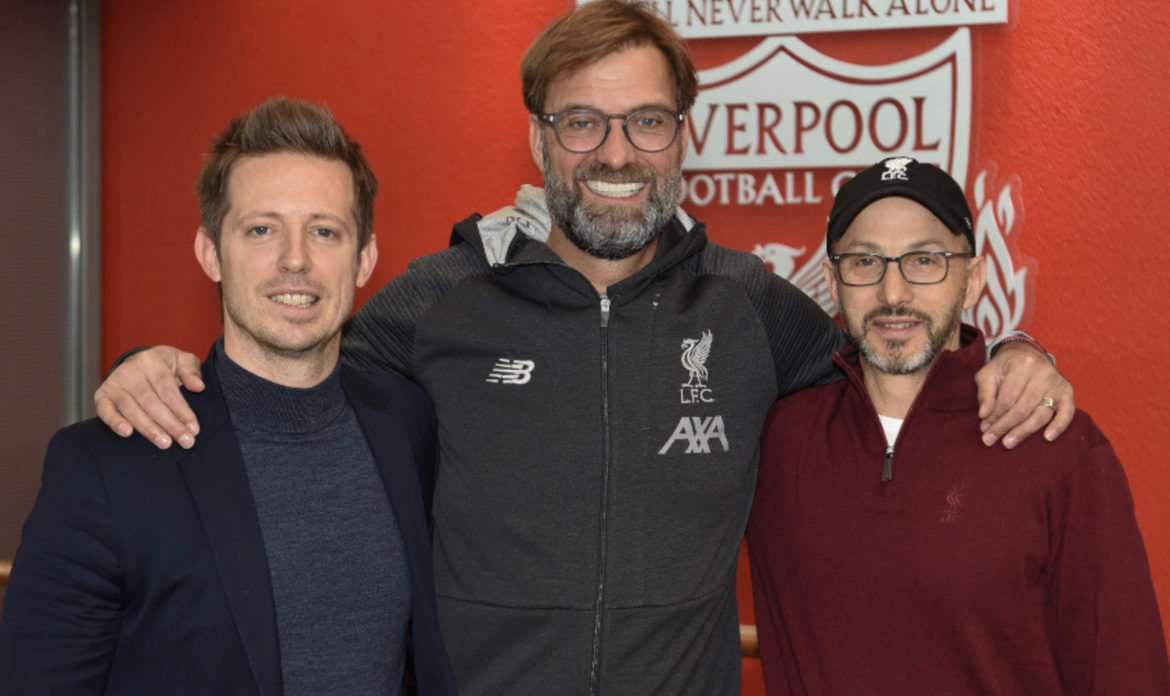 Best posts of the week, as chosen by Chris Rowland and Daniel Rhodes.
1 – Mobykidz after the news of Ronaldo's return to Old Trafford:
I found out Ronaldo was returning back to Manchester United when one of my boys shoved their iPad screen in my face.
"They won't win the league."
Imagine my surprise. He's only 13. But I asked why and he broke it down as follows:
– when players return to clubs after a long period it's never the same,
– at 36 years of age Ronaldo is too old to chase the ball down, and
– this is not Spain or Italy. The game is quicker and players more aggressive.
I asked what advantages there were to Ronaldo and again it was a well-balanced answer:
– his experience in big games
– his goal scoring ability
– his dedication to train
So I said could those pros outweigh the cons. And he hit the nail on the head:
"They don't play like us [Liverpool]. We've got a proper team who play for each other."
And that's the quiet revolution we underwent. A quiet resurgence that made us Champions of England, Europe and Everywhere.
My son is only 13. But we live in a data world where he taps a few buttons to satisfy his curiosity with truths and lies.
But on Ronaldo he formed an opinion based on a comparison to Liverpool under Klopp.
Maybe Ronaldo will do well. Maybe Man United's chances, spurred by a skewed Salford based media, will now be seen as favourites for the league.
But it's simply a cacophony of noise that needs a conductor. If my 13-year-old can still hear the Liverpool orchestra above the Manc noise it's because of one thing.
Jürgen Klopp is simply the best conductor in the world. He will focus on making us champions with a team that is more than the sum of their talents.
I don't care how loud they become. This Liverpool team will quietly and confidently get on with the business of winning.
Team First.
Say little. Smile often. Win everything.
YNWA
2 – Paul Tomkins translates Ronaldo's Instagram message about his move to Man Utd into plain English!:
I translated this from PR Instagram bullshit into plain English:
"The years I spent in this club where absolutely amazing and the path we've made together is written in gold letters in the history of this great and amazing institution."
I was a massive part of creating the amazing history – an equal participant. I don't remember the names of the other players.
"I can't even start to explain my feelings right now, as I see my return to Old Trafford announced worldwide." 
Yes, not just announced, but announced worldwide.
"It's like a dream come true, after all the times that I went back to play against Man. United, and even as an opponent, to have always felt such love and respect from the supporters in the stands." 
You guys absolutely love me. Nearly as much as I love me.
"My first domestic League, my first Cup, my first call to the Portuguese National team, my first Champions League, my first Golden Boot and my first Ballon d'Or, they were all born from this special connection between me and the Red Devils."
Look at all the individual awards I won the last time I was here, and all the other trophies. Again, I don't remember the names of all the other players. Bryan Griggs? Dwayne Roody?
"History has been written in the past and history will be written once again! You have my word!"
I'm not actually about to turn 37 and doing it for the £500,0000-a-week.
"I'm right here! I'm back where I belong! Let's make it happen once again!"
I really, really, really mean it.
"PS – Sir Alex, this one is for you…"
I am the greatest gift anyone could ever be given.
3 – Stevenson1988 during the evening when the transfer window closed:
I think we have to accept the fact that FSG never look at single seasons in isolation and are always planning for, and looking to, the future. We have an extremely competitive squad for this season so I'm really struggling to see why anyone would want FSG to risk the long term future of the club for a vanity project this season.
Utd have sold a player for the future in James to re-sign an ageing prima donna on, frankly, ludicrous terms. "Fans" cannot understand how we can let Gini and Shaq go without replacing them, yet we have effectively in Jones and Elliott. What on earth is the point of investing in youth if the club constantly blocks their paths to the first team by buying in players. Do they want us to do a Utd or Chelsea and sell Pogba and Lukaku for comparative peanuts, then pay a fortune for them years later? Or perhaps buy Salah just to thwart us, then sell him for nowt and watch us turn him into one of the best players in the world?!
We have a fantastic squad for this season, as strong as I can recall, with a mix of experience and youth. The team will only get better as the season progresses and I, for one, am so excited at the potential coming through – think the Utd "kids" dismissed by Hansen. We have some seriously good talent coming through and they need to be given their chance – TAA anyone?
There is plenty of quality out there that will be available next summer, as frees or because clubs have fucked themselves financially. Why would we expect FSG to do anything other than what they are doing? There have been a handful of very judicious signings in the last couple of years, good players are coming through, players are returning from long term injuries and we are tying down our best players to long term contracts – plus we are rewarding the likes of Nat Phillips. The club and the team are in fantastic shape and we just need to relax and enjoy this season.
4 – Michelle with a cautionary tale about some of the recent transfer activity:
The worst thing that could happen to Liverpool or any club is to have owners who equate improvement with transfer churn.
I am stunned at the latest transfer (the last transfer of the window, probably) by a "big" club that has consistently done "a lot of business," muscled other clubs out of their best players, made "statement" signing after "statement" signing, brought a battery of cannons to every knife fight, "won" the transfer window time and again…
And tonight, to alleviate just a tiny bit their billion-pound debt, they are loaning their 120m-GBP-star transfer of two years ago back to the club they bought him from just to get his wages off their books for a year.
It's as if Barca had told Atletico Madrid, "We want to give you 120m for Griezmann, and in 2 years we want you to take him back for nothing. We insist!"
Barca really won that knife fight, almost as well as they showed the world what they were about by bullying Dortmund into selling them Dembele and Liverpool into selling them Coutinho.
Wouldn't Barca be in a better situation if they had not bought any of Dembele, Coutinho, or Griezmann? The wages of this trio alone total around 50m GBP per year, to say nothing of the transfer fees.
We see high-profile transfers fail every year, yet people still feel confident that a transfer is always better than developing an in-house prospect, even though a high-salaried player who doesn't work out becomes like Ronaldo or Coutinho or Griezmann–utterly immoveable. This window, they are the metaphorical flaming bag of poo left on someone else's doorstep in the middle of the night to be stamped out by whichever unfortunate opens the door.
The biggest story of this transfer window has not been panic-buying, but panic-selling, panic-loaning, or, as a last resort, panic-giving-away of players, including those who stand in the pantheon of Europe's and the world's finest. If that is not a cautionary tale to be extra-careful about taking on expensive transfers, I don't know what is.
5 – Mobykidz looking at the issues with signing another forward:
A really good run down. The other question is who should we have signed up front then? There are four assumptions I think Liverpool make in signing a player:
1 – potential performance
2 – relevant experience
3 – good character
4 – deal structure
Salah, Mane and (when Klopp arrived) Bobby all ticked these boxes. Jota eventually did too.
I can name lots that fall under (1). Watkins, Barnes, Ings, Daka, Raphina, Buendía or even Bowen.
But Watkins and Raphina have only a season. Daka and Buendia could be the same next if they play regularly. Ings satisfies all four, doesn't he? But he's not a bench warmer and that ship has sailed. Otherwise he'd be a good alternate to Origi.
Short term options like Alexandre Lacazette or even Aubamyang wouldn't work. Both are sitting on lucrative contracts and the former can leave on a free next season. The likes of Harvey Barnes would be extortion failing (4).
Ismalia Sarr is a better prospect. But with Watford just back in the PL why sell a player who just scored 13 last season? I suspect, like Jota, he's one we are interested in. Sarr under Mane's tutelage too. Both Senegalese.
I wrote a post a month ago suggesting a What if…? on Salah being out and maybe Luis Suarez doing a return. But even though he's a known quantity his wage demands would be huge and maybe those legs just don't cut it any more.
There are players outside the Premier League too. But none satisfy (2) to make an immediate impact like Jota. And it would take time to get their fitness and tactical awareness up to a satisfactory level. Exceptions like Son, Sterling or even Mahrez are just not available.
We were interested in Pulisic or Werner but Chelsea offered more money. Even if we had billions when Abramovich wants something he gets it whatever the wage or fee it seems. Why should we pay over the odds especially when one or the other wouldn't even start.
Divock Origi is a good striker. He satisfies all four criteria above except on (1) due to lack of games. But Klopp likes him. But would Sarr, as 5th choice, be better than Divock this season? Or even Ox if pushed up.
If Sarr had signed he'd be at the African Nations to be played between the 9th January to 6th February 2022. During that time we have three PL games. So why lose a player that likely is running into Fabinho like form for a month in addition to your two main strikers?
And how do you replace a left footed Salah in our current set-up? Mizgan wrote an article on how keeping him fit and at the club is vital. But if he got injured you need a player who understands the tactical demands off the ball.
Is that Berardi? Dembele (injured)? Raphina? None happen overnight and none I suspect would have a big impact for most of this season anyway for various reasons.
I think the end of this season will be critical. It's a year in which Klopp is closer to leaving, Edwards likely does and Anfield Road will be half way through being built. We'll have a better sense of pandemic recovery and a 2022 transfer window in which billionaires will be distracted by Mbappe and Haaland.
FSG are not perfect. But since Klopp arrived its been pretty good. We're only three games in. It's nothing. Let's get to 10 and we can see how things are going.
Last season we got to matchweek 17 still, in theory, three points behind City at the top. So if we get to post Xmas in touch at the top we've got the squad, if fit, to push on. A stronger squad than the last couple of seasons.
What all Champions need is a bit of luck. After last season we're due some.
Articles published since last Friday, with excerpts:
Sunday August 29th:
Post-Match Analysis: Liverpool 1-1 Chelsea, by Daniel Rhodes.
Team Stats:
Liverpool attempted four times as many shots as their opponents (24-6), and that continues the trend of incredibly high shot volume we've had in the games so far (23.3 average); and although it would be expected once Chelsea were down to ten men, at half-time the shot count was still ten to four.
Digging down into the quality chances, again it looks positive for the Reds as Opta awarded us four, and we didn't concede any. However, there's a huge caveat to this because two of the big chances came before the penalty was given (Matip missed them both), and then of course the spot kick is another one, so we effectively only had the Henderson big chance in open play, and Tuchel's side still had all their players at that point.
Wednesday Sept 1st:
Liverpool FC's New Right-Side Triangle is One Worth Watching, by Mizgan Masani.
Now, looking at it from the outside, it felt as if the combination worked pretty well against Burnley and probably surprised Sean Dyche's men, while it kind of hit a road block to an extent against Chelsea, despite seeing Alexander-Arnold create decent chances and Elliott showing good touches along with Salah.
Let's dive into this from a tactical viewpoint and take both games as case studies to figure out the positives and what more could possibly be done.
Thursday Sept 2nd:
Liverpool's Successful Summer – Squad Harmony and a More Important Type of Signing by Paul Tomkins
I genuinely believe that this is the strongest squad Liverpool have ever had. 
Kelleher is a superb young keeper; better than any backup in years. Liverpool have added the prodigious (and giant) Konaté, to provide the best four centre-backs I can recall the club ever possessing. 
Nat Phillips has emerged to be the best 5th-choice centre-back at any club that plays a back four (clubs that play three central defenders may have more options, as they need six centre-backs, at least). Phillips was effectively a nobody 12 months ago; now he's a cult hero. In all the setbacks of last season, he benefited, becoming a proper Premier League player.
Against Chelsea, Liverpool fielded what could be close to a strongest XI, but on the bench were Diogo Jota, Ibrahima Konaté, Thiago Alcántara, Naby Keïta, Joe Gomez, Alex Oxlade-Chamberlain, Takumi Minamino, Kostas Tsimikas and Caoimhín Kelleher. Wow! Has the bench ever been stronger, unless the first-XI players were being rested?
For various reasons, not even in the expanded 20-man squad were Curtis Jones, James Milner, Divock Origi, Nathaniel Phillips, Neco Williams, Rhys Williams and Kaide Gordon (plus Adrián). Many of these are at the level of player who, a couple of years ago, would make the seven-man bench. Now they can't even make the nine-man bench; and if they did, excellent players would have to drop out.
Ignoring the often mindless obsession with new signings, can you honestly say that Liverpool have ever had a stronger squad? And as I will show, there is more depth and variety than when racking up 97 and 99 league points.
I won't go into the benefits of how the club is currently run, but you can read more about that in my piece that covered the madness going on at other clubs in 2021, and how it seems that, mostly, it's the oil-backed clubs that are thriving.